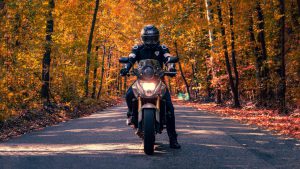 Summer may be over, but there is still plenty of riding season left!
Let's face it – some argue that the Summer is the best time to get out on your bike – and there are those who prefer the cooler temperatures of Spring, but Autumn riding helps to lengthen your riding season and has plenty to offer! September does a great job of dragging the warmer temperatures out, whilst October and November always offer the chance of a dry, crisp, Autumn day ride out, with cracking views and awesome scenery – we just need to be prepared! As long as your bike is in top condition and you dress for the ride properly – there are still plenty of chances to get out on 2 wheels before Winter hits!
Dress for the occasion!
Even in Autumn there are plenty of sunny, bright, dry days where you would happily walk around in a jumper or light jacket, but never be fooled – unless you dress properly for the occasion, you WILL be freezing on the bike! Now, we're not talking arctic conditions – but the windchill will soon get to you – it's all just a matter of layering up properly (especially if your bike doesn't have much in the way of wind protection or a set of heated grips for example). A good base layer top and mid layer underneath your motorcycle jacket will be plenty adequate. If your jacket has a removable thermal liner too – then now is the time to replace it. Autumn is also the time to hang up the Kevlar riding jeans and replace them with a set of textile pants (either with a thermal liner or base layers).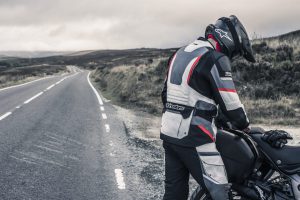 This time of year is also the time to ditch the vented summer gloves in favour of a pair of gloves that have good insulation and waterproof breathable membrane (such as Gore-Tex or Drystar for example) – this way, at least your hands are protected from the windchill via the insulation and if you were to be caught in a shower, then you have the security of knowing you won't be left with cold/wet hands.
One other essential piece of clothing is your trusty neck warmer or balaclava – there's no point making sure everywhere is layered up and we go and leave a massive hole around the top of our jacket! It doesn't have to be anything special – the simplest neck tube or snug can keep your neck warm and the draught out!
It may seem like a lot of faf, but it really is just a matter of swapping out the vented Summer clothing for something a little more suited to the cooler temperatures of Autumn means you can enjoy those cool, dry days with no discomfort or danger to you riding.
Make sure your bikes ready for the ride!
As Autumn continues, the days get shorter and the temperature drops, making it essential that you make sure your bike is in tip top condition and ready for the road….
A headlight or taillight bulb blowing late on a sunny night is hardly a big issue, but as the evenings draw in, you want everyone to be able to see you and to be able to see where you are going! A simple light check before each ride out and maybe a few spare bulbs under the seat means you'll never be caught out…
Likewise – on a hot Summers day, you probably wouldn't notice a few psi between tyre pressure checks, but as the weather gets colder and the temperature drops, the air gets denser meaning your tyre pressures will probably have dropped, so its well worth digging out our pressure gauge and pump to make sure they are up to scratch before you head out!
Warm Those Tyres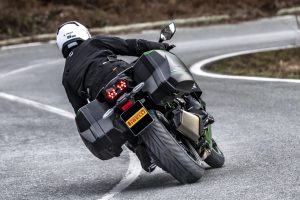 One vital thing to remember is to give your tyres time to warm up! Motorbike tyre technology is constantly evolving and has vastly improved over the last number of years. Today's motorcycle tyres benefit from a shorter warm up time than tyres of the past and also work much better from cold – although it is definitely worth remembering that as the road temperature drops – those first miles to warm the tyres will be much more important. You ideally want a good 5-10 miles under your belt before you start pushing it into corners!
Stay seen and see where your going!
Easier said than done – but one easy way to make sure you are seen easier in the Autumn is to make sure you ride with your lights on everywhere… A light or bright coloured helmet helps you stand out against Autumn colours – as does some colour or hi-vis in your clothing. If you are riding into the dark, then a hi-vis vest or jacket could be beneficial.
As the days draw in, you may find yourself riding into a lot of low, bright sunlight in the morning or afternoon, so it is vital to make sure that your visor is in good condition, with no scratches and to maybe think about fitting a pinlock visor insert to stop the inside fogging up on those chillier mornings? There is a large percentage of today's motorcycle helmets that come with drop down sun visors, which can be extremely useful (but not essential).
A clean, fog-free visor is essential to a fun ride… A fun ride is when you are able to see where you are going, and where you want to be – avoiding the wet leaves, the potholes, the autumnal debris on the roads (as oppose to an anxious, unpleasant ride, where you cannot see a thing!).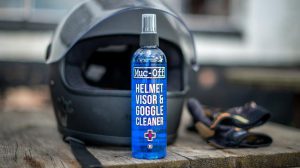 Riding in the Autumn can be fun – and at the same time, it's proof that our riding season doesn't just stop in when Summer ends! A tiny bit more preparation and a few extra precautions mean we can enjoy our motorcycles as deep into the Autumn as we dare (and beyond for some) – be prepared, enjoy the ride and create new riding memories!
---
Enjoyed this? Read more of our latest news:
Where To Next?
Looking for the latest motorcycle parts and accessories? Check out our wide range from top brands.
Come and visit us at our store, showroom and fitting centre in Wrexham.
Want to know more about our story? Learn about who we are and why we've been driven by passion for over 50 years.
Interested in everything we do? Catch up on all the latest Demon Tweeks news.