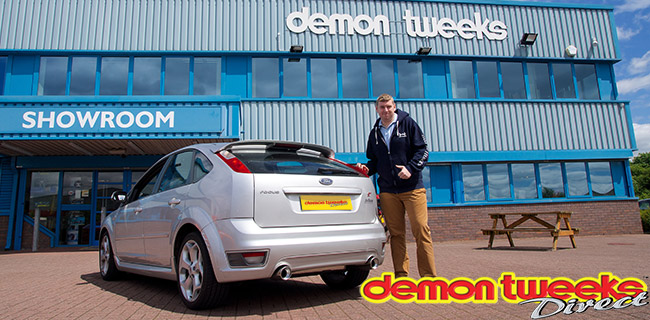 It's been an exhausting time lately here at Tweeks Towers. We've been working tirelessly (but never tyrelessly) to bring you some of the finest performance tuning products in the world – and on top of that, we've also been running a series of big value Facebook giveaways!
Horrible puns aside, James Taylor from Leigh in Greater Manchester was over the moon when he found out that he'd won one of our competitions – and better still, the prize would release extra power and a bit more growl from his 2007 Focus ST! Now traditionally, Jetex have been known as "The Quiet Performer" – being famed for finding ways to release extra power from your engine without bursting your eardrums, waking up your neighbours, or attracting too much unwanted attention. This isn't to say that a Jetex system won't sound sportier than your standard exhaust – because it will – but don't expect it to sound like a rally car. A deep and subtle rumble with a nice burble on overrun is the order of the day here. Check out the video above to see how James's sounded – although do bear in mind that it had just been fitted (exhaust notes can change slightly as the system gets 'coked up' in the first few weeks of use).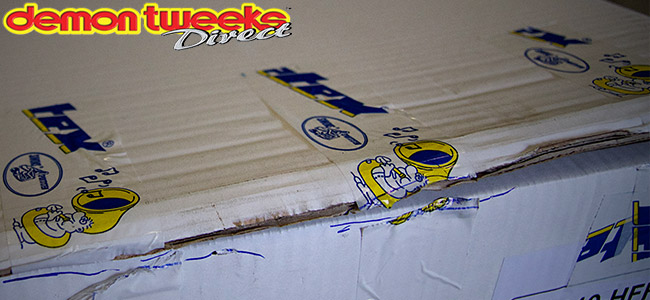 Jetex exhausts give you the usual advantages you'll get with a performance exhaust system too – including a highly corrosion-resistant stainless steel construction on most fitments, better looks and of course easier breathing for your engine. On an engine with forced induction like the five-pot in James's Focus ST, this easy breathing can translate into a noticeable power hike – especially if combined with other mods.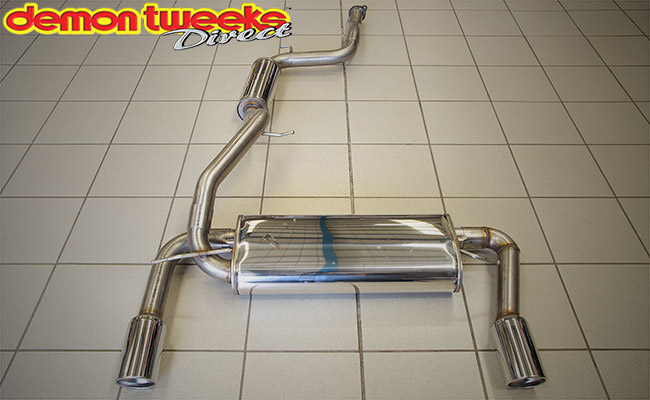 As you can probably see from the photo above, the exhaust we fitted to James's ST is a cat back – meaning that it replaces everything backwards from the catalytic converter. This is an easy way of adding more performance and a great sound to your car without having to spend the earth. If you wanted to add even more power, then an induction kit and ECU remap would be the obvious next steps. Other mods such as a performance intercooler and sports catalytic converter can then open the door to more extreme ECU remaps – releasing further power. Check out our guide to increasing bhp for more ideas on how to release those horsies!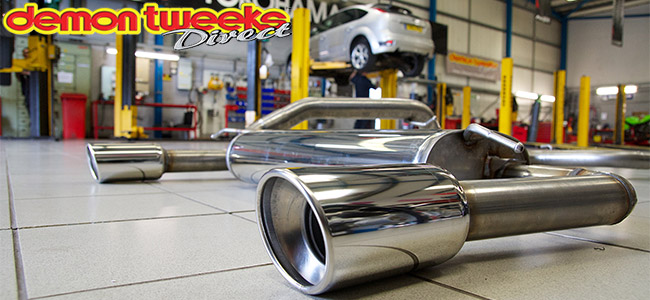 In terms of actually fitting an exhaust, a complicated job it ain't! Generally speaking, when fitting a cat back, you're only talking about a few bolts and rubber exhaust hangers. Things can get a bit more complicated when fitting catalytic converters, etc. – which can be located in hard-to-get-to positions up by the engine (we're looking at you, Megane 225!), but generally a basic system will be pretty straightforward. Straightforward that is, until you consider the Great British weather. The Great British weather that your exhaust has been sat languishing in for years, or maybe even decades! Yes, you guessed it folks – corrosion is a real issue when we're talking about exhausts. There are a number of techniques you can apply to a rusted-on bolt – including dousing it in a penetrating lubricant like WD-40, or putting a scaffold pole over the end of your wrench to apply more leverage. You could even leave it for 6 months, eat some steak and work out a bit in the hope that bigger biceps will help?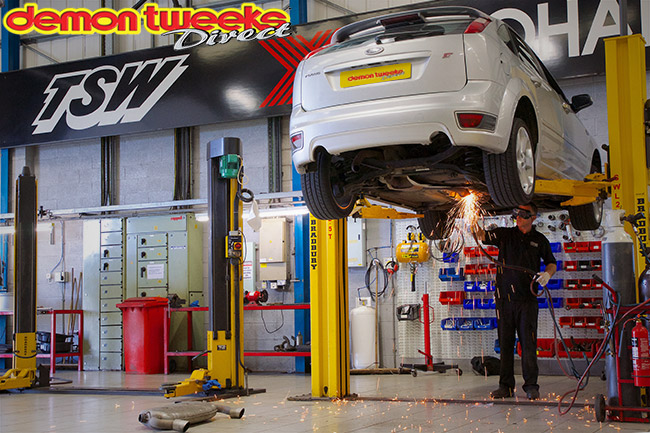 By far the most effective weapon in the fight against rusty threads though is the mighty oxy acetylene torch – or 'gas axe'. An oxy acetylene torch burns so hot that it allows an experienced mechanic to expand and even cut through the solid metal of your exhaust fixings. This is exactly what you can see our Head Mechanic Darren doing in the photograph above – those sparks are molten metal. These torches can be incredibly dangerous if you don't know what you're doing, so extreme caution should always be taken around them, but in the right hands they are an indispensable part of the workshop arsenal.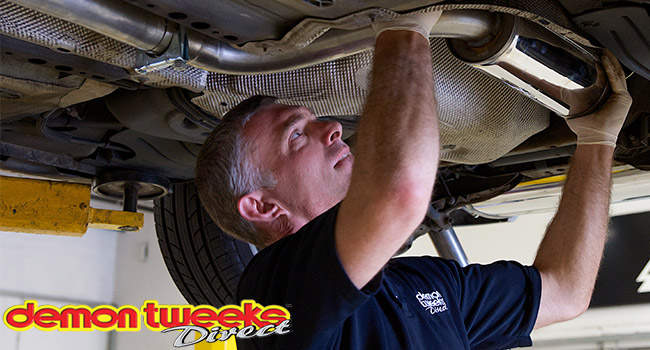 Once the old exhaust has been removed, it's time to get on with the business of fitting the new one. With everything being brand new, this is a much easier process – although as with most jobs, a hydraulic ramp really helps, because it means that you can work fully stood up. One thing that you'll find with duplex/twin exit exhausts is that the tailpipes can be a nightmare to line up at times. Our mechanics relish the challenge of course (at least we assume that's what those words mean!) so you can be assured that your pipes will line up nicely when they are done. In all seriousness, our guys fit a lot of duplex exhausts – so whilst it isn't the easiest job in the workshop, they really do know how to get them perfect.
If you'd like a quote for a similar job on your car (or indeed, any other job), then give the guys in our Fitting Centre a shout. We're located in Wrexham, North Wales.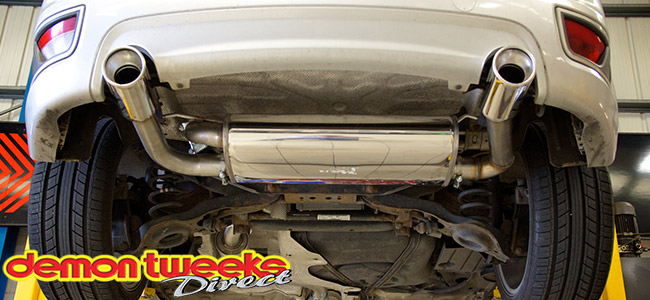 Now that you know what goes into a high performance stainless steel exhaust like those from Jetex, it'll probably come as no surprise whatsoever to learn that our winner, James, was very impressed with the final result! He was so pleased with his new exhaust in fact, that he had the following to say on the subject:
"Thanks again guys for the prezzie. The new exhaust really sounds great without being too intrusive when on long motorway journeys. The looks are fantastic really adds to the overall look of the car. Definitely gives me an added buzz every time I turn the car on. Thanks"
James Taylor, Demon Tweeks Competition Winner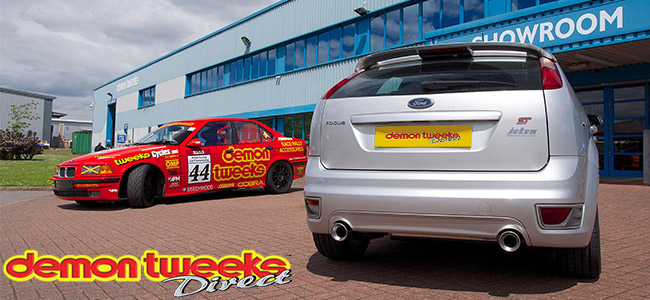 Everyone likes receiving presents – and as you can see, James was no exception! We've got some good news too – because this is far from the last competition we'll be running on Facebook. So if you want to be in with a chance of winning some (fully-fitted) freebies for you and your motor, get following the Demon Tweeks Performance Tuning Facebook page! If you follow the link on the page and sign up to our email campaigns, you'll also be kept up to date with what's going on here at Tweeks Towers through the medium of your inbox. You can view our latest Performance Tuning email campaign 'manually' here.
Finally, we'll leave you with a word from Jetex themselves. As you can see, they are rightfully proud of the products they sell:
"Jetex strive to offer high quality, performance exhaust systems that fit well, perform well and keep sound levels to unobtrusive levels. The outcome of this competition represents our 'ethos' in a nutshell. We are delighted that competition winner James Taylor left Demon Tweeks happy with his new Jetex stainless exhaust system. Thanks also to Demon Tweeks for their excellent fitting job."
Jetex