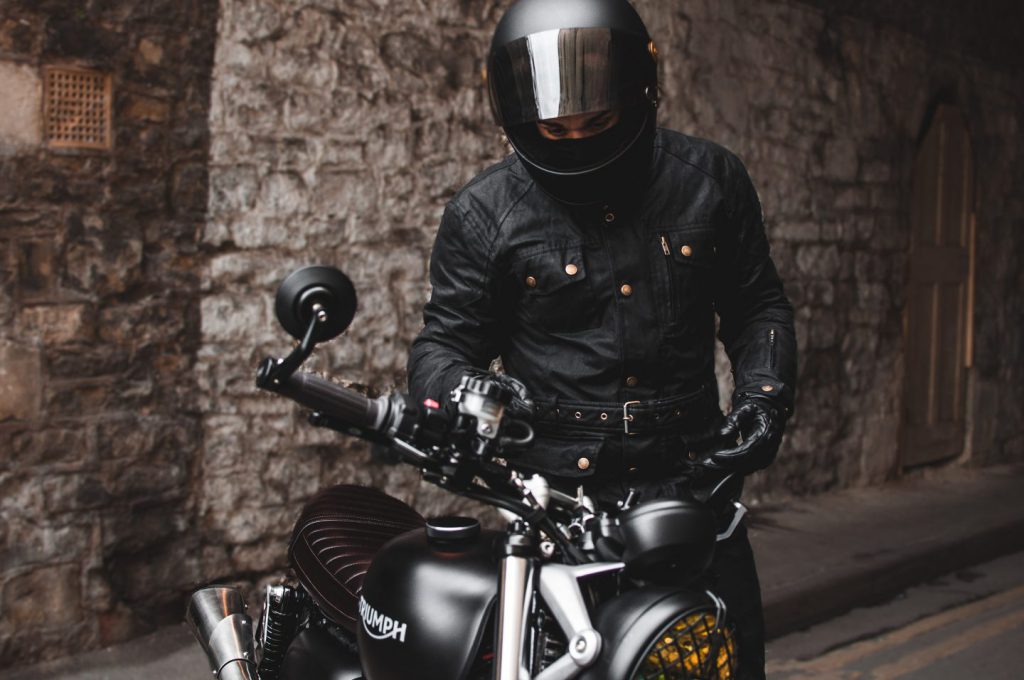 The Merlin motorcycle clothing brand is dedicated to offering the motorcycling world a comprehensive range of motorcycle gear designed right here in the UK. A company that is 100% employee-owned, the Merlin philosophy is to create motorcycle clothing and apparel that keep pace with the latest innovations in both safety and material technology, whilst tipping a nod to British motorcycling heritage in the process.

With over 50 years combined experience in the team, Merlin is a truly traditional British company creating garments that are functional, stylish and elegantly simple. Renowned for working closely with the world's leading waxed cotton fabric innovators Halley Stevenson's, the Merlin waxed cotton range is one that really stands out. A range of wax jackets designed for the modern motorcyclists, they ooze premium quality and have that distinct look and ageless style we all recognise.

The style and quality doesn't just stop with waxed cotton though. Merlin manufacture a full range of products in the heritage, protective denim and leisure moto categories; as well as a full range of more traditional, technical touring garments featuring Outlast®. All Merlin motorcycle products carry the same philosophy of using the best materials available in order to offer the rider the best quality product possible, whilst keeping the all-important style and functionality.
The Merlin Heritage Range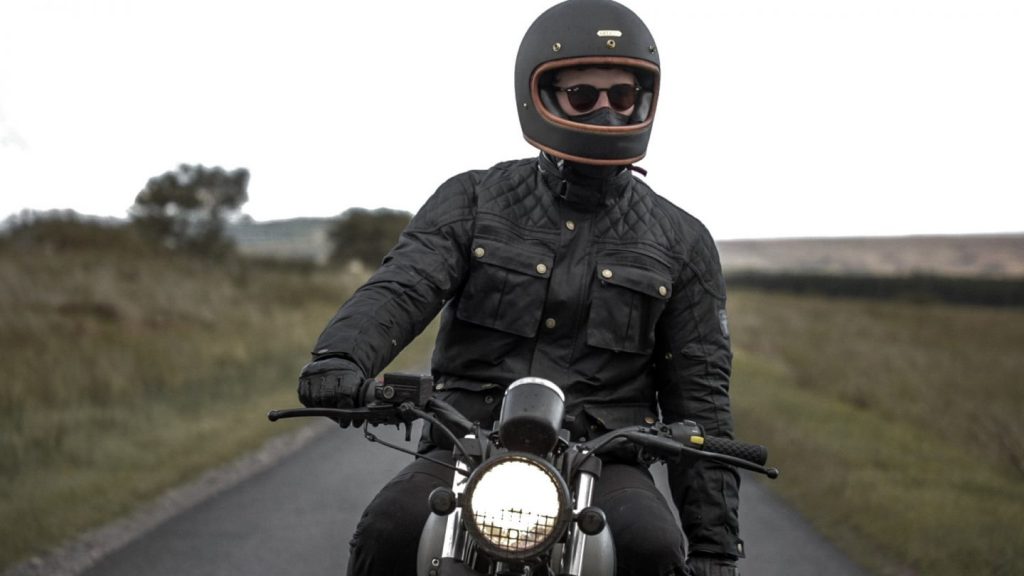 Possibly the jewel in the crown of the Merlin motorcycle clothing range, the Merlin heritage collection really is second to none. With a nod back to the heady heights of the British motorcycle industry's glory days, the heritage collection incorporates that timeless style we all recognise while bringing it right up to date for the 21st century. 
The heritage range combines an excellent mix of leather motorcycle jackets, such as the Chase and Draycott leather jackets, and a full range of waxed cotton jackets in varying lengths and options like the Atlow and Barton jackets.
To complement the jackets, there is also a range of Merlin motorcycle gloves and boots, all of which carry the same level of technology and quality.
Merlin motorcycle boots and gloves are constructed from cowhide leather, with no man-made fabrics or substitutes. Motorcycle boots such as the Stockwell or Ashton can easily be used as an all-day commuting/work boot – if you want something a bit more rugged then the waterproof Drax or Borough boots will be right up your street. The Padgett or Garrick gloves are perfect summer cruising gloves, whilst the waterproof Darwin gloves feature a leather/waxed cotton mix with Outlast® for more serious weather protection.
Leisure Moto Range
The leisure Moto range of clothing from Merlin continues to expand and gather pace within the urban scene, providing a range of protective motorcycle clothing that has urban style and can be worn on or off the bike without compromising protection, performance or function. The leisure Moto range takes a blend of fashion and innovation and, as always, there is no compromise on materials.

The Axe Riding Shirt and the Hamlin hoody are perfect for the urban brawl and just as at home in the pub as they are on the bike. Both are fully lined with a 100% DuPont Kevlar fibre twill liner for abrasion resistance and fitted with elbow and shoulder armour for the protection you need on two wheels.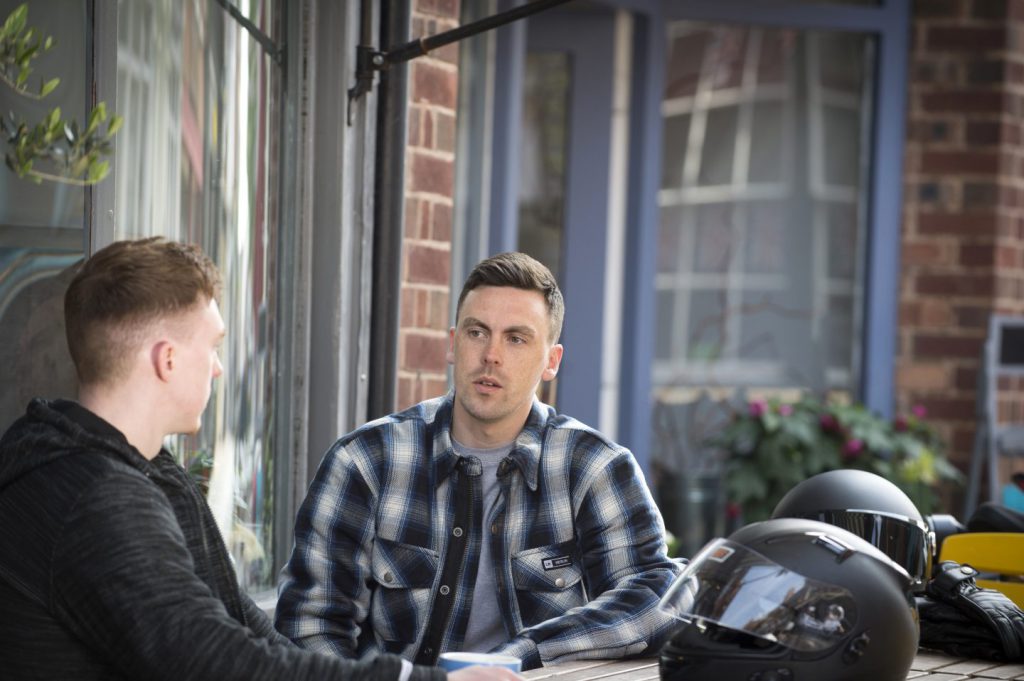 If you're looking for something a little more weather resistant without going for an all-out bike jacket, then the Hammer bomber jacket or the Wesley Harrington jacket are ideal solutions. Constructed from a 10oz Halley Stevenson's super dry cotton, they offer a water repellent outer whilst still having the Kevlar fibre twill added to the impact areas of the shoulders, elbows and back.

Footwear is taken care of in the form of the new Pioneer WP urban boot. These represent your typical short urban riding boot that's perfect for riding into work or town but with a not-so-typical spec sheet. A premium cowhide leather upper encompasses a Hipora waterproof/breathable liner should you get caught in a shower, and reinforced heel, ankle, toe and insole to keep your feet safe.

The Blake protective riding jean complements the range perfectly with a blend of comfort and protection. Manufactured from stretch cotton material for comfort and a Kevlar lining to the impact areas around the rear, side and knees; they are pre-fitted with adjustable knee armour and pockets for hip protectors making them a great addition to your on and off the bike wardrobe. There's no need to take a second pair to change into with these!
A new range of street inspired gloves finish the image in the form of the Maple glove. Manufactured from a unique combination of leather and denim these are definitely not your run of the mill bulky short gloves. A comfortable urban riding glove with reinforced knuckle protection, leather palms for abrasion resistance and easy Velcro cuff fastening; Merlin's Maple gloves are finished with a subtle contrasting stitch detailing giving them an air of class.
Merlin Technical Wear
Moving away from the heritage and urban scenes, Merlin also produce a range of technical motorcycle clothing that is perfect for all-year round or touring motorcyclists. Once again, Merlin strive to give us the best quality materials blended with the latest technology and style with these products. 

One perfect example of this is in their "entry level" Peake textile jacket and pant. It may be billed as "entry level", but the only entry level thing about this jacket and pant combo is the price! Both the jacket and pants are packed full of the latest construction techniques and rider friendly features to ensure you are as comfy and safe as possible.
It is constructed from a 650d Polyester outer with Ripstop torso panels, with highly abrasion resistant ballistic panels on the forearms. A Reissa waterproof/breathable drop membrane keeps you dry, whilst an award winning Outlast® 'Universe' temperature regulating removable liner helps to keep you at a comfortable temperature. CE-approved armour is fitted to the shoulders and elbows, as well as a level 1 back protector for protection. The jacket is then fitted with YKK® zips throughout, multiple pockets front and back, front and rear vents, a neoprene collar, multiple adjusters and 360-degree reflective visibility – the list goes on! Staggeringly, the Peake jacket and pant combo is available for only £299.99!!
This jacket really is proof of the Merlin Philosophy that the only way to make motorcycle clothing is to ensure that only the best quality products are used and that the garments protect the rider, whilst giving them comfort and style.
So, there we have it. Just a quick look at one of the most current and up to date UK motorcycle clothing manufacturers. Safety, technology and style – all encompassed in a little British heritage and style.