The British Karting Championship is currently underway which Demon Tweeks is an official partner for 2022. Entering its fourth season of involvement in the UK's premier karting series, read more about the partnership here.
Before the season started, we went for a chat with Miles Murphy as he prepares for the 2022 karting season on a rainy day at GYG in North Wales. Miles takes us through his plans for the season and gives us an in-depth look at his stunning KZ2 kart. Be sure to watch the video to hear all about it!
Miles is competing in the KZ2 class of the championship, this is the fastest among the short circuit British Kart Championships, karts top out at 90mph at most tracks. KZ2 is hugely popular across Europe with no other than 2021 F1 world champion Max Verstappen graduating from this championship!
What gear is best for karting?
It's important for drivers to have the right equipment when karting, as with any motorsport. Miles is using the following gear to give himself the best opportunity to get on the top step this year. All available from Demon Tweeks…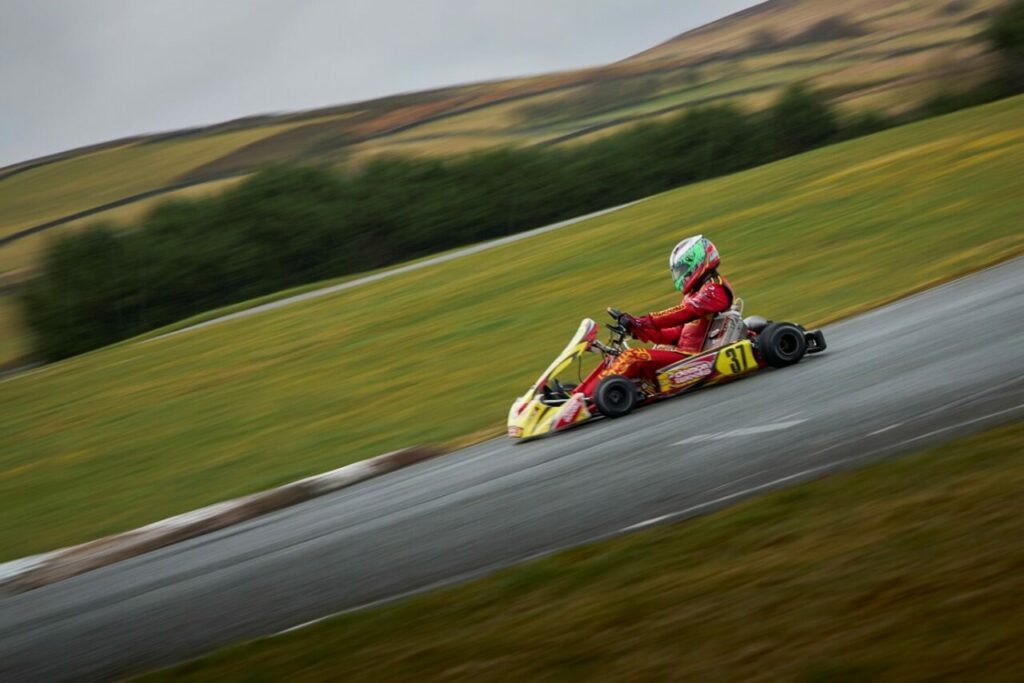 Helmet
First off, the helmet. Miles uses the 'Arai SK-6 Kart Helmet', this is a karting specific helmet that uses the same, highly developed, and immensely strong shell as the GP-6S race helmet with Complex Laminate Construction for light weight. The durable, non-Nomex lining is specifically designed to satisfy the extreme demands of kart racing, as is the unique ventilation system.

Suit
Next up the custom suit, the 'OMP KS-Art Custom Design Kart Suit' has been used as it allows for a totally bespoke custom design, with the ability to add any sponsors logos, images, names or even photographs of the buyer's choice. The suit offers a seamless design which reduces pressure points on the driver, it is also incorporates semi floating sleeves for mobility and is ultra-lightweight. It can be made to measure for the perfect fit.

Gloves
Miles uses the 'OMP KS Art Custom Design Kart Gloves' which can be fully customised to your liking with logos, sponsors, colours etc. They have all the same features you would expect from a professional kart glove. A pre-curved palm and finger shape reduces material bunching when gripping the steering wheel, so you get a better fit and feel with reduced fatigue. The silicone print on the palm and fingers offers superb grip levels with optimum dexterity on the wheel and an elastic wrist closure ensures a close and secure fit.

Boots
Finally, to complete Miles outfit, he uses the 'OMP KS Art Custom Design Kart Boots' which again allow the buyer to customise with logos, sponsors, colours etc. The boot offers what you would expect from a competition boot. The upper is made from a single piece of soft yet durable fabric with an elasticated side panel and a single Velcro strap for comfort and movement with soft bellows at the rear of the ankle. The thin rubber sole offers optimum grip and feel on the pedals.

KZ2 British Kart Championship Calendar
Round 1 – Shenington – 23/24 April 2022
Round 2 – Warden Law – 21/22 May 2022
Round 3 – Glan-y-Gors – 18/19 June 2022
Round 4 – Rissington – 2/3 July 2022
Round 5 – Kimbolton – 10/11 September 2022
---
Enjoyed this? Read more of our latest news:
Where To Next?
Looking for the latest motorsport parts and accessories? Check out our wide range from top brands.
Come and visit us at our store, showroom and fitting centre in Wrexham.
Want to know more about our story? Learn about who we are and why we've been driven by passion for over 50 years.
Interested in everything we do? Catch up on all the latest Demon Tweeks news.