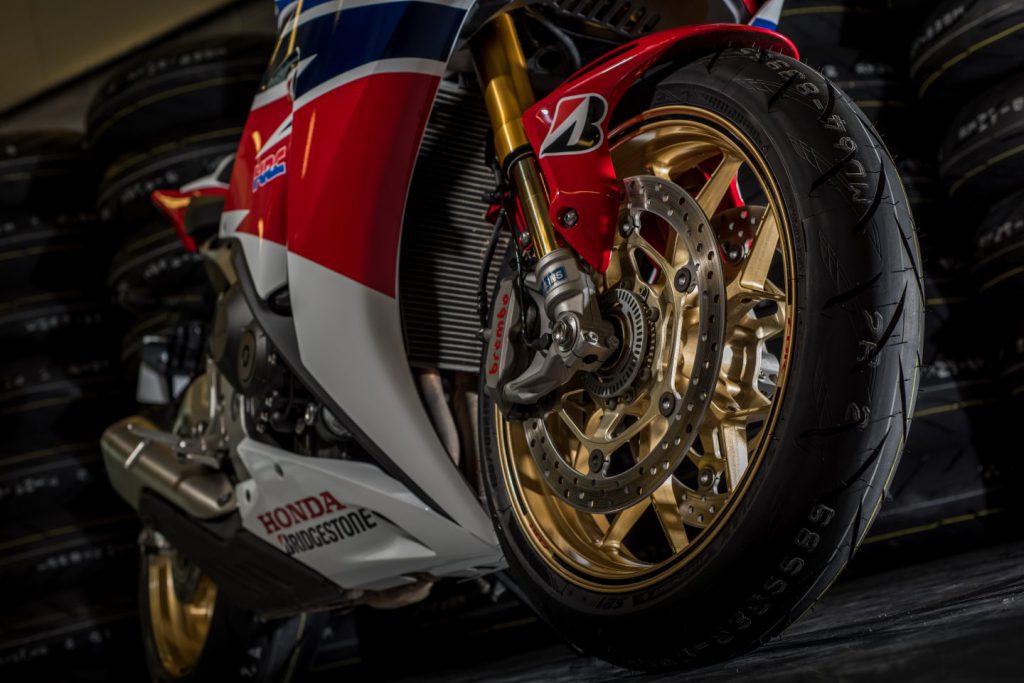 As motorcyclists we all know that the products we buy and use need to be products that we can trust. The world of motorcycle tyres is no exception – it is probably the most talked about and contested product category in the world of motorcycling!

Motorcycle tyres are a personal thing and not all of us like the same thing: different feel, different handling characteristics, brand loyalties – the choices are huge and the debates long-lasting! Some of us tend to stick with what we like or know, and some like the idea of trying something different with the latest motorcycle tyres from the top brands.
One thing we all know is that there are a handful of leading tyre manufacturers who all use the latest technologies, designs and manufacturing processes to give us the best and widest choice of tyres for our motorcycles; and Bridgestone is one of these brands, continuing to push the boundaries of tyre technology since the 1930's.
A brief history of Bridgestone
The very first Bridgestone tyre was produced in 1930 by the then Japan "Tabi" socks Tyre Division. Approximately a year later, the founder Shojiro Ishibashi made the Tabi socks tyre division independent and created the Bridgestone Tyre Company Ltd to manufacture tyres based solely on Japanese technology, which quickly grew as the business expanded rapidly both at home and overseas.
Through the 40's, 50's and early 60's Bridgestone continued with their rapid growth and development and in 1951 became the first company in Japan to sell Rayon cord tyres and nylon tyres in 1959. 1960 saw the opening of a new Tokyo plant, which evolved to incorporate their new technical centre and 1967 saw the sale of its first radial tyre and the establishment of their US sales headquarters, with Bridgestone Tyres of America.
Throughout the 70's and 80's the company continued to expand around the globe, increasing its number of manufacturing plants to cope with the growing demand for their tyres. Purchasing the Firestone Tyre & Rubber company back in 1988 cemented Bridgestone as one of world's largest tyre and rubber companies.
Bridgestone has always been a popular choice for motorcycle manufacturers as an OEM fit tyres and an extremely popular choice for motorcyclists as an aftermarket tyre, but this all changed (for the better) in the early 2000's.
In 2002, Bridgestone entered the blue-ribbon class of motorcycle Grand Prix racing, MotoGP. Makoto Tamada gave Bridgestone their maiden win MotoGP in 2004 and their first world title in 2007 with Casey Stoner. From 2009 to 2015 Bridgestone was the exclusive tyre supplier of the championship and reached the milestone of 100 MotoGP victories in 2012. Nine-time World Champion Valentino Rossi was Bridgestone Tyre Adviser having won two MotoGP titles on Bridgestone tyres in 2008 and 2009.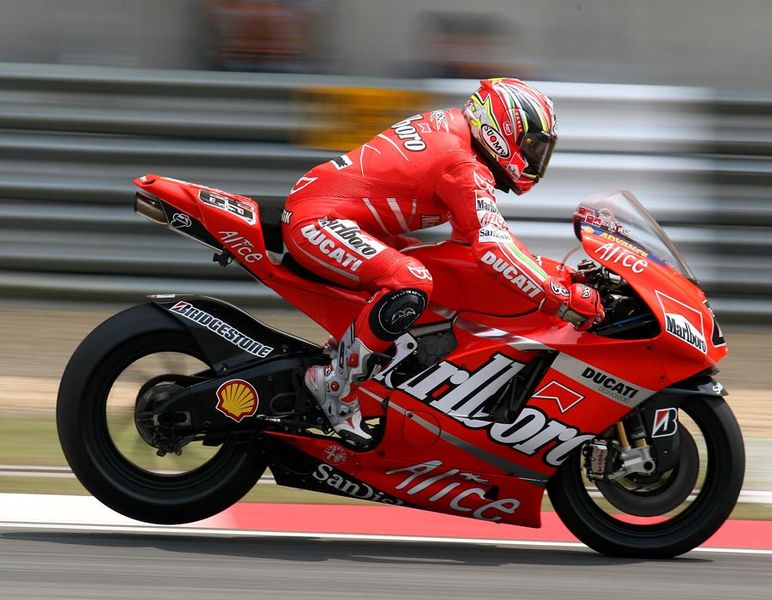 Around the time that they left the MotoGP Championship, Bridgestone brought us the BT-010 and BT-020, which became an instant success and some of the most popular radial tyres on the market. These have evolved over the years through the BT-012 and BT-021 to the BT-016 and BT-023 that are still well known and sought after today.
Bridgestone continue to have massive placement on motorcycle OEM fitment and have recently launched four of their most significant tyres in a long time – cementing their place as one of the top brands at the forefront of motorcycle tyre technology and manufacturing.
The new 2019 range of Bridgestone motorcycle tyres
Battlax S22 Motorcycle Tyres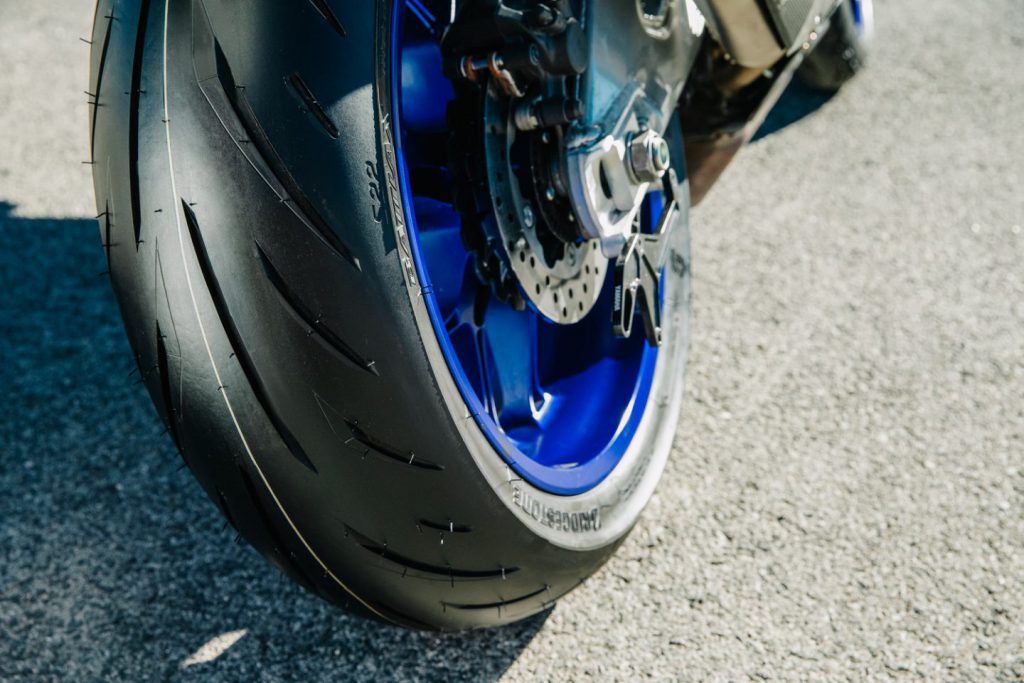 Could this be the perfect all-round sports tyre? The Bridgestone Battlax S22 is equally at home on the road, as well as on the track and is the replacement for the popular Bridgestone Battlax S21, offering a no-compromise improvement over its predecessor in all areas! It comes with a new compound technology providing excellent dry grip, as well as excellent wet performance without sacrificing tyre life with excessive wear. A new tread pattern improves the land-sea ratio on the shoulder of the tyre to aid in wet grip, whilst the rigidity of the pattern increase agility.
The light handling and feedback of the S22 are a perfect match for any hyper sport rider.
Available as a tyre package or to buy individually.
Battlax T31 Motorcycle Tyres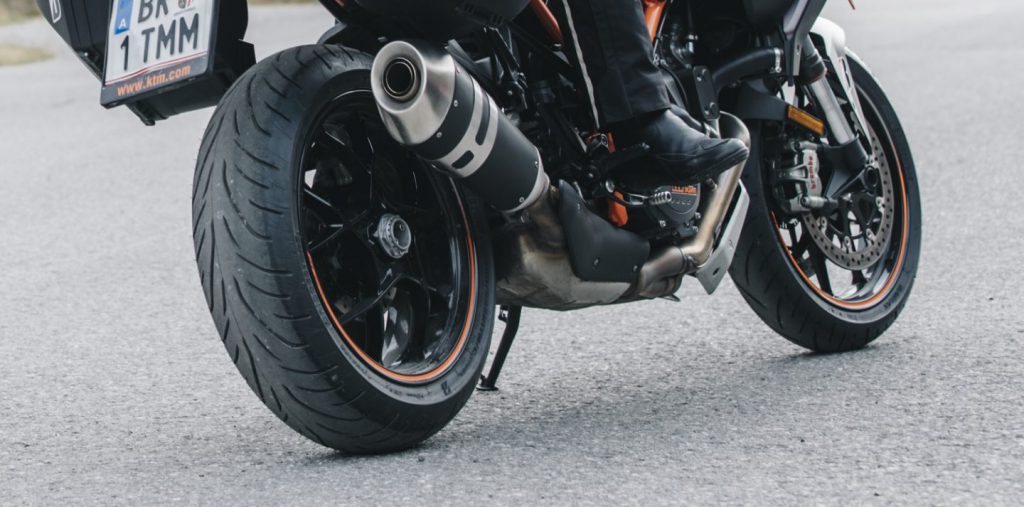 Exceptional handling, great mileage and impeccable performance in both the dry or wet – what more could you ask for from a sports touring tyre? The Bridgestone Battlax T31 motorcycle tyre is one of Bridgestone's most advanced yet! It uses cutting edge materials and compounds and combines them with advanced casing and construction techniques to give you a sports touring tyre that performs like a sports tyre but does not compromise on braking or handling whilst still giving the mileage and comfort we would expect.
Available as a tyre package or to buy individually.
Battlax A41 Motorcycle Tyre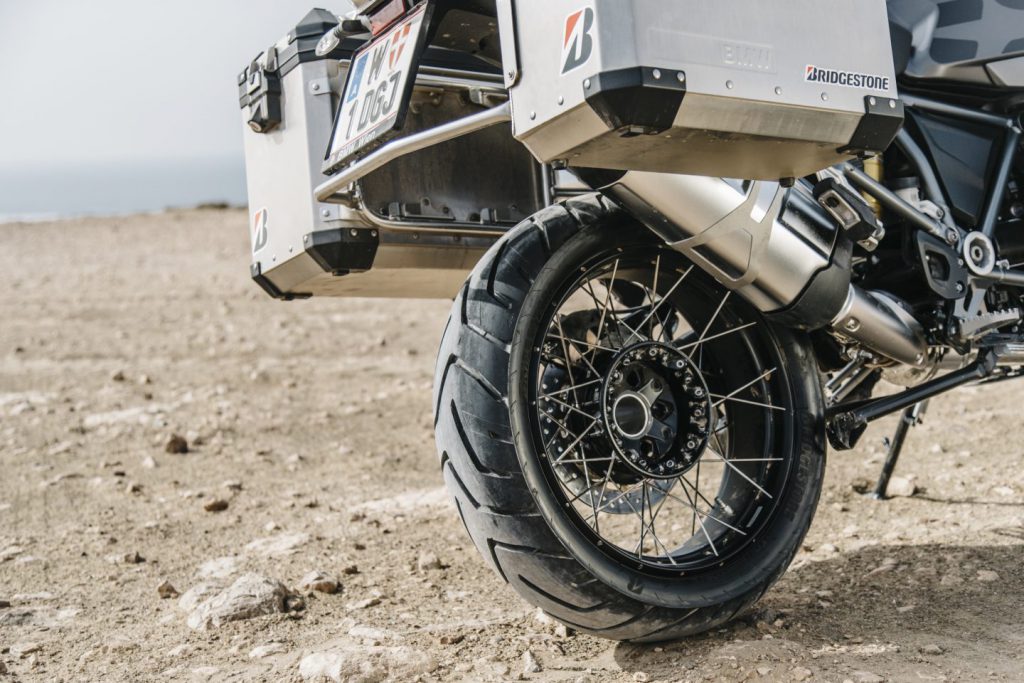 An adventure tyre that offers great handling and grip – even in the wet! The Bridgestone Battlax A41 features a new compound containing a combination of two special components, Silica Rich Ex and RC Polymer. Not usually compatible, however, Bridgestone have found a way to promote a link and the result is superb wet performance, excellent feel and reduced performance "drop-off". Both front and rear tyres feature multi-layer construction featuring Bridgestone's three-layer compound to improve grip and bump absorption. This upgrades the contact patch, distributing pressure and gives ultimate handling, grip and consistent performance in the trickiest of conditions. The Battlax A41 really is an excellent all-round adventure tyre that can take whatever the road throws your way!
Available as a tyre package or to buy individually.
Battlax Adventurecross AX41 Motorcycle Tyre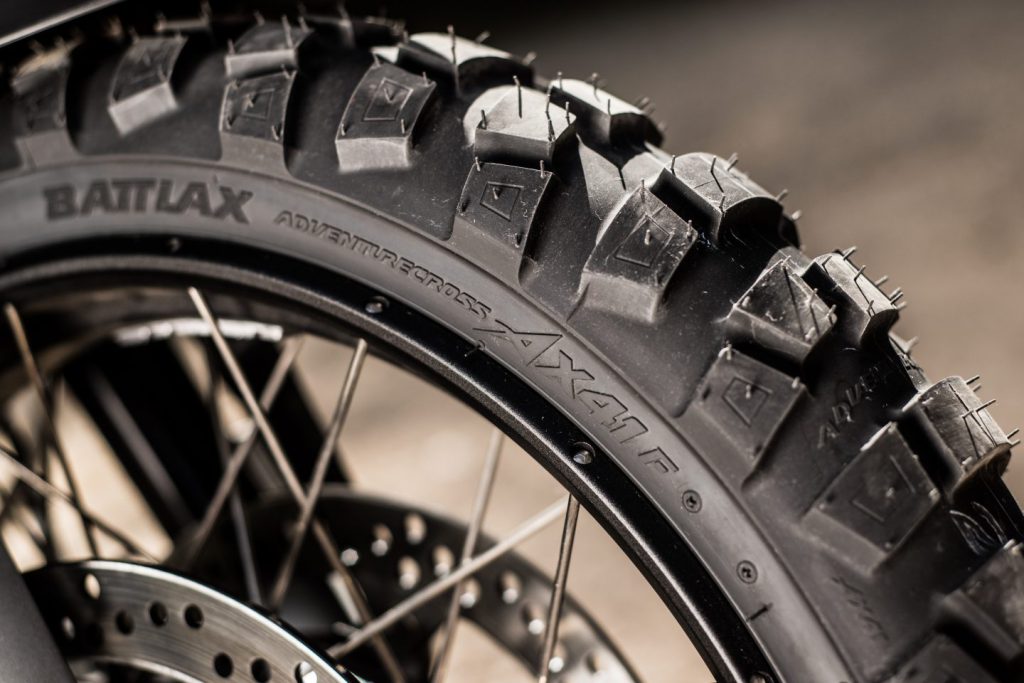 Perfect for adventure bike riders who enjoy using their bikes off-road and who demand a high level of off-road performance and durability. The Bridgestone Battlax Adventurecross AX41 adopts a block design which is positioned to ensure off-road performance, durability and stability in all conditions. A-IW technology reduces the heel and toe wear at the trailing edge of the tread blocks by reducing the block deformation under braking. The AX41 has been created with a compound that has increased rigidity and strength compared to the A41 tyre to ensure a balance between durability and off-road performance.
Available as a tyre package or to buy individually.
A couple of Bridgestone Favourites
Battlax BT-016 Motorcycle Tyre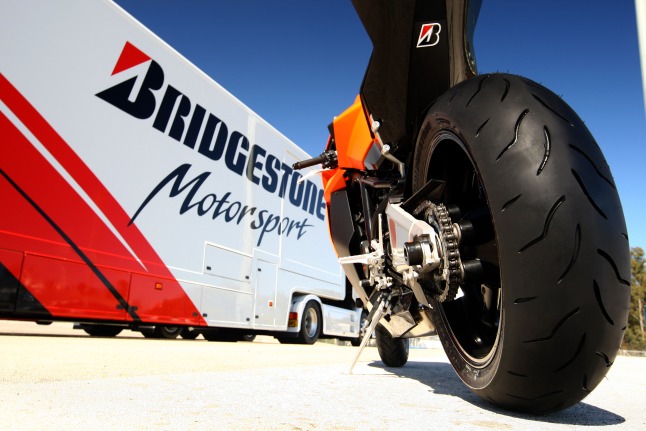 A true evolution of real MotoGP technology – the Bridgestone Battlax BT-016 tyre is the perfect everyday sports tyre that offers excellent mileage, excellent handling and excellent durability with superb rotational stability and high speed performance. Never has as much technology been available in what is now an entry level tyre! Multi-layer construction gives a better contact patch and feel, whilst its high tensile super penetrates cord (HTSPC) enhances heat transfer and reduces the risk of a blowout. "S" shaped grooves in the tread pattern offer light handling, excellent wet weather performance and rich feedback. The whole BT-016 package is designed to be commuter friendly, as well as offering grip for fast road riders and track addicts!
Available as a tyre package or to buy individually.
Battlax BT-023 Motorcycle Tyre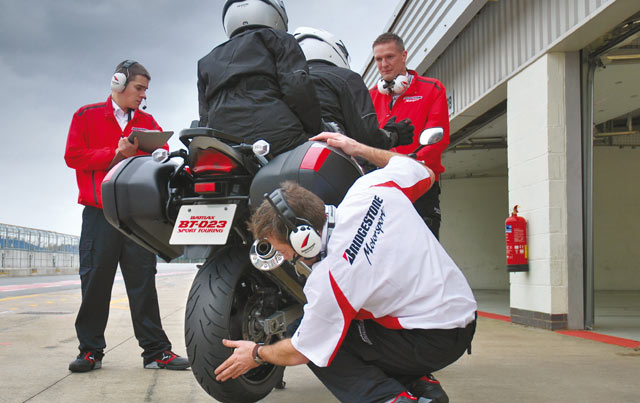 The Bridgestone Battlax BT-023 was designed by Bridgestone to be a durable, grippy sports touring tyre that performs with sporting ability. Its triple compound construction means you get a tyre that provides excellent grip in the corners and excellent tread life in the centre, whilst its silica rich compound gives you high performance in low temperature conditions and confidence straight from the off! Its advanced tread pattern has deep grooves to increase stability and extend mileage. If you are looking for a sports touring tyre that offers the perfect balance between mileage and sporty handling – the BT023 could be for you!
Available as a tyre package or to buy individually.