After a pretty poor start to the year weather-wise, Summer is finally here – and we all know that riding a motorcycle is what the Summer was designed for!  There is no better feeling than getting back into the groove after months of waiting for the chance to get out on 2 wheels!
Whether it's a glorious sunny morning ride in to work, taking advantage of a sunny weekend, or late evening blast to the beach after work – as the weather heats up, we need to make sure that we still "dress for slide, not the ride".
Let's face it – we've all seen trainer and shorts man….  30 degrees outside and all that protects us from the elements is a t-shirt, shorts and trainers??!!  Understandably, when its scorching outside, it's going to feel good nipping to the shop – but on longer rides?  Get the speeds up a little and apart from the unthinkable – its only going to take a few bee's or stones to the chest or the arms to make you wish you'd put a jacket on!!
Thankfully, there are now summer jackets available from all of the top brands in the UK – designed to give you protection from the elements, but also to help keep you cool during these mini heatwaves!!
It has taken a few years for vented jackets to take off in the UK – and we usually class them as "summer jackets", whereas in warmer countries they are obviously more popular as they have warmer weather.
Key Features Of A Vented Summer Jacket
Protection – Its no use buying a vented jacket if it offers no or little protection.  The minimum we should be looking for is CE approved armour in the shoulders and elbows and the provision for a back protector to be fitted.
Mesh / Venting – Apart from the protection element – this is obviously the most important and the key to keeping you comfortable and cool during the hot summer months.  The mesh allows maximum airflow into the jacket, but still acts as a protective barrier between your skin and the elements / tarmac!
Construction – Most summer textile jackets are manufactured from a 600D Polyester or Cordura material – but as technology advances, materials such as HTC from RST (a high tenacity nylon with incredible abrasion and tear strength) ensure added flexibility and comfort when wearing the jacket.  Most mesh jackets have a reinforced structure to ensure maximum protection.
Comfort – We all have our favourite leather jacket that's broken in, supple and the most comfortable piece of bike gear we own! Unfortunately, we all know that while textile jackets do not have the same level of give as leather – the use of lighter, more flexible materials and multiple adjusters and the arms and waist etc and little touches like lined collars and connecting zips improve comfort when riding.
Even though it's not something that instantly comes to mind with summer jackets – it is always worth bearing in mind that some jackets come with removable thermal / waterproof liners – Not a huge selling point in the middle of the summer, but always handy to have if you are riding into the evening and the temperature drops, or you get caught in a downpour.
Our Top 5 Vented Summer Jacket
Knox Urbane Pro MKII Utility Armoured Shirt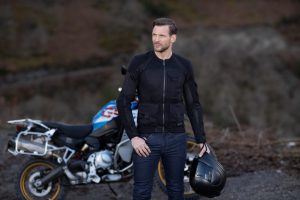 The Knox Urbane Pro Utility MKII throws a curve ball into the mix, as it is not classed as a jacket by Knox.  It is designed though, to be worn on its own in hot weather – with no jacket required.  It is the ultimate lightweight, breathable, impact and abrasion resistant motorcycle garment!!
Designed using high performance technical fabrics, specially selected for their abrasion, cut and tear resistance the Urbane Pro MKII Utility is an AA CE approved garment with amazing abrasion resistance.
It features Knox's softest Micro lock armour in the shoulders, elbow and back – the most advanced and softest Knox armour ever, designed to contour to the body for ultimate comfort.
This Jacket has been constructed using high tenacity stretch nylon, combined with tough breathable arrow net mesh selected for abrasion, cut and tear resistance. Stretch mesh panels have been included in the design for added flexibility and comfort. There are also 5 Duck Canvas pockets, 1 chest, 2 patch pockets on the front, a 1 large back pocket and 1 sleeve stash pocket for even greater functionality. There are also thumb loops to keep the sleeves in place, and an improved security belt loop system on the inside to ensure riders can secure their trousers to their shirt for the best possible fit.
Merlin Shenstone Mesh Jacket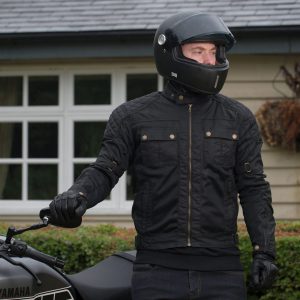 The Merlin Shenstone jacket brings a touch of class to our Summer jacket collection!  Perfect for those short summer rides to the local bike meet or coffee shop.  It combines lightweight Halley Stevenson fabric construction, D3O armour and high-quality comfort features.
Constructed from 8oz Halley Stevenson Cotec fabric for comfort, it has ballistic mesh panels for high levels of cooling and breathability.  A fixed mesh internal liner adds comfort, whilst a removable Reissa active waterproof/breathable membrane helps if your caught in a shower!
For rider safety D3O CE approved armour is fitted to the shoulders and elbows and there is a pocket to fit a back protector also.
The jacket has cross quilted stitch details on the Shoulders and underside of the forearm, and also Merlin branded antique finish snap studs. It is adjustable in the Biceps, Cuffs and Hem to achieve the best possible fit and feel and features 2 chest pockets, two side entry pockets and Internal storage pockets for all your essentials.
Merlin Chigwell Lite Cotec Jacket
Another offering from the Merlin stable – the Chigwell Lite jacket is a little more suited to riders of sports / naked bikes, as oppose the more heritage style of the Shenstone jacket, but still offers the same quality, comfort and D3O armour.
As with Merlin's other mesh jacket – the Chigwell is constructed from 8oz Halley Stevenson tech-wax fabric with a mesh front construction and a fixed mesh internal liner for comfort, but on the Chigwell, there is no waterproof liner.
D3O CE approved armour is fitted to the shoulders and elbows and a D3O Viper back protector is also fitted as standard.
Exterior features include YKK zippers throughout, Merlin branded snap studs.  Two side entry pockets and Internal storage pockets give plenty of space for all your essentials.
ST F-Lite Textile Mesh Jacket
The RST F-Lite jacket is the perfect companion for summer riding!  Ventilated, lightweight and CE certified – it ticks all the boxes and at only £130.00 its not too expensive to keep as a second jacket for summer.
Constructed from a High Tenacity Nylon Fabric (HTC), the F-Lite is extremely supple and offers excellent levels of comfort for the rider, whilst boasting outstanding levels of tear strength and abrasion resistance!
CE Level 1 armour is fitted to the shoulders and elbows and there is a pocket for the fitting of a back protector.  An Amara covered collar and cuffs enhances comfort and there is also a removable, shower resistant, windproof liner to help protect against light rain, or the slightly cooler early morning rides.
Oxford Delta 1.0 Air Jacket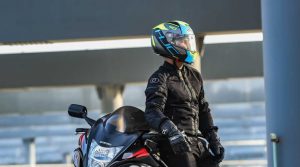 The Oxford Delta 1.0 Air jacket is a fully ventilated, lightweight summer jacket – perfect if you want a summer jacket to back up your regular riding kit.  At only £100.00 it offers exceptional value!
It uses a Polyester construction with mesh ventilation to allow the cooling airflow to reach the rider throughout their ride.  A hidden, reinforced structure to the Delta jacket offers increased rider protection – along with the CE level 1 protectors fitted to the elbows and shoulders (A back protector pocket is also present for riders wishing to fit one).
Adjustment points on the cuffs, arms and waist ensure a comfortable fit and Reflective prints on the jacket ensure visibility when it gets dusk.
It also features 2 hand warmer pockets on the outside of the jacket and an interior napoleon pocket for your phone or wallet etc.