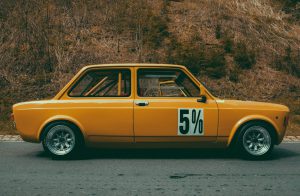 During summer 2021, the standard (95 octane) petrol grade will become E10. The change in fuel applies to petrol only. Diesel fuel will not be changing.
Almost all (95%) petrol-powered vehicles on the road today can use E10 petrol and all cars built since 2011 are compatible. If your petrol vehicle or equipment is not compatible with E10 fuel, you will still be able to use E5 by purchasing the 'super' grade (97+ octane) petrol from most filling stations. Petrol pumps will clearly label petrol as either E10 or E5.
The government E10 checker website link:  https://www.gov.uk/check-vehicle-e10-petrol
The cars and bikes that are not in the above 95% are very common amongst us petrolheads, classic cars and bikes pre 1990s for example so the 5% of the above becomes very important to us. If you are one of the 5 percenters the following information will provide some helpful solutions.
So, what is Ethanol and the Pros & Con's?
Ethanol is sometimes called ethyl alcohol, or grain alcohol. Ethanol is naturally produced by the fermentation of sugars by yeasts or via petrochemical processes such as ethylene hydration.
Ethanol is typically thought of in negative terms in relation to fuel use, but it does have some pro's as well as con's
Ethanol increases the octane rating of petrol; this is a help to resist detonation so that the fuel has a controlled burn rather than pinking. So, the role of ethanol is beneficial to the efficient running and power delivery of a petrol engine. That's is the good news! ( oh, and its greener to although that is open to debate )
Less helpful is Ethanol itself is very corrosive but Ethanol with moisture from the surrounding air ( which it holds ) compounds the issue.  Moisture can get in from fuel storage, also most fuel systems have breathers that allow condensation to form inside the tank. This will affect steel and glass fibre fuel tanks, rubber fuel hoses, fittings, and internal rubbers in items such as carburettors, most especially those made before Ethanol was commonly in use. Ethanol in fuel tends to separate from petrol when stored. It then sinks to the bottom of the fuel tank. It then quickly degrades and creates gum and varnish that can plug fuel flow passages and cause a drop in engine performance. If this ethanol/water mixture is pulled into the engine, it creates a lean-burn situation that increases combustion chamber temperatures and can lead to engine damage. So, a car/bike that is typically built before Ethanol was added and sees only occasional use is going to be more affected than most, i.e. our type of vehicles!
Future Proofing for Ethanol
The most common issue with ethanol content fuel is the fuel lines and rubber fuel seals perish and leaks appear. There are solutions to prevent this from happening in future. The rubber fuel lines can be replaced with R9 hose which is fluoro-elastomer lined to stop the nitrile rubber hose outer from deteriorating. This works for both carburettor and fuel injection systems. If the fuel system has braided lines with screw type AN fittings and unlined nitrile rubber inner, these can be replaced with a new hose that is fluoro lined, or the hose and fittings replaced with PTFE stainless braided hose. In summary :
Push on fitting = R9 fuel hose
AN Screw on fittings = if unlined nitrile hose replace hose with lined nitrile hose as Goodridge 200 hose ( see useful links below ) or replace with completely PTFE lined hose such as APS or Goodridge with fittings to suit. ( PTFE does not allow vapours to permeate so the best choice for use inside the car )
Don't forget to inspect the fuel filler hose especially if it enters the tank lower down where fuel will sit in the hose.  If replacing fuel pumps, pressure regulators, filters, or carburettors it's worth checking they are compatible with E5 or E10. Some are compatible with even E85 ( 85% Ethanol )
Ethanol is also a drying agent and can disintegrate plastic, rubber, some types of fibreglass, aluminium and magnesium.  Ethanol is most corrosive to ferrous metals (metals that contain iron, such as steel).  This corrosion leaves behind salt deposits and a jelly like substance, both of which can clog fuel filters, fuel pumps and carburettors. To prevent issues with the above it is always best to run a fuel stabilizer/treatment in your fuel system. Especially recommended for engines that sit for a lengthy period. Alternatively, if fuelling from home using a fuel intended for storage with no ethanol content such as R Racing Storage Plus Race Fuel – 99 RON. This can be left in for up to three years!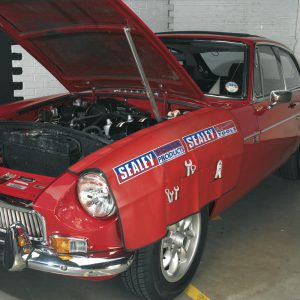 Storage Precautions
– If you don't plan on using it for a while, keep your tank 95% FULL to prevent any condensation but still allow room for expansion. It's important to avoid water intrusion into your fuel system. Filling via a Mr Funnel fuel funnel will mean any water in your fuel is removed. Consider storing the car with the fuel mentioned above. Another option is to drain the fuel before storage, but this can mean corrosion can take hold on metal parts exposed to air so keeping full is preferable.
– Make sure to only buy fuel from a reputable petrol station which is often busy to ensure you are getting fresh petrol, not sat in the holding tank for weeks, settling out.

Useful links
Fuel Hose R9: Mocal manufactured by Codan
Fuel hose Fluoro Lined Nitrile Rubber for AN Reusable fitting:
Goodridge 200 Series& 210 series Hose
Aeroquip AQP hose Aeroquip Startlite
Fuel Hose PTFE Inner:  APS 100 series Goodridge 600 Series  Goodridge 811 Series
Fuel Additives:   
Classic Valvemaster with Etha-Guard
Classic Valvemaster Plus Lead Replacement with Etha-Guard
Driven Racing Oil Carb Defender Fuel Additive
Driven Racing Oil Carb Defender Race Concentrate Fuel Additive
Frost Ethomix
Lucas Oil Safeguard Ethanol Fuel Conditioner with Stabilisers
Millers Oils EPS – Ethanol Protection
Millers Oils Classic Sport CVLe
Putoline E10 Fuel Fighter
Putoline One Shot Fuel Stabilizer
TetraBOOST E-Guard Road Lead Replacement With Ethanol Protection
TetraBOOST E-Guard 15 With Ethanol Protection & Lead Additive
VP Racing Madditive Fuel Stabiliser with Ethanol Shield
Fuel Additives with Octane Booster:
Millers Oils VSPe Power Plus With Octane Booster
Millers Oils VSPe Multi Shot Power Plus With Octane Booster
Higher octane fuel Ideal for Stored Vehicles: R Racing Storage Plus Race Fuel – 99 RON
Mr Funnel fuel funnel removes water when filling
Fuel Filter safe with all Ethanol content:  Fuelab 818 & 848 Series ( except 10 Micron )
Fuel Line Ethanol Sensor:  Link Engine Management Ethanol Content Sensor