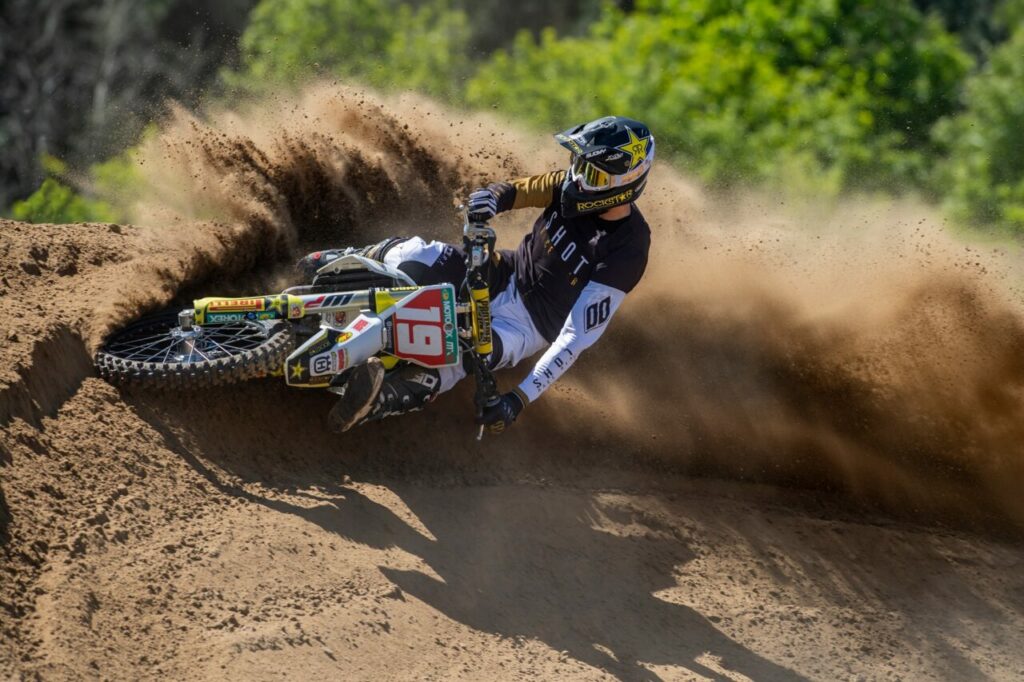 Motocross is an addictive, adrenalin packed sport and is one of the most accessible types of two-wheeled racing available to us! There are clubs and tracks dotted all around the country and it is easy to see just why so many fall in love with the sport – young or old! This is no more apparent than with our 2023 motocross ambassadors! Its also the reason why so many of the world's top circuit riders turn to motocross for training in their downtime and to keep bike fit! Continue reading for everything there is to know about Shot motocross clothing.
Whether you are aiming to start racing, or just looking to get some laps in at your local practice track, there is the small matter of kit to consider – and invest in – before you can get out there and try it for yourself.
At Demon Tweeks we stock the latest motocross clothing, helmets, and equipment with kit from the top brands! But as much as it is an entry point for riders, it can be a confusing time! One brand that has quickly become one of the top brands in the UK is Shot.

Shot Race Gear was founded in 1993 and is one of the leading MX clothing brands in Europe! They offer one of the most complete ranges of Motocross and off-road clothing, protection, and helmets available. Their wide range of products easily satisfies all abilities from the amateur rider, right through to the professional racer.
Shot MX Gear brings decades of experience to the table and has been developed over the years by riders competing at the highest level of competition. Their commitment and enthusiasm are unrivaled – constantly striving to make the lightest, comfiest products they can with constant development and innovative technology and materials.
Shot racewear is engineered to give the rider an effortless riding experience and enhance their performance by being some of the lightest, most comfortable gear available at a competitive price!
Shot Raw Kit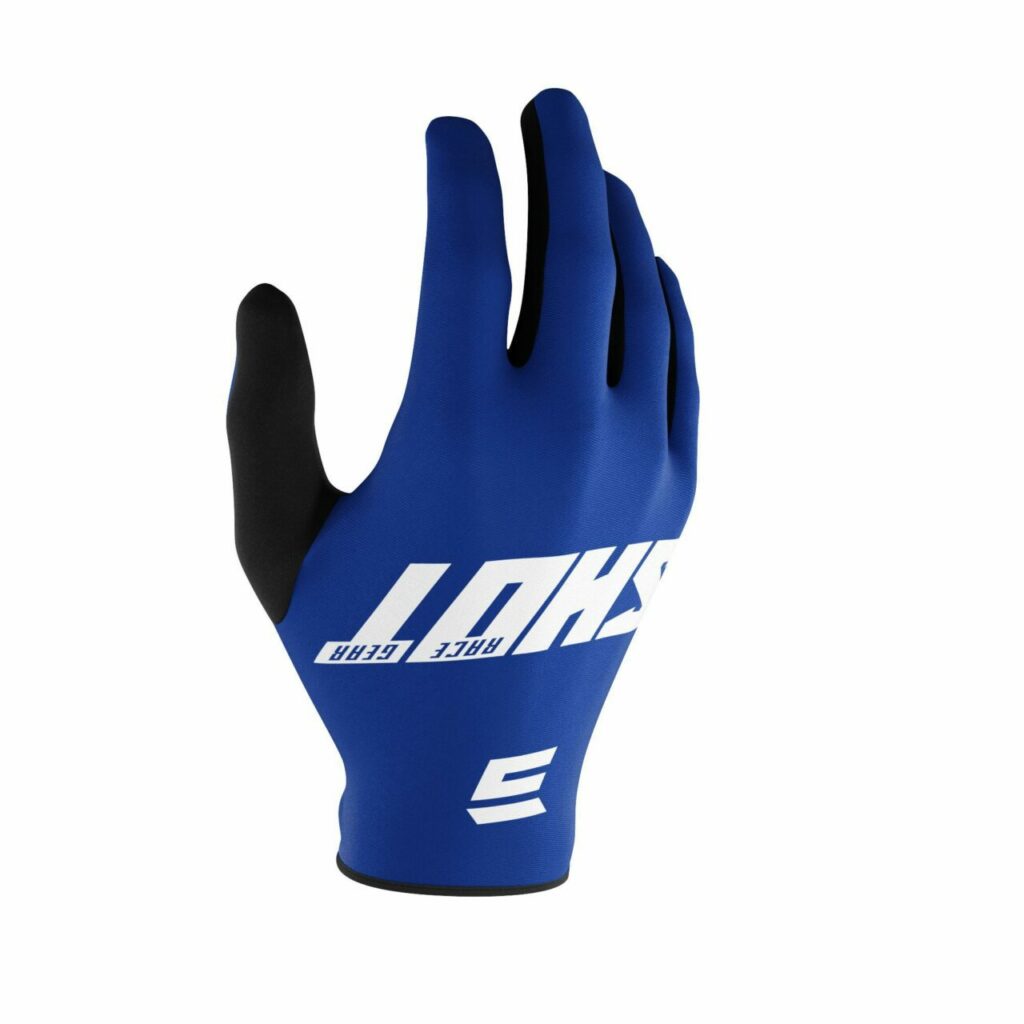 The Shot Raw kit is designed to perform! It is the ideal kit for both the occasional MX rider and regular racer alike! Lightweight and durable, the Raw kit takes it all in its stride!
The jersey has a sportive cut and tailored sleeves to give the rider plenty of flexibility.  The jersey's vented mesh construction offers optimum airflow whilst its longer, tailored tail keeps the jersey in position in the pants, no matter what shapes you throw over the jumps!

The pants are ultra-lightweight and anatomically cut to offer a comfortable riding position. Their 600D polyester construction means they are light, yet strong with spandex at the crotch and knees for extreme flexibility. A reinforced saddle panel ensures durability, and the vented inner liner keeps you fresh all day long. It's also got a handy non-slip waist that helps keep your pants and jersey in place and an adjustable micrometric buckle ensures they stay there!
Shot Raw gloves are a fitted glove with reinforcements on the thumb for abrasion resistance. Silicone printing found on the palm and fingers offers plenty of grip and control in all conditions, whilst a Velcro adjustable wrist keeps the glove in place.

The entire RAW range is available in adult sizes along with youth sizes too. Check out our website or your nearest stockist for a complete list of all the RAW sizes and colour options available.

Shot Contact Ltd Edition Rockstar Kit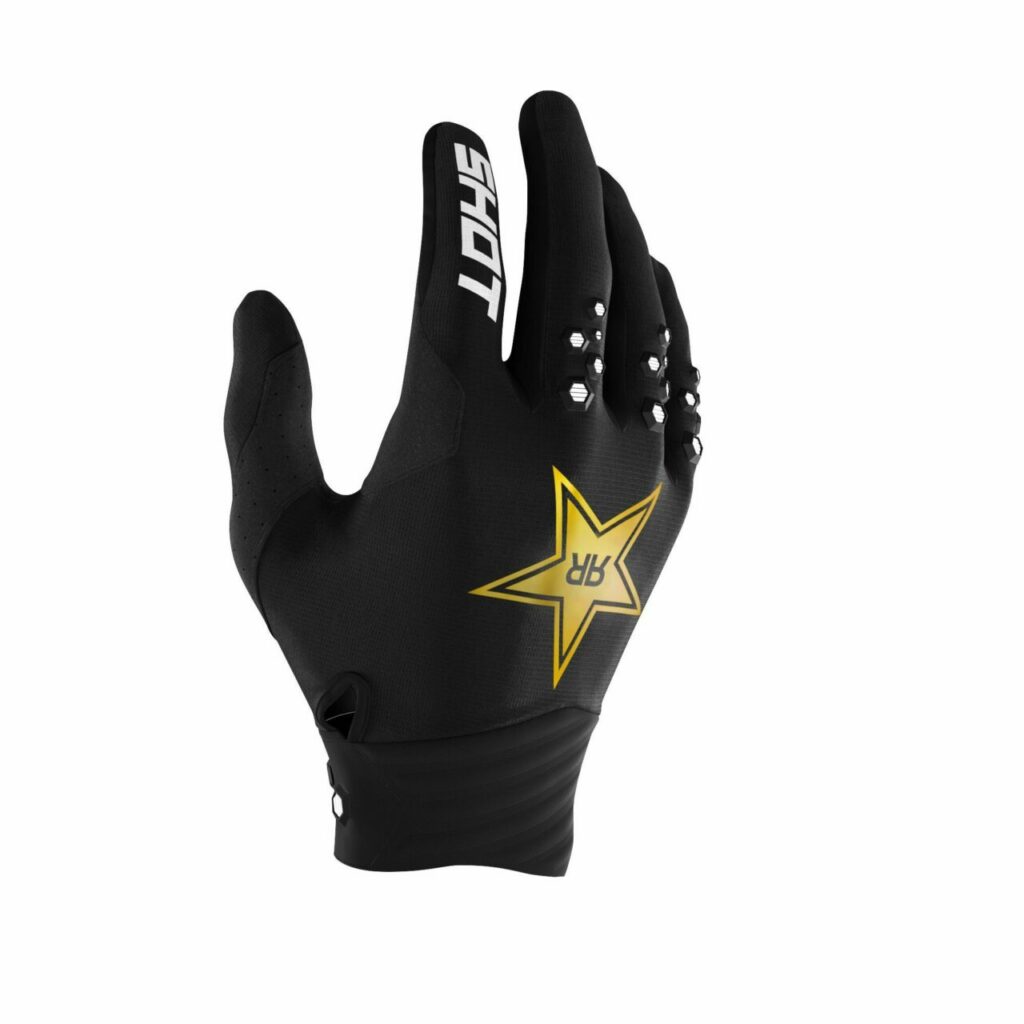 The Shot contact kit is anatomically cut and offers unrestricted mobility. The jersey is finished with a sports collar and strategic mesh vent panels to keep the rider cool and is finished with a long back panel to keep the jersey in position when tucked in.

As you would expect, the pants come pre-curved to support the optimum riding position. Spandex at the Crotch, back and knees allow for unrestricted mobility, whilst heatproof and abrasion-resistant leather panels on the inner legs and a reinforced saddle panel ensure excellent durability and rider protection. A vented inner liner helps to keep you feeling fresh with perforated mesh panels on the legs for optimal airflow. Just like the Raw, a non-slip waist and an adjustable micrometric buckle ensure they stay exactly where you want.

The contact gloves offer to use an elastane finger gusset and updated palm design for a perfect fit. Neoprene cuffs with adjustable Velcro closure keep the glove in place, whilst Silicone grips on the fingers offer grip and control in all weathers
Shot Pulse Helmet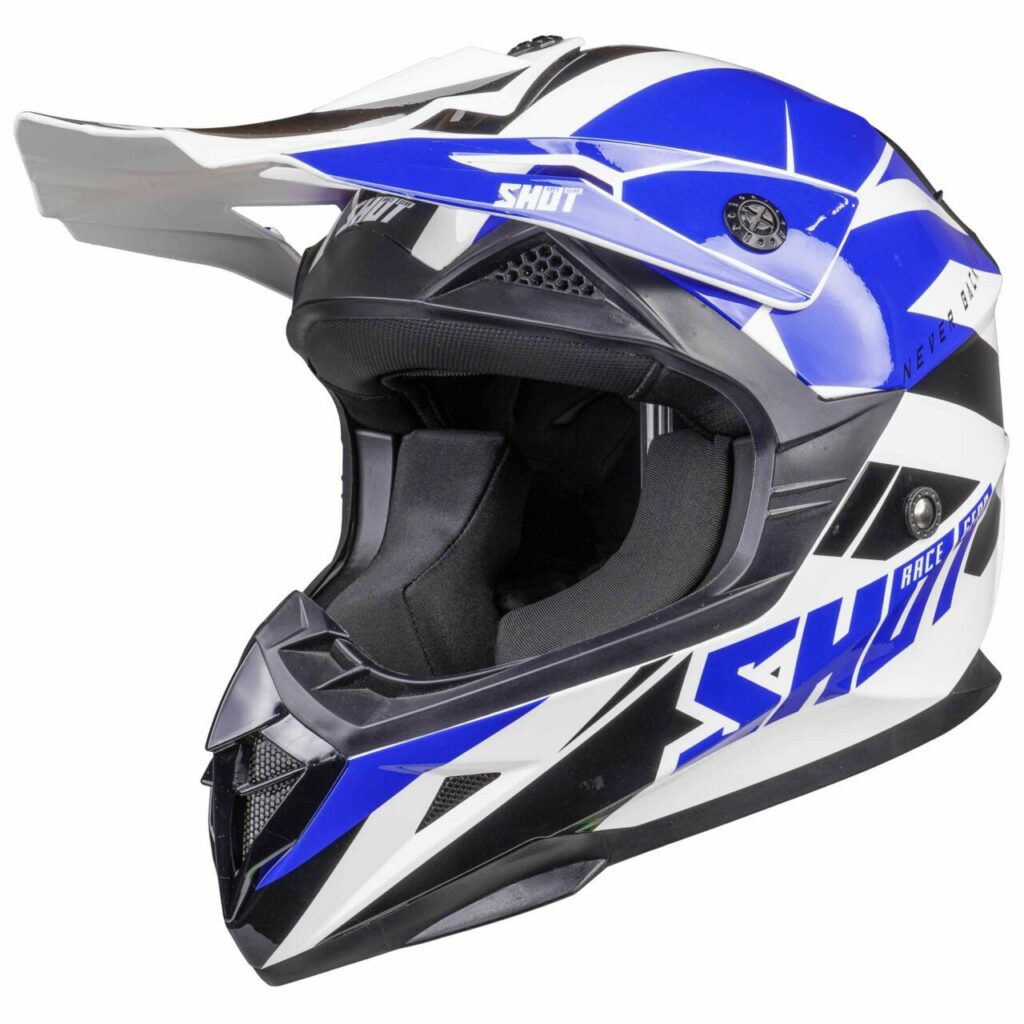 As with any 2-wheel sport, a helmet is possibly the single most important piece of equipment! The most critical part of safety equipment to invest in, it protects your head and face from damage, injury, or worse!
The Shot Pulse MX Helmet is all new for 2022 and has been designed with feedback from riders and racers, to offer an affordable entry level helmet for motocross, whilst still offering features found in more expensive helmets!
An advanced ventilation system uses 6 intake and 4 exhaust ports to keep air flowing through the helmet and keep your head cool and its hypoallergenic liner is fully removable and washable, with "morpho-conforming" technology – allowing you to wear the helmet all day long in comfort!
As with all race helmets, the Pulse is fully ACU approved and its ABS shell is extremely strong and comfortable, with a shock absorbing chin bar if you are unlucky enough to find yourself eating the dirt!
An extra wide goggle port gives a good field of view, whilst making sure it is compatible with a wide range of goggles.
Rider Protection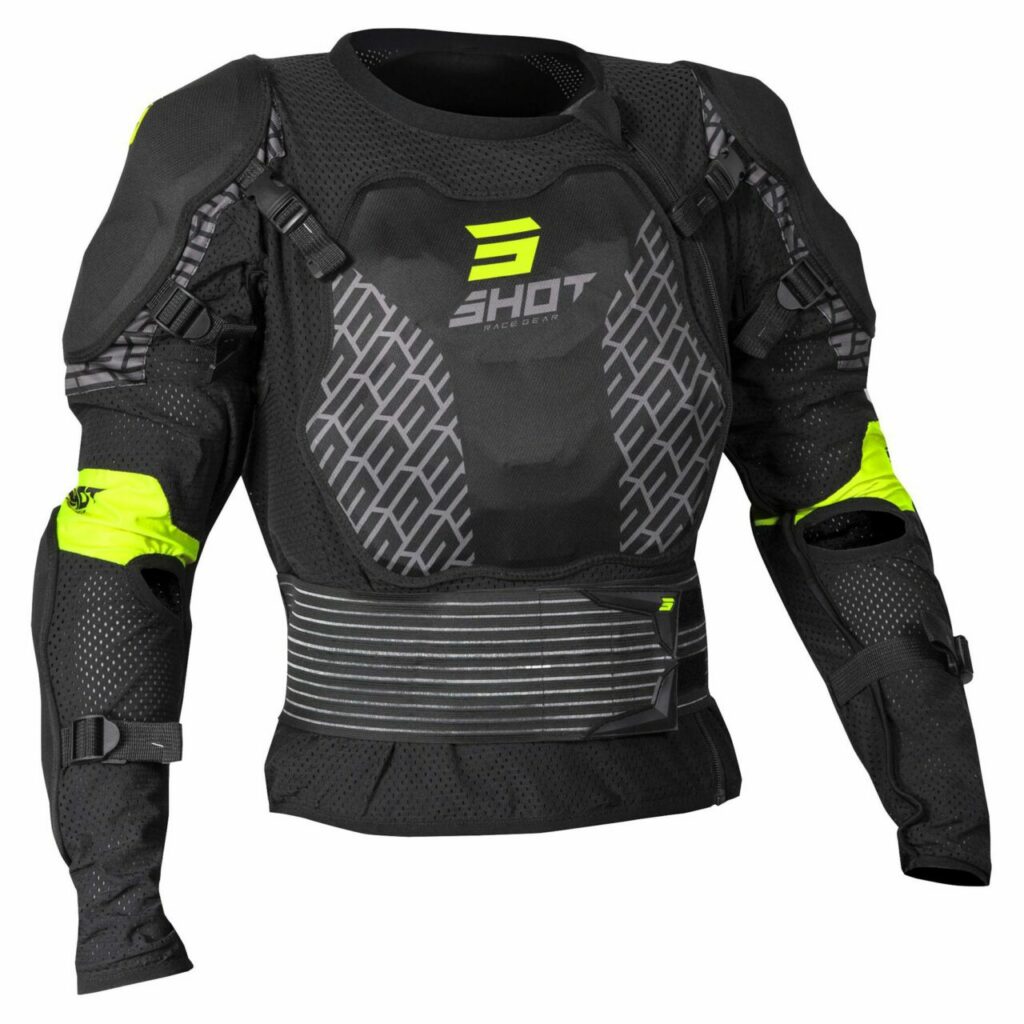 Just like your helmet, body armour is a must for anyone looking to ride motocross, or even if you're just planning on spinning a few laps at your local practice track. Body armour comes in various styles, with one of the most simple (but very popular) being a roost guard like the Fighter 2.0 Chest Deflector which is incredibly lightweight but gives excellent impact resistance to the roost of bikes in front.
If you are looking for something a little more substantial, then you could possibly consider a protective jacket that incorporates, back, chest, shoulder and elbow protection in one compression-type vest.  Lightweight and comfortable – designed to give excellent movement and comfort. The Optimal 2.0 is an ideal way into these types of jackets at a very reasonable price, but if you want to go the whole hog then the Airlight 2.0 Armoured Jacket will be right up your street.
Boots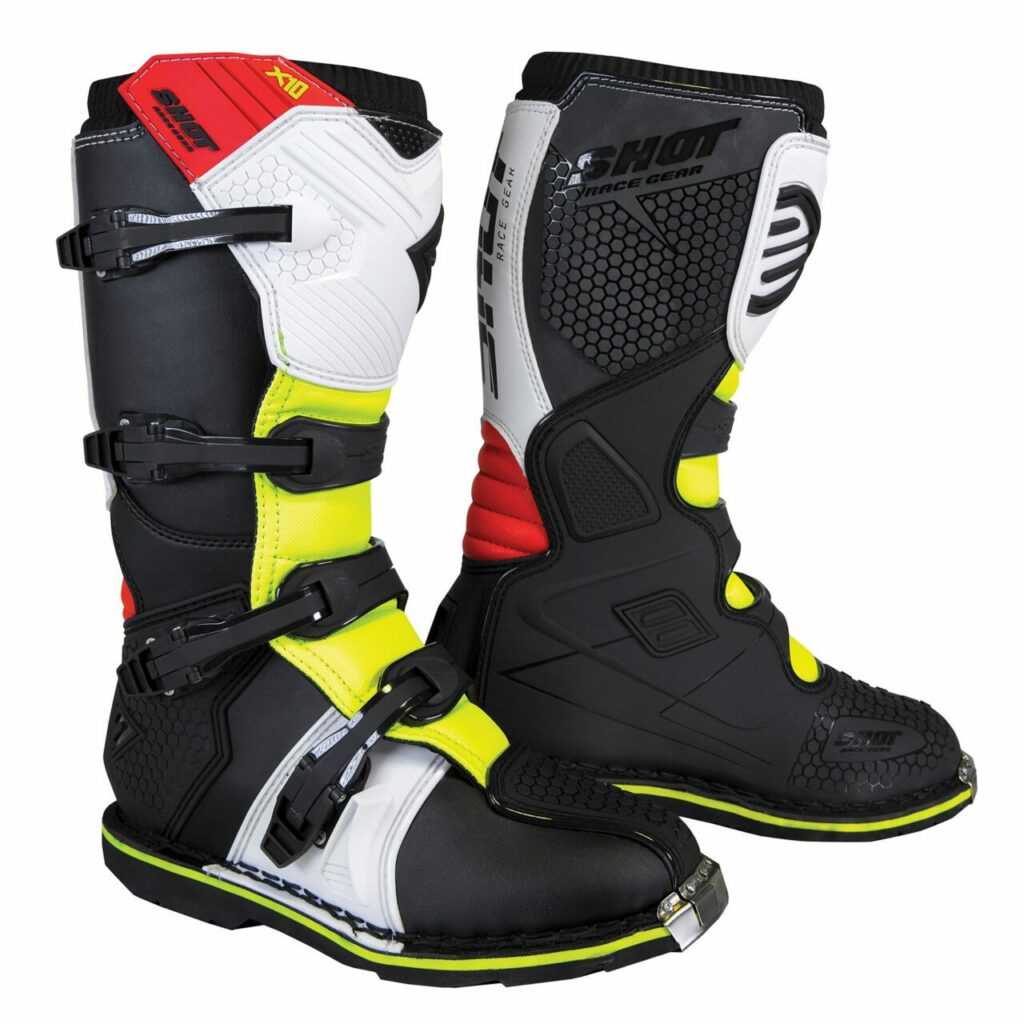 Motocross boots are designed to offer maximum protection (sometimes a lot more than we think) due to the rigors of riding an MX bike! When riding MX, you need good all-round foot and ankle protection, as well as good protection from roost and rocks. Impact protection is important, as well as all-round protection for your lower legs.
In the same way when we looked at Shot motocross helmets, you can purchase a pair of Shot MX boots at a price that won't break the bank!
The Shot X10 2.0 MX boot is feature-packed and delivers excellently on track performance, comfort and protection!  It uses a lightweight and robust premium synthetic leather construction with a breathable liner for comfort! Injection moulded ankle and shin protectors give you excellent ankle and shin protection, whilst a double stitched rubber sole provides excellent grip on the pegs!
If you've made it this far, nice! your now clued up on everything Shot. Get out there and get dirty!
---
Enjoyed this? Read more of our latest news:
Where To Next?
Looking for the latest motorcycle parts and accessories? Check out our wide range from top brands.
Come and visit us at our store, showroom and fitting centre in Wrexham.
Want to know more about our story? Learn about who we are and why we've been driven by passion for over 50 years.
Interested in everything we do? Catch up on all the latest Demon Tweeks news.