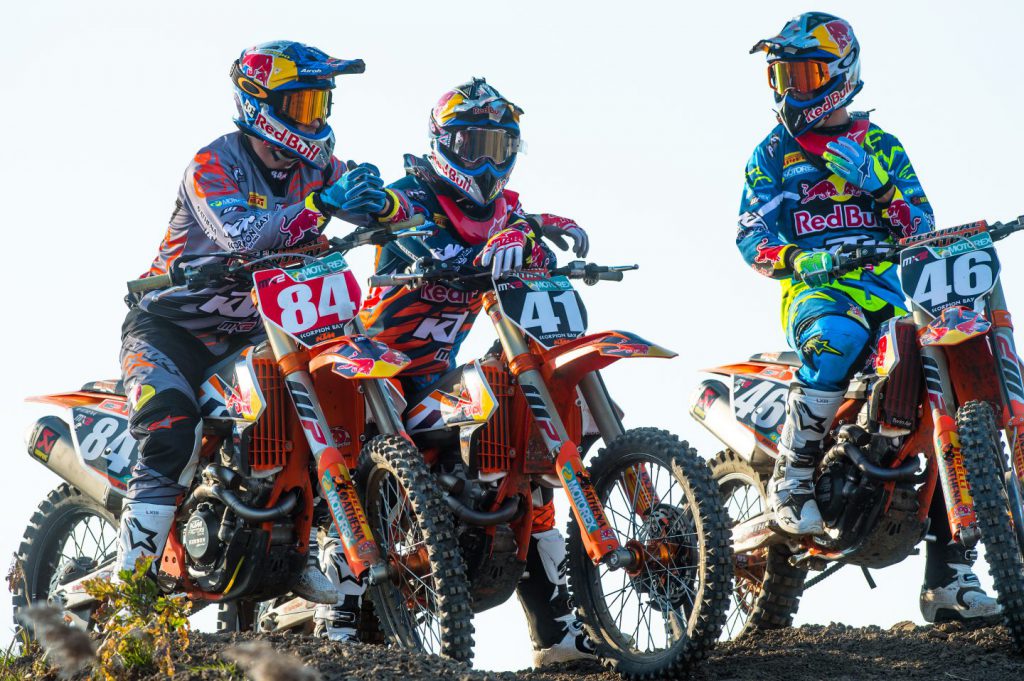 Motocross is an intoxicating sport and is one of the most accessible types of two-wheeled racing, with many clubs and track dotted all around the country. It's immediately clear to see just why so many fall in love with the sport, such as our ambassadors, and why so many of the world's top circuit riders turn to it in their downtime. But there are a lot of things to consider – and invest in – before you can get out there and try it for yourself. Continue reading for everything you need to know about motocross clothing.
Whether you're aiming to start racing, or just looking to get some practice laps in at your local track, we've got you covered. At Demon Tweeks we stock some of the latest motocross clothing, helmet and equipment with kit from the top brands including Alpinestars, Fox and Shot; and in our beginner's guide to motocross we'll talk you through some of the options at each end of the spectrum from entry-level to top-of-the-range. So let's get started.
Motocross Helmets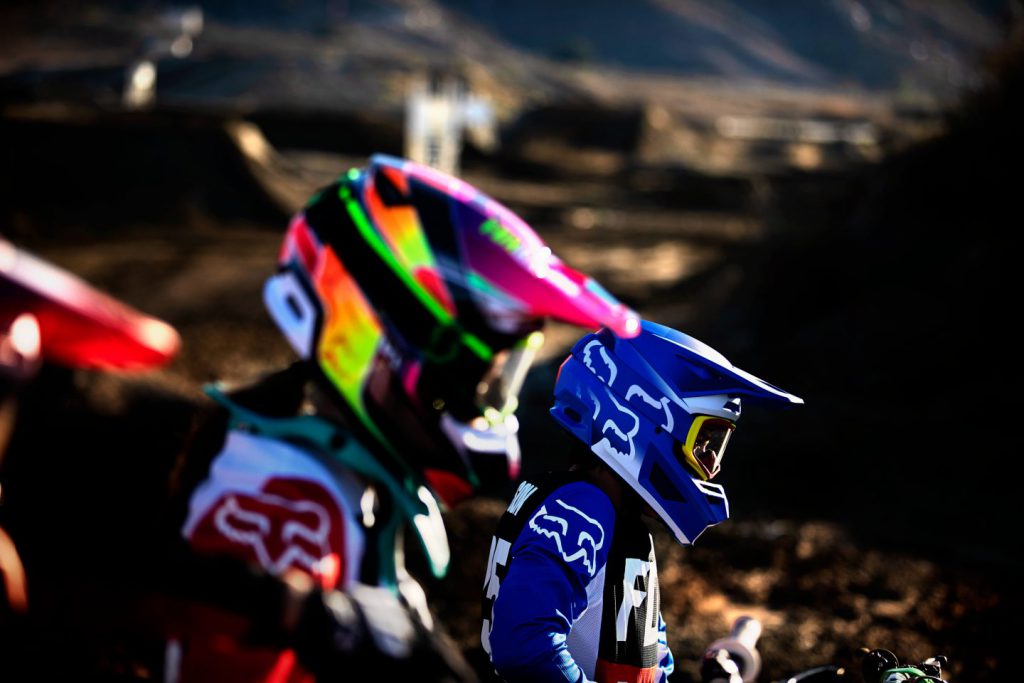 A Helmet is possibly the single most important item of clothing for any 2-wheel sport! It's the most critical part of safety equipment to invest in, as it protects your head and face from damage, injury or worse! We should always buy the best we can afford when looking to buy a new helmet – and from a reputable brand (not some no-name brand as its cheaper!).
When buying an MX helmet, one of the best pieces of advice we can give is to try on as many different brands and models of helmets as possible to see which is the best for you in terms of fit and comfort (as a well-fitting helmet will let you focus on the track and others around, helping you ride better)…
It is also important, when looking for a competition helmet, to make sure it suits the regulations for your racing organisation. Nearly all UK race organisations require motorcycle and MX helmets to have been tested to ACU standard and have the gold ACU sticker attached.
Once you're happy with the fit and made sure it meets the right regulations, then the only other few points to consider are:
does it fit with your neck brace (if you are wearing one)
should you look for a helmet with moisture wicking technology (to keep you drier throughout the day)
what is the ventilation like (air flow through the helmet is a god send when you're out on track!)
Once these boxes are ticked it's time to pick a helmet that you like the look of. Motocross helmets have the best range of colourful graphics out there by far! We supply a huge range of MX helmets with a particularly wide range of entry level helmets such as the Just One J38, HJC CS-MXII and the Shot Furious, perfect for new riders and those who enjoy tearing up their local practice track.
The Fox V1 and Fox V2 helmets move up the pecking order slightly and start to bring in newer technologies, such as Magnetic Visor Release Systems (MVRS), removable comfort liners and Dual Density EPS liners… The Seven MX-9 helmet also features the well-known MIPS system to reduce the force of impacts by allowing the lining to rotate in the event of a crash.
At the very top end we have the Bell Moto-9 Flex which features Bell's own version of the MIPS system, and the all new Alpinestars Supertech SM-10 and Supertech SM-8 helmets which both feature the MIPS system, emergency release cheek pads and much more.
Goggles
Just like your helmet, it is important to make sure you buy the best motocross goggles that you can – primarily as they're only thing you've got to look through! Cheap MX goggles can let you down massively by fogging up due to poor ventilation, while the low quality foam can make them uncomfortable to wear and the components used are generally not very reliable! By the time you've bought two or three pairs of replacement goggles, you could have bought a decent pair with good spares back-up.
Our range of motocross goggles include some of the latest styles from genuine MX and goggle experts, including Oakley, Fox, Shot and Redraven. The Shot assault MX goggle offers an excellent entry level goggle and features and anti-scratch lens, hypoallergenic comfort foam and tear-off posts.
The Oakley O-Frame and Fox Main II goggles are both well specced, with triple density face foam, non-strip silicone straps and excellent view ports. Oakley's airbrake sets the new standard for protection, clarity and comfort. With a wide view port, fast, easy lens changes and triple layer foam with fleece lining; the Airbrake is the new benchmark for MX goggles.
Boots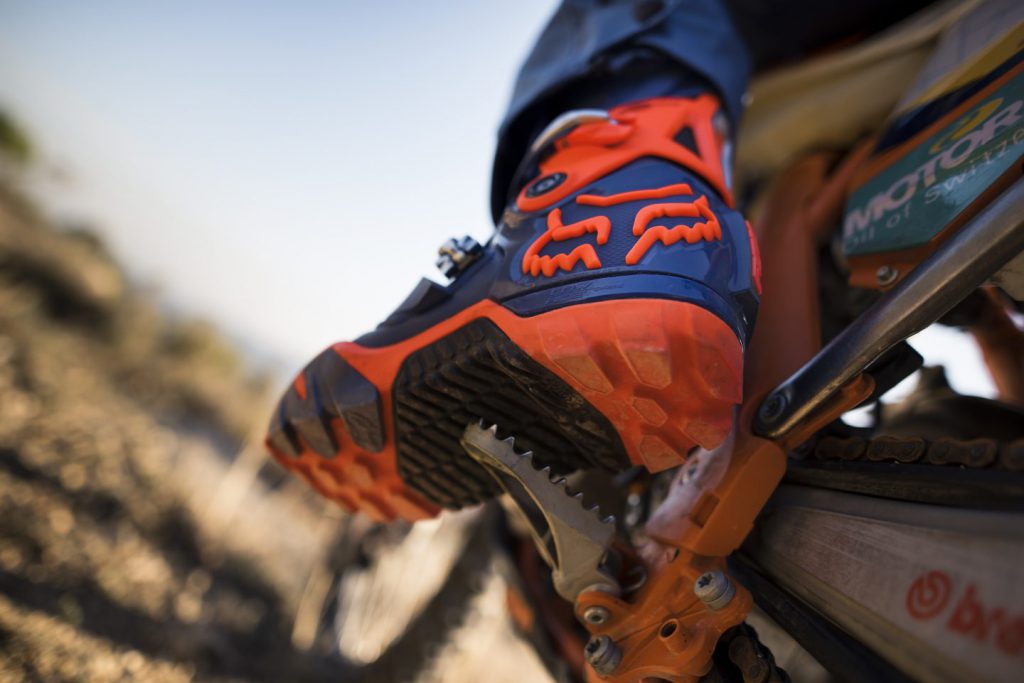 Motocross boots are designed to offer maximum protection (sometimes a lot more then we think, due to the rigors of riding an MX bike! When riding MX, you need good all-round foot and ankle protection, as well as good protection from roost and rocks. Impact protection is important, as well as all-round protection for your lower legs.
In the same way when we looked at motocross helmets, you can purchase a pair of good quality motocross boots for just over the £100 mark. MX boots such as the Bike-It GP Pro Comp Boots offer high-quality performance from an entry level boot. Alpinestars MX boots are renowned for being some of the best boots out there today, right through from their entry level Tech-3 boots, through the Tech 5 and Tech 7 ranges – up to what some see as the pinnacle of MX boots: the Alpinestars Tech 10. 
Hot on the heels and something a little different to the Tech 10 are the Fox Instinct X and the Sidi Crossfire 3 boot. These boots are both bristling with the latest technologies and features. The Crossfire 3 from Sidi features a replaceable sole system, so one boot can do MX, Enduro or Supermoto! The Instinct X takes the original Instinct boot to a new level, with even higher levels of protection and step-in comfort!
Clothing and Gloves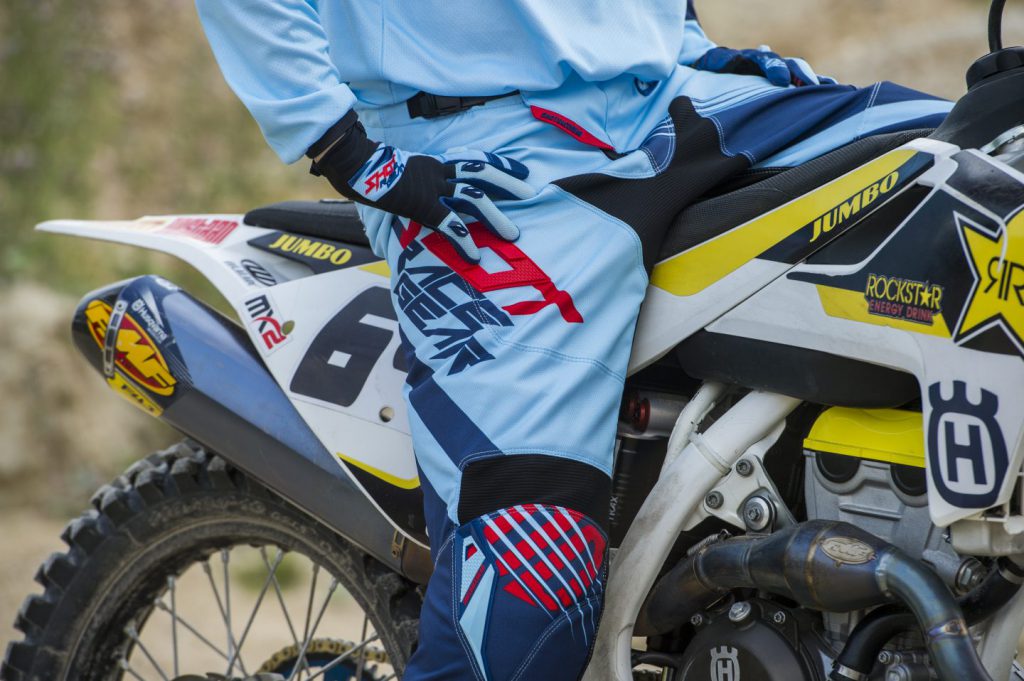 Unlike your MX boots and helmet, the important factors when choosing your riding kit are the fit, comfort and how cool it looks! Let's face it, the level of protection that MX clothing like your jersey and pants offer is minimal, but you still need to make sure that they are comfortable to wear and there is enough room to accommodate your knee braces and knee guards, along with your body armour, too.
The Shot Devo Jersey and Pant may be entry level on price, but it combines a lightweight construction and durability with tailored sleeves and an anatomic cut on the jersey for greater movement. The pants feature ballistic panels for abrasion resistance, four-way stretch in the crotch and knees along with a non-slip waist to keep everything in place.
The Fox 180 and Alpinestars Racer kits are the next step up the ladder using a combination of moisture-wicking materials, stretch fabrics, fade resistant graphics and leather reinforced inner-leg panels. 
Moving more to the top end, we feature the Fox 360 kit, Alpinestars Techstar pant and jersey, and the Shot Aerolite kit. These kits feature super light, super vented stretch materials to provide maximum comfort and airflow to keep the rider cool and focussed at all times.
Seamless cuffs and collars help to avoid discomfort, whilst pre-curved sleeves offer greater movement on the bike and reinforcements in susceptible areas which help to improve the lifespan of the garments themselves.
When buying a pair of MX gloves it is always best to buy the best pair of gloves possible! We control the bike with our hands and feet, so we have to do all we can to avoid the dreaded blisters! We stock motocross gloves from all the top brands and there is always a colour that will go with your kit. Popular gloves at the moment include the Shot Contact Glove, Alpinestars Techstar and the Fox Pawtector glove – all of which offer the rider good feel with silicone prints on the fingers for control, reinforcements in all hard wearing areas, stretch gussets and excellent graphics without breaking the bank.
Body Armour and Protection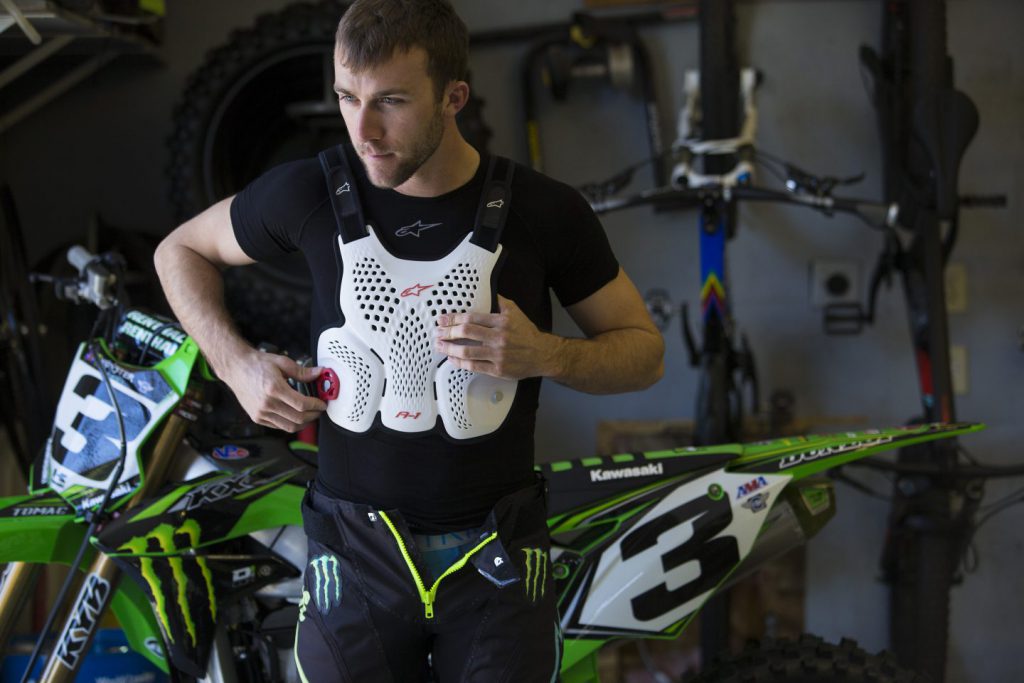 Just like your helmet, body armour is a must for anyone looking to ride motocross, or even if you're just planning on spinning a few laps at your local practice track. Body armour comes in various styles, with one of the most simple (but very popular) being a roost guard like the EVS F1 Roost Guard which is incredibly lightweight but gives excellent impact resistance to roost of bikes in front.
If you are looking for something a little more substantial, then the EVS Revo 5 or the Fox R3 body armour provide lightweight and low-profile protection extending from a roost protector to cover your back and shoulders. Other popular choices include the Fox Raceframe and Alpinestars A1-Plus – both of which offer a CE-certified back protector to compliment the chest protection.  Whilst these jackets offer excellent protection to your torso, you will still need a good set of elbow guards as the EVS Option or the Alpinestars Sequence models.
The last option to consider when buying MX body armour is a protection jacket that incorporates, back, chest, shoulder and elbow protection in one compression-type vest.  Lightweight and comfortable, they are designed to give excellent movement and comfort. The EVS Comp Suit is an ideal way into these types of jackets at a very reasonable price, but if you want to go the whole hog then the Alpinestars Bionic Tech V2 or Leatt Body Protector 5.5 will be right up your street.
Knee Guards and Knee Braces
All riders need to wear some sort of knee protection when riding motocross. Simple as that!
The cost involved in buying knee armour is a small price to pay when you consider potential injuries, time off work or even just a lack of riding time. Knee guards are probably the most commonly used form of knee protection and most will offer basic coverage of the knee cap while some offer shin coverage, too.
Knee guards are also the most comfortable type of knee protection to wear and most guards that use a hard plastic outer (such as the Alpinestars SX-1 Knee Guard or the EVS Option Knee Guard) offer good impact protection and can be used for racing. 
As good as knee guards are, however, if you can afford them then knee braces offer much better protection to your knees. Some think knee braces are designed to be worn if you already have a knee injury, but that is wrong: knee braces are designed to prevent knee injuries happening in the first place. Unlike guards, a knee brace protects you from impact but also protects your knees from twisting and controls the amount of movement in and around your knee to prevent over-extension (even dabbing your foot at the wrong angle can do your knee damage and give you years of pain).
Knee braces can be expensive, don't get us wrong – the Alpinestars Bionic-7 and EVS Axis Knee braces start at £450.00, but don't let that put you off! EVS have been making rider protection for years and have a sub £250 set of knee braces in the form of the Vision Knee Braces while the SX01 Knee Brace is available to buy individually for just over the £100.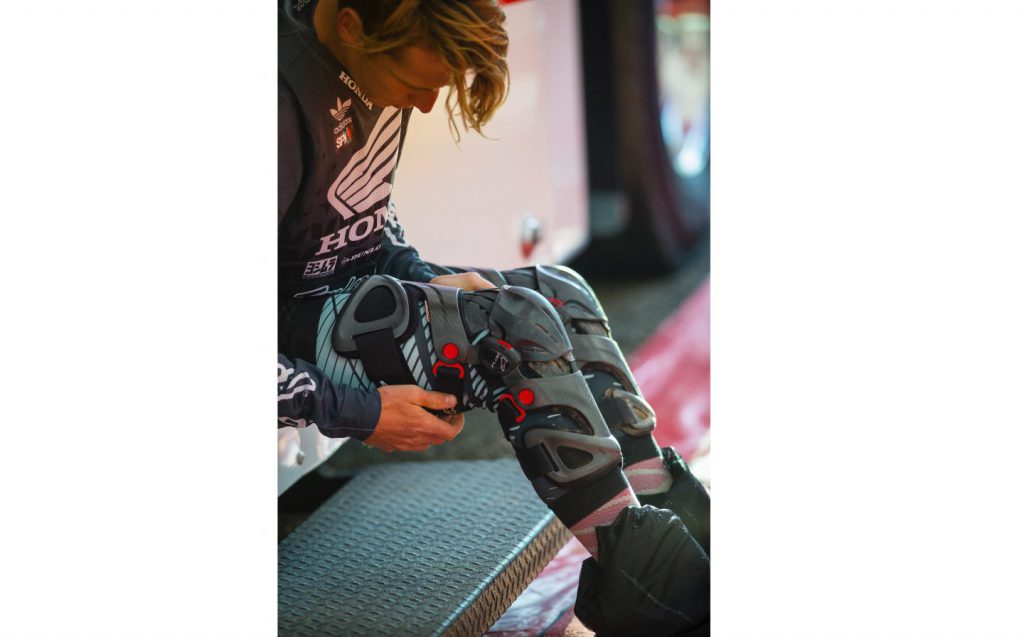 Motocross Neck Braces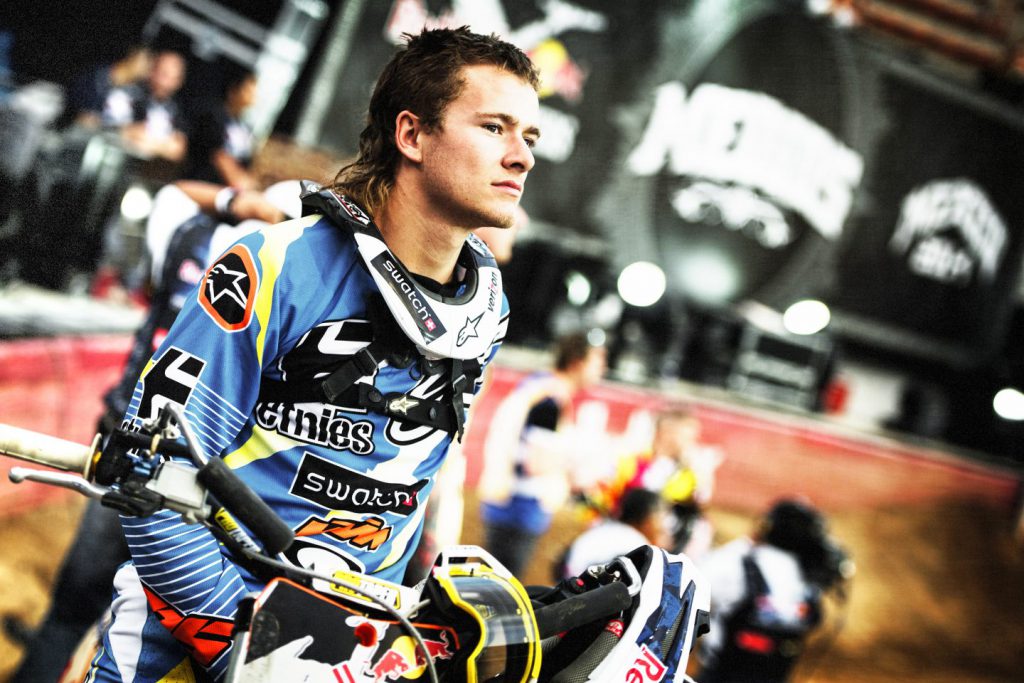 A neck brace offers the rider extra protection from severe neck injuries in the event of an accident. Not all of us are neck brace fans, but they are increasing in popularity throughout motocross clubs. Long gone are the days of big, bulky neck braces and most are now very low profile in design and a lot more comfortable to wear (especially since companies such as Alpinestars, Leatt and EVS are developing their body armour and neck braces together, so that they fit perfectly and work in unison).
Most of the neck braces we see on the market today are worn by top riders throughout the world, with probably the most synonymous name being Leatt with their GPX range of neck braces, however the Alpinestars BNS Tech-2 and the EVS R4 are hot on its heels!
Our Motocross ambassadors know the importance of correct motocross clothing, make sure you do too!
---
Enjoyed this? Read more of our latest news:
Where To Next?
Looking for the latest motorcycle parts and accessories? Check out our wide range from top brands.
Come and visit us at our store, showroom and fitting centre in Wrexham.
Want to know more about our story? Learn about who we are and why we've been driven by passion for over 50 years.
Interested in everything we do? Catch up on all the latest Demon Tweeks news.