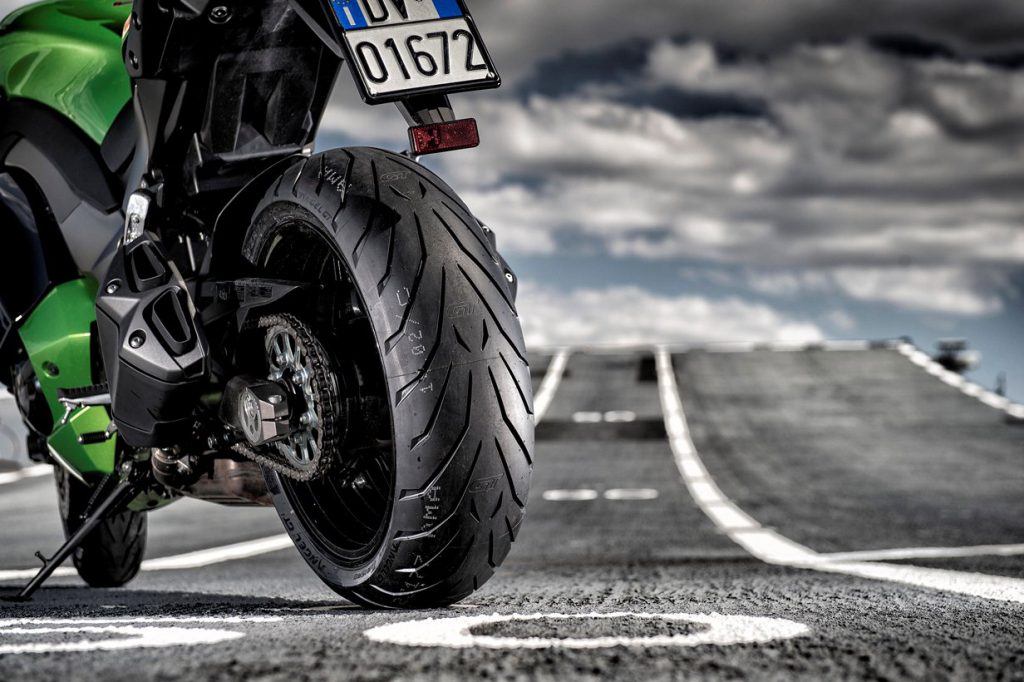 It would be nice to think that choosing a new set of motorcycle tyres is a straightforward and stress-free process. With a few clicks you've found the set you want at a price you can afford and they're on their way to you ready for your next ride out at the weekend. Oh if only!
Choosing a new set of motorcycle tyres is a bit like choosing any piece of equipment, or the motorcycle itself. You need to do your research, work out what's right for you and your bike – and your budget – and then to narrow down your options so you can choose the right style, too.
The biggest and best motorcycle tyre manufacturers
With so many excellent brands offering high performance motorcycle tyres including Michelin, Bridgestone, Pirelli, Metzeler and Dunlop to name just a few; and then tyres suitable for track riding, road riding, commuting, touring and motocross it's important for you as a rider to understand exactly what's available and how each make and model of motorcycle tyre can benefit you and your bike.
So without further ado, let us introduce you to the Demon Tweeks motorcycle tyre guide where we'll run through some of the best tyre manufacturers and the different categories available to help you find the best motorcycle tyres around.
Michelin: the leader in motorcycle tyres
One of the biggest names in motorcycling and the official MotoGP tyre provider, Michelin produce a wide range of high performance motorcycle tyres for every surface, every condition and every rider. The French company were founded in 1889 making them one of the world's oldest tyre manufacturers, so what they don't know about motorcycle tyres isn't worth knowing!
Within the motorcycle industry Michelin are widely regarded as one of the best in the business with a catalogue of tyres that some other brands would die for. The range of Michelin motorcycle tyres covers everything from track and racing tyres to commuter, adventure, road and classic tyres meaning they provide rubber for just about every make and model of bike on the market.
Michelin took over from Bridgestone as the official MotoGP tyre in 2016, returning after an eight-year break from the premier championship and now have the added benefit of being able to utilise the input from riders like Valentino Rossi, Marc Marquez, Andrea Dovizioso and Jorge Lorenzo to inspire and develop their next range of motorcycle tyres for professional racers and everyday road riders. As researchers go, they're pretty good sources don't you think?!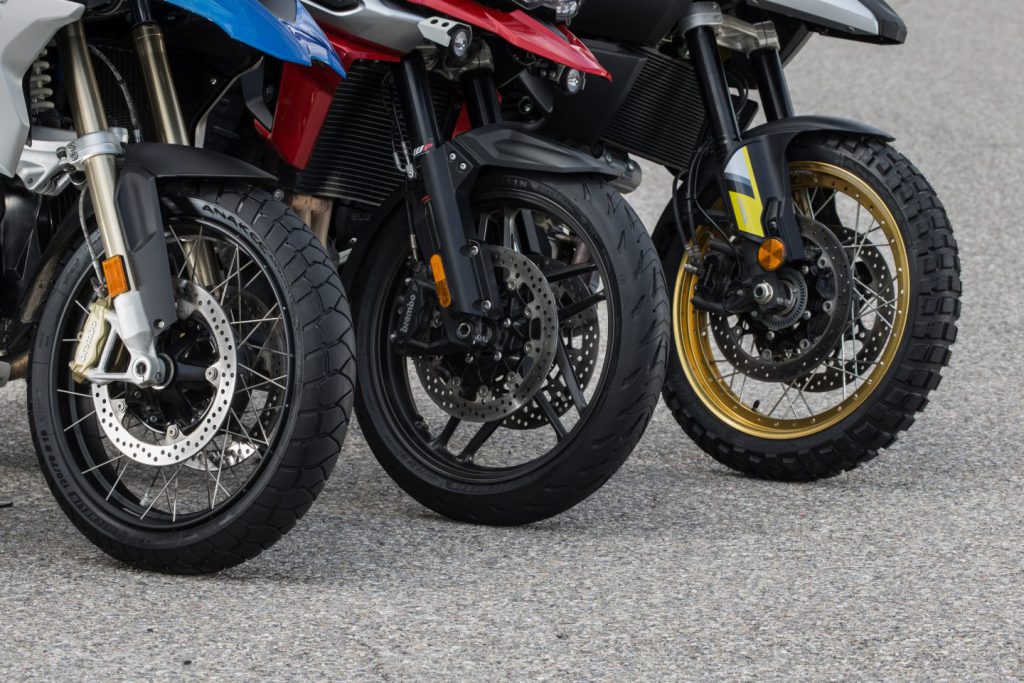 What does that mean for Bridgestone tyres?
Bridgestone tyres were used in MotoGP between 2002 and 2015 and were the sole tyre supplier between 2009 and 2015, achieving 159 victories, 464 podiums, 157 pole positions, 9 World Championship titles. To this day, Bridgestone's are still widely regarded as some of the very best tyres going and made the decision to withdraw their tyres themselves rather than being replaced.
Bridgestone are the largest motorcycle tyre manufacturer in the world ahead of Michelin, Pirelli, Metzeler and Continental. Founded in Japan back in 1931, Bridgestone have around 180 production facilities in 24 countries around the world, utilising all of their experience and expertise to deliver high performance road and race tyres for motorcyclists of all abilities.
It's this experience that helps Bridgestone to bridge the gap (excuse the pun) between racing and street tyres, gathering feedback from riders and testers all over the world to find the perfect compounds and the ideal blend of high and low speed performance.
How do Dunlop motorcycle tyres compare?
Now a part of the wider Goodyear group, Dunlop tyres were founded in Birmingham in 1889 before being acquired in 1985 and brought into the Goodyear family in 1999.
John Dunlop gave his name to the company 130 years ago and the Dunlop name is still going strong today in all forms of motorsport, from circuit racing to the iconic the Isle of Man TT. Producing some of the most high-performance motorcycle and car tyres available, Dunlop tyres are the go-to for professional and amateur racing teams around the world. Time and again the Dunlop tyres have won annual awards with the company utilising new technologies, experienced racers and technicians to develop high performance motorcycle tyres
Dunlop motorcycle tyres are widely used in off-road riding, adventures and road riding; as well as in racing competitions around the world including the Isle of Man TT – with Peter Hickman taking his first victory using Dunlop tyres in 2018 – Moto2 and Moto3 Championships and numerous international endurance races. Their sporting pedigree and DNA is used to help develop their tyres, bringing the latest technologies and safety to our roads.
The brand were also awarded the Best Slick Tyre award for 2017 by Performance Bikes magazine (now Practical Sportsbikes). Chris Walker, the British rider who has competed in BSB as well as WSBK and WSS, was involved in the testing along with journalist John McAvoy with the Dunlop GP Racer D212 tyres coming out on top out of five tyres tested on performance stability, turn-in, mid-corner and exit performance as well as feel.
Not forgetting Pirelli, of course
Just like Michelin are the tyre choice of MotoGP, Pirelli tyres are the choice of the World and British Superbike Championships, with all riders on the grid using tyres provided by what is arguably one of the most high end tyre manufacturers – renowned for using cutting edge technologies, the latest production methods and un-rivalled passion for innovation!
Since 2007, Pirelli have been the sole manufacturer of tyres for the World Superbike Championship, calling upon all of their experience having first opened their doors way back in 1872 in Milan to deliver performance motorcycle tyres that exceed all expectations in the wet, dry and changeable conditions.
The Pirelli Diablo motorcycle tyres name is synonymous with the evolution motorcycle tyres – From the very 1st Diablo right through to the latest Diablo Rosso Corsa II, these tyres have offered the latest race derived performance to customers of all abilities, allowing riders to feel the benefits of the high and low speed performance experienced by WSBK riders out on the roads or track themselves.
Metzeler, under the radar?
Founded in 1863 in Munich, Metzeler started out producing products from rubber and plastic before moving into motorcycle tyres in 1892. The Metzeler company has always been enthusiastic towards motorcycling, with most of the people there being riders and competitors themselves! It is this passion that lets them understand a riders needs on the roads or the track.
New materials, the development of innovative tread patterns and advanced compounds means they are always at the forefront of tyre development and their tyre range covers a wide range of different types of riding from track racing to road riding, touring, MX and off-road trails.
Metzeler tyres often go unnoticed, but they've amassed a strong following thanks to some stand out tyres like the versatile Sportec M7 RR, or the track thoroughbred Racetec RR not to mention the Roadtec 01 that was MCN's 2017 Tyre of the Year!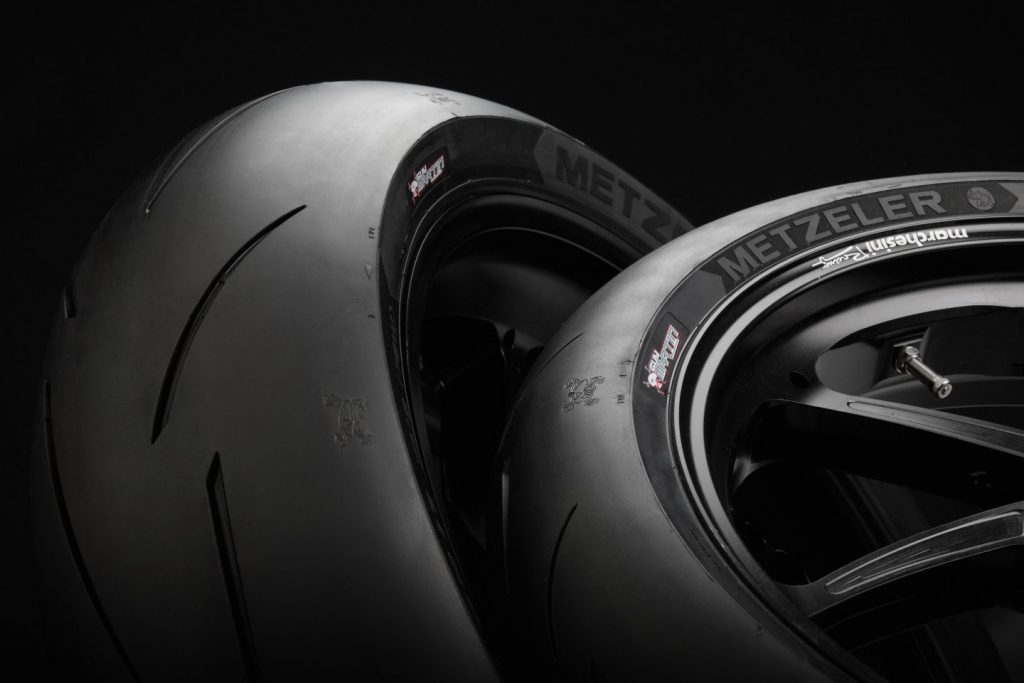 The best of the rest: Maxxis
Maxxis are another manufacture who produce a wide range of different tyre styles. With a particular focus on road and off-road tyres, Maxxis aren't as well known in the industry because they don't have the sheer weight of motorsport experience and expertise as the others listed in this guide – but believe us when we say they still know what they're doing!
Maxxis tyres are made to be responsive on all terrains and in all conditions to give the rider the confidence they need to ride and push on whatever the weather and the surface have in store.
The different types of motorcycle tyres
Now, as all riders known, you have a number of different styles of motorbike tyres but it's easy to confuse the different types of tyre with the different technologies.
Adventure tyres
Wherever you choose to ride you always want a set of tyres that are ready to cope with the changing conditions. Adventure tyres, as the name suggests, are designed to transition seamlessly from the motorway tarmac to the country lanes and off-road trails making them something of a one-size-fits-all tyre in many ways.
The Michelin Anakee Adventure is an example of a popular adventure tyre that has been developed at a roughly 80/20 on/off-road design with plenty of grip in the wet or dry and loose terrain.
Classic tyres
With all of the innovations in terms of styling and performance it's easy to overlook just how great the classic motorcycles look. A lot of vintage motorcycles are still as desirable today as the 1000cc sports bikes and that means there's always a market for classic motorcycle tyres, too.
While they have a lot of updated features using new tyre technologies, classic tyres like the Maxxis M6011 look completely natural when they're fitted to a vintage motorbike. Combining that classic look with modern grip and performance levels isn't easy, so it really is a compliment to brands like Maxxis, Metzeler and Dunlop who continue to invest development time in their classic tyres.
Commuter tyres
If your idea of riding is a smaller bike that you use for work or a quick run around town then commuter tyres are the perfect option. Developed specifically for lower displacement bikes including many 125 and 250cc models – like the smaller Honda CBR and Yamaha YZF models – commuter tyres have been designed to run for longer and to withstand the impact from bumps in uneven road surfaces, manhole covers, drains and other debris.
A lot of commuter tyres have been adapted from more high performance models, enabling the manufacturers to provide customers with some of the best features – like the tread, enhanced grip and durability – at an affordable price for scaled-down bikes, with the Pirelli Angel CiTY a prime example having been adapted from the popular Angel GT model.
Race / Track tyres
A set of race or track tyres need to be able to stand up to the high speeds of track racing as well as being able to corner at speed, give you grip in the wet and the performance you need under braking. Unlike the majority of other tyre types, race tyres are often designed specifically for track use and, as such, aren't always road legal which can be a problem for some riders who are on a tight budget and looking for the kind of tyres they can ride on to the track, round the track and home again.
If that's you, the Dunlop SportSmart TT are a smart choice as these have been developed to perform to the same high standards on and off the track. These race tyres have been designed to provide the maximum contact patch required to give you traction going into the corners and under braking, while also helping to keep them at the optimum temperature. If your preference is to ride to and from the track then these are definitely the tyres for you (as long as you don't completely trash them out on the track, of course!)
Road tyres
Road tyres are designed to give the rider the best combination of real-road performance and grip, whilst offering the rider confidence and good mileage. There are slight variations within ranges, with some tyres more suited to mileage and two up riding and some tyres more suited to an afternoon blast on your favourite roads where mileage isn't a concern.
The New Pirelli Angel GT II is the former – equally comfortable on the motorways, main roads and country lanes, two up or fully loaded with luggage, it is the king of the real roads. Just like its predecessor, the Pirelli Angel GT, it offers outstanding performance in all weather conditions, but new technologies and compounds give riders much greater feel as well as exceptional handling and wear.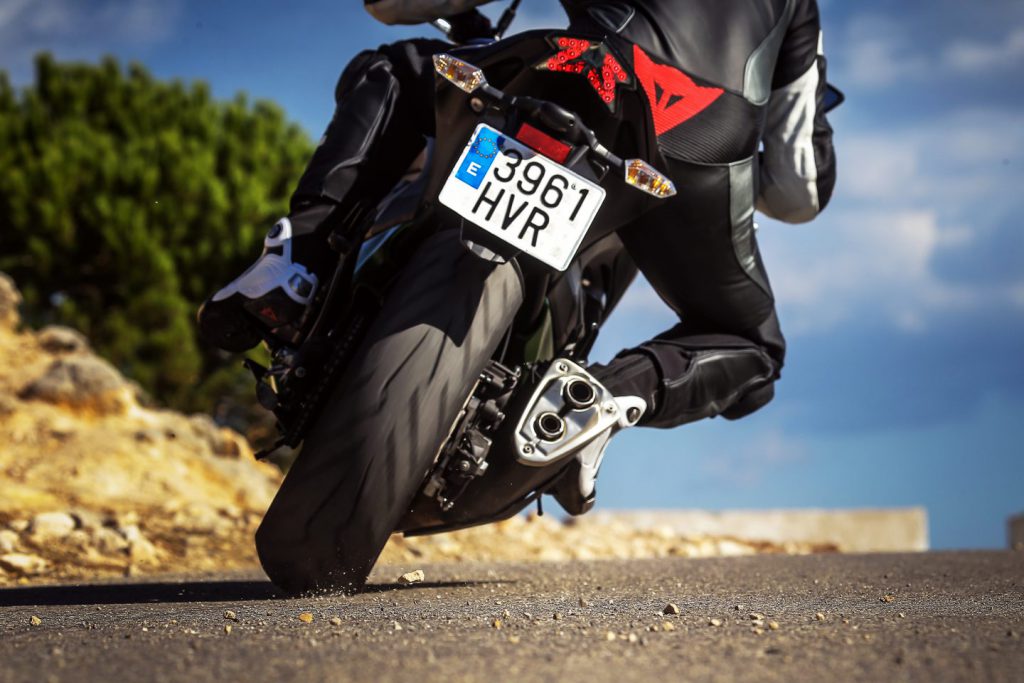 Scooter tyres
Despite being the smallest style of motorcycle, scooter tyres still need to offer grip, performance, handling and feel for the rider. Many unrestricted models (ridden on a full license), can get some speed up just like their more powerful siblings so it's important to have trust in your tyres. Michelin City Grip scooter tyres are famous for their wet weather performance, utilising all of Michelin's experience and technology to give scooter riders the same kind of grip as riders of larger machines. Suited to scooters up to around the 125cc mark, the Michelin City Grip tyres will give you the confidence that you can go out in the wet when you may previously have opted to go in the car instead.
Motorcycle tyre packages
Buying new tyres, as we've already discussed, doesn't need to be a difficult process especially once you've worked out which style of tyre you're looking for and have narrowed down the options to suit you and your bike. Well the good thing is we also offer a number of motorcycle tyre packages here at Demon Tweeks.
A lot of tyre packages represent fantastic value for riders with some significant savings to be made by buying a complete new set of tyres rather than buying one at a time and leaving yourself with one new and one old or worn tyre that you'll end up replacing in a few months anyway.
Included in our tyre packages are some of the best-selling motorbike tyres and offers on popular models like the Pirelli Diablo and Michelin Pilot Power, giving you the very best motorcycle tyres at the very best prices so you can order, fit them and get out on your bike with a fresh set of rubber.