Whether we like it or not, Christmas is coming and now is the perfect time to beat the rush and get organised when it comes to gift buying. We're going to try our best to take the stress out of buying presents for your karting-mad loved ones with this handy kartwear gift guide 2022!
Boots
If you're just getting into Karting or a seasoned pro, a good pair of boots is essential to your performance on the track. They are your one point of contact with the pedals which are often exposed to the elements so it's vital you have good grip, making sure you have full control at all times.
The Sparco K-Pole Kart Boot is a great booth for those who are just starting out in the world of karting. They offer excellent value for money and come in a wide range of eye-catching colours.

These mid cut boots feature a perforated micro-fibre leather upper which allows for great airflow, keeping your feet cool and comfortable when things get heated on the track. The high tech rubber sole provides optimal grip and feel on the pedals. Sparco have also provided a level of fit and comfort in these boots which is only usually found in more expensive boots making them an excellent choice for any driver.
Sizes: 3 to 14
Price: from £60.53
Colours: Black, Black/Orange, Black/Yellow, Black/Light Blue, Blue/White, Red/White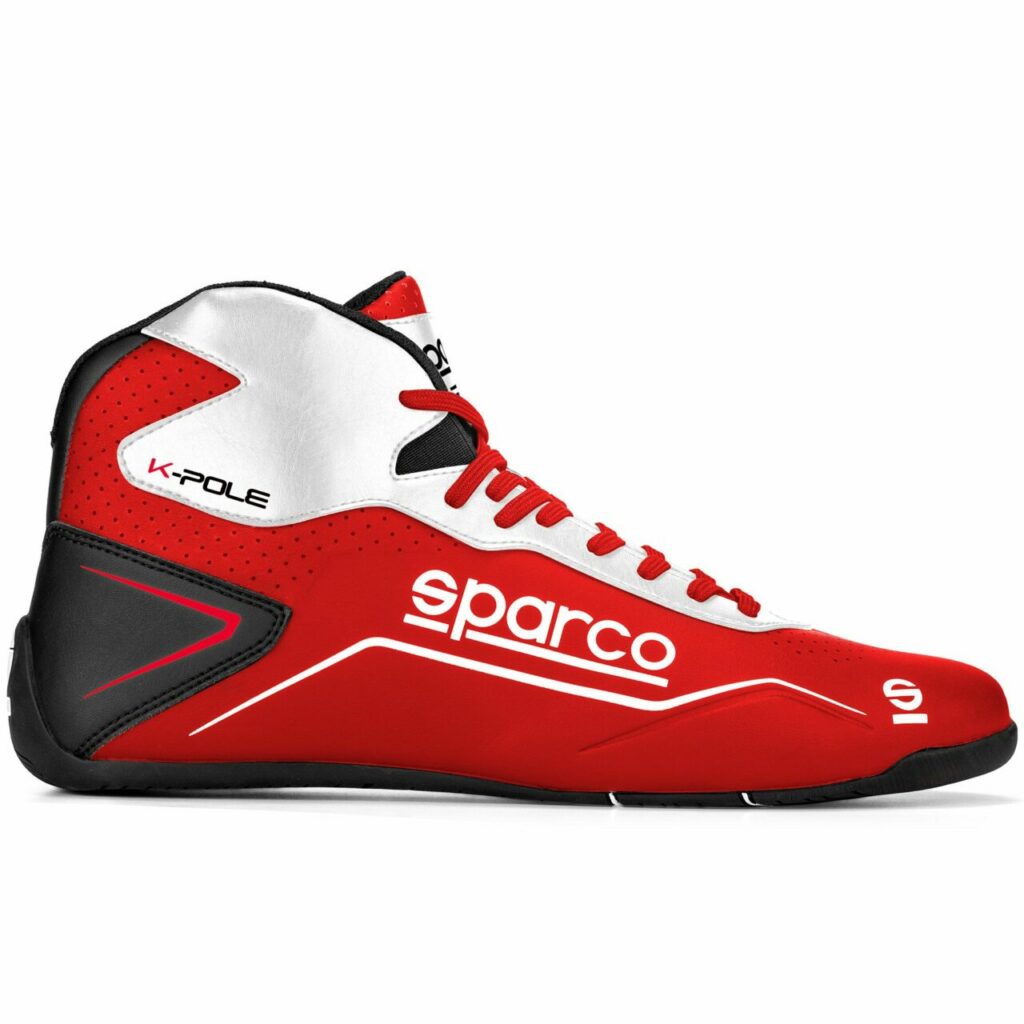 If you're looking for an excellent entry level boot, then look no further than the OMP KS-3. Specifically designed for go karting, they offer a pedal feel and grip that is hard to match for this class of boot.
Made from a breathable suede leather mesh upper, the KS-3 boot keeps your feet cooler. Another key feature which adds another layer of comfort is the fully flexible inserts at the rear of the shoe. Preventing fatigue, these are a welcome addition for any level of racing.
The stylish design is completed with a conventional lace up closure and velcro strap to minimise any movement or slipping within the boot.
Sizes: 3.5 to 14
Price: from £65.79
Colours: Black, Black/Yellow, Black/Red, Black/White, Blue/Cyan, Red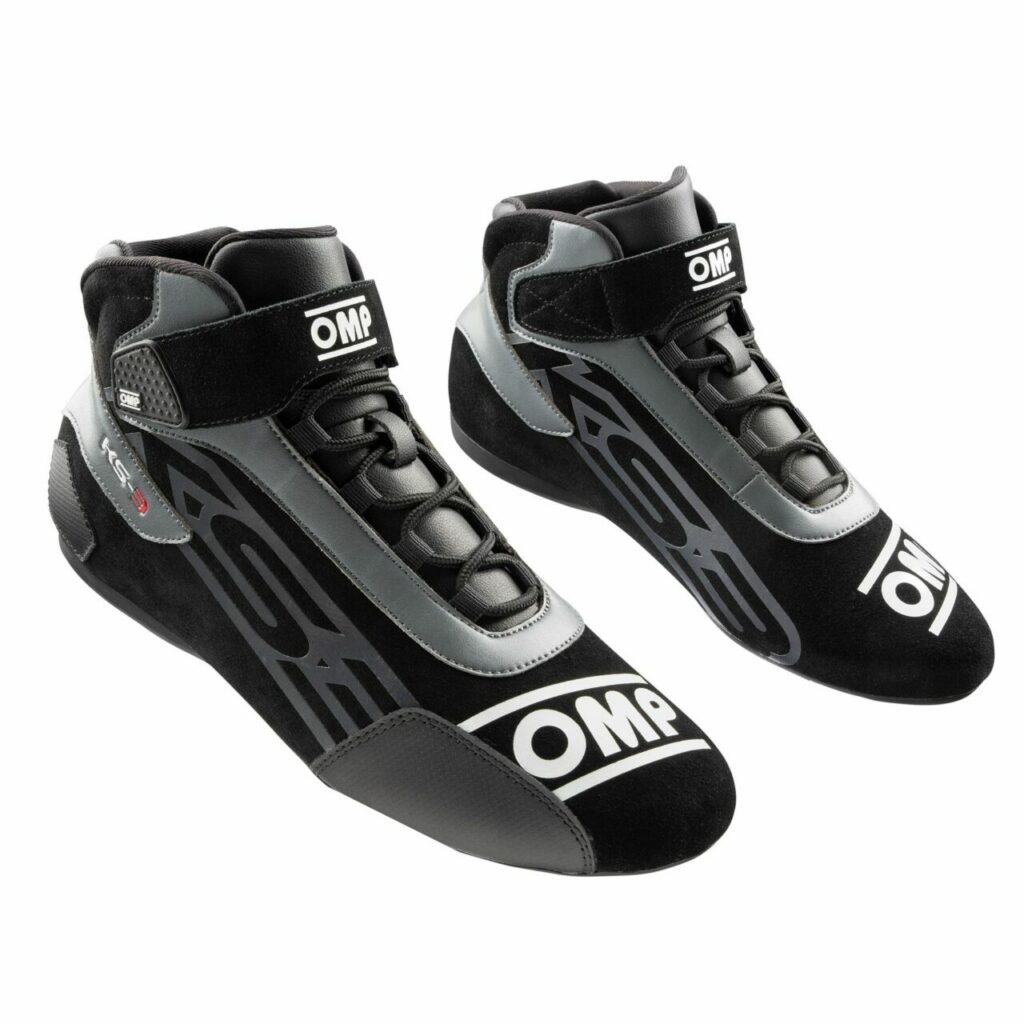 This one is for the more experienced karter. Alpinestars is a brand that is used from grassroots all the way up to F1 and the Tech 1-K V2 is a hugely popular kart boot, developed from the pinnacle of motorsport.
Redesigned for optimum weight saving whilst still providing maximum airflow and breathability, the Alpinestars Tech 1-K V2 is a must-have for any karter who is serious about finding the edge over their competitors.
The boot offers a more precise, comfortable fit with its new contoured shape and the ergonomic footbed allows for superior foot posture with utmost flexibility. This, combined with the F1 derived sole gives you full control, grip and feel on the pedals making sure you are in command of the vehicle at all times in any conditions.
In motorsport, you need every last component to be reliable and hard working and your boots shouldn't be any different. Alpinestars have added an advanced hybrid construction of a hard wearing Nubuck leather upper and strategically positioned microfibre areas which not only help with breathability and comfort but will hold up well to the punishment of a long, hard season.
Available in a wide variety of colours and sizes.
Sizes: 1.5 to 12
Price: from £112.49
Colours: Black, Black/Orange/White, Black/White, Black/White/Yellow, Blue/Black/White, Red/Black/White, White/Black/Red
Kart Suits
An essential piece of kit for competing in karting is the kart suit. Whether it is in organised club or national championships, the suit has to be CIK FIA level 2 approved which means it offers two layers of protection against abrasion. Below are some fantastic examples of what we offer and will make a brilliant gift for any kart crazy loved one.
The extremely popular KMX-9 kart suit is now more advanced than ever. Featuring a state-of-the-art 2 layer construction, this suit offers considerable weight saving and is 70% more breathable than before. Not only can this help shave time off your laps, it will keep you more comfortable for longer.
Comfort is one of the main reasons why this suit is a favourite amongst karters. A moisture wicking inner layer, mesh underarm panels and seat area coupled with stretch panels on the shoulder and lumbar area make for a racing experience few other suits at this price point can compete with.
Sizes: 40 – 60
Price: from £91.47
Colours: Black/Red, Black/Yellow, Black//Red/White, Black/White
CIK-FIA Level 2 Approved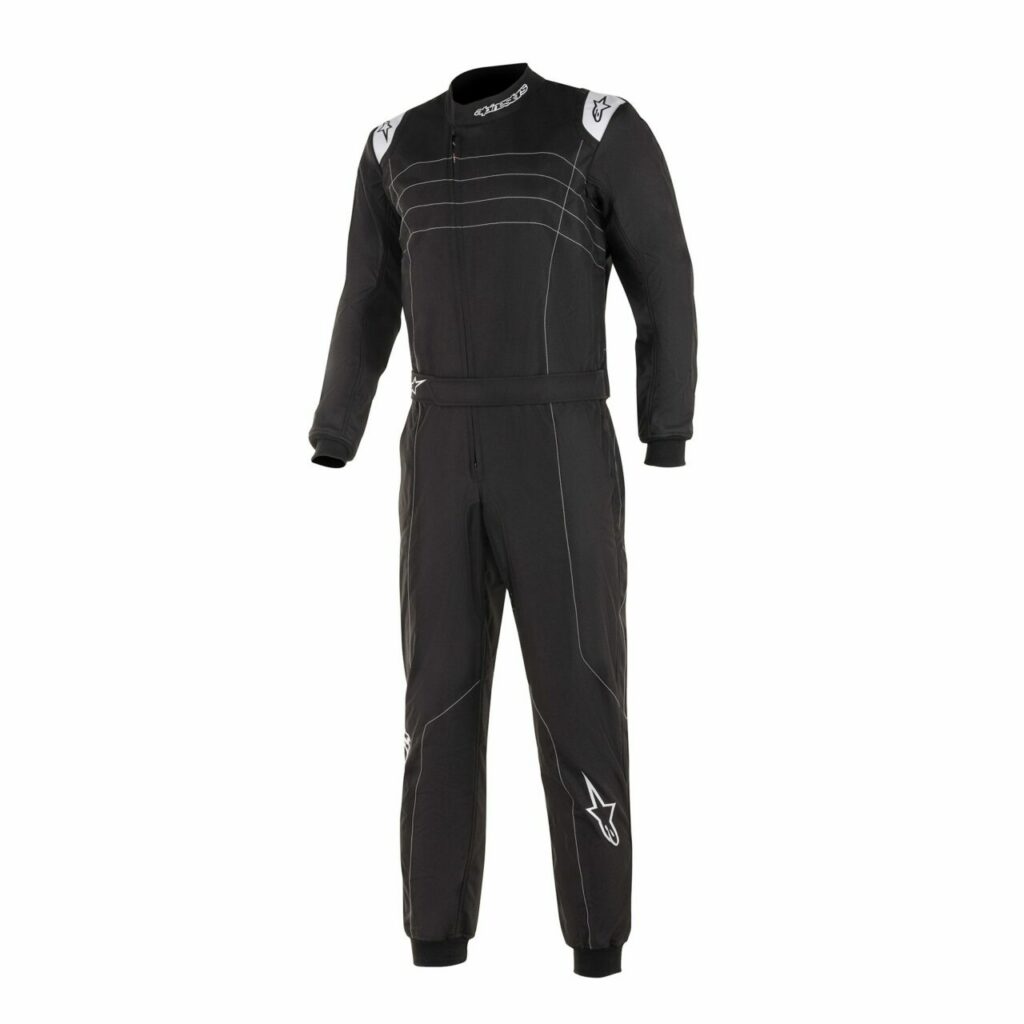 A big name in motorsport since the 70s, OMP are experts in racing car accessories and safety equipment.
The KS-3 Kart Suit has been revised which offers a 30% weight reduction over its predecessors whilst still maintaining the high levels of protection and comfort you expect.
Whilst we're on the subject of comfort, this suit boasts a soft knitted inner lining for superior feel plus rear stretch panels, providing an exceptional fit in the seated position.
For a mid-range suit, the value for money is exceptional as it features many of the technical benefits usually found on much more expensive items. Breathable mesh inserts around the leg, crotch and sleeve undersides to keep you cool and an elastic stretch panel in the lumbar area helps improve fit to keep you not only looking good, but feeling it too.
Sizes: 42 – 62
Price: from £106.88
Colours: Black, Black/Green, Black/Yellow, Black/Orange, Black/Red, Black/Silver, Dark Blue/Cyan
CIK-FIA Level 2 Approved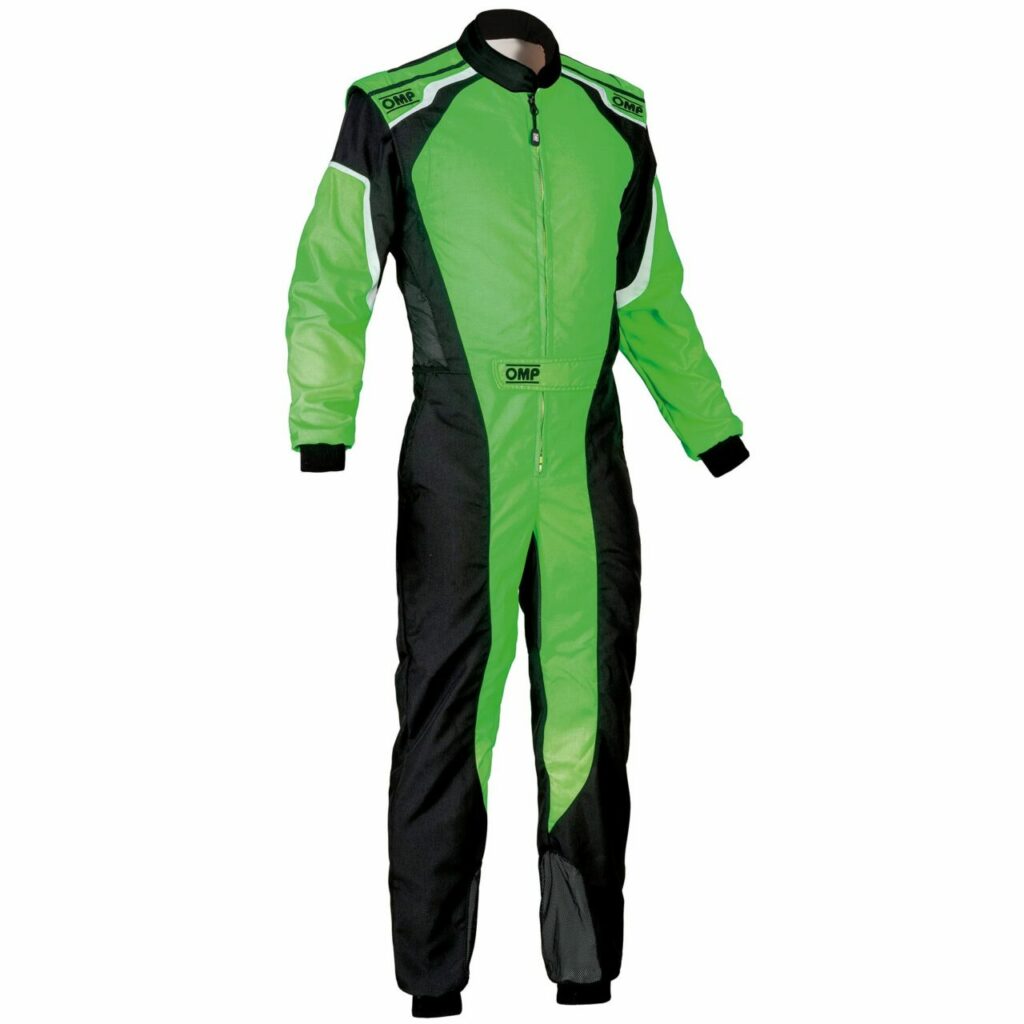 Entry level kart suits don't get much better than the Sparco Thunder. Possessing attributes of a high-end kart suit, this item is superb value for money.
Available in sizes from XS to XXL and a wide range of colourways, you'll be sure to find one that is perfect for you.
The Thunder Kart Suit is full of features to help keep you comfortable and cool in the heat of competition. Perforated stretch panels provide airflow around the suit to help regulate body temperature and with pre-curved arms and semi-floating sleeves, there is brilliant freedom of movement whilst seeing a huge reduction in material bunching in the driving position.
A traditional waist and hidden pockets complete the overall classic look of this Sparco suit.
Sizes: 44 – 66
Price: £173.69
Colours: Black/Blue, Black/Orange, Black/Red, Blue/Red, Grey/Yellow, Red/Black
CIK-FIA Level 2 Approved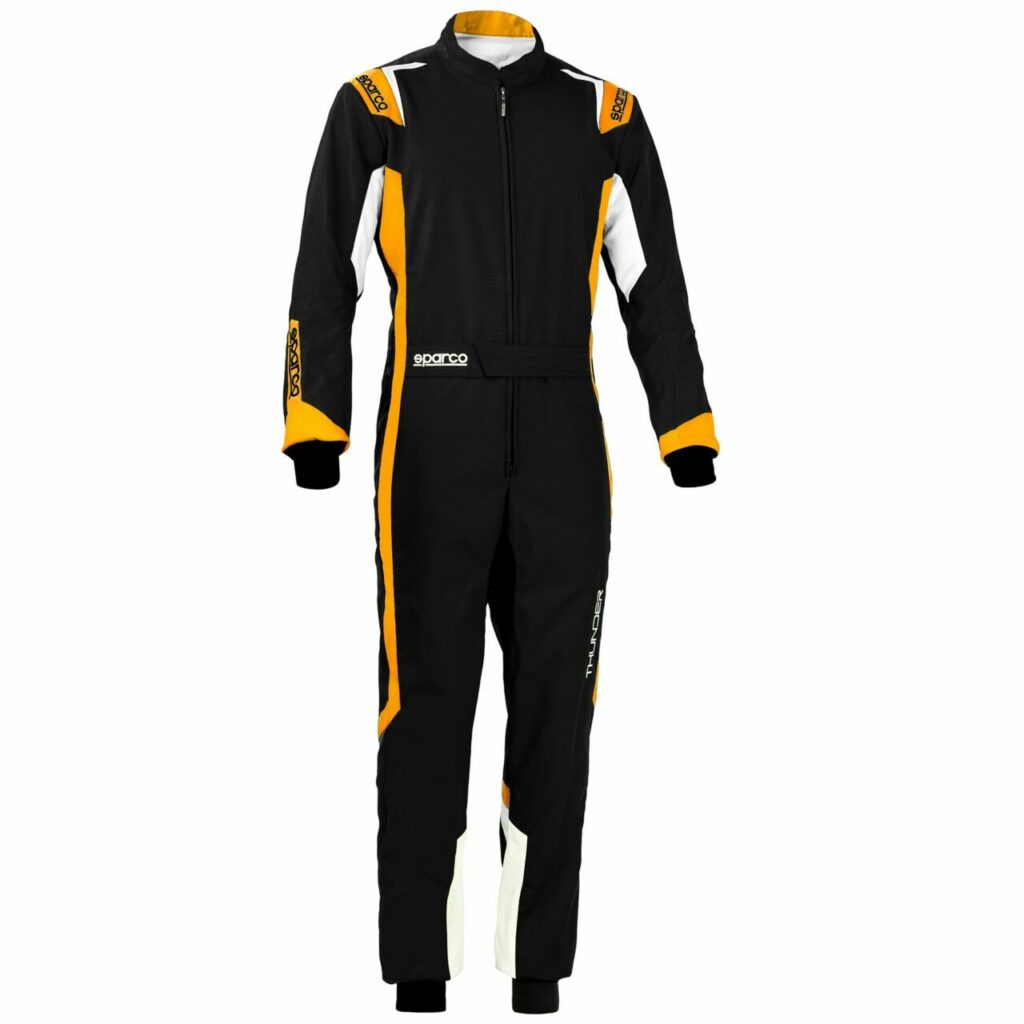 Kart Gloves
A good quality pair of gloves can make all the difference to your race. Having the best grip possible on your steering wheel not only gives you the confidence you need, but also provides great feel and safety.
If you're after an entry level price with high end features, then the Sparco Rush Kart Glove is a perfect choice for karters at all levels.
Available in sizes 7-13, this pre-curved glove keeps more of your hand on the wheel with reduced material bunching when steering.
The silicone printed design on the palm and fingers, coupled with the elasticated wrist gives you a secure fit and high level grip so you are always in control.
Sizes: 7-13
Price: £40.00
Colours: Blue/Black, Blue/Black/Green, Green/Black, Grey/Black, Grey/Black/Yellow, Grey/Orange, Light Blue/Black, Red/Black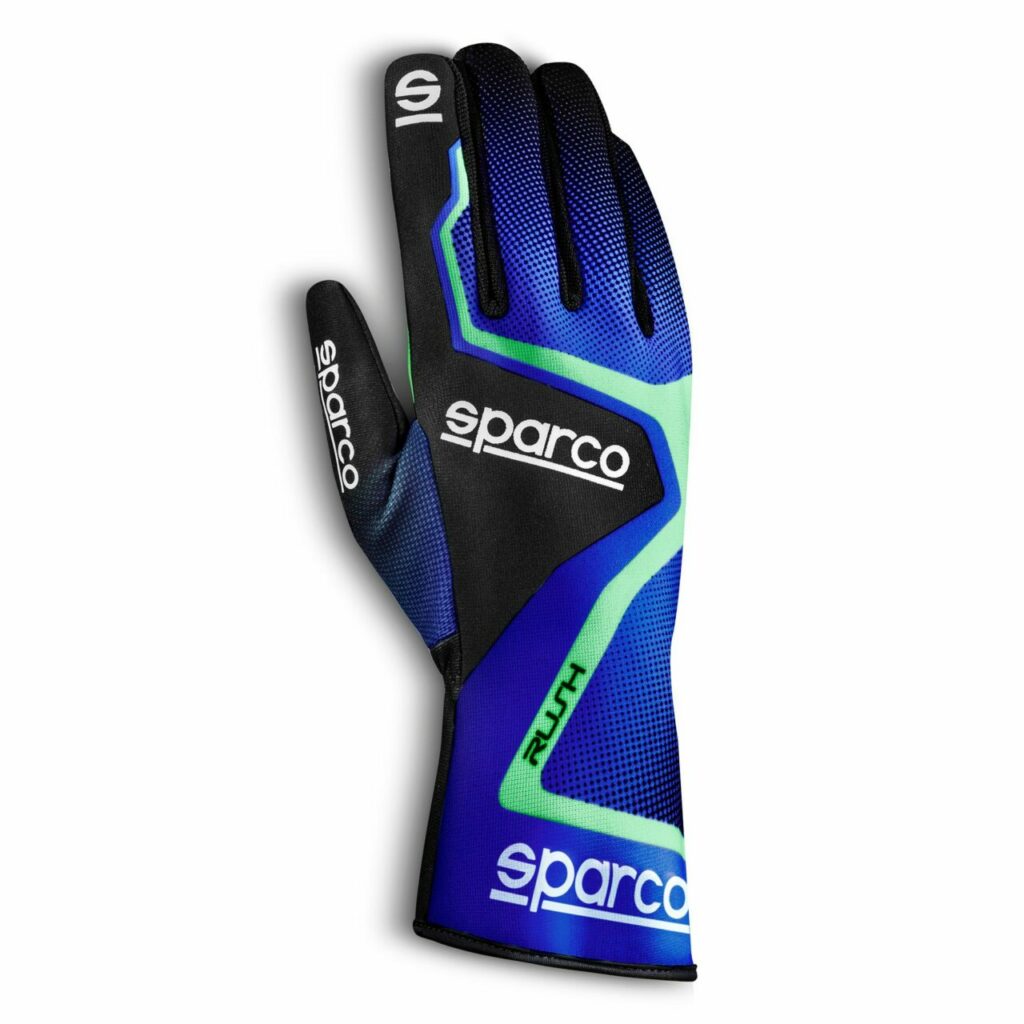 Available in 8 different colourways, the Alpinestars Tech 1-K Race V2 Kart Glove is one of the most eye-catching on the market. It's not all about the looks though, as it backs it up with high levels of durability and performance thanks to its synthetic suede palm with silicone print.
The half mesh, half lycra fingers provide peak levels of comfort, flexibility and ventilation to reduce sweating meaning you have maximum control at the wheel.
Perfect for kids, juniors and adults with sizes ranging from XXXXS (Child S) to XXL.
Sizes: Child S – Adult XXL
Price: £41.95
Colours: Black/Cyan/Yellow, Black/Lime Green (Carbon), Black/Turquoise (Carbon), Black/White (Solid), Black/White/Anthracite/Red, Orange/Black (Camo), Yellow/Black (Camo), Red/Black/Grey (Solid)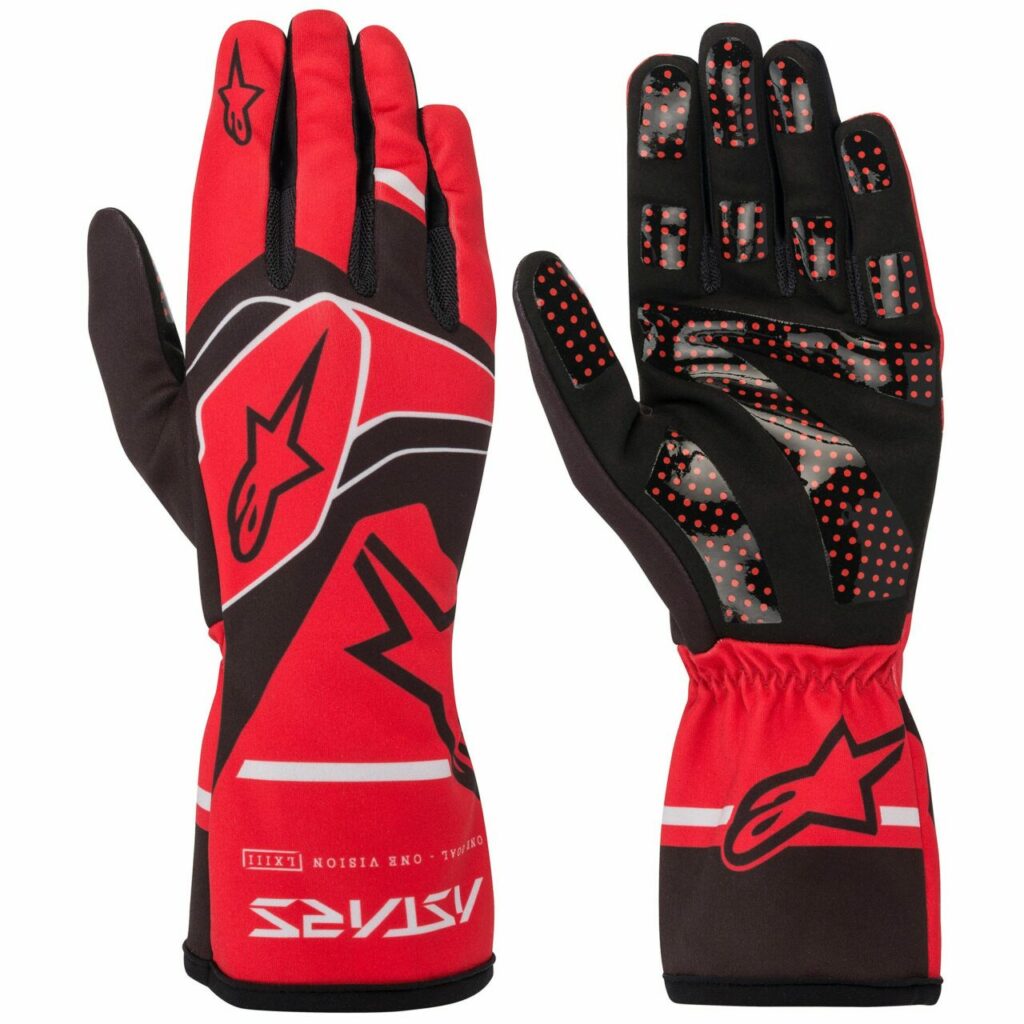 This one's for the professionals. Minus 273 (-273) have constructed the Blitz Kart Glove using a new design ultra form fitting, lightweight stretch poly-blend material for the upper to provide a close and comfortable fit.
The -273 exclusive side pull tab makes pulling the glove on easier than ever and the reinforced double stitching in high stress areas vastly reduces the risk of splitting meaning these will stand the even the toughest of tests.
Sizes: XXXS – XL
Price: £76.63
Colours: Black/Blue/Yellow, Black/Grey/Red, Black/White/Yellow, White/Blue/Pink, White/Green/Red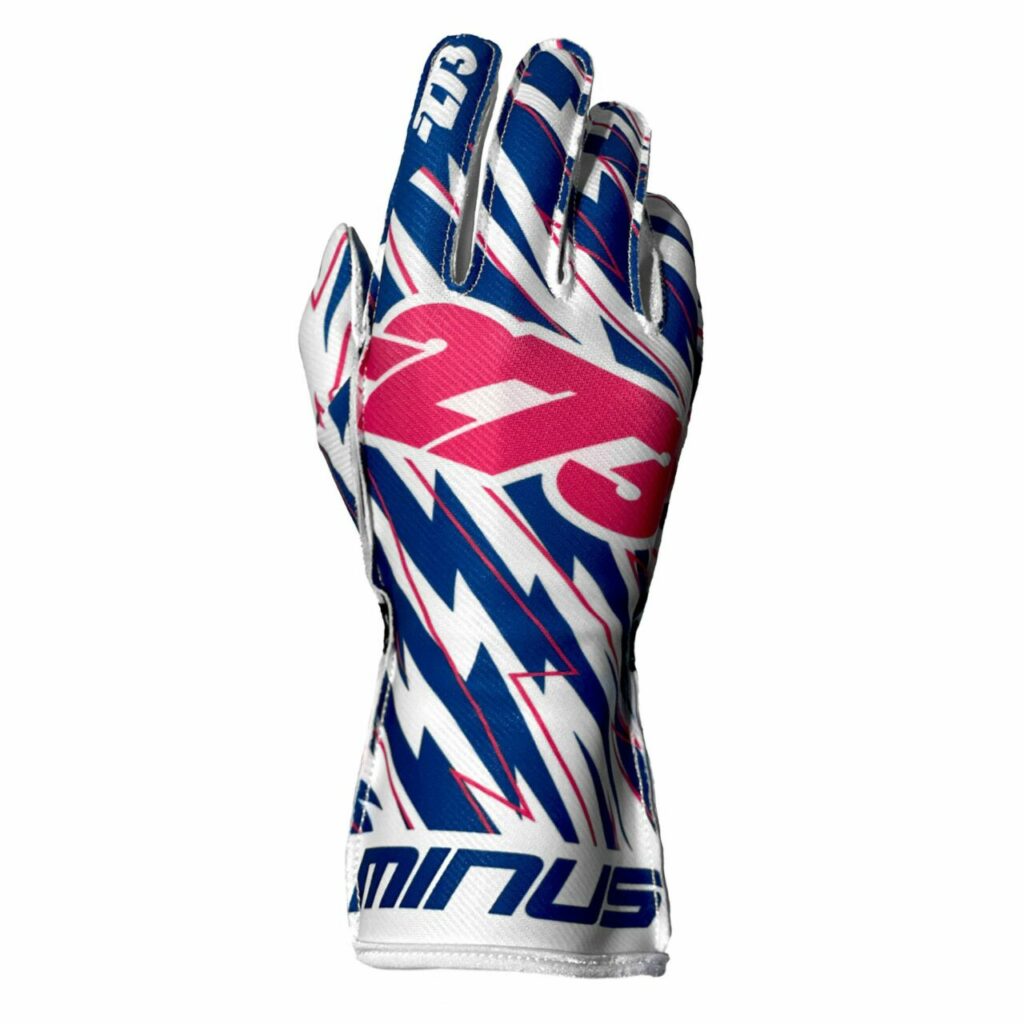 Rib Protection
Karting can be very physically demanding. No suspension or belts to keep you guarded from the bumps and forces that are applied during a race can take its toll on your body which is why we recommend body protection. Below are some great examples to help stop you feeling the pain.
The Sparco SJ Pro K-3 Kart Jacket offers superb protection to the chest, ribs, shoulders and back whilst maintaining a lightweight and comfortable fit.
Made from breathable, antibacterial material, this jacket not only helps keep you cool but offers a rear stretch panel for a more comfortable fit whilst in the seated position.
The full zip closure makes it easy to put on and take off. Perfect for children and adults alike.
Sizes: Child 120cm – XL
Price: £95.78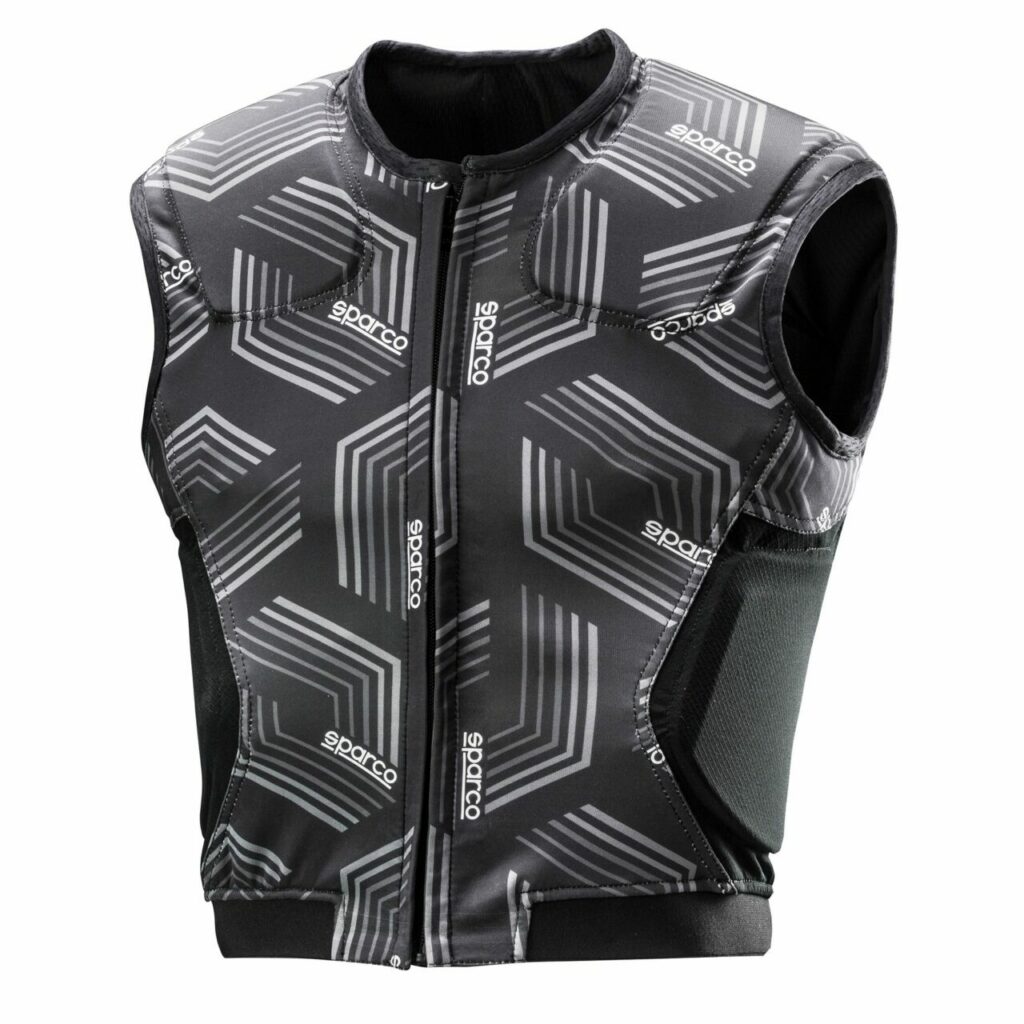 Maximum movement with the highest possible protection. The OMP Carbon Rib Waistcoat offers the best of both. With fully adjustable straps you can be sure that you will always get the optimal fitting and comfort.
This rib protector waistcoat offers karters increased impact protection combined with puncture resistance due to the strong carbon fibre materials. The perfect lightweight protector to keep you safe on track.
Sizes: XS – L
Price: £95.78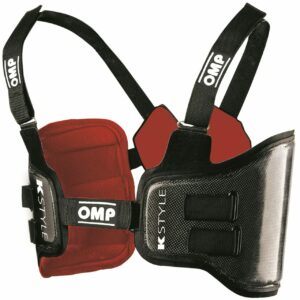 Handcrafted in Italy with input from World Champion kart racers, the Bengio Bumper Standard Karting Rib Protector offers premium high impact and puncture resistance.
Constructed from a triple layer of fibreglass with an anti-splintering system, this rib protector guarantees high resilience and can absorb high levels of stress in low frequency.
When you're at the top of your game, you need the equipment to keep up with you. This certainly won't let you down.
Sizes: XXS – XXL
Price: £184.36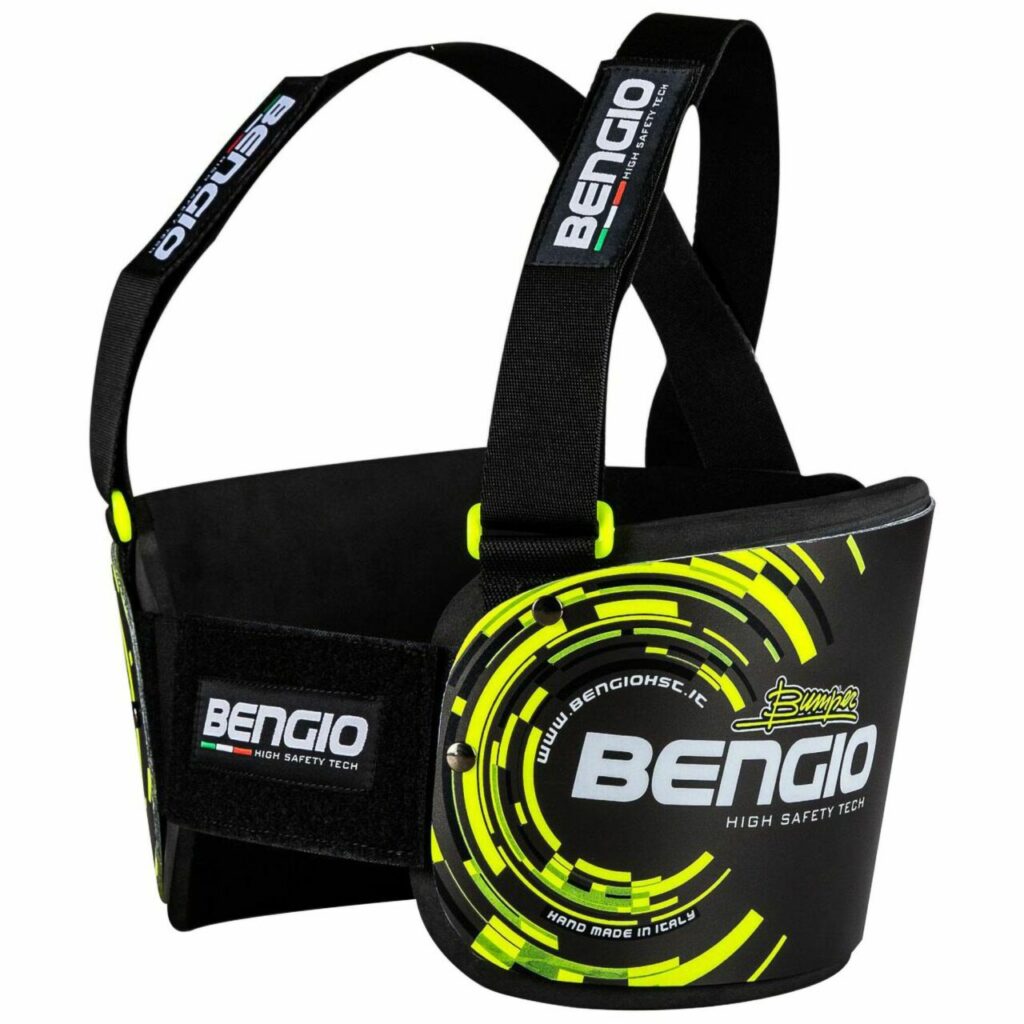 Helmets
Arguably the single most important piece of protection equipment you will ever buy, the racing helmet is often a lifeline and it's vitally important you get the right one for you. With even the smallest of impacts to your head causing serious damage, it's not worth skipping on quality.
The Bell KC7-CMR is specifically designed for karting and is based on the same design as the HP7 Carbon Helmet which is used by F1 drivers. Constructed from an ultra lightweight Carbon/Kevlar/Glass hand laminated shell and weighing in around 1200g, it won't fatigue you on those long endurance races.
With no less than 14 air intake and extraction points, you'll never lose your cool on track.
A wide range of accessories such as visors, spoilers and intakes are available separately to really customise your look.
Free Demon Tweeks helmet bag with this Helmet!
Sizes: 52cm – 59cm
Price: from £267.56
Snell-FIA CMR-2016 Approved
Designed for the younger karter, this lightweight composite helmet offers stylish looks with fantastic protection.
Finished with a soft and highly breathable lining on the inside, it makes this helmet extremely comfortable to wear.
Free Demon Tweeks helmet bag with this Helmet!
Sizes: 52cm – 59cm
Price: £279.82
Snell-FIA CMR-2016 Approved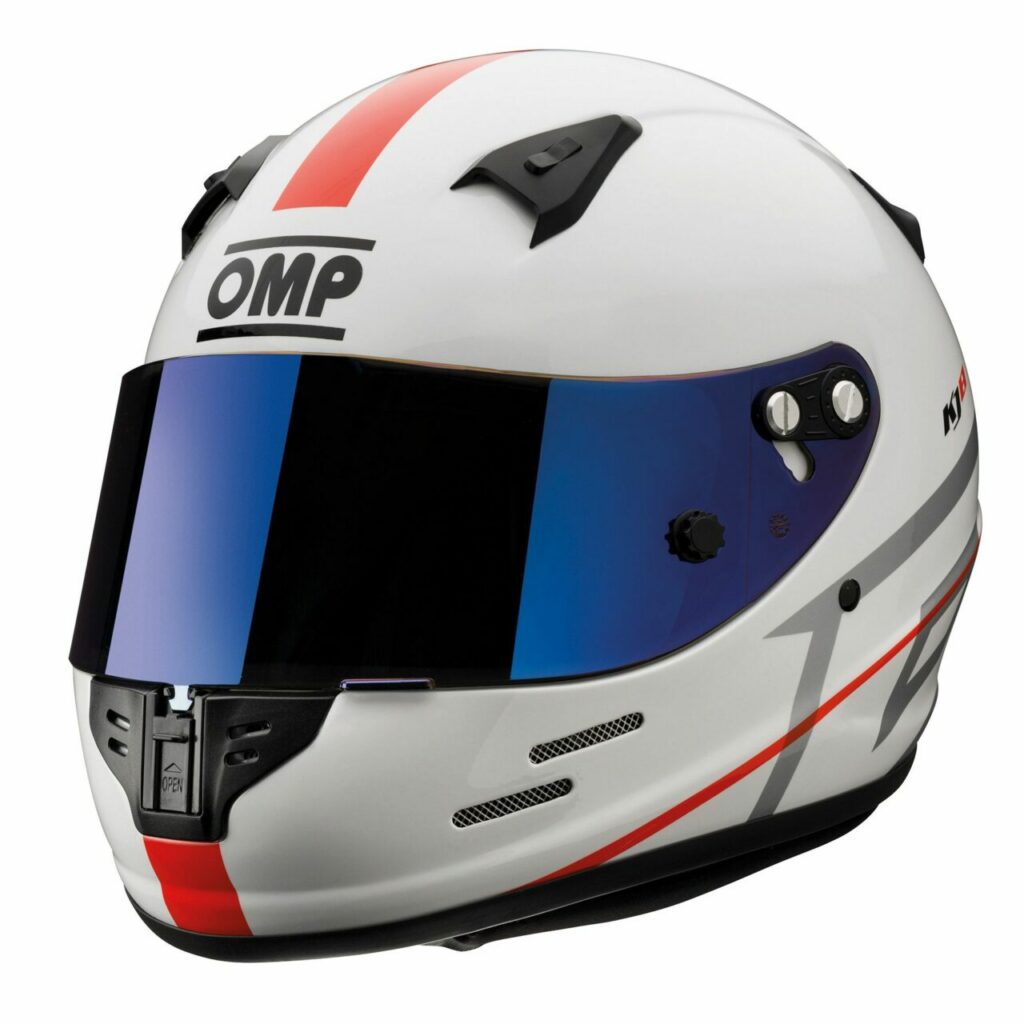 Whilst incorporating many features that are seen on the professional motorsport range, this Arai CK-6 junior kart helmet includes its unique 4 point inlet/outlet system with a duel chin vent ensuring brilliant ventilation to keep your head cool.
The lightweight 2mm visor comes with tear off posts and includes the new, advanced visor pivot system seen on the GP series.
Inside features removable cheek pads and a washable coolmax material inner lining so you can always be fresh and ready to take on the competition!
Free Demon Tweeks helmet bag with this Helmet!
Sizes: 50cm – 59cm
Price: £399.99
Snell CMR-2016 Approved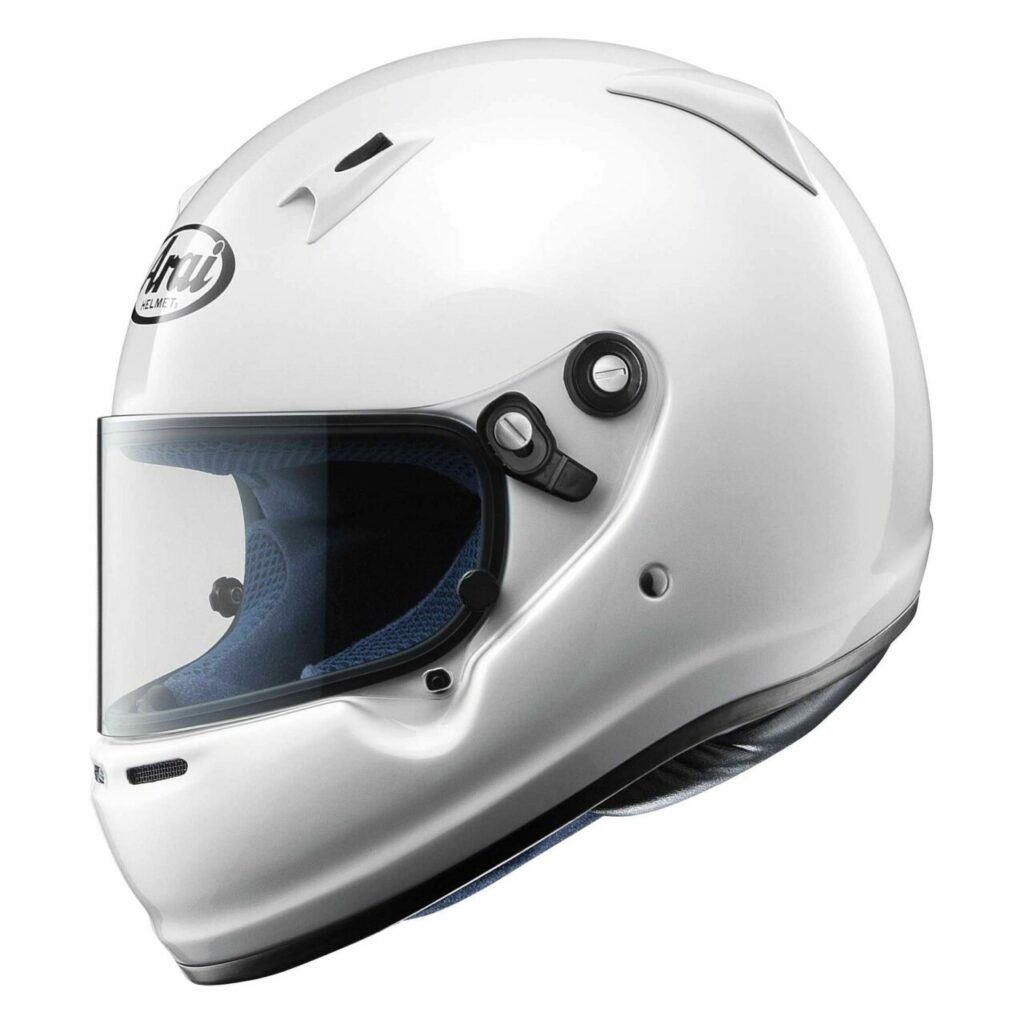 ---
To get the best fit possible, we always recommend you try on your kartwear and we have hundreds of products in stock for you to try on in our Wrexham store!

If you can't make it down, then buy in confidence with our fast delivery and 365 day return policy.
Unsure on which product is best for you? Speak to one of our extremely knowledgeable staff on 01978 664 466 or email us on sales@demon-tweeks.com.
---
Enjoyed this? Read more of our latest news:
Where To Next?
Looking for more present inspiration? Check out our wide selection of gifts.
Come and visit us at our store, showroom and fitting centre in Wrexham.
Want to know more about our story? Learn about who we are and why we've been driven by passion for over 50 years.
Interested in everything we do? Catch up on all the latest Demon Tweeks news.