Thinking of adding something to your set up? Christmas is coming and now is the perfect time to start thinking of adding some gear to your wish list! We've got a huge range of products available from Sparco Hyperspeed Gaming Socks, through to a Gomez Sim Industries GXL Pro Prime Sim Racing Steering Wheel. Check this Sim Racing gift guide 2022.

So whatever the budget or level of racer, there is something for everyone this Christmas (just as long as you've been good!).
Not a fan of wearing boots when racing? Try these Sparco Hyperspeed Gaming Socks. Super comfortable with a reinforced Cordura heel, making sure your feet are protected so you can concentrate on getting that chequered flag!
Sizes: 5-12
Price: £25.09
Colours: Black/Blue, Black/Green, Black/Red, Black/Yellow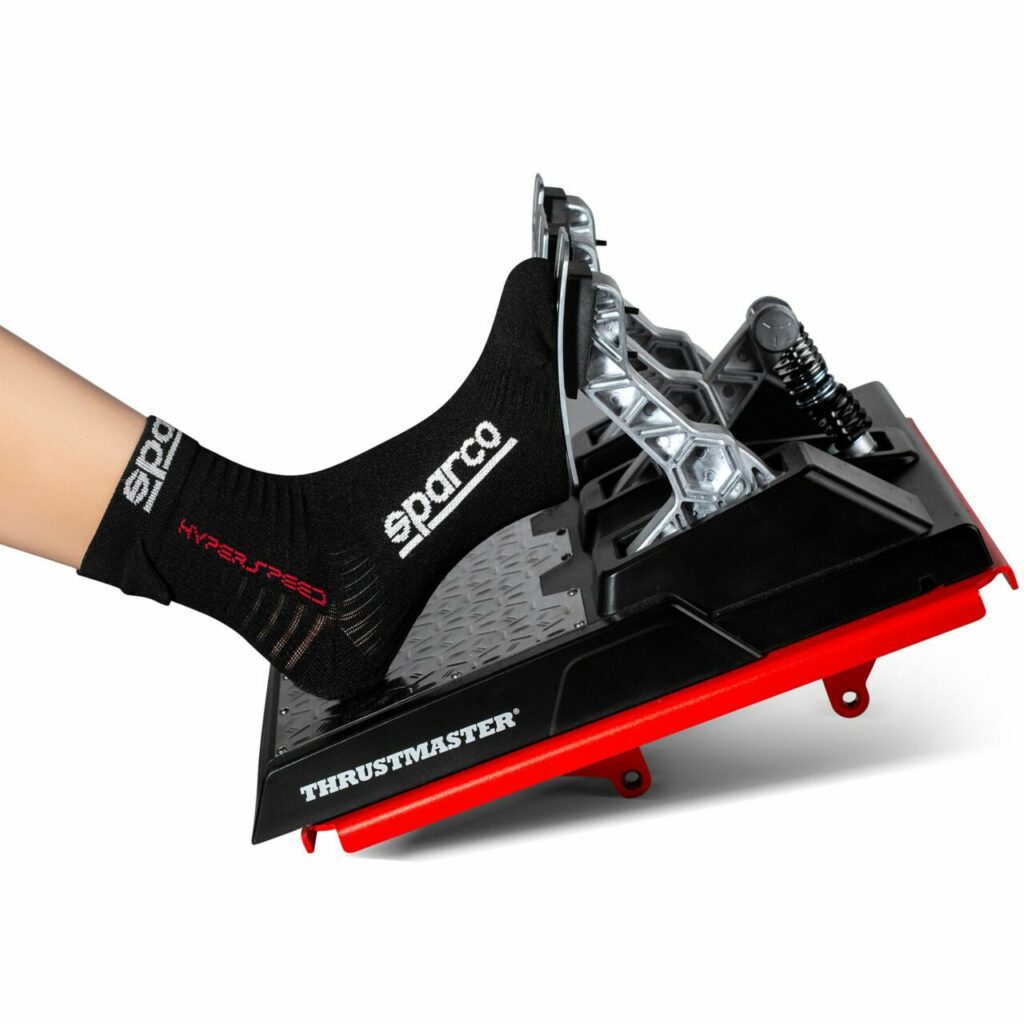 Whether you're just getting into the Sim Racing scene, or you're a more serious competitor these specially designed Hypergrip+ Gaming Gloves provide a positive grip on the wheel whilst providing maximum ventilation to keep the sweat at bay.
Sizes: XS – XL
Price: £53.46
Colours: Black/Blue, Black/Green, Black/Red, Black/Yellow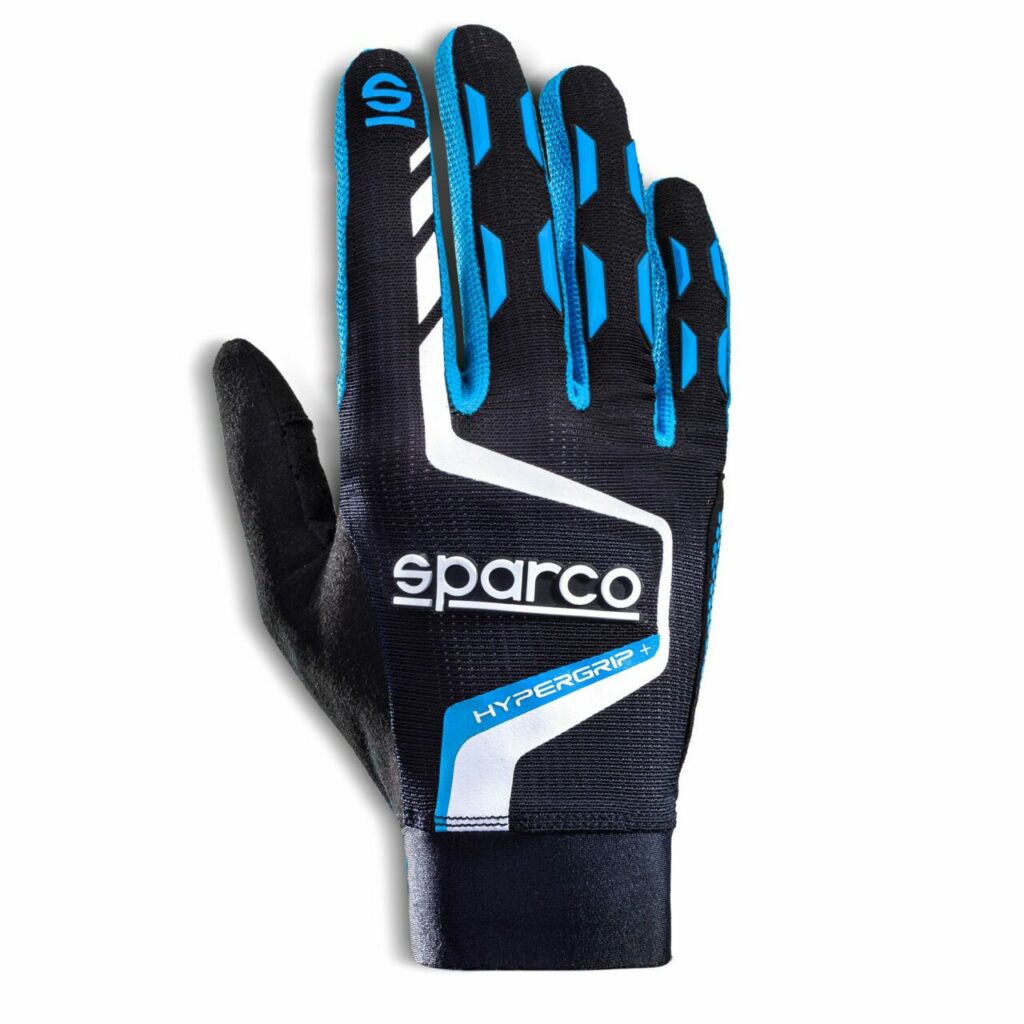 Keep cool and stay comfortable with this gaming t-shirt from Sparco. The Hyper-T is a high quality, seamless t-shirt that is breathable.
Perfect for adding sponsor logos on both the front and rear it's the ideal apparel for gaming.
Sizes: S – XXL
Price: £64.37
Colours: Black/Red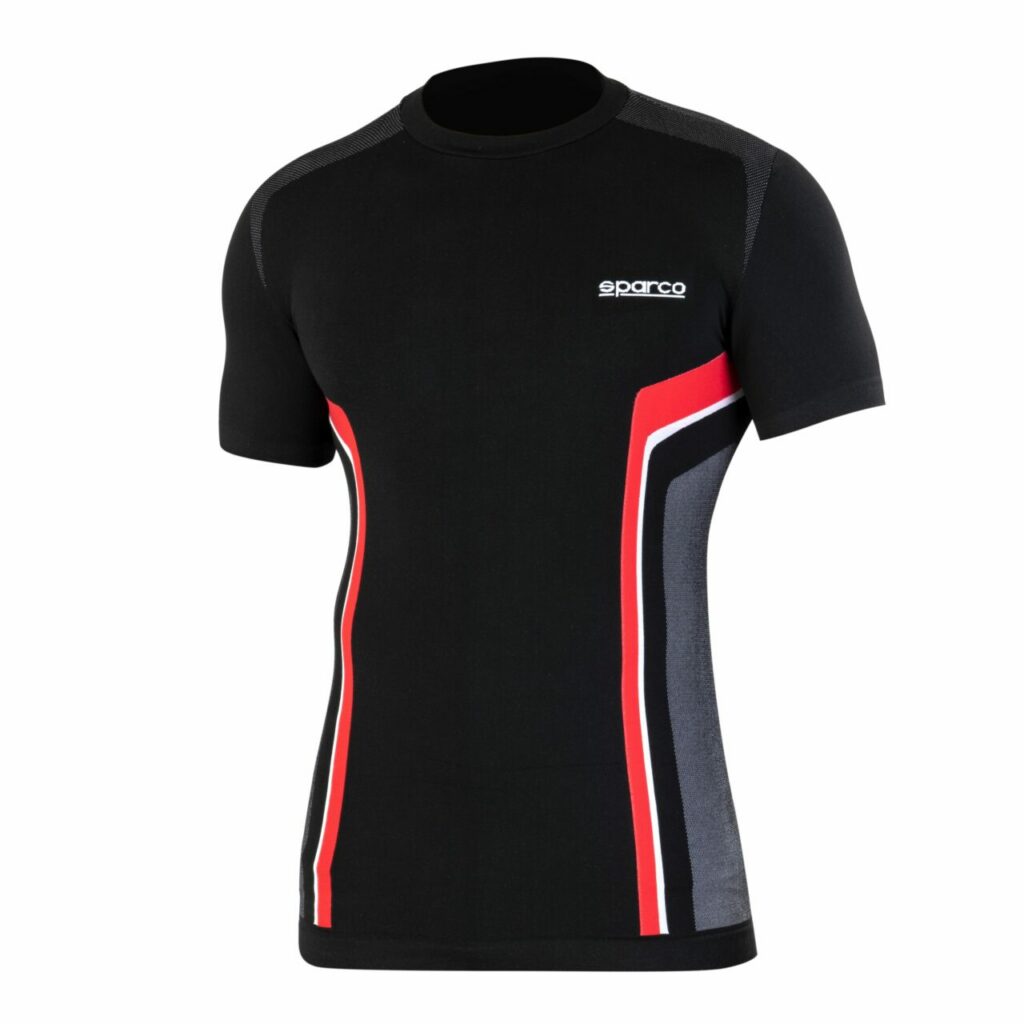 Derived from the racetrack, these Hyperdrive Gaming boots from Sparco are uniquely designed specifically for sim racers. These boots give you the best pedal feel combined with superb comfort thanks to its internal sock design, eliminating the need for the traditional tongue which means you can have hours of uninterrupted gaming!
Sizes: 5-11
Price: from £58.18
Colours: Black/Red, Black/Blue, Black/Yellow, Black/Green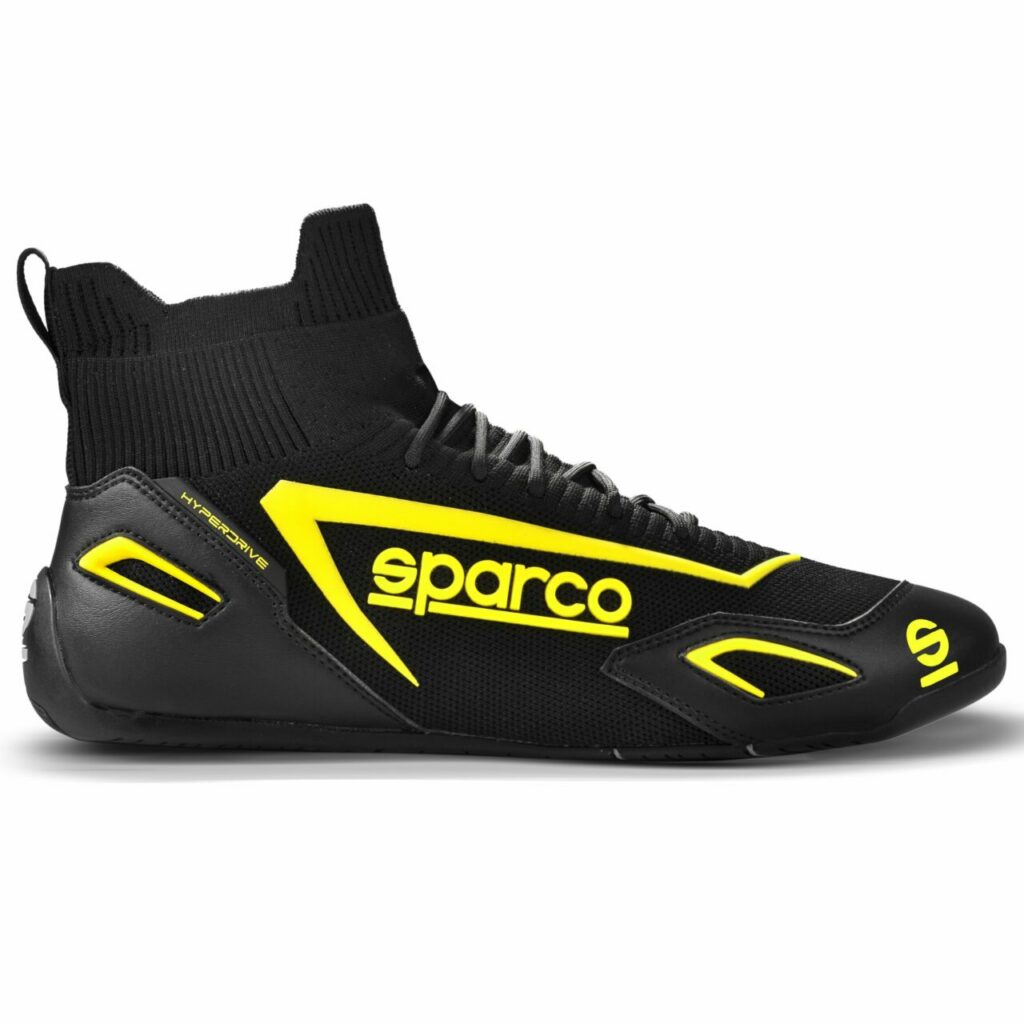 Complete the Sparco look with their Hyper-P Jogger Pants. A perfect gift for those who spend hours in their cockpits, because thanks to their perforated, breathable inserts above the thighs, you will stay cool when things get heated on track.
Sizes: S-XXL (28-38)
Price: £86.18
Colours: Black/Red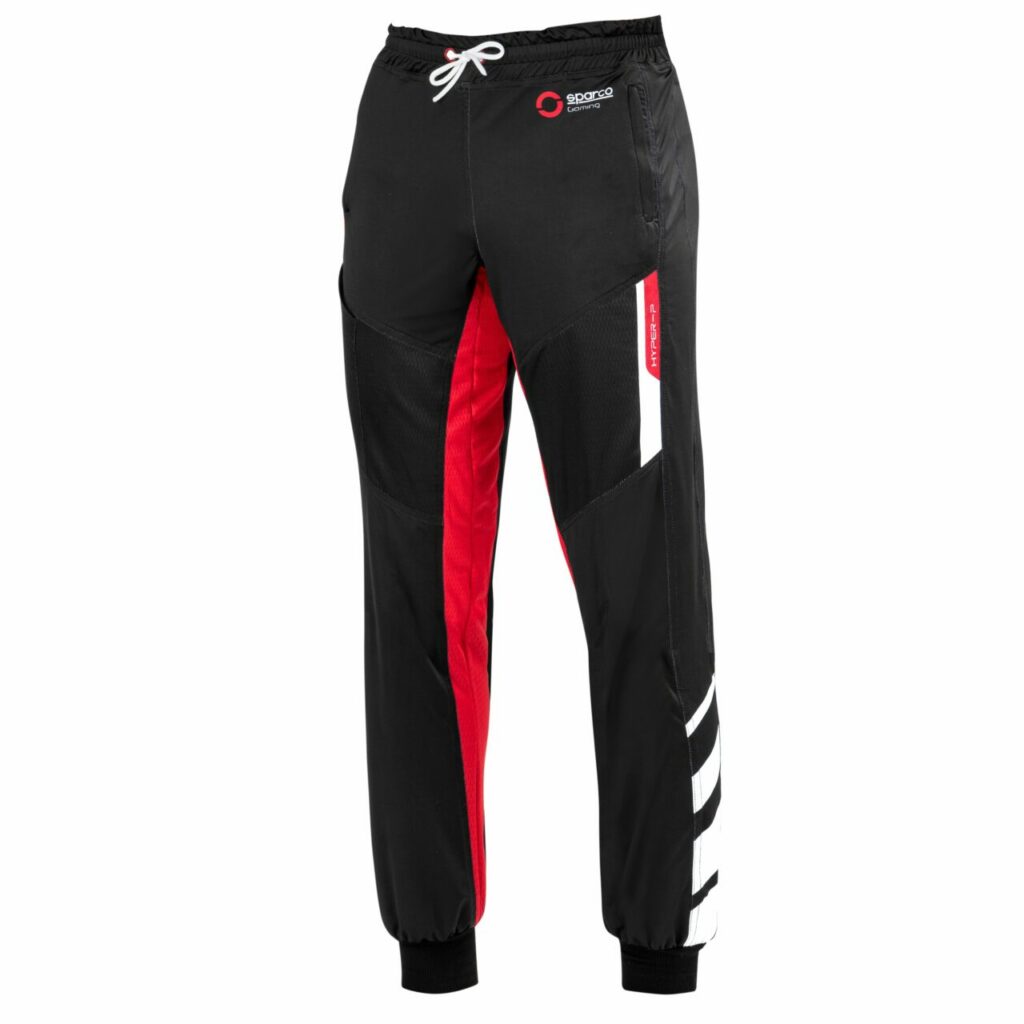 Heusinkveld has set new standards when it comes to simulator pedal systems. The Engineering Sim Racing Sprint Pedals replace the highly acclaimed Sim Pedals Pro and boy have they upped the game!
They have upgraded the pedals in every aspect as well as sporting a brilliant new look. The compact design allows it to fit a wide range of simulator rigs and can be adjusted for mounting on a number of different angles depending on your application.
These pedals offer an authentic experience that is helped by the additional 2-stage braking system that simulates the pad-to-disc gap as felt by race drivers on track.
If you're after an ultra-realistic feel with easy set-up and compatibility then these pedals are the perfect match for you. Find out more about the pedals HERE.
Sets: 1 – 3 Pedals
Price: from £116.34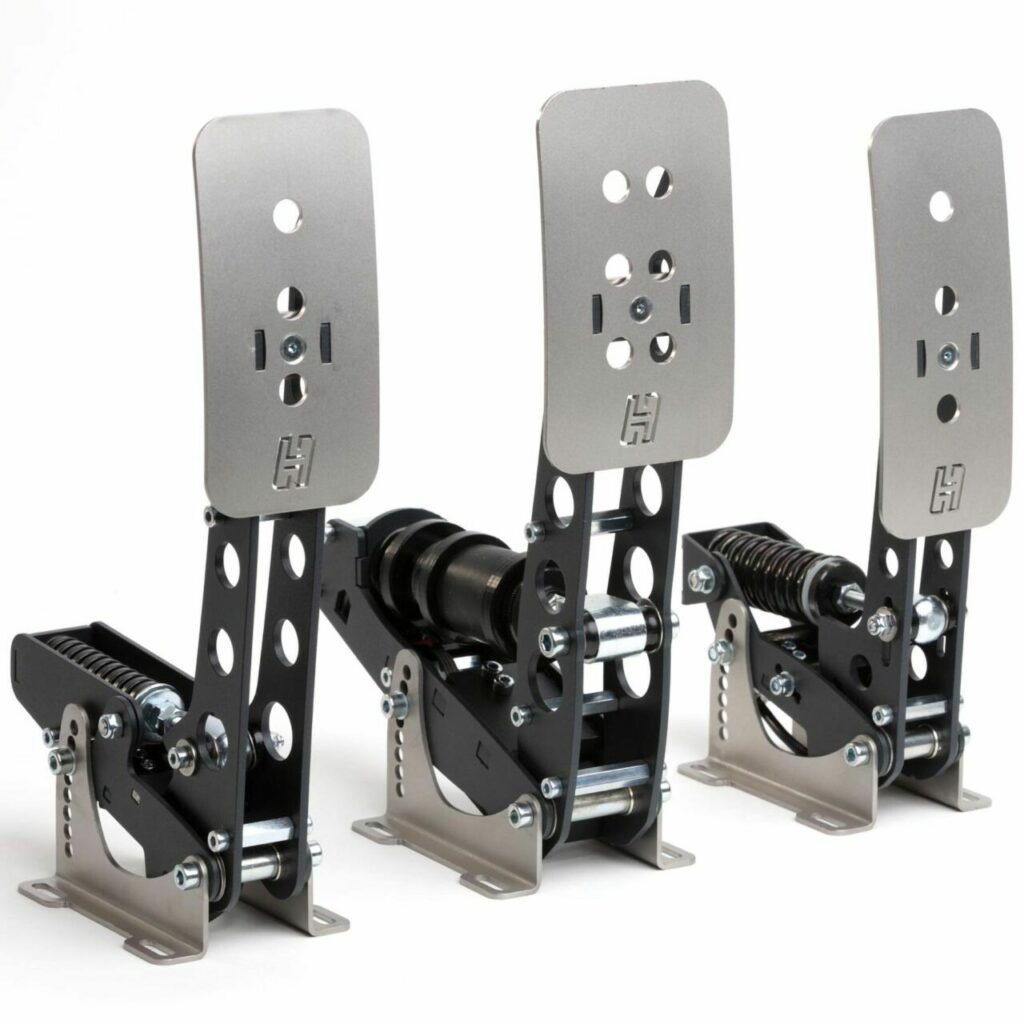 The Trak Racer FS3 Steering Wheel Stand is the most stable on the market. So strong in fact that it can be used with powerful direct drive wheel systems. The stand can be adjusted to 3 height stages and the wheel mount has the ability to slide 30mm with an adjustable angle, so you can be sure to find your optimum driving position.
This Trak Racer model is compatible with a wide range of wheels, pedals, shifters and handbrakes. You can find the full list HERE.
If you're tight on space and don't have the luxury of a permanent rig in your own room, then it's perfect for you. Once you're finished it folds up to a nice compact size in a matter of seconds, making it easy to store away.
Price: £149.00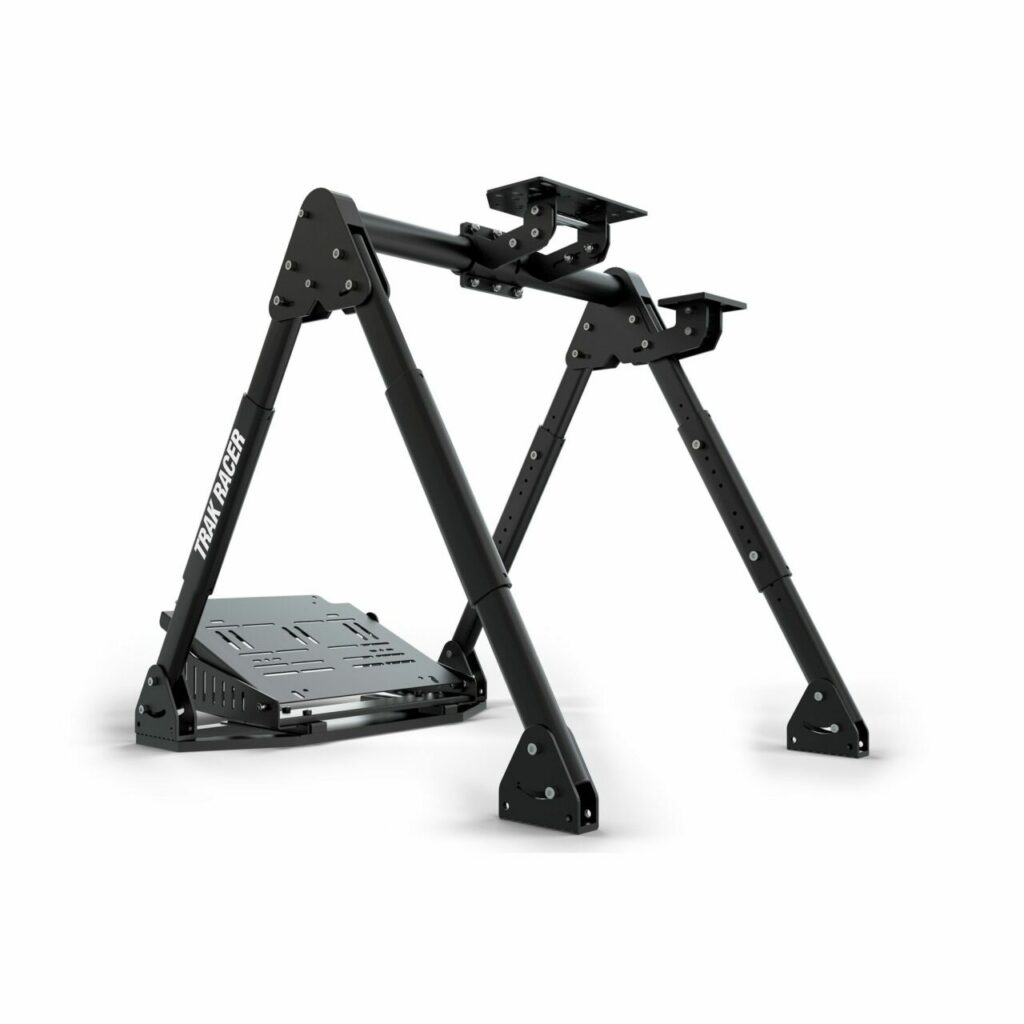 If you're looking to upgrade your sim shifter, or maybe you're after something with a more authentic shifting action, then the Heusinkveld Engineering Sim Shifter Sequential is the ideal choice this Christmas.
With nearly 10 years experience of creating the most authentic and realistic products on the market, Heusinkveld has engineered a high-quality, compact shifter that can fit into even the tightest of set ups.
The Sim Shifter Sequential provides a great deal of adjustability so you can tailor the shifter exactly to your individual requirements. Supplied with three levers (straight 30mm, straight 50mm & angled 50mm) and 3 different shifter knobs (round, short, long) all of which can be interchanged.
Price: £203.94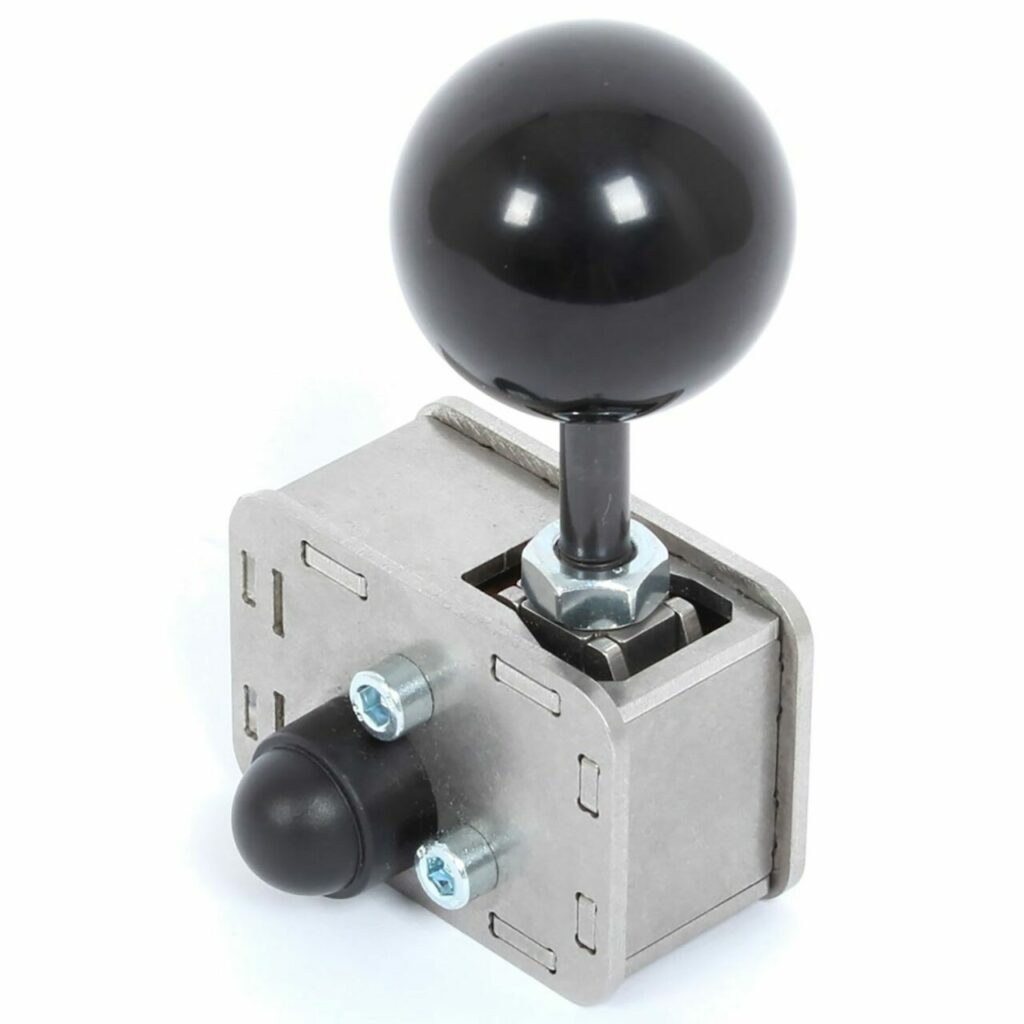 The Sim Handbrake from Heusinkveld is the perfect addition to any sim racing setup. Using load cell technology, this handbrake measures up to 22kg of force at the lever. It also includes a 2 stage spring loading system which provides resistance when pulling the lever, combined with an initial metal coil spring that emulates pad to disc gap and slack on the handbrake cable.
You will be hard pushed to find a more realistic feeling handbrake at this price. It's completely customisable and comes with a powerful configuration tool which allows personalised setups for different vehicles or conditions.
Price £258.20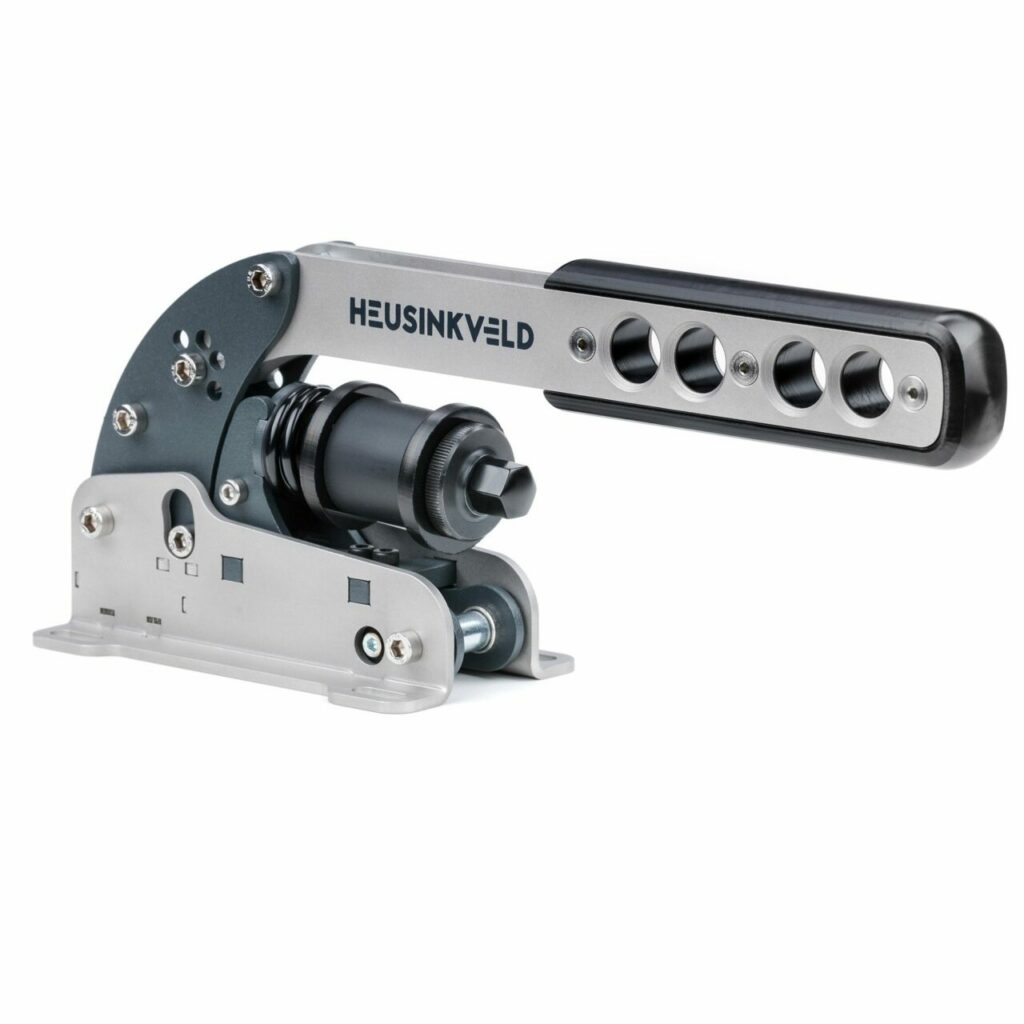 This incredibly well priced entry-level rig is the perfect way to start your journey into Sim Racing. Made from a strong and rigid aluminium profile material, it offers outstanding stability.
The Track Racer TR80 offers an extensive range of adjustments that give you the perfect driving position. With over 30 optional accessories available for this model, it is totally future proof.
At just 660mm x 1358mm it is compact and won't take over the room when set up.
Don't worry about whether or not it'll fit any parts you may already have. It has extensive compatibility for Direct Drive mounting, Wheel Plates, Wheel Decks, Pedal Plates, Shifters and more. The full list can be found HERE.
Price: from £569.00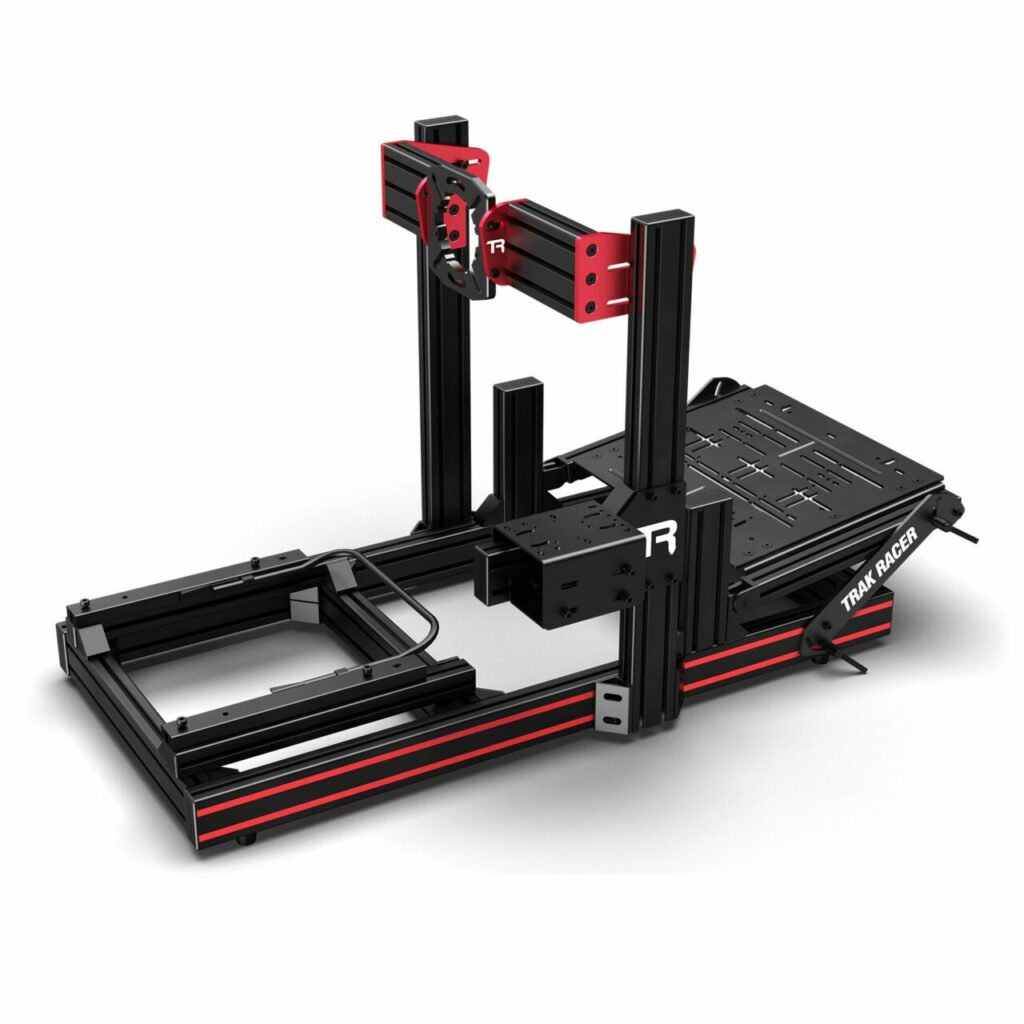 If you're after a wheel which is packed full of features and constructed from ultra high quality materials then this is certainly the one for you.
Made from aluminium and carbon fibre, it provides zero flex for superior feedback and control.
The GXL Pro Prime Sim Steering Wheel takes your command to another level with the inclusion of 10 momentary push buttons, 5 rotary encoders and a 7 way 'funky' switch.
Easy to set up and connect with USB connector, you'll be hitting those apexes in no time.
Price: from £942.89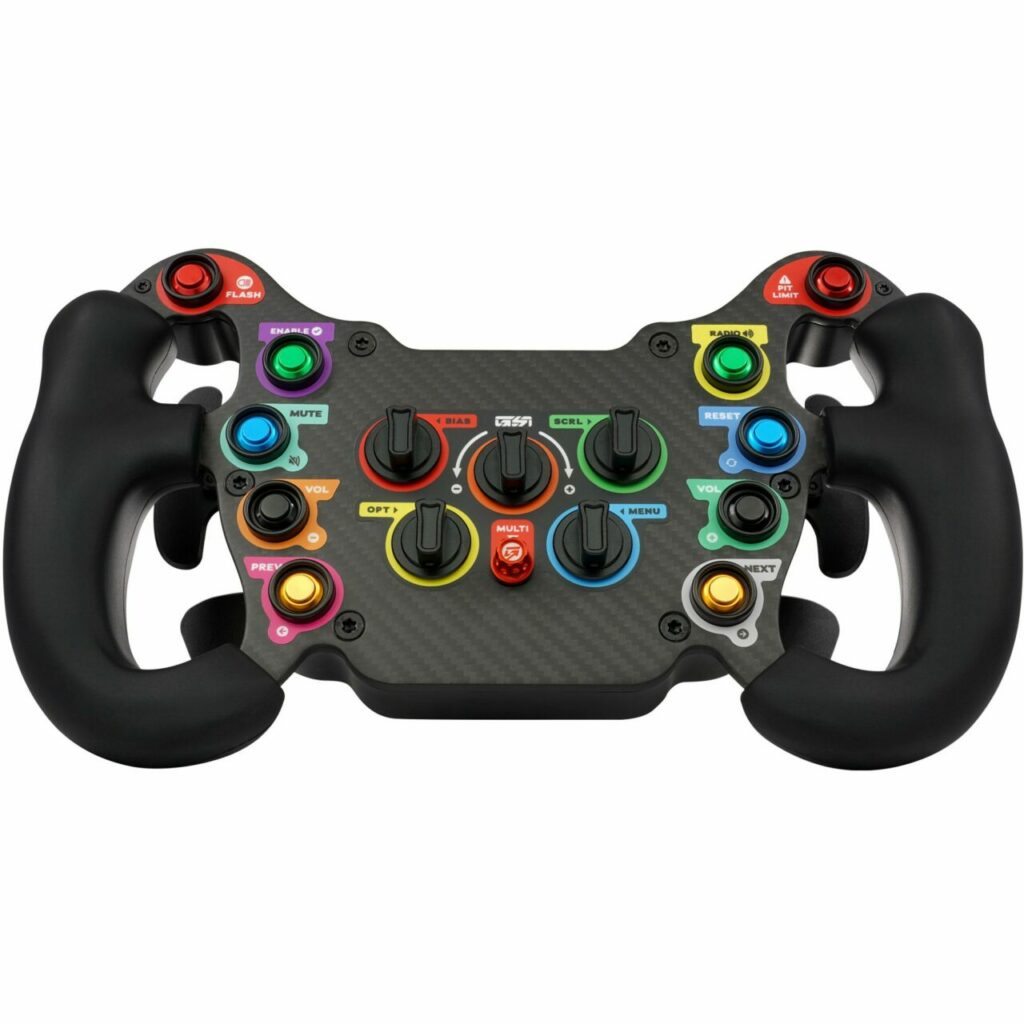 Want to take your sim experience to another level? Well, the Simucube 2 Pro Direct Drive System offers an ultra realistic and detailed force feedback that is hard to beat. With 25Nm of torque available through a brushless motor, it's more than capable of a high level of immersion of any car on any track.
This is very much for the more serious competitor. There is no noisy fan thanks to the clever electronic heat guiding system. Plus, with the built in wireless receiver, it will connect automatically to any wireless steering wheel and boasts an unbreakable millisecond range response time so you can race with confidence!
Price: £1240.34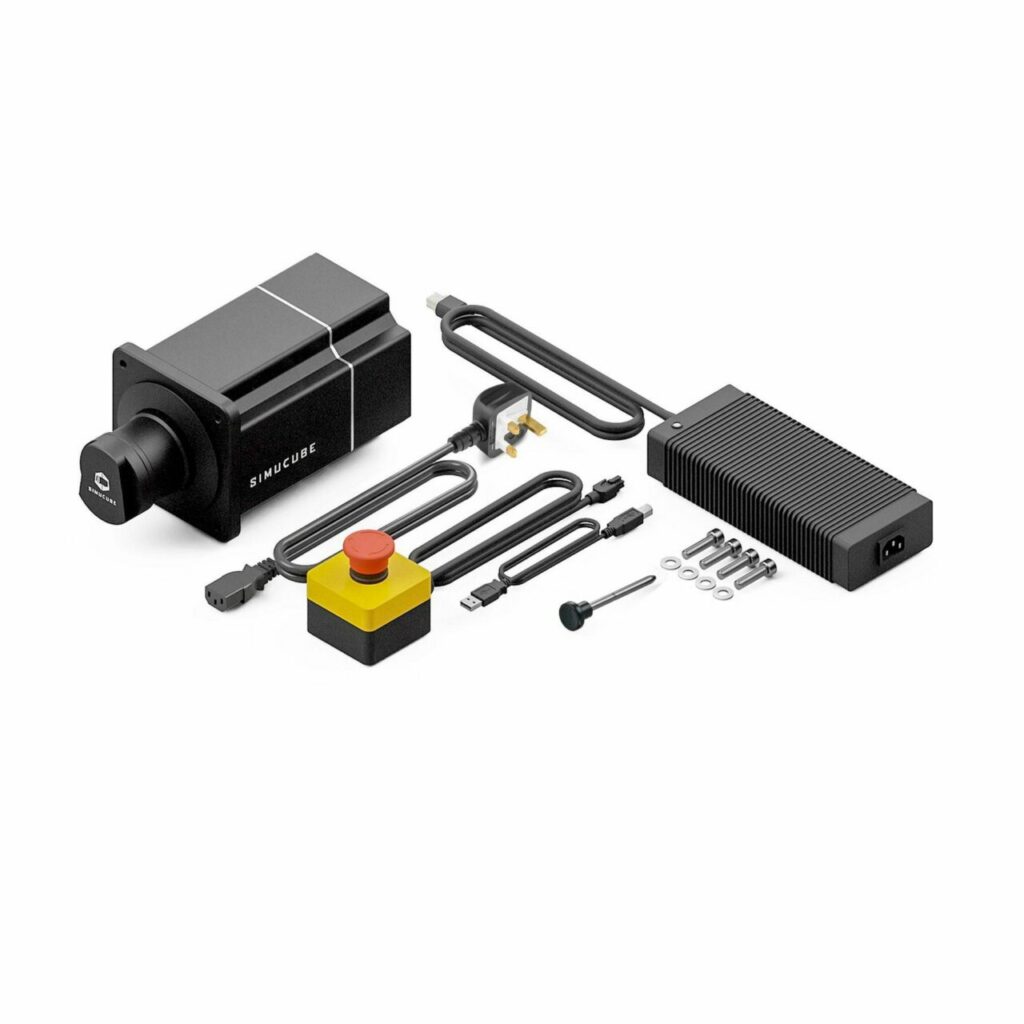 Get the impression of holding the original race car steering wheel in your hand with the B24M SC Steering wheel plate from Ascher Racing. Compatible with a number of top quality steering wheels, you will be transformed straight into the cockpit of any race car.
For the full list of wheels see HERE.
Built from high quality milled aluminium they are easily inserted into sports steering wheels for that real life racing feel.
This wireless wheel features 16 inputs, magnetic paddle shifters and is compatible with all Simucube 2 Direct Drive systems.
Price: £598.99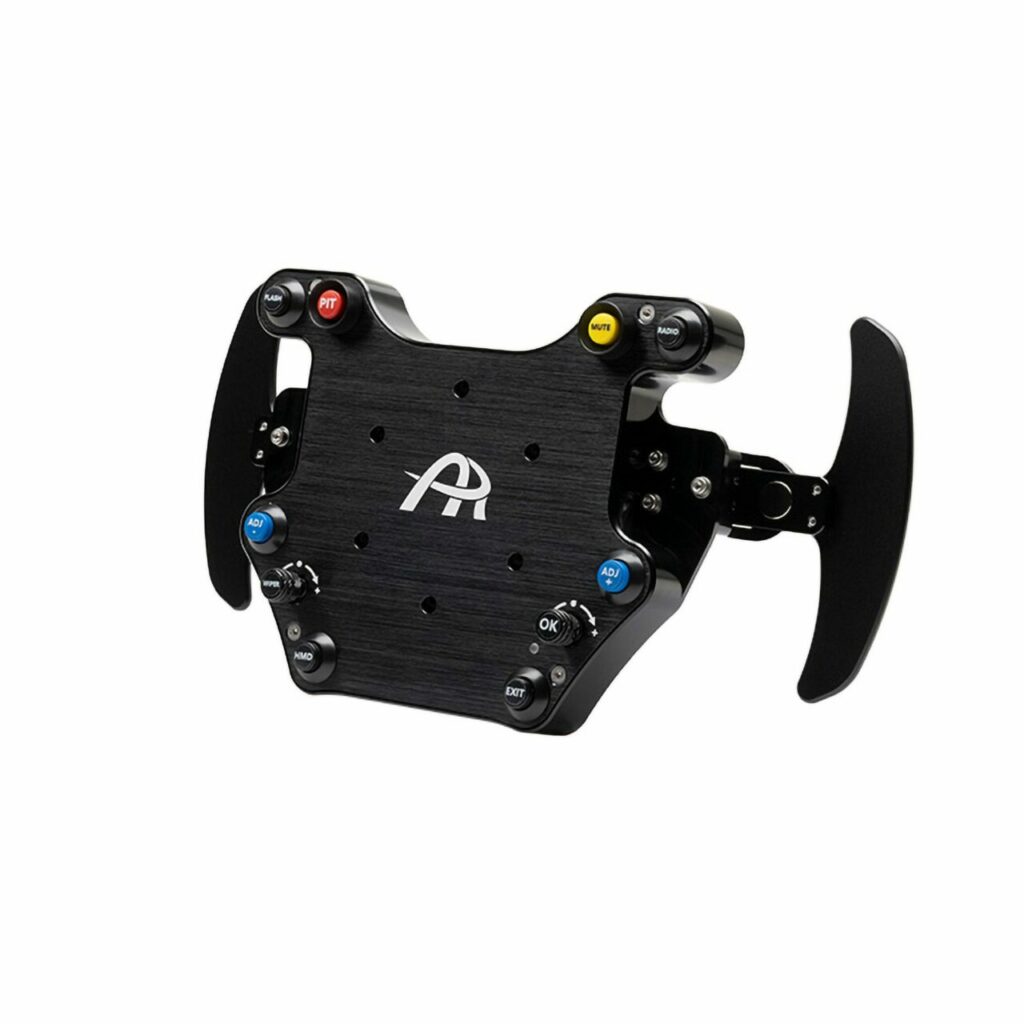 So you've got the pedals, the wheel and footwear. Now you need the right seat to finish that sim rig. What better than one from the experts?
Sparco have developed the Grid Q QRT Fibreglass Sim Racing Seat from its state of the art manufacturing process to create the lightest and most resilient seats currently available.
It features removable modular cushions for a more tailored fit. This results in maximum comfort, even for those long endurance races and with the addition of high lateral leg support and low profile leg cushion, you won't be fatigued.
Price: £377.89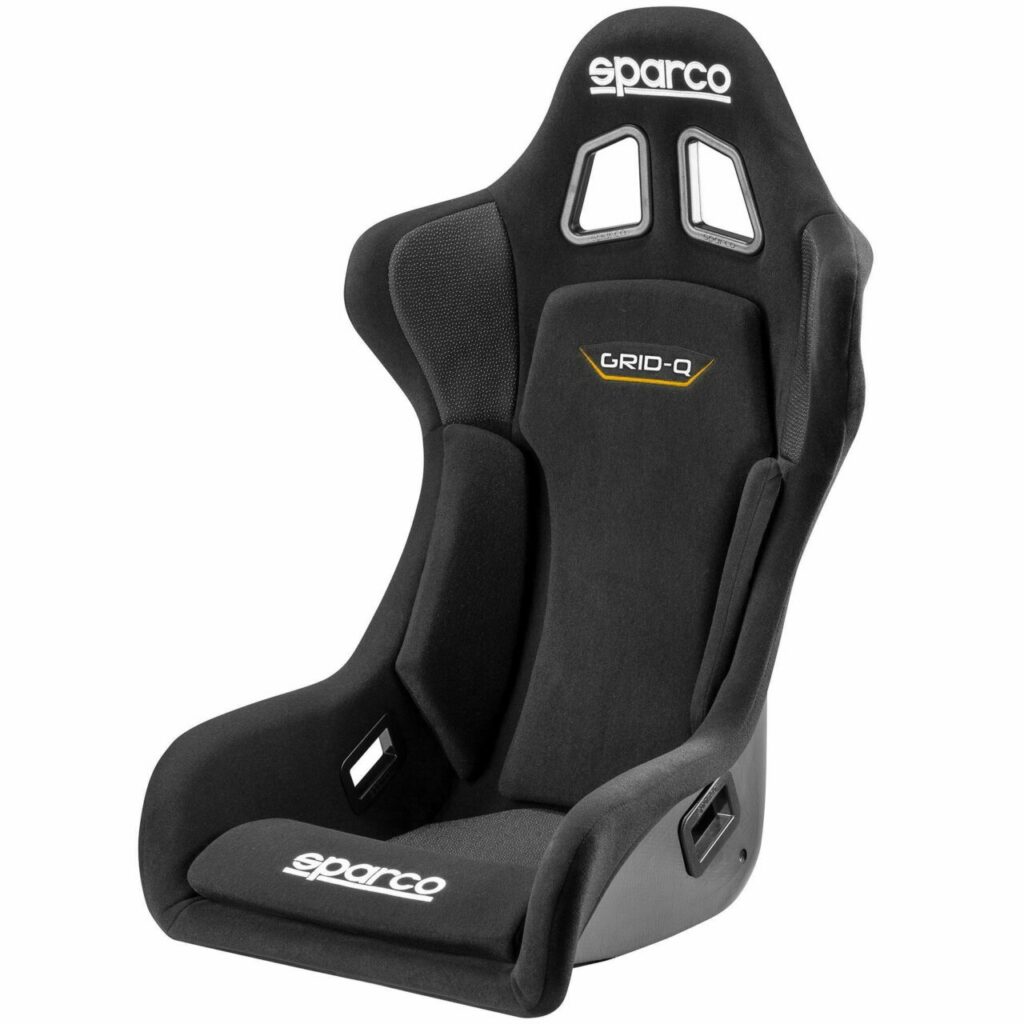 Keeping cool is key to performance in motorsport; whether that's your engine or you, the driver. Sim Racing is no different. You have to have the best cooling for PC performance and when the going gets tough, you need to keep cool under pressure in the driving seat.
The Sim Racing Fan by SimAir is a powerful, high performance motorsport fan that is fully adjustable. It can be placed in the perfect position to keep you cool and with the 4 position switch, you are able to adjust the fan speed accordingly, with ease.
This sleek design is finished with anodised aluminium outlets for that professional look, so your rig will be looking 'cooler' than ever!
Price £287.94
The final piece to any good sim racing rig. Creating immersive, accurate and powerful effects taking your gaming experience to another level!
The Buttkicker Gamer Plus Racing Simulator Bolt On Transducer Kit takes audio frequencies and transfers them into your sim racing chassis. This means you feel every bump, knock, curb and vehicle grip which are crucial for setting the fastest lap times. You'll wonder why you didn't get one earlier!
Compatible with PC, PlayStation and Xbox.
Price £356.40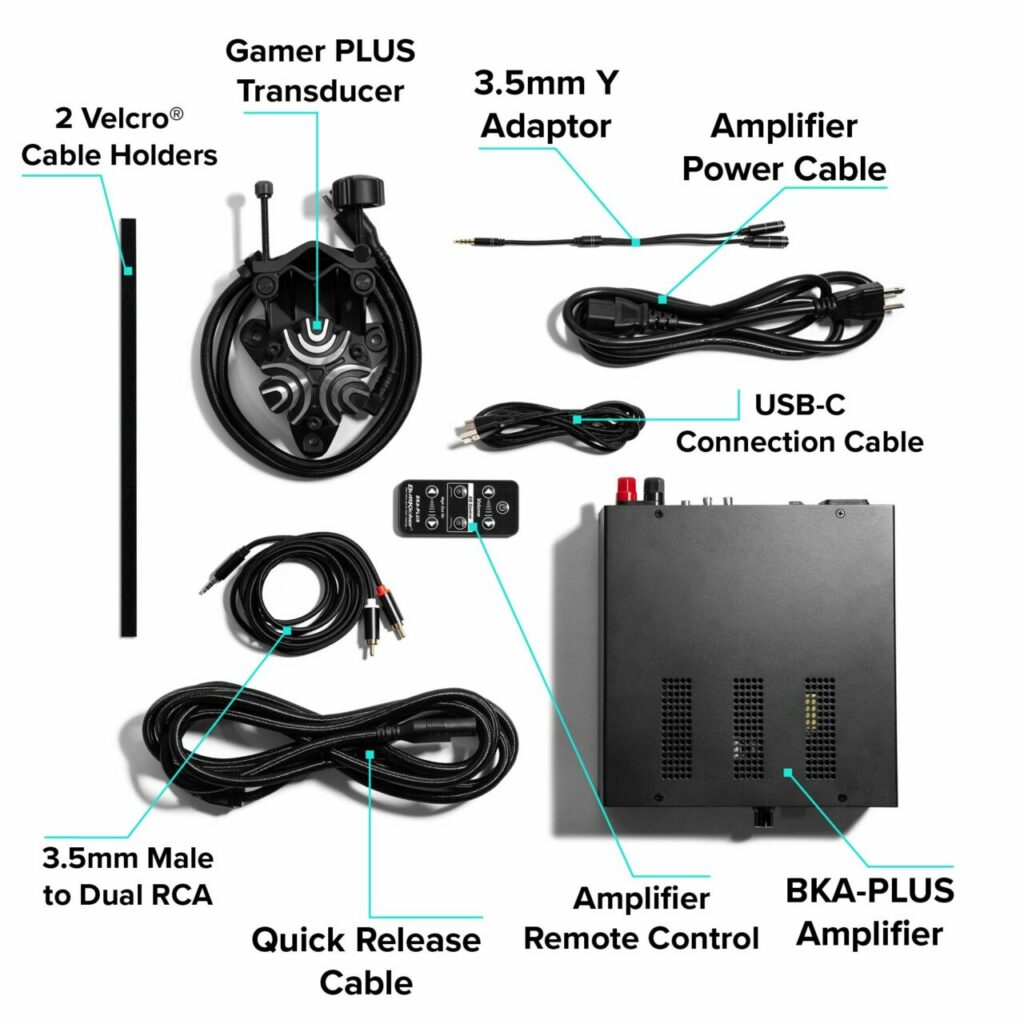 ---
For further technical information on Sim Racing products you can email your enquiry to our specialist team – simracing@demon-tweeks.co.uk or phone 01978 666478
---
Enjoyed this? Read more of our latest news:
Where To Next?
Looking for more present inspiration? Check out our wide selection of gifts.
Come and visit us at our store, showroom and fitting centre in Wrexham.
Want to know more about our story? Learn about who we are and why we've been driven by passion for over 50 years.
Interested in everything we do? Catch up on all the latest Demon Tweeks news.