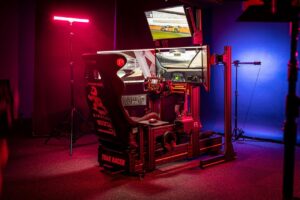 If you are looking here it looks like you have been bitten by the sim racing bug, it's been almost as contagious at covid19 it seems with thousands upon thousands of you buying your first cockpit or have upgraded your basic setup. This guide will show you how to build a sim rig, so you are ready to go racing! And if you have forgotten anything point you in the right direction!
Right, I've got all my stuff, where do I start?
Firstly, check you do 'actually' have everything; a lot of people will naturally forget something! Here's a checklist for you;
Monitor/s

with HDMI cables

Handbrake/sequential shifter

(if required)

PC

capable of running the

games/racing sims

you want to use.

Keyboard, mouse, headphones

and their mounts.

Tools to build your cockpit
Cockpit
It's a good idea to build the chassis first, whilst some cockpits do come with detailed instructions, unfortunately some don't, but no need to worry, there are many 'how to' and step by step guides on YouTube for most popular choices! – The most important thing when building the chassis is to not tighten everything 'fully' until you have your seat, pedals and steering wheel mounted in a position that's comfortable for you. For most cockpits, the pedal plates and steering wheel mounts are adjustable in height and placement and important to get them right, it's also advisable to have some seat runners for your seat to allow easier access getting in and allow for any fine adjustments for pedal and steering wheel reach.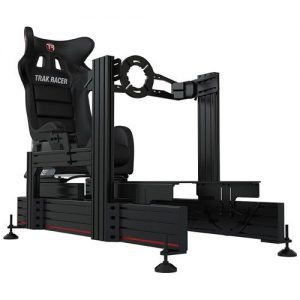 Monitor Stand and Mount
Once the cockpit is built, next thing to do is sort the monitor/s stand or mounts. Again, with these they are usually pretty straight forward and it's important to get the correct height and distance to give the most realistic feel!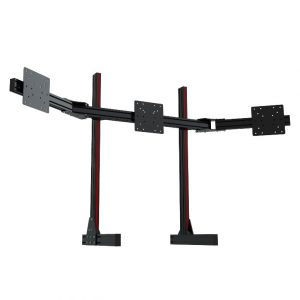 Screen and PC
Once all the hard parts are mounted securely, the next job is to mount your screen/s to your mount/stand and start to plug in your steering wheelbase, steering wheel, pedals, and any other accessories you have opted for! It's good to keep all the wires nice and tidy using cable management clips that are available separately. Once all your wires are nicely routed and screens mounted, it's time to plug all your accessories into your PC, and to a power source where required.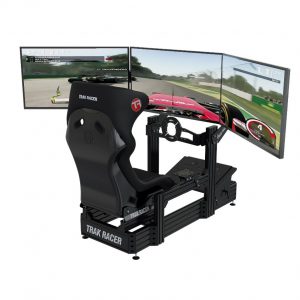 Once your all set up and plugged in, time to see if it all works! When turning your PC on it will automatically register some of the accessories that are plugged in and will automatically install what software it can to get those up and running. Some accessories will require specific setting up and calibration which can be found on each particular brand website or on YouTube and the setting up can be done 'in game' and via the files the manufacturer provides so you will need to download or install the sims that you want to drive e.g. iRacing, Assetto Corsa, etc.
Steering Wheels
Most steering wheels on sims nowadays are a work of art, each button, rotary encoder and paddle can be programmed to do whatever you want like controlling traction control levels, pit lane limiter, flashing of headlights and fine-tuning your clutch bite and so much more! You name it, you can have a button to do it! These changes can be done 'in game' in the settings menu.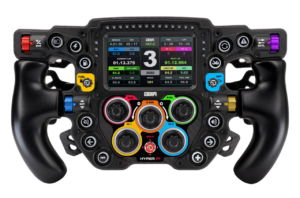 Heusinkveld and Simucube have YouTube channels which have detailed tutorials on how to set up your direct drive and pedal sets which you can fine tune to your liking and change when jumping from car to car or track to track. It may take some time to get this part right, but well worth it!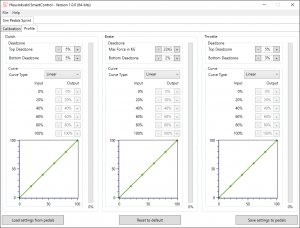 After you've got your accessories set up to your liking, your all set!
Jump in and get going! See you at the track!
If you need to contact someone for expert advice we are available at simracing@demon-tweeks.co.uk or at our dedicated phone number: 01978 666478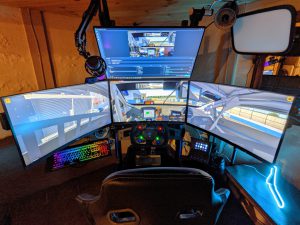 ---
Enjoyed this? Read more of our latest news:
Where To Next?
Looking for more present inspiration? Check out our wide selection of gifts.
Come and visit us at our store, showroom and fitting centre in Wrexham.
Want to know more about our story? Learn about who we are and why we've been driven by passion for over 50 years.
Interested in everything we do? Catch up on all the latest Demon Tweeks news.