Do you have a favourite from the past 50 years? Our team of motorsport enthusiasts certainly do, with not one of them agreeing on their number one, this was a pretty interesting exercise. Let us know in the comments if yours cropped up, and if not, we'd love to have some competitors for that top spot!
Dave Featherstone
For me, it has to be the Suzuki Escudo Pikes Peak in Red very Red from 1996.
985 bhp 4wd 900kg and just look at it! This is what happens when you build a car for a single purpose with a clean sheet of paper. The absolute mad machine probably not see something like this again. Awesome appearance, sound, and performance, just watch the youtube runs (shame the film quality was not as good as the car!) If you were from the early Playstation generation this car also beat everything on Gran Turismo even if you crashed horribly several times!
Gareth Messham
The Escort RS Cosworth LUX in Imperial Blue does it for me, specifically from between 1992-1996.
The Escort RS Cosworth was a rally car built for the road! It was the first mass production car to produce downforce at the front and the rear.  Under the bonnet there is a highly tunable turbo charged Cosworth YBT engine with a standard 224bhp, with tuning companies achieving power. This is one of the best looking cars ever made!
I am lucky enough that we have one in my family which my father has owned for over 20 years. There are not many about these days and are getting rarer all the time. You never know, if my father is in a good mood one day…
Steve Shepherd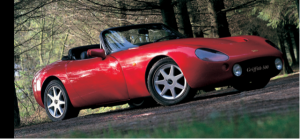 This is the most brutal car I have owned. The TVR Griffith in Red Manufactured between 1991 and 2002. 5 litre V8, no ABS or traction control, minimal weight over the rear axle, a proper widow maker.
Hood down, summer days, an exhaust note to die for,  a proper classic drivers car.
The only downside, I could fill my driver's licence with points as fast as I could empty the fuel tank, very thirsty. Genuine reason for sale, I bought an aeroplane instead.
Steve Kerr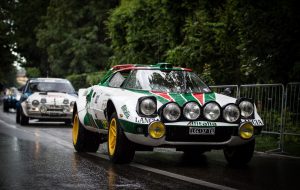 Lancia Stratos, has to be the Alitalia works colour scheme. This car ruled rallying in the seventies and early eighties. What's not to like, spaceframe chassis and Dino V6 engine. Fond memories of watching this blast through the welsh forests, you could hear it coming from miles away.
Chris Rhodes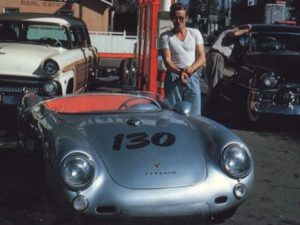 For me, it's the Porsche 550 Roadster in Silver / 130 from 1955.
This car's most famously known as the car James Dean was killed in as well as it's colourful nickname "Little B******d"
it has both Iconic German engineering and a American movie Legend reputation, so it has to be my top car from the past 50 years!
Barry Massey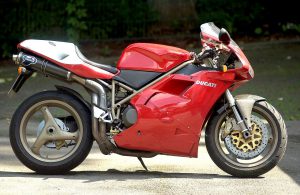 My favourite Bike from the past 50 Years as to be the Ducati 916 in Ducati Rosso Red from 1994.
Often quoted as one of the most beautiful motorcycles ever – the 916's impact on the motorcycle world cannot be understated!  Early 1990's sports bikes were boxy, square designs and the 916 bought us aesthetics and flowing lines that took the 2-wheel world by storm and that many manufacturers have tried to copy since!
An instant success with motorcyclists when it was launched and an instant success on the track too, winning the World Superbike Championship 3 years consecutively after its launch!
It is a 2-wheel style icon and without doubt one of the most influential motorcycles of the last 30 years and probably the most important motorcycles Ducati have ever designed!
Jamie Ellis
The best bike from the past 50 years has to be the 2016 Yamaha R1 60th Anniversary Edition in Iconic yellow & black with the famous speed block design…
Released in 2016 as a limited edition to celebrate 60 years of motorcycle design and manufacturing from Yamaha. What was arguably already one of the best sport bikes available in 2016, the 60th Anniversary Edition Yamaha YZF-R1 was given a striking yellow and black colour scheme with the iconic speed block design used on some classic Yamaha racing bikes through the years. In addition to the colour scheme, the 60th Anniversary Edition was also equipped with contrasting matt gold wheels and was fitted with an Akrapovic exhaust from the factory. A work of art and a true and timeless legend of a bike!
Adam Williams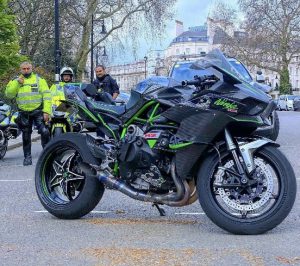 Has to be The Kawasaki H2 / H2R when it comes to bikes, in Mirror Coated Matt Spark Black.
Taking sports bikes to the next level. The H2 and H2R is powered by 1000cc inline 4 supercharged engine handing you over 200bhp and a top speed to match from standard! That's right a production SUPERCHARGED engine capable of OVER 200mph!! The looks of the H2 is always one of the main discussion points where people will either like it or they won't. But love it or hate it, it will pull a crowd and turn heads wherever you go and will continue to do so for many years to come.
Richard Barr
It has to be the Nissan Skyline R32 GTR in Gunmetal grey from between 1989 and 1994.
The Skyline instantly became a racing legend, most notably getting effectively banned from Australian Touring Cars after dominating the series. As a road car its very capable and is very tuneable, all with comparatively understated looks.
6 years ago I was lucky enough to have purchased a Nissan Skyline and have enjoyed being the proud owner of this 1992 Gunmetal Gray edition ever since.
James Ramage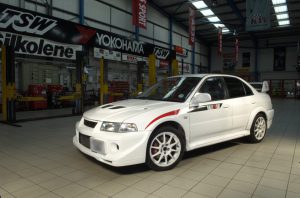 For me, it's the Mitsubishi Lancer Evo 6 in White, Circa 2000!
One of the all time greats in my opinion, looks absolutely awesome, aggressive as you like and haven't seen anything quite like it in the same era, not to mention it sounds the mutts too. A very capable car on a stage, track or road it was something I dreamed of owning as a teenager, haven't had the chance yet but you never know. Still the ultimate in my eyes, the Tommi Mäkinen Edition would be the one to aim for.