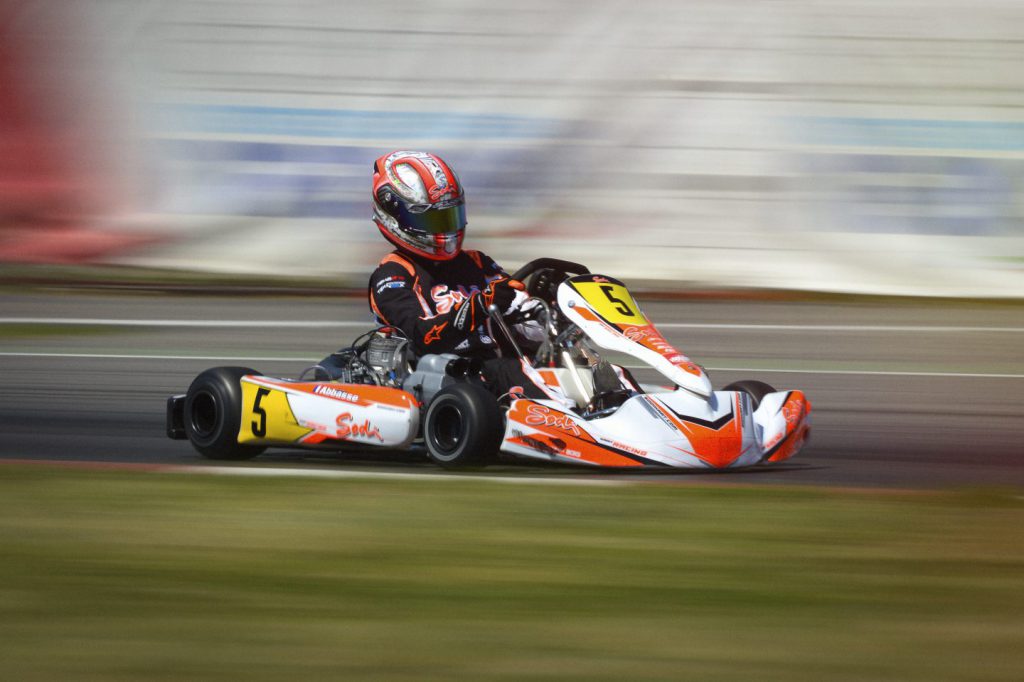 So, you have decided to take up karting, you have bought your kart and safety equipment and you are now excited to start racing!
But as this is a new experience, you aren't quite sure what to expect, or what you should do to prepare. Well, here is our handy guide to helping you through your first kart race meeting.
Preparation
Before the big day arrives, there are various things that you will need to do.
First on your list, after you have joined a kart club, is to send your entry in for the race. This will need to be done in advance as you can't just turn up on the day and register to race like you would for an arrive and drive karting session. For this, you will need to check with your chosen kart club as to how they accept entries for their race meetings. Most will allow you to enter online via their website, while some will require you to send a completed form via the post. If you need to complete a physical entry form, make sure that you allow plenty of time for your entry to arrive with the club and be processed.
With your entry completed, you will now want to give your kart a final check against the regulations found in the motorsport yearbook to make sure that it is fully compliant, this includes making sure that you meet the required minimum weight limit. If your kart doesn't meet these regulations, you will not be able to race.
Alongside checking the kart, you will also want to make sure that you have everything that you need in the paddock. From the essentials such as fuel, and tyres to items that make your paddock life easier and more comfortable like tools and an awning. Having some form of shelter is advisable for all forms of weather. Not only will it provide protection from the rain, but it will also help to keep you cool in warmer weather.
It is worth ensuring that you have a selection of tools that you can take with you, just in case you need to work on the kart over the course of the day, as well as any spares that you may have.
Once you have everything set and ready to go, take as much time as you can to study the track layout so that you have a good idea of the flow of the corners and how the track drives. If possible, check out some footage on YouTube to get a driver's eye view. This will mean that you will have a better idea of what to expect when you arrive.
It is also a good idea to schedule a test day at the circuit before the race. This will get you out on track and give you a good opportunity to learn the circuit and the kart as well as allow you to change the setup to try and improve the handling. The more you can do to prepare for the race, the more relaxed and comfortable you will be.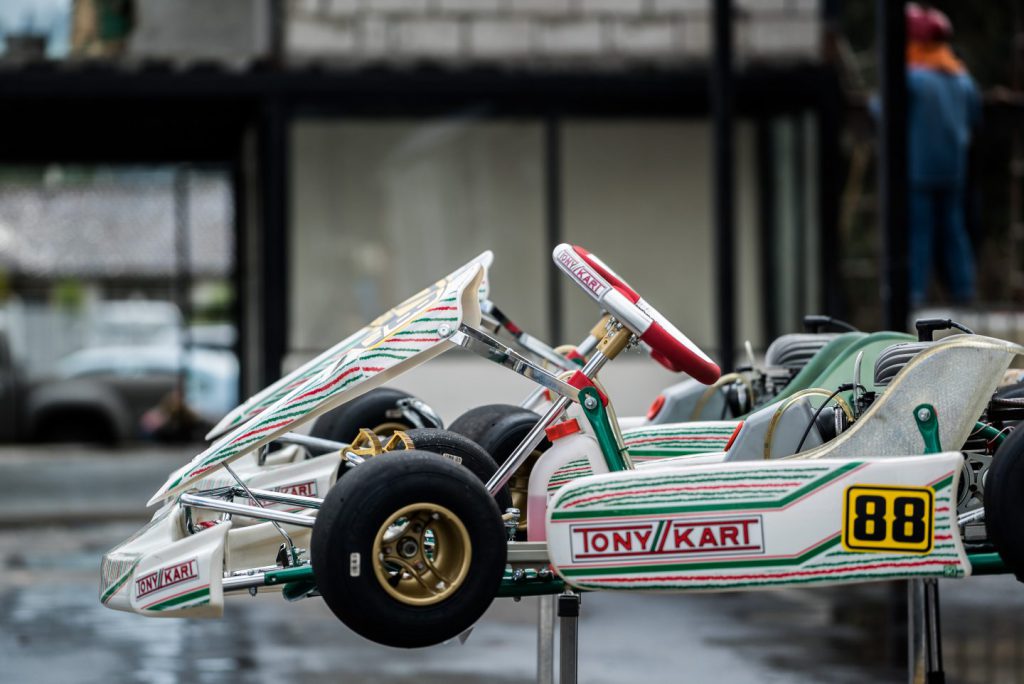 Arrival
Upon arrival at the circuit on race day, the first thing to do is to find somewhere to set yourself up. Before you decide on a space in the paddock, it is important to know that most kart clubs will have pit bays that have been reserved by teams for the season. In the majority of cases, there will be an information board on the way into the circuit that will display this information and which pit bays are free to use.
Depending on the particular meeting there may be more or less bays available, so you may find yourself being a little further away from the dummy grid than you would have expected. If you do find yourself out on the peripheries of the paddock, make sure that you leave yourself enough time to get to the grid, or you may find yourself arriving too late. Once you have found a suitable pit space, you can then get yourself parked up and the trailer unhitched.
At this point, if you are at the meeting by yourself without any help from a friend or family, it is worthwhile heading to the circuit office to sign on. This allows the circuit administration to check you off against your entry and know that you have arrived as well as provide you with the relevant information for the day. This information will include the timetable of events as well as the grids for your specific races. It is important to review this information so that you know when you are expected to be at the grid and where you need to line up.
As a top tip, it is worth keeping the timetable in a visible place for ease of reference as well as setting yourself alarm reminders so that you don't miss your race.
You will need to take your karting license with you when you sign on so that the club can check your eligibility to race. Also, as it is your first ever race meeting, you will be considered as a Novice. This means that race control will keep hold of your license for the duration of the meeting as they will be watching your driving out on track.
If you have a clean meeting, then they will provide you with your first signature on your license. You need four signatures in order to progress on to your Kart National A license, where you will be able to remove your black and white novice numbers.
At signing on, you will also be able to hire a timing transponder if you don't already own one. This is what the club use to measure your lap times and record finishing positions for the races. The price of hiring a transponder depends on the individual club, however it is usually in the region of £10-£15.
Now that you are signed on, you can begin getting your paddock space sorted.
If you have an awning or shelter, it is important to pay attention to the weather. If it is windy or there is a threat of rain, you will want to make sure that you set yourself up in the best way possible to keep yourself out of the weather as much as possible. Not only will this make your day more comfortable, you will also be better able to work on your kart between races.
Once your shelter is all sorted, you can then set yourself up however you feel would be most suitable. It is important to make sure that you have everything that you are likely to need easily within reach and accessible so that, should you find yourself short on time, you won't have to go searching for that 10mm socket, or tyre pressure gauge.
With everything unpacked, now you can begin to build the kart up if you have transported it in an incomplete state. Make sure that you leave enough time to prepare your kart, as you will need it in its complete state for scrutineering.
Scrutineering
In order to be allowed out on track to race, you will need to put both your kart and your driver equipment through scrutineering. This is where officials thoroughly check your kart to ensure that it is both safe and meets the regulatory standards for your particular class and that your suit, boots, gloves and helmet are all suitable for use.
As part of the signing on process, you will be given a scrutineering card which you must fill in and present to the scrutineer who checks your kart. It is important not to forget to take this with you.
This can be a nerve-wracking experience and you may find yourself crossing your fingers and hoping that they won't find anything wrong with your kart. If, for whatever reason, they do find something that is not correct, you will be given a chance to correct the issue and then go through scrutineering again.
The first time that you go through scrutineering, your helmet will need to be checked for a good fit and that it is suitable for karting. If deemed suitable by the scrutineer, they will attach a Motorsport UK approved sticker to the outside of the helmet. Bear in mind that you will need to pay for this sticker at a cost of £2.50, so make sure that you have some cash on hand.
Once the scrutineer is happy with your kart and equipment, they will sign the scrutineering card and send you on your way.
Drivers Briefing
With the kart all ready to go, it is now time for the driver to attend the drivers briefing. This is typically provided by the clerk of the course and is held either in or around the clubhouse area. It is a requirement that all drivers attend this briefing and attendance will usually be checked by an official.
In this briefing, the clerk of the course will go over the specific details that you need to know about the days proceedings including specific information about the circuit, starting procedure and parc ferme. They will also cover any specific regulations that are relevant to the races too.
As a novice, you will also have a separate briefing where you will have an opportunity to ask any questions that you may have. It is important to pay attention during this briefing so that you have a clear understanding of what to expect and what to do while out on track.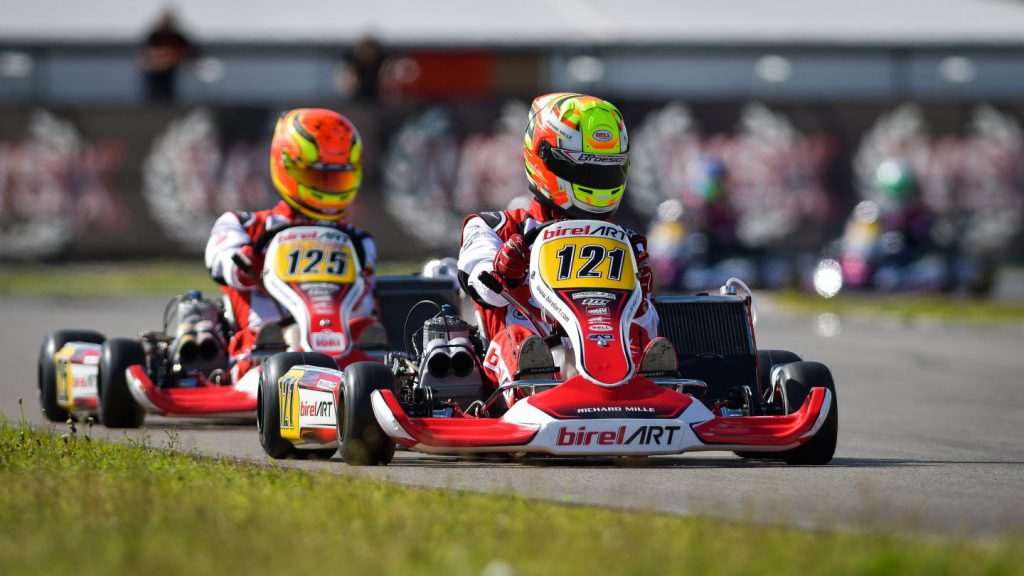 Practice
With all the administrative duties taken care of, it is time to get out on track.
Most club race meetings will feature a short practice session as the first on track action of the day. This is usually either 3 laps or 5 minutes in duration, so it is more of an opportunity to make sure that everything is working correctly and that the kart is handling to your liking.
The running order for practice will be detailed in the timetable that you received at sign on. Although there will most likely be announcements over the tannoy to call your class to the grid, it is worth making sure that you arrive at the dummy grid in good time so that you don't miss your slot.
As there isn't a set order on the grid, you will be able to put your kart down anywhere on the dummy grid. It would be a good idea to line yourself up at the back of the grid, this way you will be able to follow the pack and get a good idea of how quickly they take certain corners while will serve as a good reference for later on.
The Heats
Once the practice sessions are all completed, it is straight into the heats, and this is where the fun begins!
Each karting event features a series of heats, the number of which is governed by the amount of entries. The grids are determined by a ballot system. As there is usually a minimum of 3 heats, the entry is divided into thirds. This means that you will have one heat with a grid position in the first third, one in the middle, and one in the last. So, you could find yourself on pole for one race and at the back for another.
The only exception to this for novice drivers as they will always start from the back of the grid. But then, this is probably for the best, as starting your first race from pole position could prove to be a very stressful and eventful race!
The main reason for having all novice drivers start from the rear of the grid is so that they can gain experience and, hopefully, avoid any possible incidents that may occur in the pack. Remember, the clerk of the course will have your license in front of them, so your sole focus should be on having clean races and keeping the kart on track.
However, this is about racing. So once the green light shows, you are expected to drive as fast as you can and make up positions should the opportunity present itself. But bear in mind that any overtaking moves should be well calculated and cleanly executed.
Most kart clubs will provide printed result sheets for each race which will be made available from outside race control. These are particularly useful to pick up as they will allow you to see how you have progressed from race to race as well as helping you to keep track of your finishing positions throughout the day.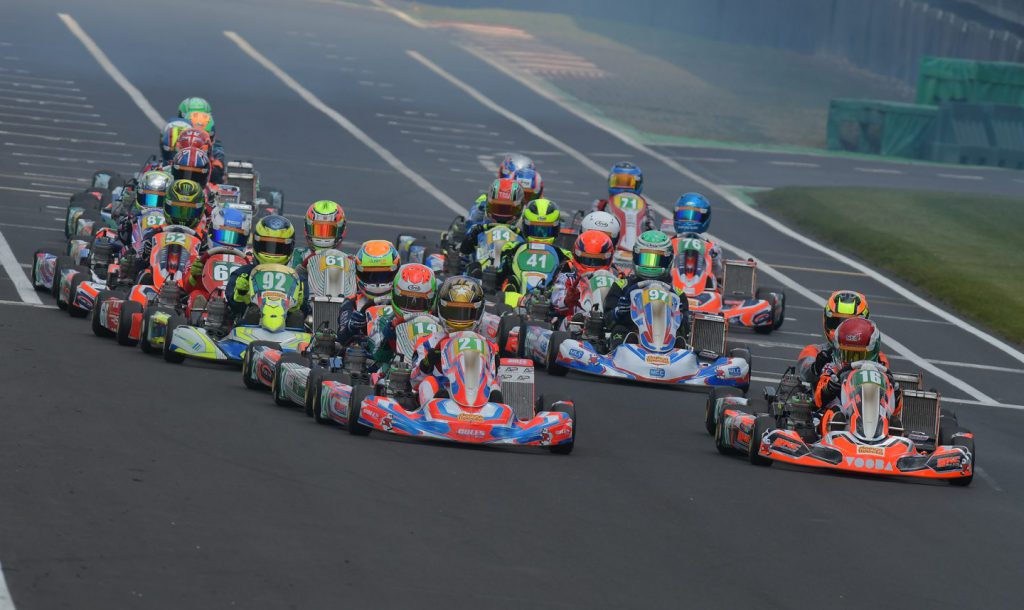 The Final
With the heats all completed, it is time for the final.
The results from each of the heats will determine your starting position for the final, so getting better finishing positions in the heats will move you further up the grid for the final. This is also the case even as a novice, so you may find yourself not starting at the back of the grid like you have done for each of the heats.
If there are a lot of entries in your class, there may be an "A" and "B" final. Usually the top 3 in the B final will progress on to start from the back of the A final. So, if you do find yourself in the B final, don't worry, there is always the opportunity to progress on to the A final.
Usually longer in length than the heat races, the final is where the championship points are decided. So be prepared for a few extra laps behind the wheel and make sure that you add enough fuel to make it to the end and ensure that you are not below the weight limit for your class.
Post Race
With the on track action all finished, it is time to start packing everything away. However, there are still a couple of things to do.
Depending on how your final went, you may find yourself in post race scrutineering. This is something that is reserved for those who finish in the top 4 positions and is designed to ensure that they are all compliant with the regulations and that the engine and tyres used were what were originally declared in the initial scrutineering.
If you are not called in for these post-race checks, you will also need to go and collect your race license from race control, hopefully complete with a signature from the clerk of the course to say that they are happy with your driving.
Other than that, it is time to pack up and head home hopefully having had an enjoyable and memorable experience. You can then start looking forward to your next event!