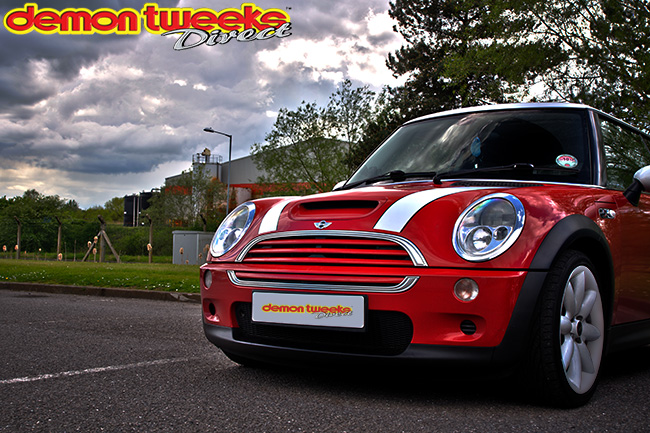 If you've read our guide to improving car handling, you'll know that there are a number of different tweaks you can make to your car's chassis if you want to make it go round corners better! Likewise, if you follow the Demon Tweeks Performance Tuning Facebook page (and if not, why not?) then you'll know that we've been running a series of big-money giveaways recently – with the first of these being a competition to win a full Eibach suspension kit fitted to your car and properly set up by our expert technicians here in Wrexham. After the stampede had cleared and the competition had closed, it was time to pick a winner – which turned out to be Adam Pickering from Bradford, West Yorkshire.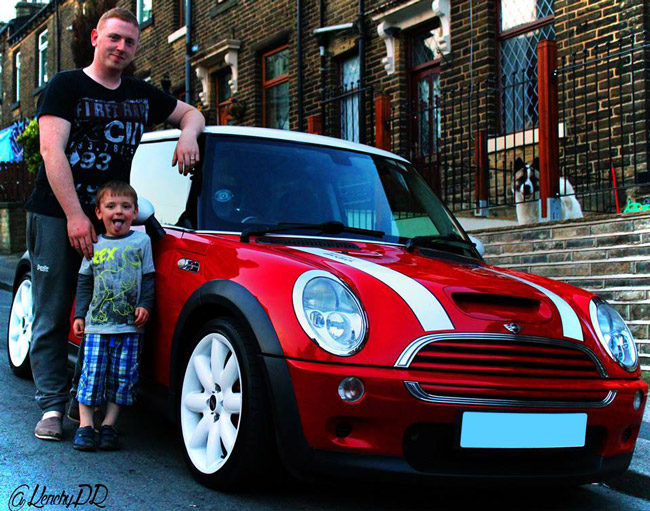 Adam drives an R53 MINI Cooper S – which is a hot hatch renowned for its go-kart-like handling. This meant that it would be a real test of Eibach's expertise to see if a tangible improvement could be made. As you'll probably be unsurprised to hear, Eibach came up trumps – and Adam's car now goes round the twisties with the best of them! This car is a real sleeper – with very little on the outside to suggest just how well it handles.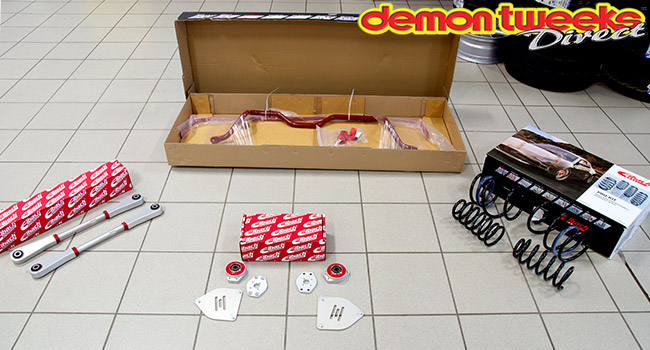 The prize
When we showed Adam the bits that were going to be fitted to his MINI, he had a massive grin on his face for a good ten minutes. When you look at the photo above, you can probably see why! We literally kitted his car out with a full Eibach kit – consisting of springs, strut top mounts, anti-roll bars and rear adjustable rear EZ arms. This little lot would normally retail at just under £1200!
Let's have a look at these parts one by one and see what makes them so good shall we?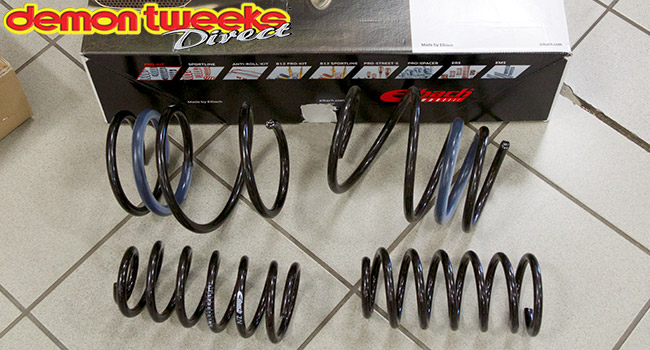 Eibach Pro Kit Lowering Springs
Pro Kit springs are designed to be used in conjunction with your car's original dampers (providing they're in good condition, which Adam's were). The theory behind them is simple – and very effective. What you're doing to your car by fitting lowering springs is … well … lowering it – but more specifically you're lowering its centre of gravity. Most lowering springs also tend to be stiffer than the standard items. This all means that your car will roll less during hard cornering – so in turn its geometry will remain more neutral and it will handle better.
Another benefit of these things is that your car will look better as a result of fitting them. No one likes big arch gaps and a car that rides like a 4×4 (unless it is a 4×4!) and fitting lowering springs will get rid of this look.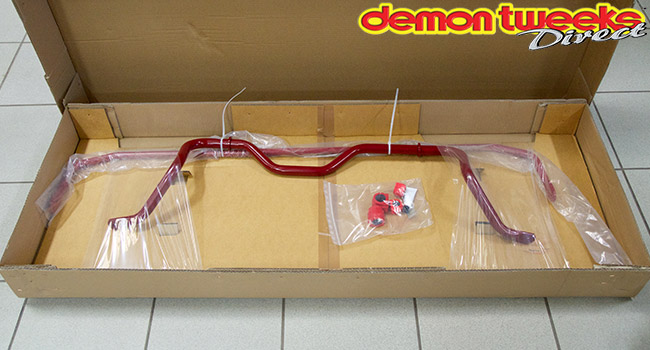 As we mention above, generally speaking, body roll is bad. It makes your steering less responsive, messes with your suspension geometry and just generally makes your car handle like a soggy pudding. No one likes a soggy pudding. Most high-performance cars will come from the factory fitted with anti-roll bars (sway bars) – which are (as the name suggests) bars which combat this type of roll. There's always room for improvement though – and if your car doesn't have any fitted, then they will make a big difference when you're putting some 'commitment' into your driving.
Anti-roll bars work by connecting the two sides of your car's suspension, which generally work independently of each other (unless you drive a 'Vette). By transferring some of the forces from the compressed side of your suspension to the decompressed side, these things quite simply help your car to stay more level through hard cornering. Making your anti-roll bars/anti-roll bar bushes stiffer than standard, coupled with other mods like a lower ride height will really help your handling – and with a legendary brand like Eibach doing the testing, you know that they're going to be top notch!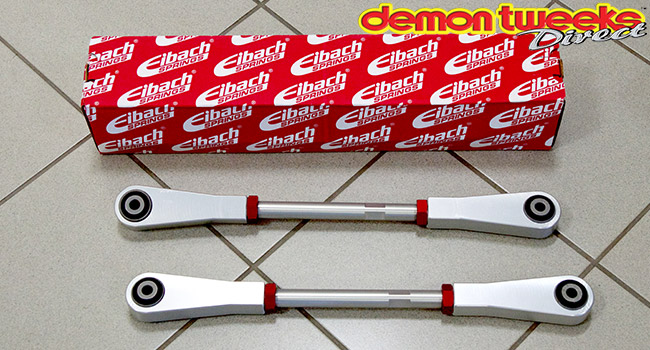 Eibach EZ Arm Adjustable Rear Arm Kit
When a car rolls out of the factory, its suspension geometry is all set very precisely. By lowering a car though, you will throw these angles out of whack. The solution is to have a complete four-wheel alignment carried out by specialists such as ourselves.
This is all well and good – as long as your car features parts that will allow us to adjust its geometry. On earlier MINIs like Adam's, the all-important rear camber angle is pre-set and is not adjustable – which is fine for a standard car, but when you get into lowering the suspension, this angle will be out by a fair measure. The solution here is to fit a set of adjustable rear arms like these EZ Arms from Eibach. These replace the original solid efforts with some sexier parts that also feature a turnbuckle – allowing their length to be adjusted. In this way, our trained technicians can adjust the rear camber angle to something more suitable – cutting down on tyre wear and optimising handling.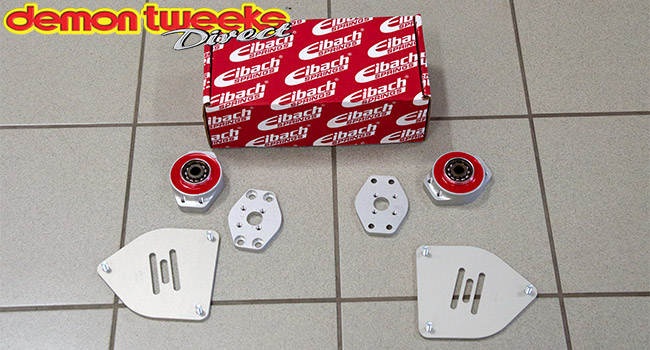 Eibach Adjustable Top Mounts
So, with your car lowered, anti-roll bars fitted and rear geometry sorted, there's just one thing left to worry about (for now!). Your front geometry of course! The main limiting factor here is going to be your original non-adjustable top mounts. Fitting some uprated adjustable items will mean that not only can your front camber angle be adjusted, but also your front caster angle. This allows a technician even more control over your car's handling – meaning that suspension can be set to an even more precise degree. A full explanation of suspension geometry will be appearing on our blog very soon – so watch this space!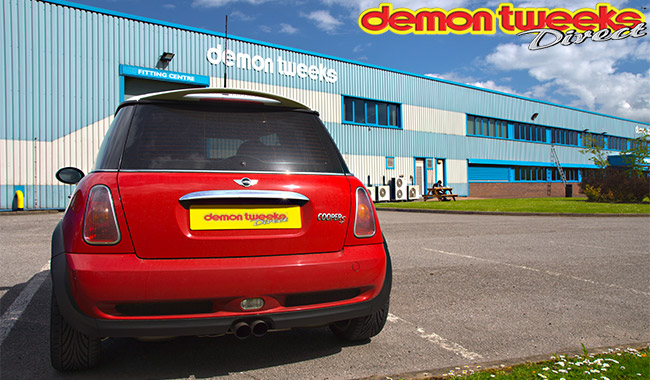 Fitting the kit
Once we'd finished drooling over all the shiny new Eibach bits, it was time to let our technician Darren do his thing and get everything fitted and set up. As anyone who's ever attempted it will know, fitting suspension is one of those things that isn't particularly complicated on the face of it, but once you realise that many of the bolts you need to undo are probably seized, you can't remember where you put your axle stands and it starts to rain, you may well wish you'd paid a pro! Fortunately our workshop is equipped with air tools, hydraulic ramps, and most importantly, a roof – making this job a breeze.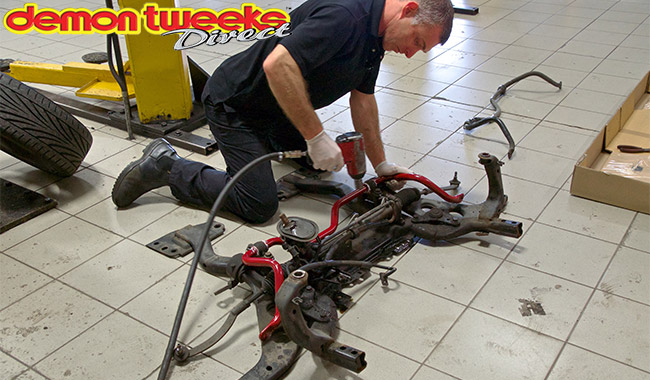 The first job – fitting the anti-roll bars – was the most complicated. On an R53 MINI Cooper S, removing the front bar involves dropping the car's subframe so that it can easily be swapped for the uprated item. With the subframe off, the job is easy enough, but without a proper ramp you may find yourself struggling. The Eibach kit also includes uprated polyurethane anti-roll bar bushes to replace the standard items – further stiffening the setup.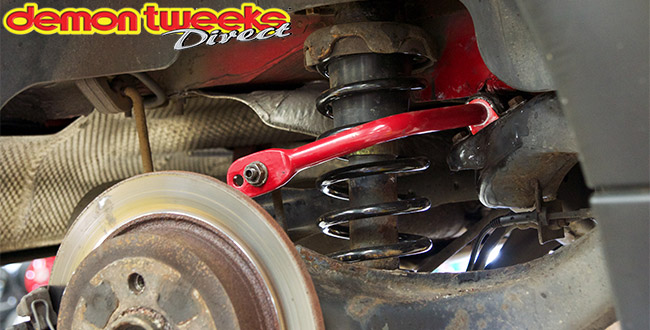 Next, Darren removed all four of the MINI's dampers and set about fitting the new shortened, stiffer springs. Like we say, this isn't recommended if your dampers are already shot, but luckily Adam's were in good nick. In many ways, fitting lowering springs is actually more difficult than fitting completely uprated units – because you have to dismantle the setup – but again, with the correct tools (like proper spring compressors) it's not so bad.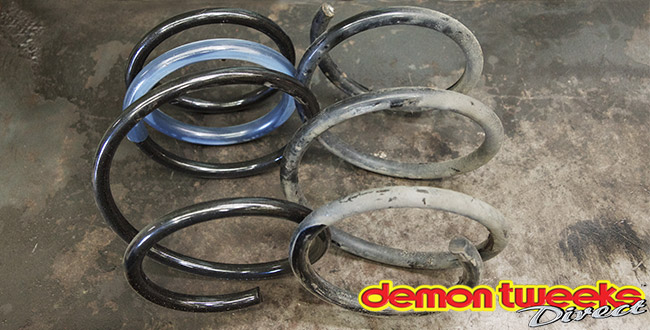 Whilst the front dampers were out, Darren took the opportunity to fit the new adjustable strut top mounts. As you can see from the photo, these look much better than the standard efforts on the left!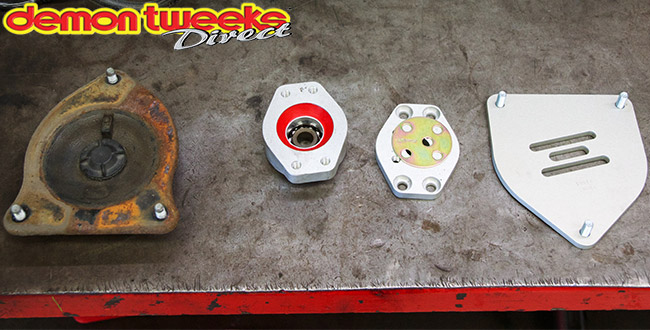 Bolted into place, the top mounts look even better! Beware though if fitting these yourself – due to their adjustable nature, a wheel alignment is most certainly needed after they're on.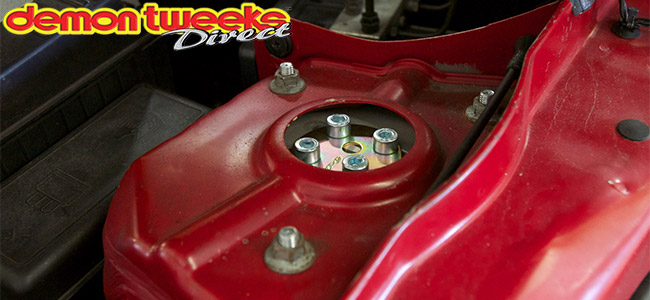 Finally, it was time to tackle the adjustable rear arms. Fitting these was pretty straightforward – and they are now visible from behind the car when it's on the road – giving it a purposeful look and hinting at what it's capable of.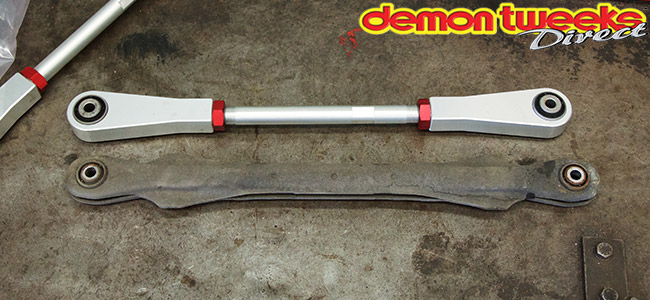 Again, these badboys are adjustable, so the same thing goes as with the top mounts – you need to get them set up properly. This isn't something that you can do with a spirit level and a protractor unfortunately – proper four-wheel alignment systems like our Hunter are … very … costly – and it takes a bit of know-how to operate it too.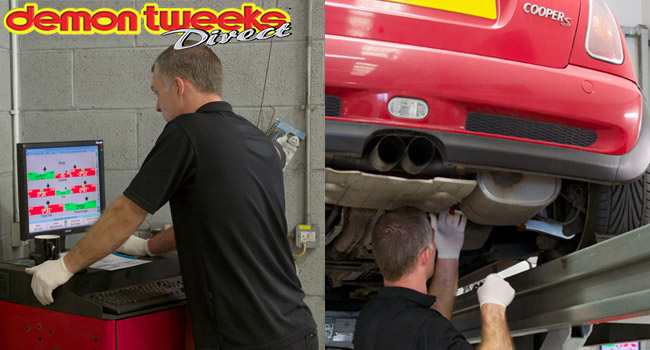 Once the car had been aligned, Darren gave the car a health check and took it for a quick test-drive to check that everything was ok with the new setup. Once he was satisfied, it was time to hand the keys back to a very excited Adam!
The image below is a composite of the car before and after the suspension changes had been made – and as you'll see, this kit isn't designed to 'stance' a car or drop it ridiculously low. What it is designed to do is to give the car some very purposeful handling – all whilst retaining day to day driveability and practicality. Factor into this the fact that newly fitted suspension will take a few miles to settle and bed in (which makes the car sit slightly lower), and you'll understand why there isn't a huge difference in the car's external appearance. If you're after the ultra-low look, then adjustable coilovers are what you need.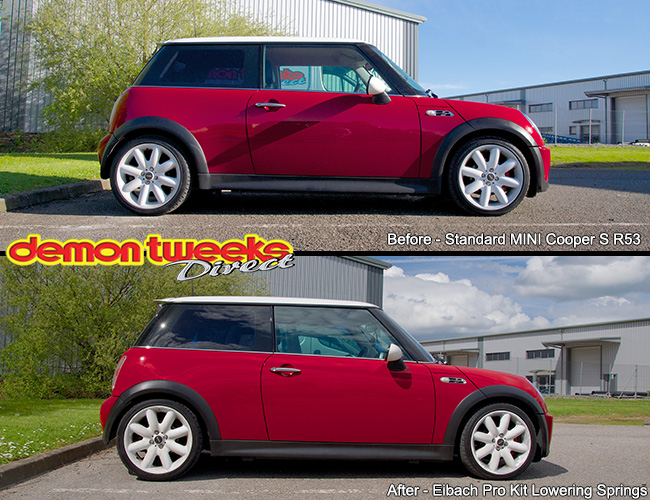 To say that Adam was pleased with his car's suspension makeover would probably be a bit of an understatement! In his own words:
"After winning the comp with Demon Tweeks and getting over the shock of winning something, I took the trip to meet the lads at DT. When I got there, everyone was very friendly and helpful – explaining what was going to be done to my MINI whilst down there. The MINI now handles like it's on rails! I'm amazed at how it's transformed the handling – and all for a like and a share on Facebook. Thankyou Demon Tweeks for the Eibach suspension, I absolutely love it!"
Adam Pickering – DT Competition Winner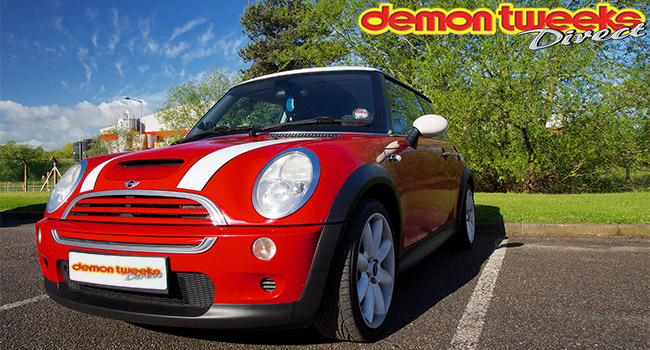 We always like to see a happy customer here at Demon Tweeks, so it was great to be able to give away such an awesome prize. It's safe to say that we made Adam's week (month?) and his car now handles up there with the crème de la crème of front wheel drivers. Although Adam got up at 4:30am to be with us on the day, he definitely left feeling that it was worth it.
Word of our awesome competition spread, and it turned out that Eibach themselves even had something to say about it! The guys in our Fitting Centre certainly have a good reputation – and when you look at the quality work they do, you can see why:
"When we heard that Demon Tweeks were giving away our chassis upgrades in one of their amazing competitions, we knew that the winner was in the right hands. With an abundance of experience and training, the guys at Demon Tweeks have seen it all. This is why we are proud to work with and recommend them as one of our Official Dealers here in the UK. Adam is one very lucky guy, and the results speak for themselves. With top class fitment, and the finest aftermarket suspension components available, it was always going to be a great outcome for the winner. So what are you waiting for, why not give Demon Tweeks a call to see what they and Eibach can do for you"
Eibach
You really do have to be in these things to win them – so what are you waiting for? We've got loads of great competitions coming up on our Facebook page and they're all free to enter! Next time it could be you we're contacting at work one rainy Wednesday morning to tell you you've won some awesome kit!