So, you've booked your track day…. What now? As fun as track days are, unfortunately, they are not just a case of rocking up and riding around the track! There is always some preparation needed (even if you're a seasoned track day-er).
Read this track day bike preparation guide to ensure the day goes smoothly and you get to enjoy the circuit and your bike as much as possible.
Ideally, plan everything in plenty of time and as far ahead as possible in regard to time off work and transport to get you to and from the circuit (unless you're riding there) and if possible, get a friend to tag along for the day – it's always better to have a friendly face and a helping hand around if possible.
Is Your Bike Ready?
No matter whether you are using your road bike, or you have a separate track bike – a track day is going to work and push your bikes engine harder than usual, so it's best to make sure that you're bikes service schedule is up to date (if your bike isn't serviced by a dealer – it is definitely worth getting it checked over by a garage to make sure its mechanically sound) you can get your bike checked over at our service centre in Wrexham North Wales!
Fluids
For those of us who prefer to do our own servicing, we must make sure the basics are covered, so start by making sure your bike's fluids are in good condition, as well as filled correctly… An oil change, with fresh fluid and oil filter will help your motor cope with the day (if you've got a 2-stroke bike, a fresh gear oil change won't do any harm), check your coolant too…. If it's a little low or old, replace it to stop things getting heated under those fairings… If your bike has not been serviced for a while, or its due an oil change – why not treat your bike to a new fuel filter, air filter or set of spark plugs? These may or may not be due, but if you've got a summer of track days planned, then why not? (from our personal experience, we'd all rather give our bikes a full service at the start of every season, with an oil change after every couple of track days) A well serviced bike will ensure maximum enjoyment out of your track day.
All the necessary fluids and filters are available on our website for fast delivery.
Chassis
Once you know the engine is happy, it's time to check the rest of the bike over… Time to make sure your bike's chassis is in good shape. This means making sure all of your bearings, bushes, suspension linkages and seals are in good condition, as it's no good turning up with notchy head bearings or a stiff suspension linkage.
Your chain and sprockets should be in good condition too, as well as being correctly adjusted – make sure your chain is clean and well lubricated, and your sprockets are in good condition with no missing or hooked teeth.
Brakes
Brakes… This is one piece of the bike we want to make sure is working properly!! Check there is plenty of meat on your brake pads and that your brake discs are in good condition. Check you have no sticking calipers, and that your brake lines are in good order and that your brake system is topped up with decent/fresh brake fluid.
If you need any replacement parts make sure to check our website!
Tyres
Don't skimp on your tyres…. You don't need to go all out with super soft race tyres to enjoy a track day (especially if this is your first track day), you can still have plenty of fun on a good set of sports tyres – just try to avoid using old worn tyres, or try to get away with a set of tyres that are due to be replaced.
If you are due a new set then take a look at what is available on our website, with quick delivery so you won't miss your track day.
Fairing
If you are thinking of doing your track day on your road bike, then it is worth taking a little time to make sure you take off anything that may part ways with your bike (phone mounts, sat nav mounts etc). It is worth checking that all your fairing panels and fasteners are all present and correct too – nobody wants to be faced with a fairing panel in the middle of the track halfway round the corner, nor do they want to be black flagged and lose some of a session because their fairing is loose. Some people like to remove their indicators, and some prefer to tape up their headlights and indicators, but this is all down to personal preference and we would always recommend checking with your track day provider to see what they recommend.
Fit a lever guard!  As of 2021, most track and track day providers require you to fit a front brake lever guard.  If you don't have one fitted, you will not be permitted on track.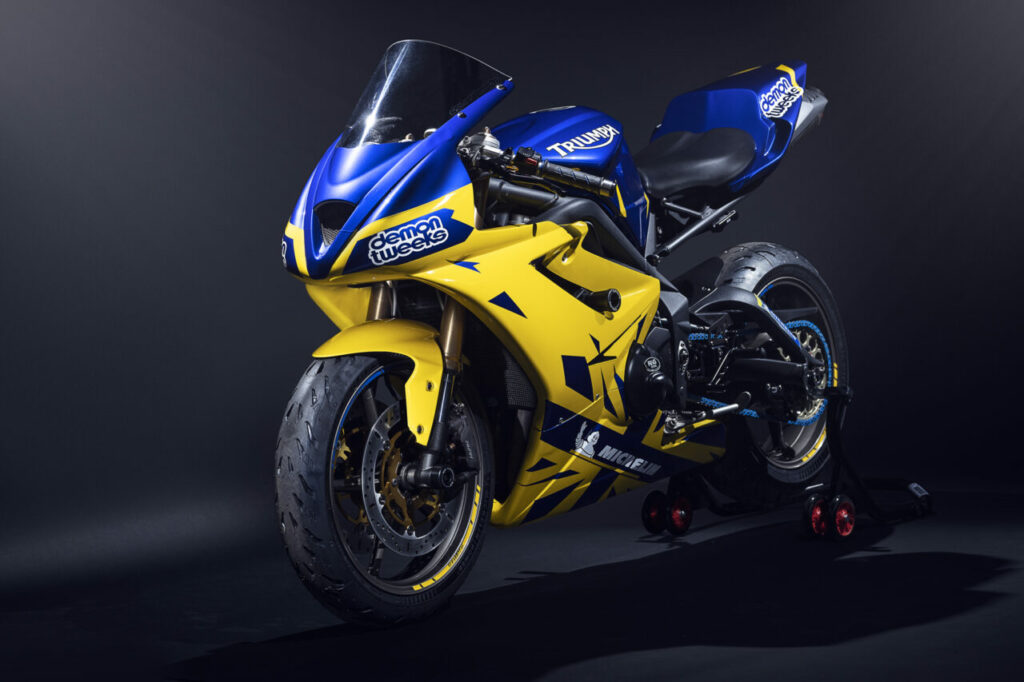 Exhaust
Finally – your exhaust! We all enjoy a lovely exhaust note on our bikes, but track days have varying noise level limits (if your bike is too loud, you won't be let out on track) depending on the track and also the time of your track day. Most tracks operate with noise levels of 105 or 102dB, but some track days are classed as quiet days, where the noise level could be reduced to 98dB. With this in mind, if your bike has a removable baffle, it's best to fit this beforehand, and it's always handy to have a few spare baffles and some exhaust packing handy in case you struggle with noise testing.
Everything you could need which is exhaust related can be found on the Demon Tweeks website.
Tools and essentials
Now your bike is ready to roll, make sure you pack the right tools! It's always handy to have a tyre pressure gauge and a tyre pump. Other staples of a track day toolbox are cable ties and tank tape, along with a good socket set, spanners, screwdrivers, Allen keys and a c-spanner in case you need to adjust your suspension…
A rear Paddock stand is invaluable at a track day and if your using tyre warmers, then a front paddock stand, or front headstand is necessary, as is a jerry can and fuel funnel (fuel can be pricey at a circuit and some tacks do not have a fuel station). We have a wide selection of tools and paddock stands available with fast delivery. Obviously, the more involved you get with spare wheels and wet tyres etc, the more tools you will need to take.
Personal Protection
You'll be travelling at a much higher rate of knots on a track day compared to the road, so making sure you have the right riding kit is essential. It is important to get the best kit you can to protect yourself, but the essential kit you need consists of: A good quality leather one piece suit (two-piece suits with full connection zips are also permitted, but a one-piece leather suit is the best) with CE shoulder, hip and knee armour. A good quality back protector, quality gloves, full length sports boots (no short or ankle boots) and a helmet with ACU gold approval.
Everything clothing related you could need can be found on our website.
Fuel / Food
A couple of things to remember the day before you leave for your track day – don't forget to get fuel for your bike (or to fuel your road bike). Remember to make sure you're fuelled too! Take plenty of water to stay hydrated, as well as fruit and snacks to eat and drink throughout the day (leave the energy drinks, coffee and burgers at home for the day!).
Finally, get a good night's sleep the night before! It's not good working on the bike until the early hours, or going to the pub, as you'll just be stressing about unfinished jobs, or nursing a hangover, which will wreck your day!
---
Enjoyed this? Read more of our latest news:
Where To Next?
Looking for the latest motorcycle parts and accessories? Check out our wide range from top brands.
Come and visit us at our store, showroom and fitting centre in Wrexham.
Want to know more about our story? Learn about who we are and why we've been driven by passion for over 50 years.
Interested in everything we do? Catch up on all the latest Demon Tweeks news.