We've all done it. Packed everything that we need for a race event, then arrived at the venue to discover that we have forgotten a vital item that we just can't be without! It happens all too often and results in unnecessary stress that takes your mind off the racing.
So, in a bid to ensure that these frustrating and embarrassing episodes never happen again, we have created a useful race day checklist to help you make sure that you have packed absolutely everything that you could possibly need for your next race event.
As the requirements for both circuit racing and rally can differ, we have created a specific version of the check list for both disciplines, with each list being broken down into some key areas.
Driver and Co-Driver
The first of these areas covered is for the driver, and in the case of rallying both the driver and co-driver. A driver's racing equipment is an essential part of your overall race day aspirations, as without a helmet or race suit you will not be allowed to compete. It is worth mentioning at this point to make sure that your racewear carries the latest homologations, as without them, you won't be able to use them in competition. The most common items such as a race suit, boots and gloves are usually one of the first items that you would pack and are rarely forgotten. However, there are some other smaller items including earplugs or drinks bottles that can often be overlooked.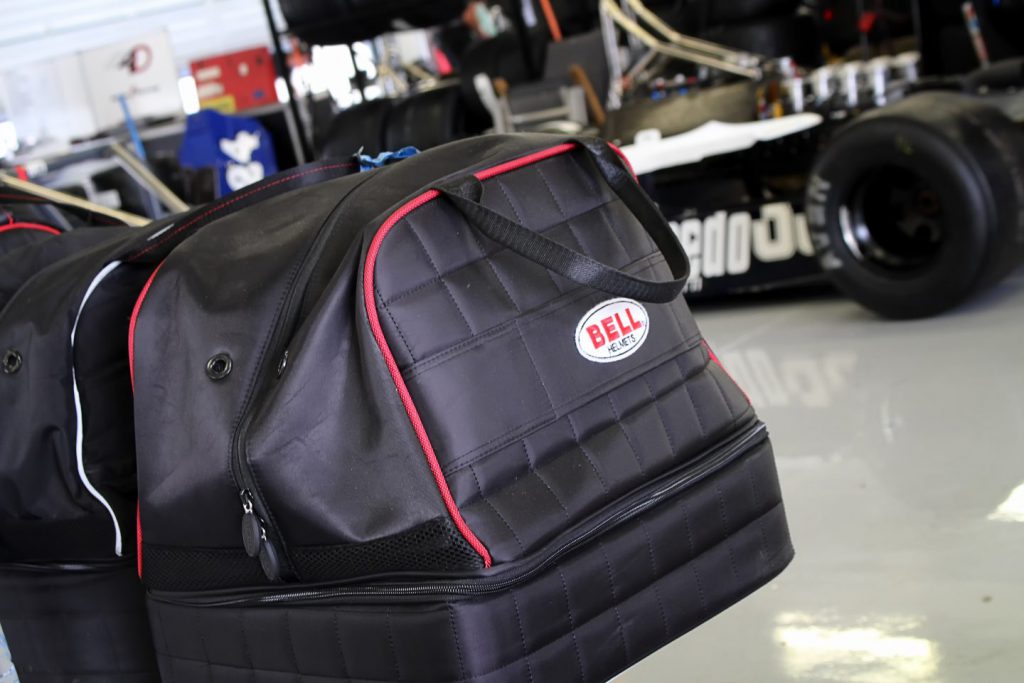 Also included in this section is your racing license, as there are numerous stories around the paddock of drivers who have arrived at the track, set themselves up and then realised that they have left their license at home – sometimes a couple of hours away from the circuit! Without a race license, there is no chance of being able to compete so it is definitely not something to be forgotten.
On the rally checklist this also includes essential items that are necessary for use inside the car, such as a map light, trip meter and pace note books as well as important items for use in the event of an incident including an OK/SOS board, warning triangle and spill kit. This means that you can be ready for any eventuality along with complying with all the relevant rally regulations.
Pit & Paddock
The next section is entitled "Pit & Paddock" for the race checklist and "Service Items" on the rally checklist. Here you will find everything from the all-important essentials like fuel, tyres and consumables through to those items that can make the difference in your preparations for a racing event such as tyre pressure gauges, lap timers and alignment tools.
Also in this section are those important items that you need when working on your car in the paddock or service area, starting with car covers to help keep you protected from the elements while carrying out that essential preparation or when making repairs. As well as this, the list also includes mechanics wear and a kneeling mat to help keep you protected, clean and comfortable while working on your car.
There are also some items in here that are broken down into individual sections such as "Spare Fluids" where you can individually check off engine and gearbox oils as well as coolant and brake fluid.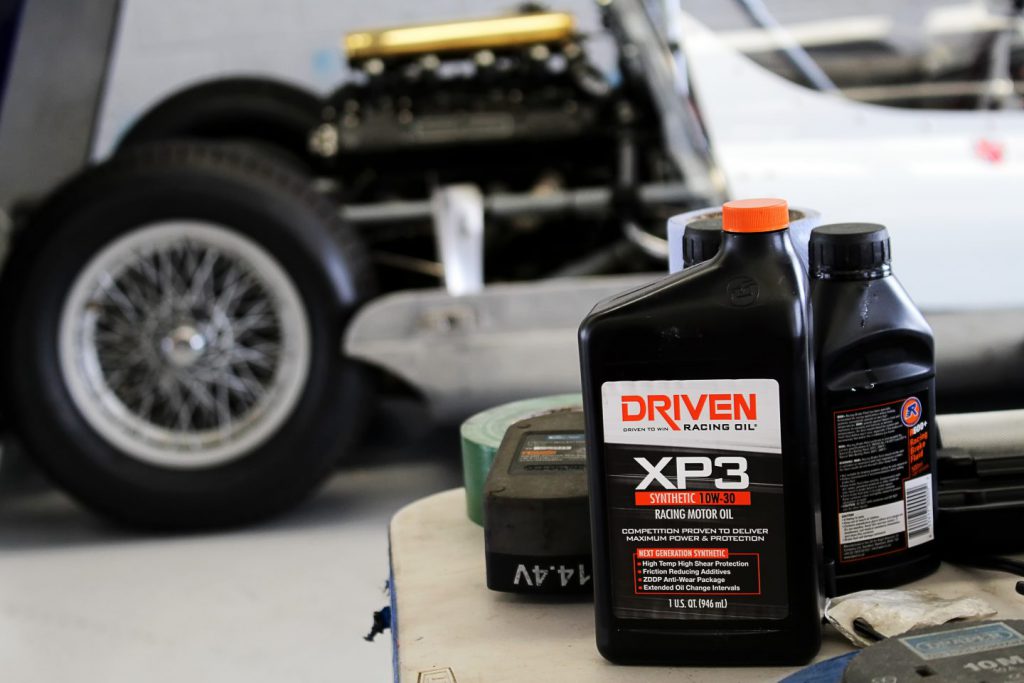 For electrical items such as a transponder or camera device, there is also a separate check point to ensure that they are charged as there is nothing worse than getting to the event and finding that you have a flat battery in an essential piece of equipment. So this will be able to serve as a reminder prior to packing your car or van.
Tools
Having the right tool for the job right when you need it is part of making sure that your race weekend goes as smoothly as possible. Of course, this can only happen if you remember to bring the tools with you!
Here you can check off those tools that you just can't be without or will need throughout the weekends activities. With hand tools such as socket sets, screwdrivers and spanners all catered for, you can make sure that they are all where they are supposed to be. It also helps if you are taking a full tool chest to make sure that you have everything in its place. You don't want to feel the pains of reaching for your trusty 10mm socket, only to find that it is the only one that is missing from the whole set!
There are also a selection of power tools and maintenance tools included too, although the requirements for tools may vary depending on your particular car or paddock setup, but this is where the next section comes in handy.
Extras
There will always be something that you will require that is unique to you or your own racing requirements that is not covered on this list, which is the beauty of motorsport in that there is such diversity. As a result, we have added some extra space at the bottom of the checklist for you to add in anything that you really can't do without.
This can literally be anything at all. Whether you need to take camping equipment, paddock trolleys, gear sets etc. or even your lucky underpants! Whatever it is, you can add it to this section to make sure that you don't forget it on your way to the event.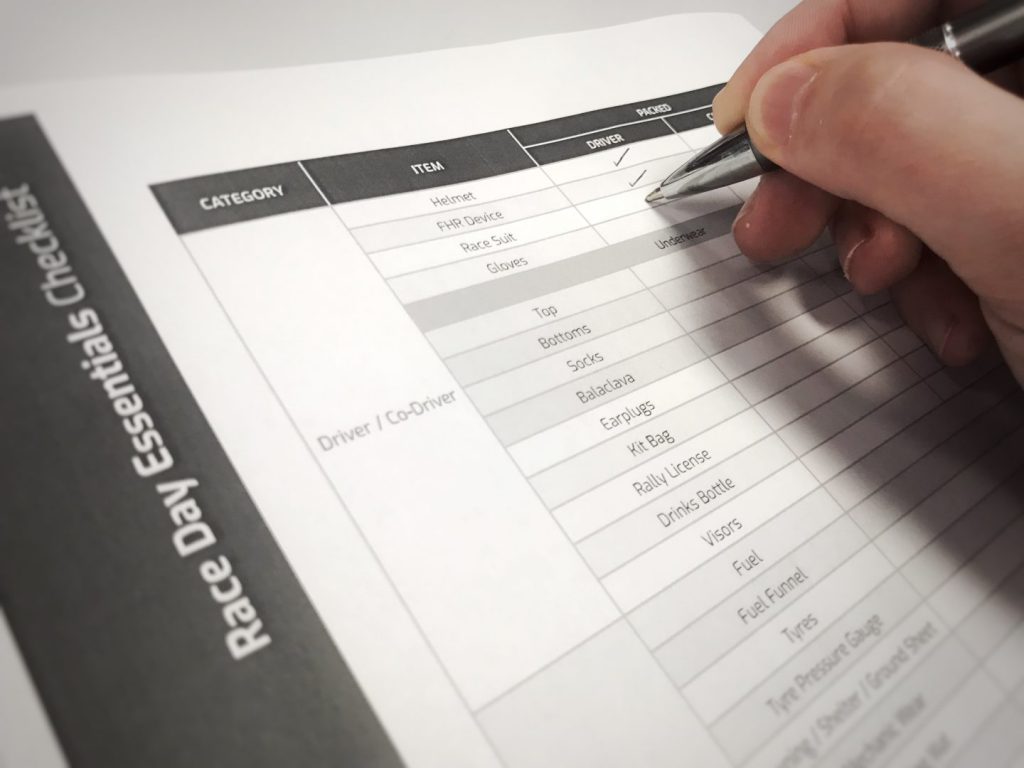 So, there you have it, your handy checklist to ensure that you never forget anything again.
Simply download the particular checklist that you require below and save it to your computer so that you can print it out again and again as you require. If there is something that you feel would be beneficial to add to these lists, or maybe you want to share an experience that you have had with forgetting something important, let us know in the comments below!