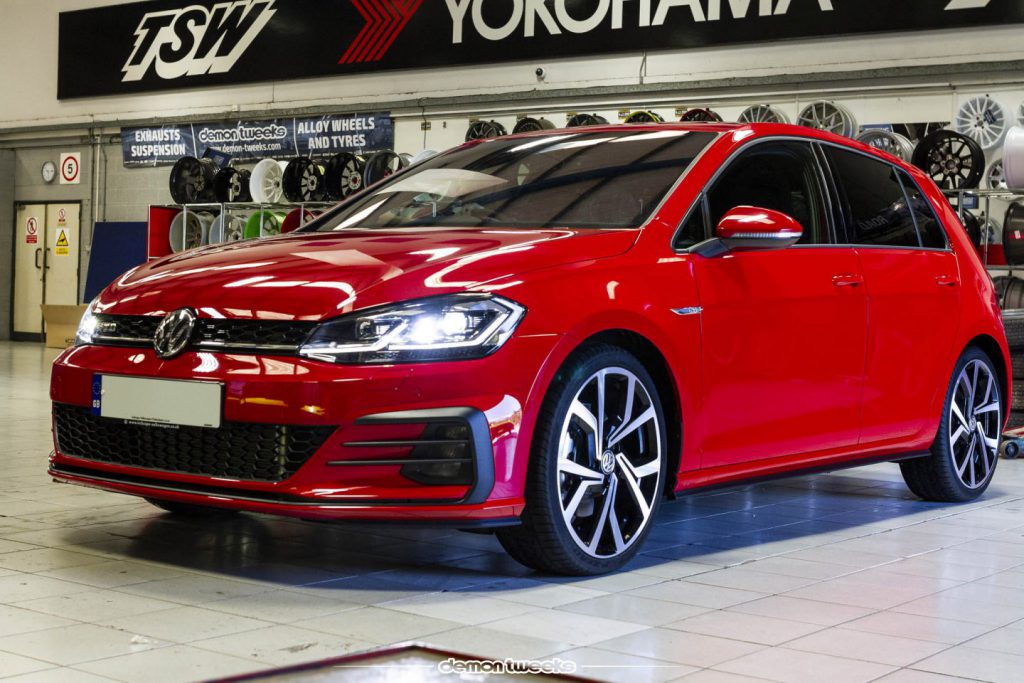 We're big fans of Eibach here at Tweeks. Their kit is very easy for us to recommend because we know it's well made and engineered. While they're not the only suspension brand we fit to our own cars, they are a popular choice. This meant that when Jack Minshaw was looking to upgrade the suspension on his Golf GTD, Eibach was his first port of call. Our friends at Eibach were eager to get involved too:
"At Eibach we are always excited to be involved with project cars within the Tuning Industry. One such vehicle is Jack Minshaw's Golf VII GTD."
The Golf GTD is a good showcase for their range:
"For Eibach the VW Golf is a perfect vehicle to represent our product range as we are able to offer our award winning Pro-kit, our new hollow technology front and rear anti-roll bars and Pro-Spacers, and when Demon Tweeks approached us to be part of this build we were proud to be their product of choice for this performance chassis upgrade."
What performance upgrades did they choose?
As the car is a daily driver, Jack wanted to keep things comfortable and usable daily on less than perfect Welsh tarmac. He also wanted to keep the cars built in adaptive suspension, handy as it is.
Eibach recommended a package of performance lowering springs, upgraded anti-roll bars, and wheel spacers. This kit all works together to enhance the handling.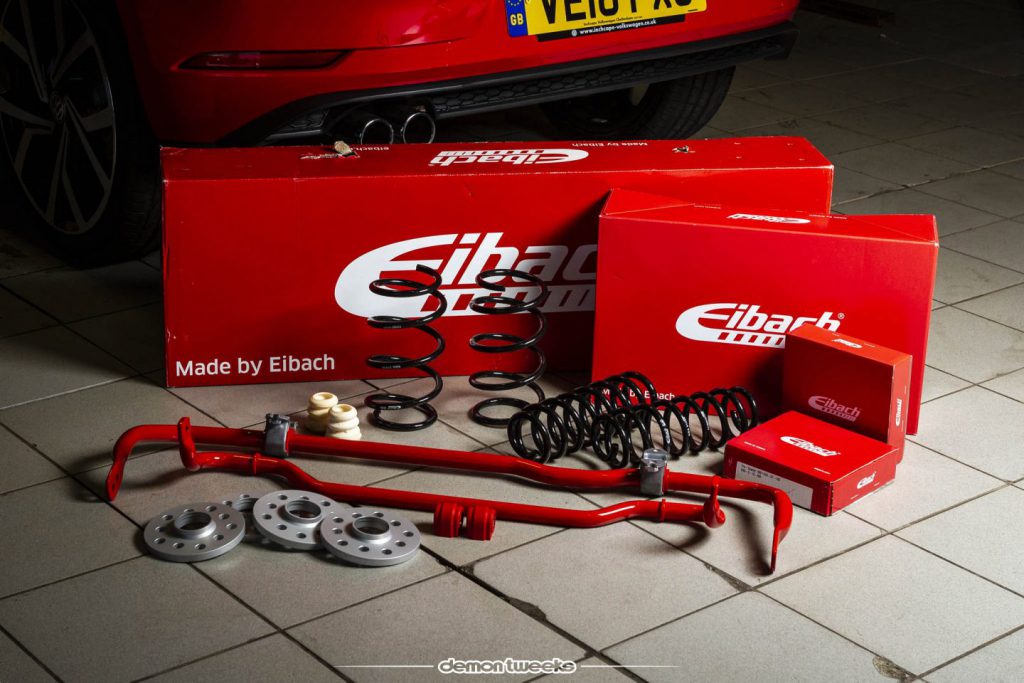 Performance lowering springs
He could have opted for an Eibach Pro-Kit and called it a day. Eibach's lowering springs are carefully tuned for road use, offering around 25mm lowering front and 20mm rear, but offering similar plushness to the OE spring set-up. This deftness of touch makes Eibach a very popular upgrade where comfort is a concern.
A lowered car looks better and handles better. There's a lot of physics behind this, but the short version is that a lowered car leans less during cornering. Less lean makes for more stable, planted handling and more grip.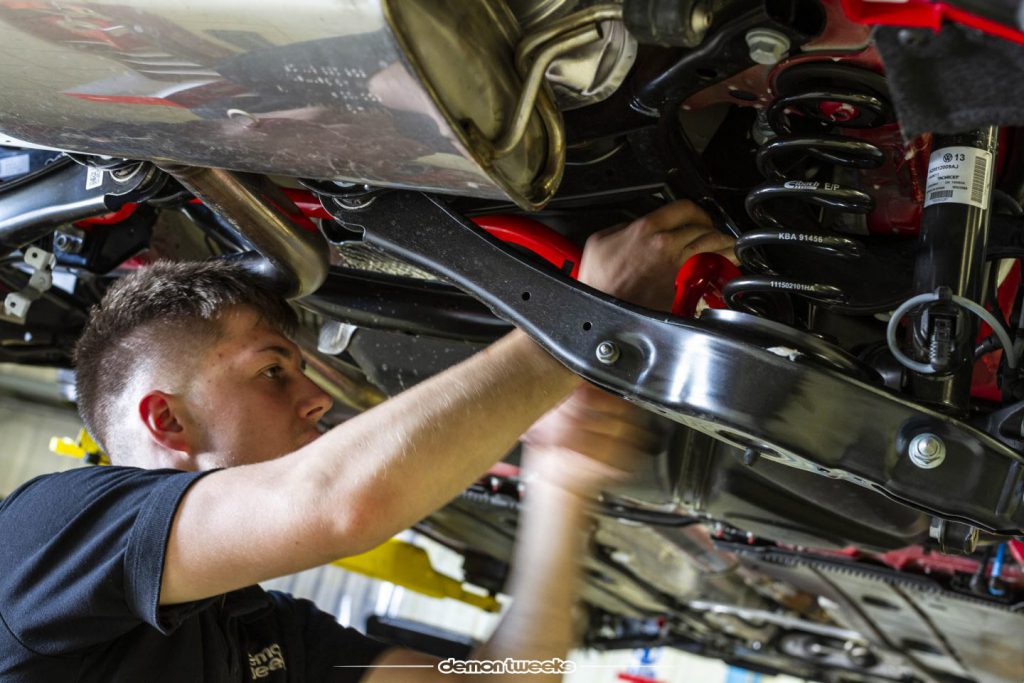 Springs also do the job of absorbing the initial impact from bumps. Tuning them differently has a big effect on how the car responds to different road surfaces. Eibach are experts at tuning suspension for everything from road use to motorsport. The Pro-Kits are designed to offer enhanced driver enjoyment, without it being at the expense of ride quality. Perfect for an enthusiastically driven road car.
Anti-Roll Bars
Anti-Roll Bars are another great way to enhance handling without making the car overly firm. An Anti-Roll Bar connects the two sides of the suspension together and limits how much one side can move independently of the other side. Stiffer bars reduce body roll.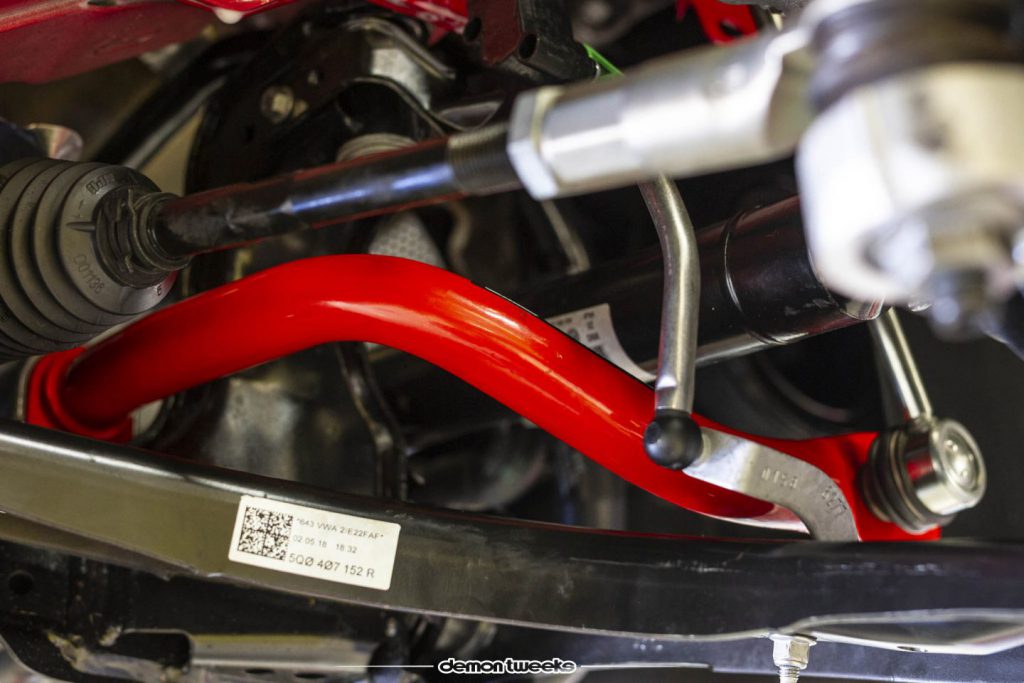 How stiff the front bar is compared to the rear bar plays a part in controlling the balance of grip between the two axles. On a front wheel drive car like the Golf you tend to want the rear bar stiffer to help control understeer.
This set of anti-roll bars are particularly trick, featuring Eibach's new "Hollow Tubular Technology" which saves weight. They reckon this makes their bars at least 40% lighter than the competition. They've also got linen lined polyurethane bushes which keeps them moving smoothly and quietly without the need for grease. No creaking here. As both bars are adjustable, Jack can fine-tune the exact handling of the car.
Wheel Spacers
Widening a car also lowers the centre of gravity. This is why race-cars and performance models tend to be wider than the standard car. This means that the Eibach Wheel Spacers fitted here aren't just helping give the Golf a sportier stance but are helping the lowering springs control the body roll.
It goes without saying that you want anything that's going between your wheels and your hubs not to imbalance anything which is another big part of the appeal of the Eibach kit. You know it's been very precisely CNC machined to fit exactly, and don't need to worry about the quality of the materials used.
How does Jack feel about the new Eibach upgrades?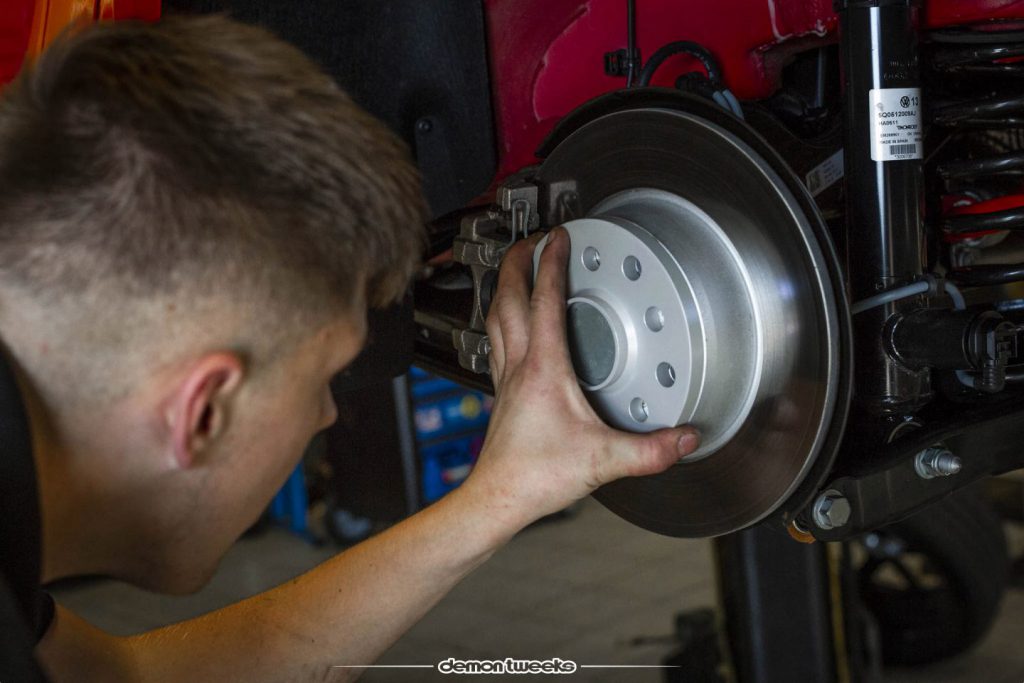 Jack is very pleased with the results:
"Loving it so far, to me it really finishes the car off. Visually it now sits really well on the road, to me it has a subtle racey feel to it!"
The kit really finishes off the car, offering significant improvements to handling, which makes for a much more enjoyable drive:
"Although the GTD has sport suspension I was surprised how much the car rolled / pitched going round even fairly gentle corners. Instantly I could feel the difference, I fired it into a roundabout and for the first time the car was planted, giving me loads of confidence and the green light for me to push on and have some more fun. I haven't looked back since."
A more predictable feeling car in corners is always going to give you more confidence to properly exploit the chassis and grip on offer.
The total package here works better than any one bit of it would:
"They definitely seem to be complementing each other and I would recommend doing all of them if you can rather than one or the other. I've eliminated the roll, maintained a really nice ride and the car now looks the nuts!"
The combination of springs, anti-roll bars, and wheel spacers all work together to tame body-roll, and to make it firmer and more responsive. While any of the separate components offer worthwhile handling enhancements, fitting them as a package has dramatically improved the car. Because the upgrade has involved more than just the shocks and springs, this upgrade has not made the Golf uncomfortably stiff over bumps and divots in the road surface. It's also fully compatible with the built-in adaptive dampers, which is a consideration on an ever increasing number of performance cars.
If you're interested in any of the parts listed either on their own or as part of a package, check out our website or give us a call!