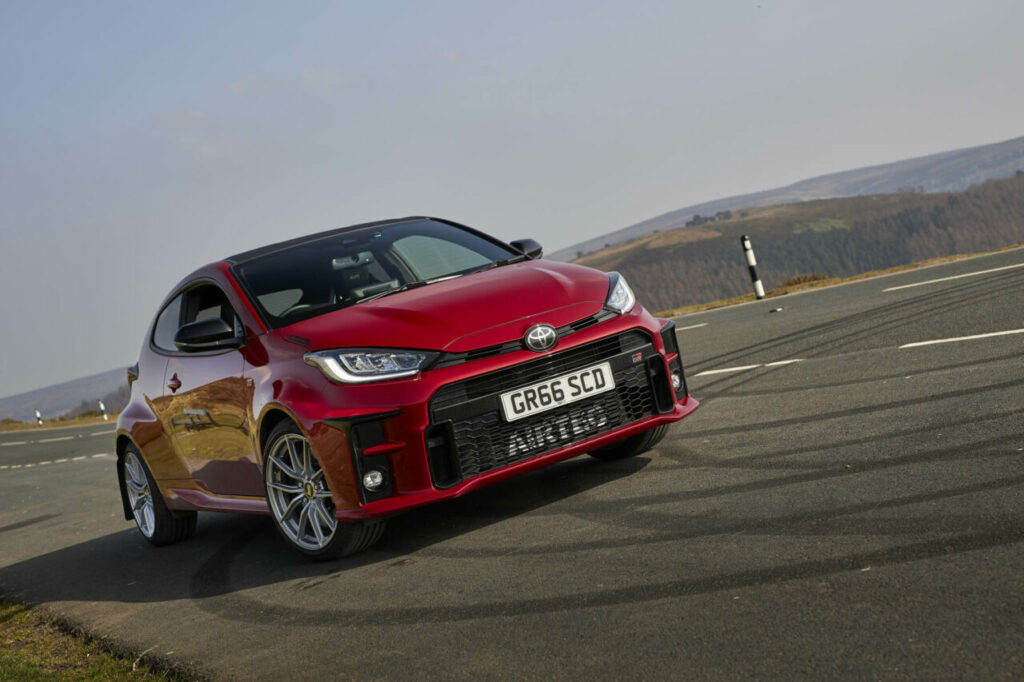 The Car
We recently got the chance to play with one of the most talked about cars of the moment, and talked about quite rightly too, what a car it is!
The Yaris GR is a homologation special, simply put, a road car that Toyota had to produce to enable them to enter this car in the WRC. It carries a great four-wheel drive system, 3-cylinder engine and a massive 257 hp out of the box, so Toyota claim, weighing in at just 1280kgs. The model Demon Tweeks worked on was the circuit pack variant, carrying trick torsen diffs, red GR calipers and BBS lightweight alloy wheels. The guys over at Supercardriver were after some wheels to make their car a little more unique, and after dropping their car off with us so we could get them fitted, we spent time Tweek'ing it a little too.

As for the wheels, the Bola FLC's in 18" were chosen, coming in at only 8.2kgs, they were actually lighter than the BBS wheel fitted OE and look bang on too, although wheels can be subjective, they really do help lighten up the look of the red GR.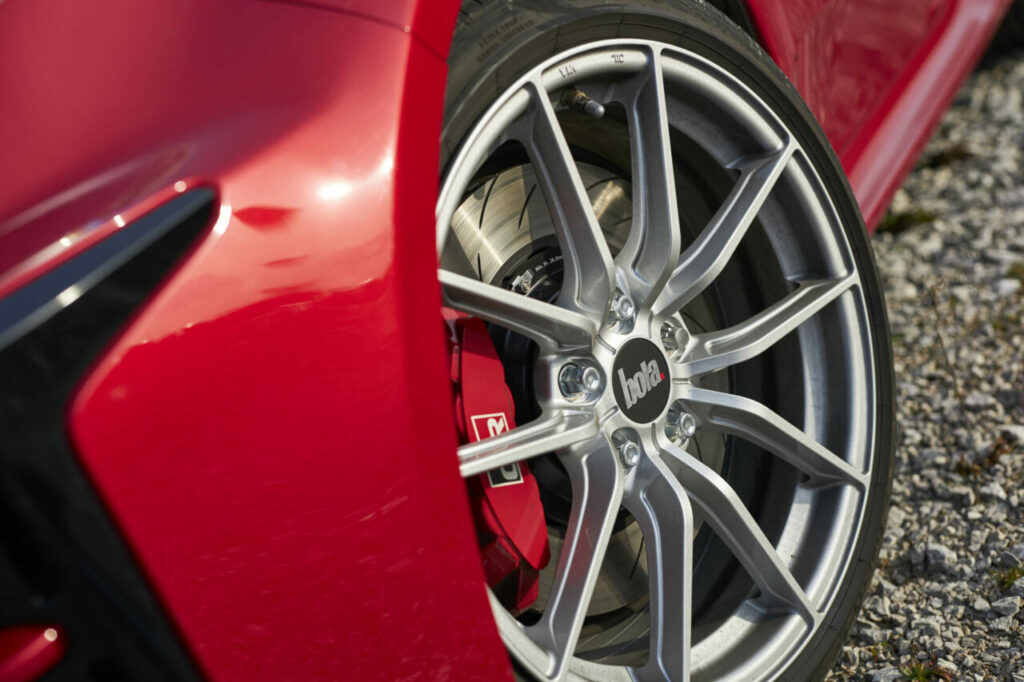 Aside from boosting the kerb appeal a little with wheels, we looked to at smartening up the back end of the car too. The stock exhaust, whilst not offensive in anyway, was a little too conservative, in both looks and soundtrack, something that was easily fixed with an exhaust from Scorpion. Their 3" GPF back system is available in two formats, resonated (quieter) and non—resonated (louder), both of which can be finished off with either polish 4.5" Daytona tailpipes or their Carbon Fibre Ascari trims. After the resonated system with the Daytona trims was given the green light, we took one of the shelf and got to work. Fitment was straight forward and instantly upped the game at the back of the car, and when the key was turned, wow, what an improvement, something that proved to be even better when road testing the car. The Scorpion system comes in 1.2kgs under the weight of the stock system too, bonus!!

This mini project wasn't about chasing horsepower, it was about making the most of the power that the car has. To be fair to the bods at Toyota, their stunning engineering, craftmanship and technical wizardry has resulted in the production of a 1.6 litre turbocharged monster that loves to be worked hard, rewarding you with an exhilarating drive and a massive smile on your face. Driving it like that for extended periods, and trust me, you're going to want to, whether on track or road, means the engine bay is going to get hot, really hot. As we covered in our video on intercoolers, heat soak it something that can start to lower the power of your engine, so an intercooler would be a great place to start.
Enter Airtec Motorsport and their Front Mounted Intercooler which has a 64% increased capacity, larger pipework to suit and offers a great look behind the front grill. This little puppy will boost cooling and help support prolonged periods of fast paced driving without compromise on power.

What else can you do? Well without being too star stuck, the team at Forge Motorsport came up with an inlet duct, made of Carbon Fibre no less, that replaces the restrictive OE inlet duct with one that not only improves the flow in to the airbox, but maximises the flow to the lower, full throttle operated port which would otherwise be drawing in from the engine bay. Not only does this promote cooler inlet temperatures even under heavy usage, it looks the part in the engine bay too, who doesn't like carbon!!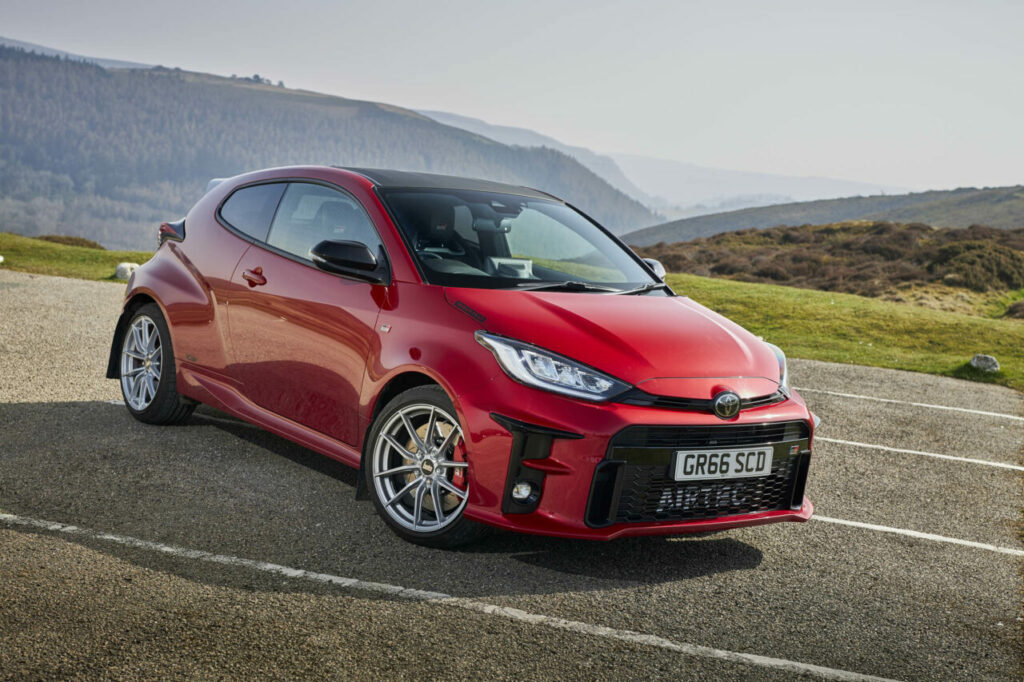 Boosting brake performance
Moving from the engine to another component that's going to get hot, the brakes, an often overlooked area, we took a look at what the stock equipment from Toyota looked like. They're hard to miss in all honesty, four pot calipers at the front sat over two-piece 356mm discs! The braking gurus at EBC had been busy though and have just released a fully floating rotor which allows the outer cast-iron friction ring to expand freely with temperature, totally eliminating disc warping. We enhanced this further with their Bluestuff super-street & trackday pads and stainless braided lines which we fitted all round, giving superior bite, prolonged performance and consistent feel.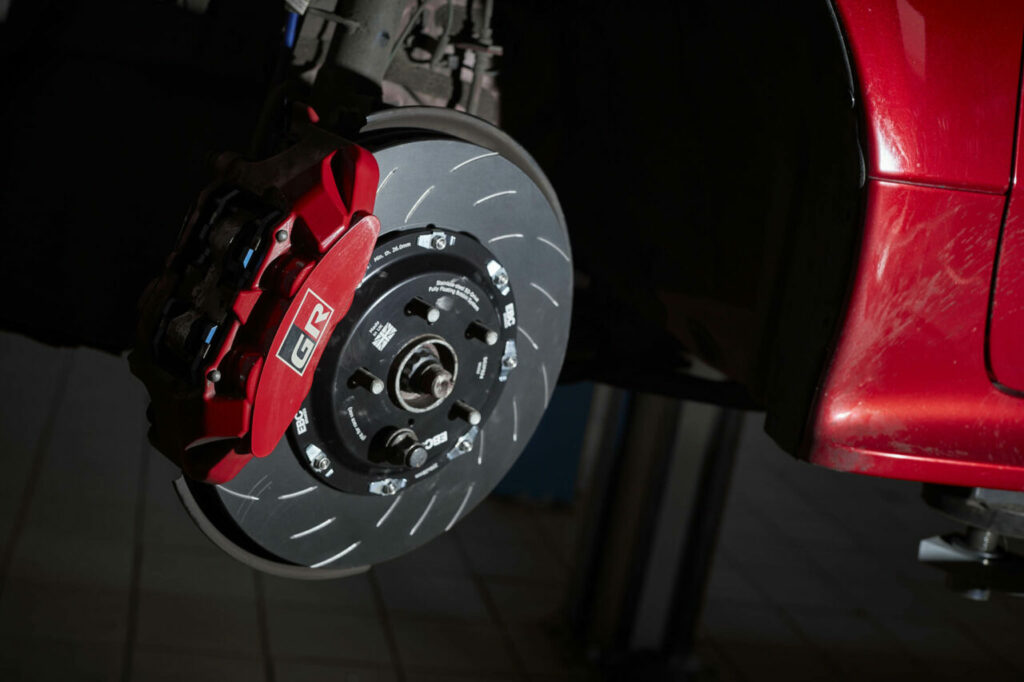 The modifications undertaken, as mentioned, weren't chasing hp gains, however we did want to understand what we were working with before we started. Stock numbers quote 257hp, we dyno'd the car when we got it for a benchmark number and got a rather disappointing 228hp, after fitting the parts we went back to the dyno and got a result of almost 254hp far closer to the stock numbers claimed and importantly a figure which will be maintained with heavy driving thanks to the cooling properties of the mods we bolted on.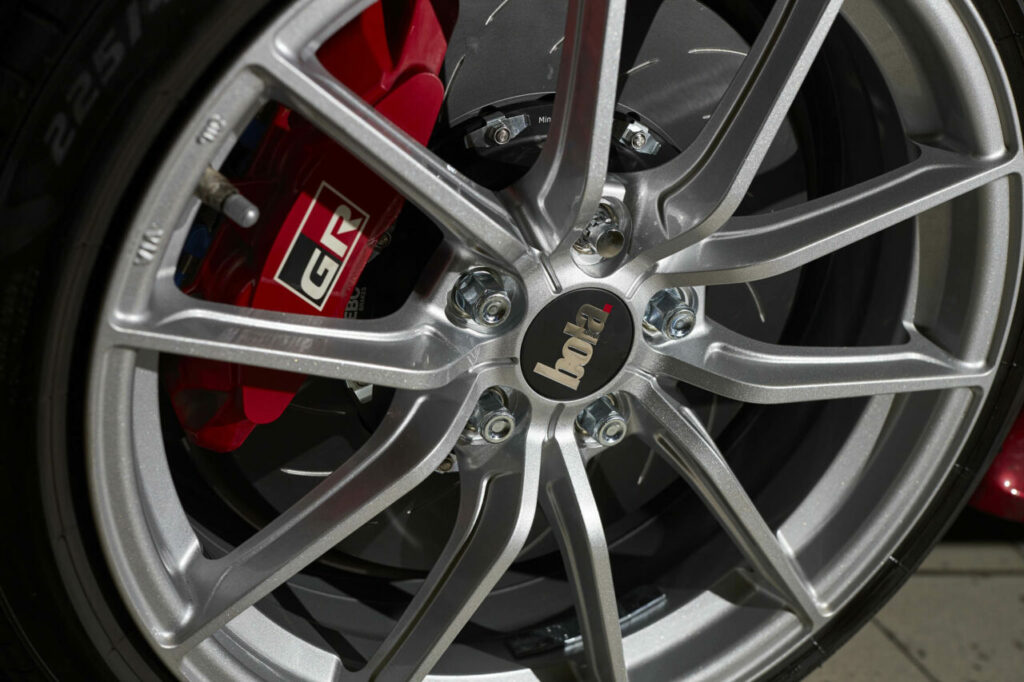 Sign off
We're talking about the Yaris in this post, but the same can be said for a huge number of performance cars, we have a whole host of parts we have on offer, many formats and brands of exhaust, air filters and intakes, turbo tuning, brakes, lowering springs and suspension kits along with wheels and tyres that we carry on the shelf for next day delivery, fitting or collection. Browse them on our website or give our sales teams a call to go through your options. 
---
Enjoyed this? Read more of our latest news:
Where To Next?
Looking for the latest performance & tuning parts? Check out our wide range from top brands.
Come and visit us at our store, showroom and fitting centre in Wrexham.
Want to know more about our story? Learn about who we are and why we've been driven by passion for over 50 years.
Interested in everything we do? Catch up on all the latest Demon Tweeks news.