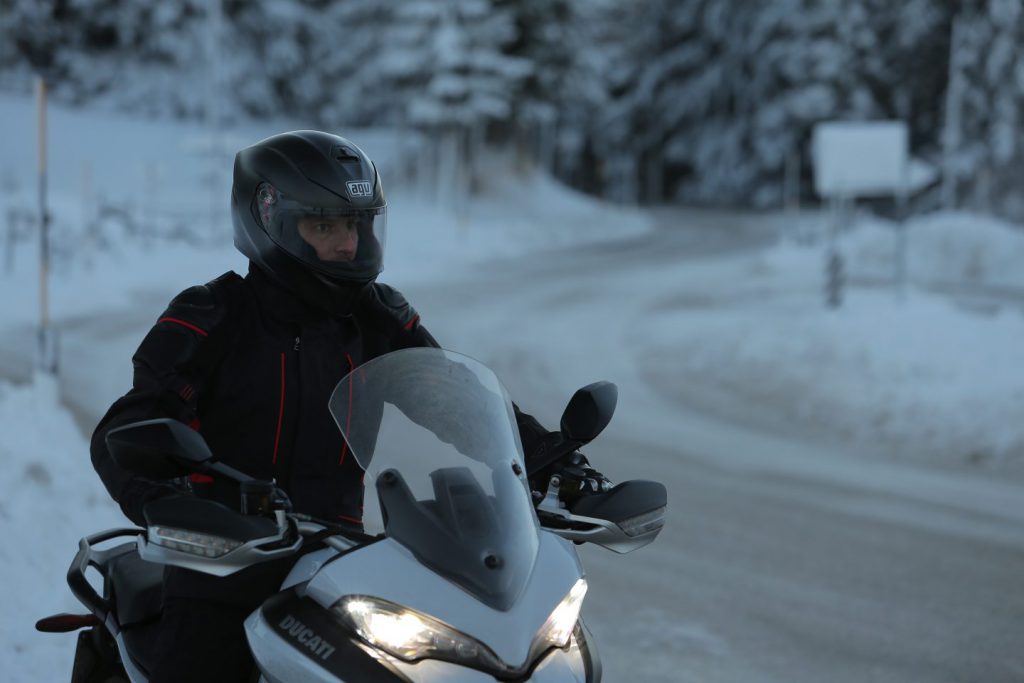 Now the clocks have gone back, Autumn has really kicked in with darker nights, darker mornings and weather that changes its mind every couple of hours let alone daily! Even so, this is no reason to reduce our riding time – all we need is the right gear to wear and the first line of defence for you is a good quality all-season jacket.
Not all of us have a wardrobe full of motorcycle gear but if you're a daily commuter, or someone who covers huge mileage every year, then the chances are you have two or three different outfits stashed away for every eventuality. Maybe you've got a heavily vented option for the summer months and a more heavy-duty option for when the weather gets colder, as it is now? Most of us though, who do not cover the same sort of mileage, will look for a motorcycle jacket and set of trousers (or pants) that can deal with all types of weather providing us with good ventilation in the summer, warmth in the winter and a waterproof layer for the inevitable showers or heavy downpours.
Unfortunately, up until a few years ago, such a jacket and pant combo did not really exist but as materials and technologies have improved, along with better design construction processes, there are now ranges of motorcycle clothing out there that will be more than adequate for us to use all year round.
Waterproof motorcycle jackets and trousers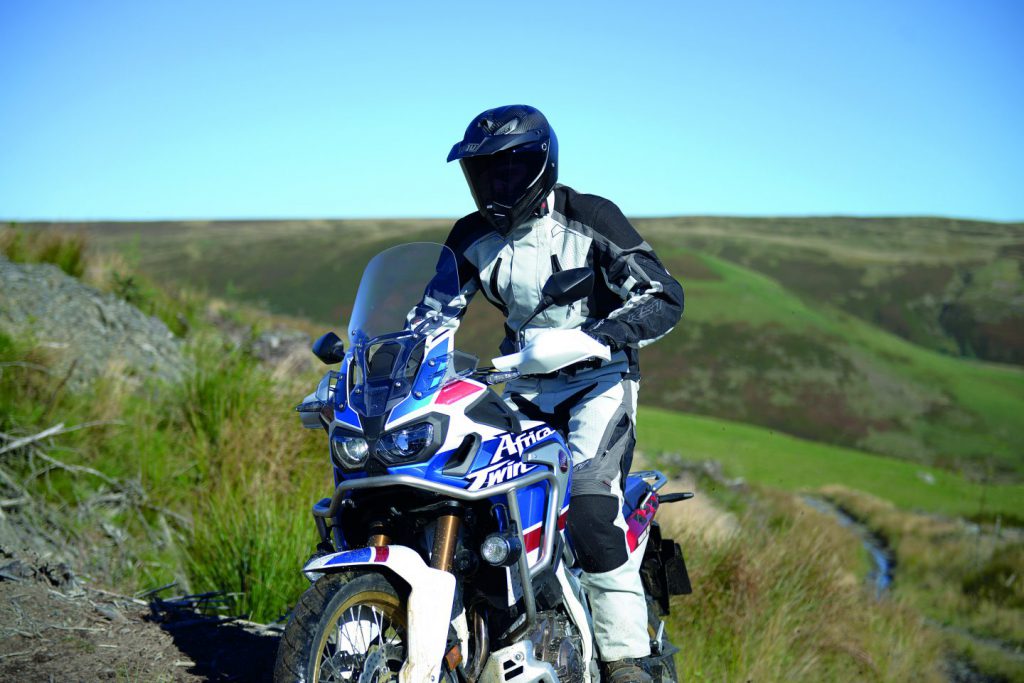 First, we need to look at the different types of waterproof jackets (and pants) that are available to buy.
The more "traditional" jackets are either two or three-layer construction and usually they all feature a removable thermal liner for warmth, but this is where the difference ends. If you were to look at a motorcycle jacket designed for adventure or a lot of summer riding, then you will probably find the jacket has a removable thermal lining to keep you warm, but also a removable waterproof lining that can be removed to offer maximum airflow for a long day's summer riding.
A two-layer jacket will almost always feature a removable thermal liner, but its waterproof membrane will be permanently fixed in between the outer shell and the interior liner of the jacket (known as a drop liner). The other type of jacket on offer is a laminate jacket. On a laminate jacket the waterproof membrane is physically bonded to the outer shell of the jacket and a removable thermal liner keeps you warm.
There are pro's and con's to both laminate jackets and the more traditional style of jackets, but essentially the right jacket for you will come down to budget, your yearly mileage and how much time you spend on the bike.
First of all, drop liner jackets are the most cost-effective type of motorcycle jacket to wear. The Alpinestars Andes V2, for instance, comes in at under £200 and offers great value for money, as does the RST Pro Series Raid for just over £200 while the Dainese Carve Master 2 with a Gore-Tex® drop liner is one of the most popular sports touring jackets on the market today.
A Drop liner jacket will always be more comfortable than a laminate jacket as the different layers are able to move independently. This means that they will always feel a little warmer than a laminate jacket, with the hot air from your body able to circulate between the outer fabric and the liner.
The one area a drop liner jacket struggles against a laminate jacket is the time it takes the garment to dry! All waterproof jackets are treated with a Durable Water Repellent (DWR) which will help to repel water in a shower, but in heavier or prolonged periods of rain, this coating cannot keep the moisture out and the jacket then depends on its waterproof membrane. This will not be a problem, as water will not pass through the membrane, but the jacket will start to suffer from "wetting out" –where the outer fabric becomes saturated and the jacket can sometimes feel heavier and take a long time to dry. A practical example of this might be that if your jacket was soaked on a morning ride in, it may still be damp when you put it on that evening to head hope and there will be little pools of water as the fabric dries. For most leisure and weekend riders, however, this will not be an issue as your jacket will have plenty of time to dry between rides.
With a laminate jacket "wetting out" cannot saturate the outer shell like it does on a drop liner jacket, as the waterproof membrane is bonded directly to the back of it. Where it could take a drop liner jacket six or seven hours to dry, a laminate jacket could be dry in an hour or so and would not leave those little puddles we love all over the floor!
Another advantage is that the wind chill from a wetted out drop liner will be more than a laminate jacket, so if you do spend a lot of time riding in the rain then a laminate jacket will be a warmer jacket to wear. Laminate jackets are slowly getting more affordable to the masses, with the Alpinestars Guayana costing £599.99 and representing a great jacket for all year riding. One name synonymous with laminate technology is Rukka and their Kallix jacket packs in the technology with rich features and best in class features. The Dainese D-Air Cyclone takes you to the next level with airbag technology in a top of the range technical motorcycle jacket.
Laminate jackets are also a lot lighter than drop liners as there is less material, and they can also feel a lot less bulky (some three-layer jackets can feel a little on the large side when both the thermal and waterproof liners are removed). The only real downside to a laminate jacket (apart from the price) is they are not quite so comfortable to wear, often feeling a little "stiffer" due to their construction.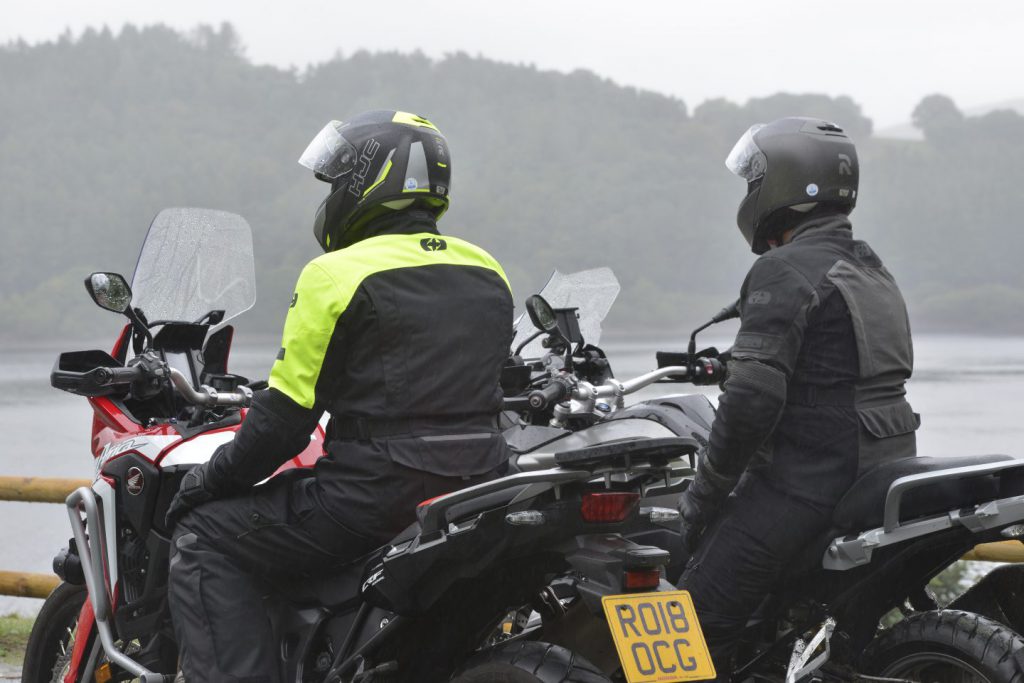 For most of us who ride less than, say, 10,000 miles a year and who do not commute daily; a drop liner jacket is a better option in terms of practicality, comfort and certainly price. For those of us who do rack up the miles and spend a lot of time in the rain and damp conditions, a laminate motorcycle jacket is the option to go for in terms of performance.
Base layers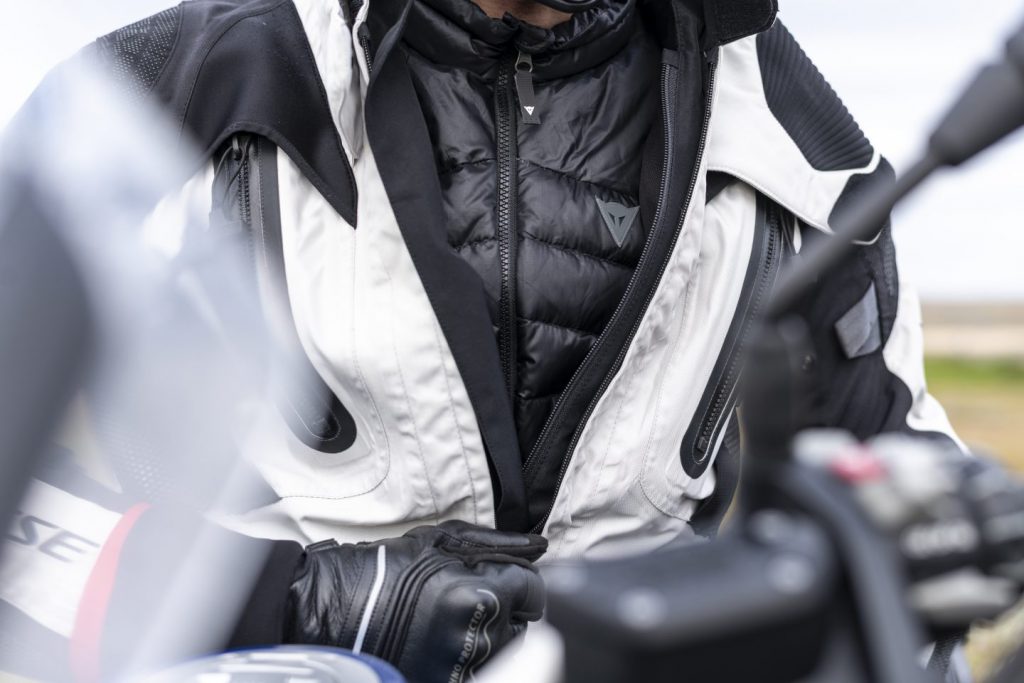 Base layers are another important part of our motorcycle clothing. We could spend our hard earned on the best textile jacket and pants available, but if we don't wear the right garments under them we'll soon be wondering why our top of the range motorcycle jacket isn't performing as it should, and why we're not enjoying our ride the way we should be!
A quality set of base layers will provide good thermal properties in the cold weather. They are designed to fit flush to the skin in order to trap your body heat and maintain your body temperature to keep you warm whilst riding. In hotter weather your base layers are designed to work in such a way that they will wick moisture away from the skin to keep you cool and comfortable.
Another major advantage of wearing base layers is that when the weather is really hot you can keep your motorcycle leathers or jacket away from your body. We all know the feeling of trying to get our kit off when it seems more intent on sticking to you every inch of the way off, and a warm-weather base layer will provide a handy barrier. Plus, it makes wearing your riding gear more comfortable and helps to avoid any marks, rashes or abrasions.
Compare the above to wearing say, a cotton t-shirt or a jumper under your jacket. On a cold day, the thermal properties of it will be zero and they'll feel bulky or restrictive. On a hot day, a t-shirt will not wick away your moisture; leaving you feeling wet and if the temperature were to drop then the moisture in your top can feel cold against any sort of wind chill.
So, now we know the benefits of base layers, which are the best set for you? We stock base layers from Alpinestars, Dainese, Knox, Oxford, Rukka, EDZ, RST and Spada so you're well catered for in terms of base layers from all the big names and experts in the motorcycle clothing sector that's for sure!
Probably one of the best value for money base layer sets are the Rukka Mark Base Layers. Designed for year-round use, they are machine washable and lightweight with excellent moisture wicking properties and are quick drying. We have one and two-piece sets available in all year, winter or summer options; so the choice comes down to your budget and the style of base layer you want – but we can guarantee that once you've ridden in base layers, you won't be going back to a cotton t-shirt or a sweatshirt!
All-weather motorcycle boots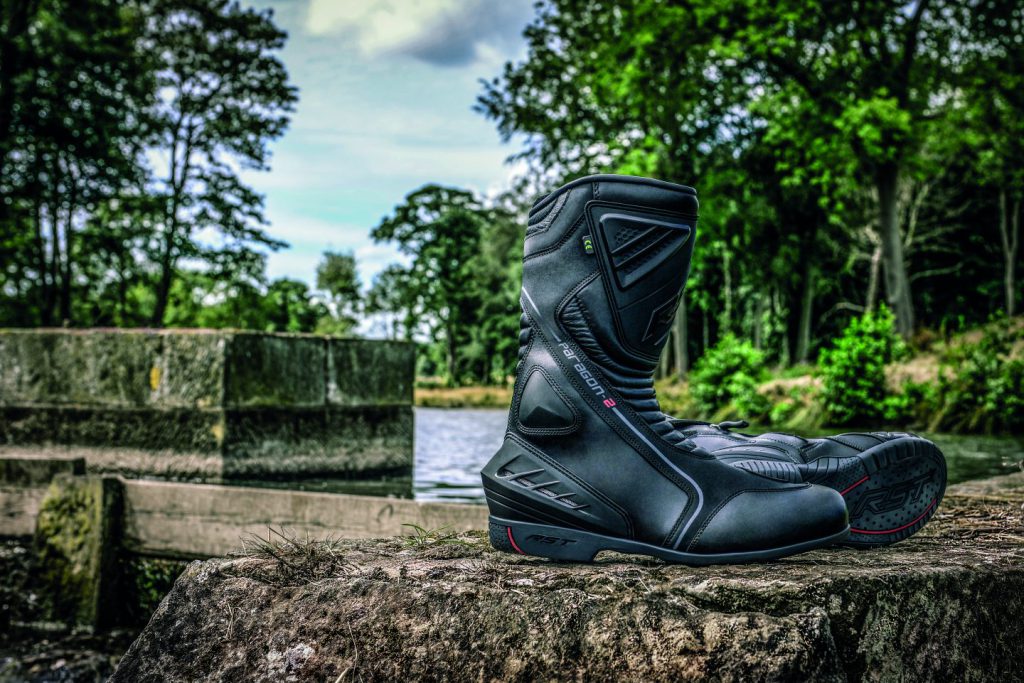 When looking for a pair of all-weather motorcycle boots, (thankfully), the days of big black wellies have gone! In days gone by, we would have to lock our summer boots away and wear winter boots that essentially all looked the same. Fortunately, technology, materials and designs have come on leaps and bounds and it is quite possible now to find a pair of motorcycle boots that you can wear all year round and are stylish, warm, waterproof and comfortable!
We've all been there when that "little" shower gets bigger and we can feel the first drops of water coming through our boots. Before we know it, wet socks and cold feet are putting a dampener on the ride making you seriously question your decision to ride in that day. Most modern-day motorcycle boots are waterproof and use a leather or man-made outer which is treated to repel showers, utilising a waterproof membrane behind the outer shell to make sure no water can get in, keeping your boots breathable and stopping your feet from sweating! There are many waterproof membranes on the market that are used by various brands – Gore-Tex, Drystar and D-dry to name a few, so make sure to keep an eye out for these when looking for a pair of all-weather boots.
The Daytona Road Star GTX is probably one of the most well-known styles of motorcycle boots around and sits at the top of the pile when it comes to all-weather touring boots. Sure, they are not cheap, but they are dripping with quality and made from the very best materials (and it's no wonder they have won numerous awards, as any rider who has worn them will testify). Renowned for an excellent fit, they are available in standard and wide foot designs, and all the way up to a size 14 in the UK!
If you prefer something that looks a bit more 'sporty', then the Dainese Trq-Tour Gore-Tex boot is the one for you. Bristling with the latest technology and, as with every other Dainese product, it encompasses the highest levels of protection, ergonomics and quality. Derived from their more sport-orientated boots, the Dainese Trq-Tour motorcycle boot keeps your feet dry and breathable with its Gore-Tex liner, whilst its calf volume adjuster and micro-elastic inserts keep you comfortable for long stints on the bike in a safe, sporty looking boot!
For an entry level all-season boot, look no further than the RST Paragon 2 Waterproof boot. It doesn't offer the same exotic materials as a Daytona boot for example, but is still a comfortable and good looking boot that will keep your feet warm and dry. It uses a PU-coated leather outer with a Sinaqua waterproof breathable membrane with built in PU-protectors on the shin, ankle and heel. The Paragon 2 was also awarded a RIDE Magazine "Best Buy" award – not bad for an entry level boot!
All-weather motorcycle gloves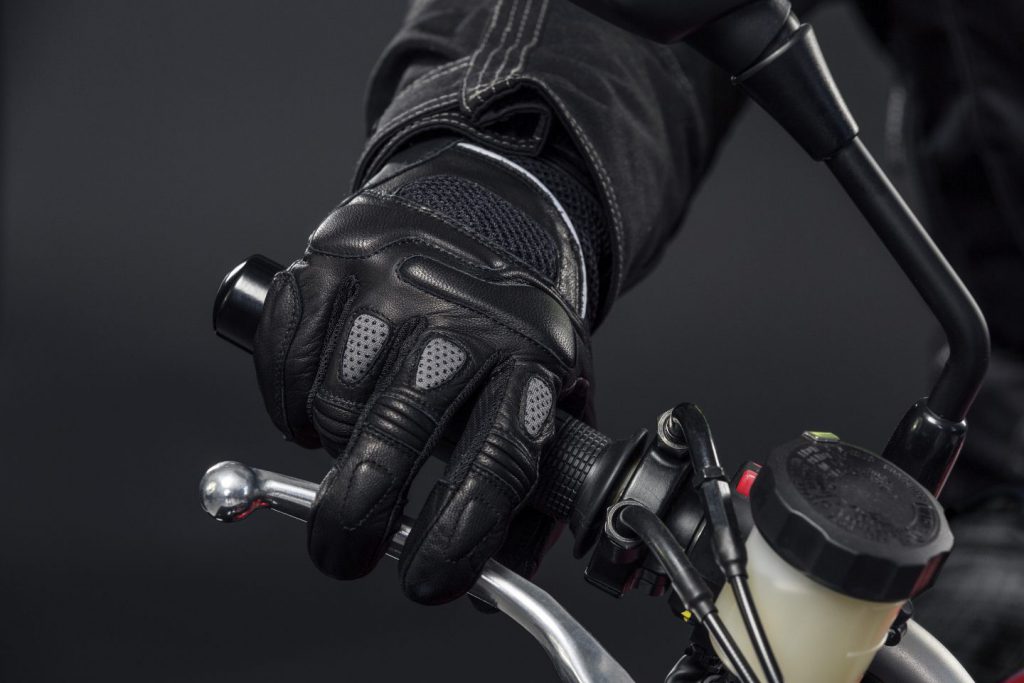 Your motorcycle gloves are an important piece of safety equipment. In fact, after your helmet, they are probably the most important! There are so many factors to consider when you are buying a pair of gloves but the first thing to decide is what type of motorcycle glove you need.
If you are just a fair-weather rider then a fully waterproof, breathable, insulated glove is not for you – and vice versa. If you ride all year round, a fully vented summer glove is no use in the cold and the pouring rain!
Once we have decided what type or style of glove we need, the other factors to consider are how well they would protect your hands in a spill and how well they fit. We need to make sure they fit us properly to protect us as much as possible. Winter gloves were usually always a textile glove with little or no armour and a thermal lining – but glove technology has come on leaps and bounds since then!
The more "traditional" style of all-season gloves is still available, but the technologies and materials used are right up there with modern day glove technology. The Rukka Fiennes motorcycle glove is a leather/textile glove that has a 100% waterproof and breathable Gore-Tex membrane to keep you warm and dry, but it also boasts a whole load of other features such as a double cuff design to prevent water ingress, visor wipe, knuckle and scaphoid protection.
The Alpinestars Jet Road Gore-Tex glove is another great option. It also boasts a leather/textile mix with a bonded Gore-Tex liner to keep you dry and also comes with touch screen-compatible finger tips, hard polymer knuckle protection and fourth finger reinforcements showing just how practical and safe this particular glove is.
If you are looking for more of an entry level glove, the Dainese Tempest D-Dry glove is for you. Offering full protection in all weather conditions it features a D-Dry membrane (Dainese's own waterproof / breathable liner) to keep you dry and has plenty of standard features such as comfort knuckle protection, visor wipe, reflective detailing and a reinforced palm – all on a glove for just under £80!
If you are looking for something a little sportier then there are still plenty of options. The Rukka Apollo glove is an all season glove that features all leather construction with X-Trafit technology (the membrane is bonded to the outer leather, so the gloves feel less bulky). As well as being fully waterproof and breathable, the Apollo glove has touch tip sensitive fingers, visor wipe, carbon knuckle and palm protection and reflective details in the fingers.
The Alpinestars SP-Z Drystar glove is constructed from full grain leather and has a Drystar membrane bonded to the outer shell to reduce bulk, ensuring a good level of dexterity and sensitivity on the controls. An ergonomic fit, pre-curved finger construction and stretch panels ensure maximum comfort, whilst the leather reinforced upper, PU knuckle protection and third and fourth finger bridge reassure you of the safety credentials of the glove which is perfect for those who want a sporty looking glove for the road that offer good comfort and protection.
The Merlin Halo glove gives us something a little different! Again, it features full leather construction and a Hipora waterproof and breathable membrane, as well as an Outlast temperature regulating liner. Hard knuckle protection, a pre-curved finger construction and ergonomic fit ensure the glove is comfortable and warm, whilst keeping your hands safe.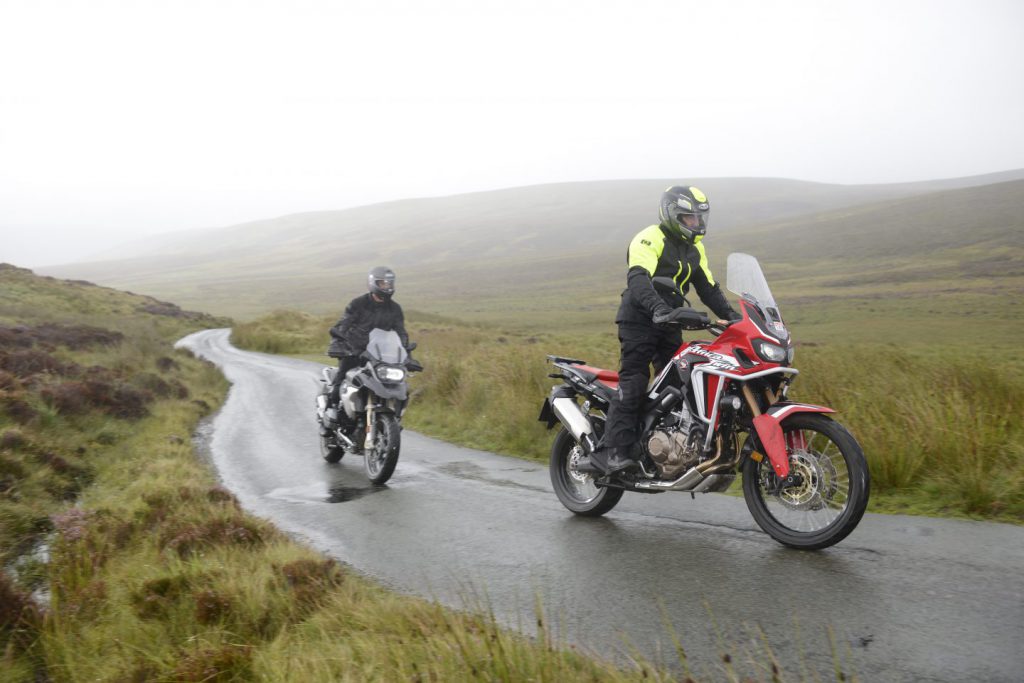 So there we have it – a quick overview of the products that are out there to keep you warm and dry this autumn on your bike and to keep those wheels turning!