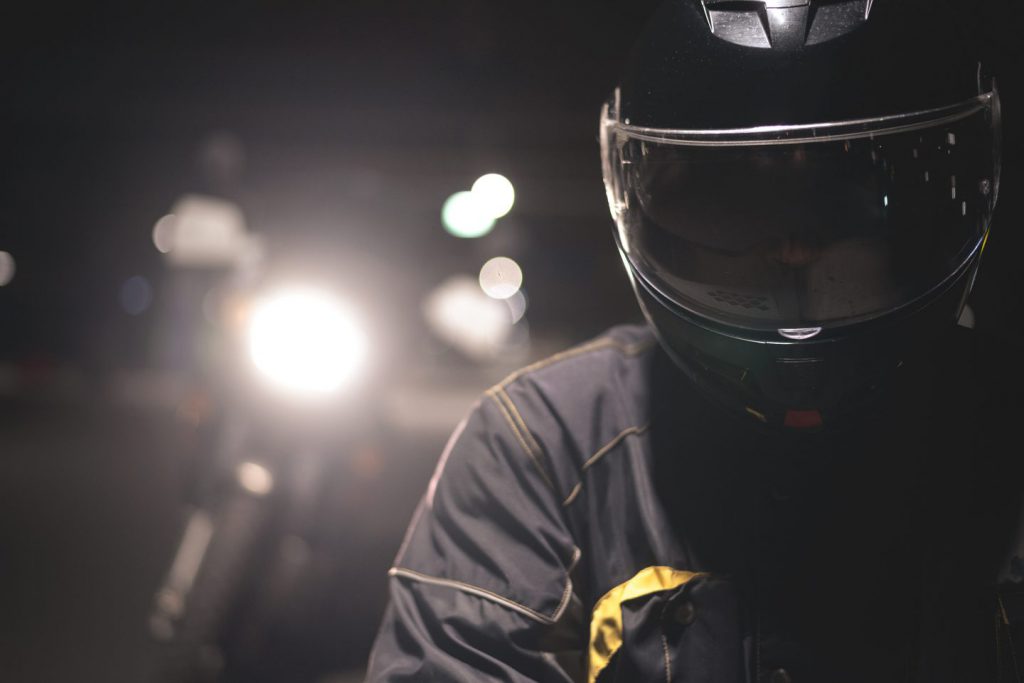 So now that the clocks have turned back and the darker nights are upon us, it is time to consider the type of motorcycle clothing that we wear that will help us to be seen by other road users.
It would be safe to say that a lot of us would think that Hi-Vis Motorcycle Clothing is limited to a simple £4 Hi-Vis vest that we can simply throw over our existing gear. But this is not the case! Over recent years the stigma of wearing Hi-Vis clothing has changed and has become a lot more popular amongst fellow motorcyclists, we have seen a massive increase in people buying motorcycle clothing that have Hi-Vis / reflective features already a part of the design like the Dainese Carve Master 2 Gore-Tex Motorcycle Jacket and the Oxford Continental Textile Motorcycle Jacket to name just a couple.
So, you are happy with the Motorcycle Gear that you wear but just after something to make you more visible during those winter commutes and days out? There are a number of different options available to you that will help you be seen during these winter months; Vests, Over Jackets, Over Pants and 1 Piece suits as well as a number of accessories (Belts, Braces, Flashing Bands, etc.) that can be added to your existing clothing just to add that bit of Hi-Vis / reflection. For this blog we will break down these options to hopefully help you decide which Hi-Vis accessory is the right one for you.
The good old Hi-Vis Vest option
So, one of the most simple and popular options to go for is the simple Hi-Vis Vest option. With prices ranging from only £4 for the Oxford Bright Vest Packaway all the way up to the Rukka Vis Vest at £100. So why the wide difference in prices? Well, although both in theory do the same job. Both options listed have certification, the Oxford Bright Vest has EN 20471 certification where the Rukka Vis Vest is CE approved accordance with the PPE directive (89/686/EEC).
With regards to the fitting aspects of the vests, The Oxford Bright Vest features a simple hook & loop fastening where the Rukka Vis Vest features a full length Zipper closure which prevents the possibility of the vest from working it's way open in high winds when out on the bike while the elasticated panels on the side provide a closer fit for the wearer, removing that buffeting effect that we experience while riding in loosely fitted jackets. Both feature reflective detailing, the Bright Vest features this detailing across the lower chest while the Vis Vest has reflective detailing throughout, with an all-over back design and detailing placed on the top, middle and lower sides of the front of the vest.
It is also worth noting that the Rukka Vis Vest comes with a 1-year warranty! Now this is all well and good, but I hear you say that £100 for a clothing accessory is a little out of the pricing bracket for something that you are only going to possibly use for a handful of times, and this is perfectly fine, other brands such as the Spada High Visibility Vest, Dainese Explorer High Vis Vest and the Alpinestars Flare High Visibility Vest all feature a zipper closing system and reflective detailing and are priced between £35 – £55.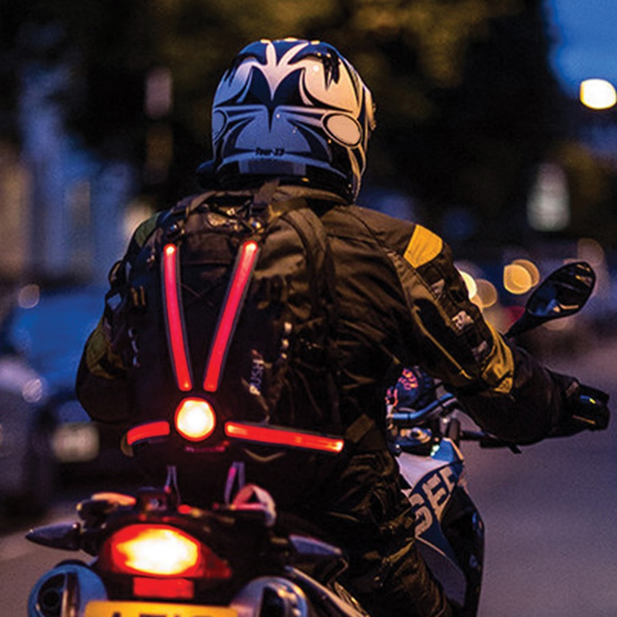 Want to be seen and kept dry
It's safe to say that with as soon as the clocks go back, the weather also goes back to being cold, wet and miserable and this often stops us from using our motorcycle and resigning ourselves to the fact that we're having to 'put the bike away till next summer'. Well, we can't do anything about the weather, but we can do something about how we dress / prepare for the weather change allowing us to keep hold of those fun times out on the bike regardless of the weather. And that's where the Over Jacket options come into play! As with the vests, there are several clothing manufactures (Oxford, RST, Dainese, Alpinestars to name just a few) that provide a complete over jacket which protects your everyday biking jacket, or top of your leathers, from road grime off traffic ahead or being saturated from the rain. It's worth remembering that these Over Jackets are all generously sized because they are designed to be worn over your leathers or textile jackets. Providing a 100% waterproof barrier the over jackets often feature an elasticated cuff that prevents driving rain from entering at the bottom of the sleeve as well as an elasticated waist and drawstring lower skirt all designed to provide a closer fit and minimise any buffeting that may occur while riding.
The over jackets often feature a high collar with Velcro adjustment to create a close comfortable seal around the top of the jacket and protecting you from all external factors. All Over Jackets allow you to double up with matching Over Pants to give you all over weather protection as well as increase your road presence should that be in the form of a Hi-Vis construction or the reflective detailing throughout.
The 2-piece Over Jacket and Pants have become the most popular option for riders to go for as they allow the wearer to either wear them individually or as a matching set creating a top to toe Hi-Vis/Reflective covering. Over suits are another option that you may wish to experience. Suits such as the Oxford Rain Seal Suit, RST Hi-Vis Waterproof One Piece Suit and the Alpinestars Hurricane Rain Waterproof suit all provide full protection from wind and rain while featuring Hi-Vis and reflective details. Due to the versatility of these over garments it comes to no surprise that these are the number one seller within the Hi-Visibility clothing accessories market.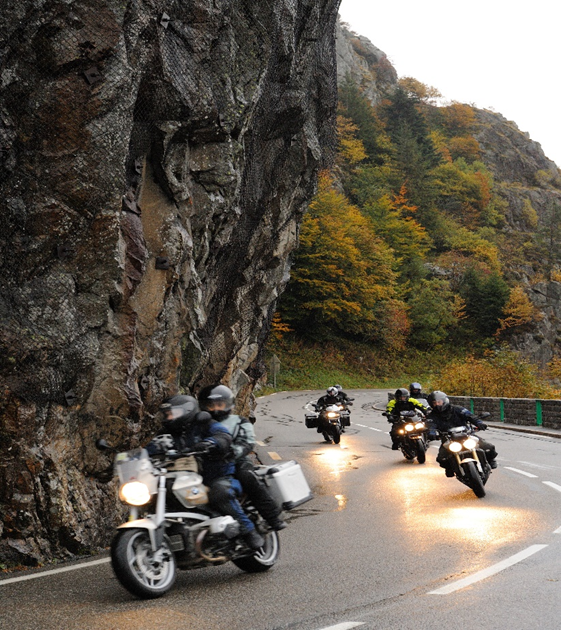 Just a little something extra
If you are in the market for some additional Hi-Vis clothing accessories, then Oxford's offerings of the Bright Band or the Bright Belt maybe something that appeals to you. The Bright Belt is a Hi-Vis over the shoulder and around the waist clothing accessory which provides a fully adjustable, highly reflective addition to wear over your existing jacket. The Bright Belt also conforms with EN13356 (Visibility accessories that can be used for non-professional use) which means that it is safe to use over in Europe should you plan to do some overseas touring. Then the Bright Band. This reflective band is a 1 size fits all 3m Scotchlite constructed accessory which is designed to fit securely around the top of your arm or around your ankle. What makes this different from any other Hi-Viz band? The Oxford Bright Band features 4 bright LEDs embedded into the Scotchlite construction providing additional, eye-catching awareness for other road users during the dark mornings and nights.
Conclusion – What is the best Hi-Vis product to go for?
When asked what the best Hi-Vis product is to go for then then simplest answer is whatever fits your needs and budget! The ultimate purpose of any Hi-Vis garment is to be seen, this always prompts the old phrase of 'Be Seen, Be Safe'! After going through the range of options available to you in some more detail, it should now give you some clear guidance as to what would work best for you should you be a rider who only commutes back and to work or the shops, or someone who enjoys all year round adventures but wishes for that extra level of increased presence on the road.
---
Enjoyed this? Read more of our latest news:
Where To Next?
Looking for the latest motorcycle parts and accessories? Check out our wide range from top brands.
Come and visit us at our store, showroom and fitting centre in Wrexham.
Want to know more about our story? Learn about who we are and why we've been driven by passion for over 50 years.
Interested in everything we do? Catch up on all the latest Demon Tweeks news.