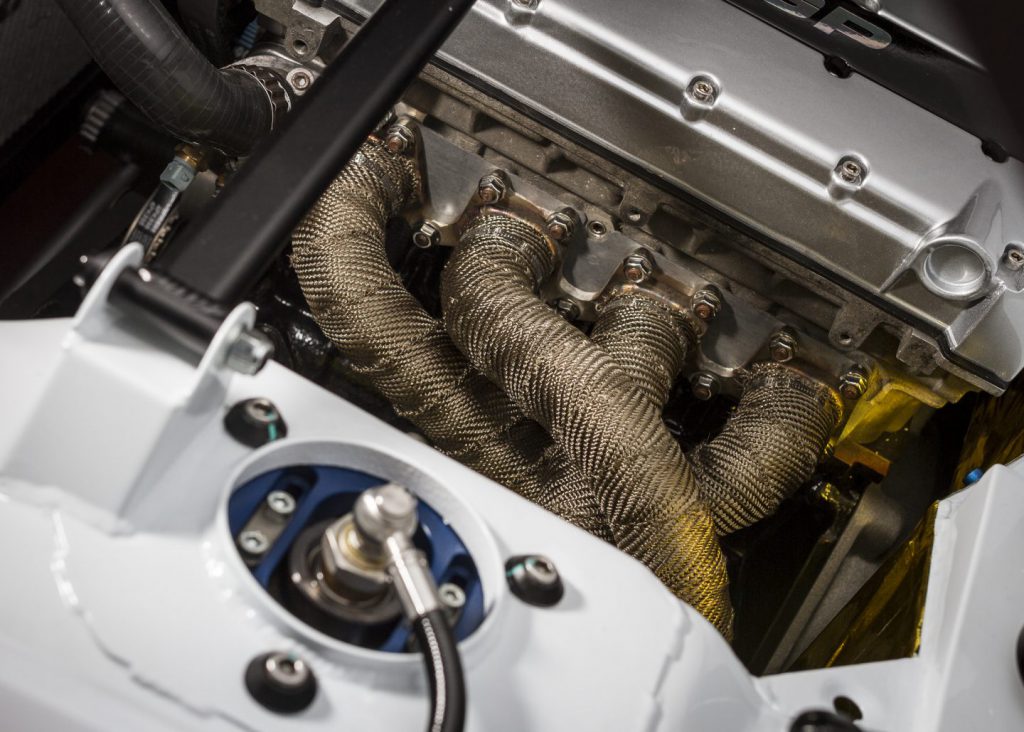 A motorsport vehicle driven hard creates lots of heat energy through mostly friction, but heat can be passed by convection, conduction, and radiation. The heat can be beneficial up to a point in the correct place such as the engine, oil, and brakes. However excessive heat in the wrong place can create reliability issues and can cause component failure, even fire. There are many solutions to prevent heat build-up where it is not required and, on the flip side, keep heat in if the opposite is beneficial. We have compiled this racing heat management protection guide to help navigate through what can be a rather bewildering choice of products.
Exhaust Wrap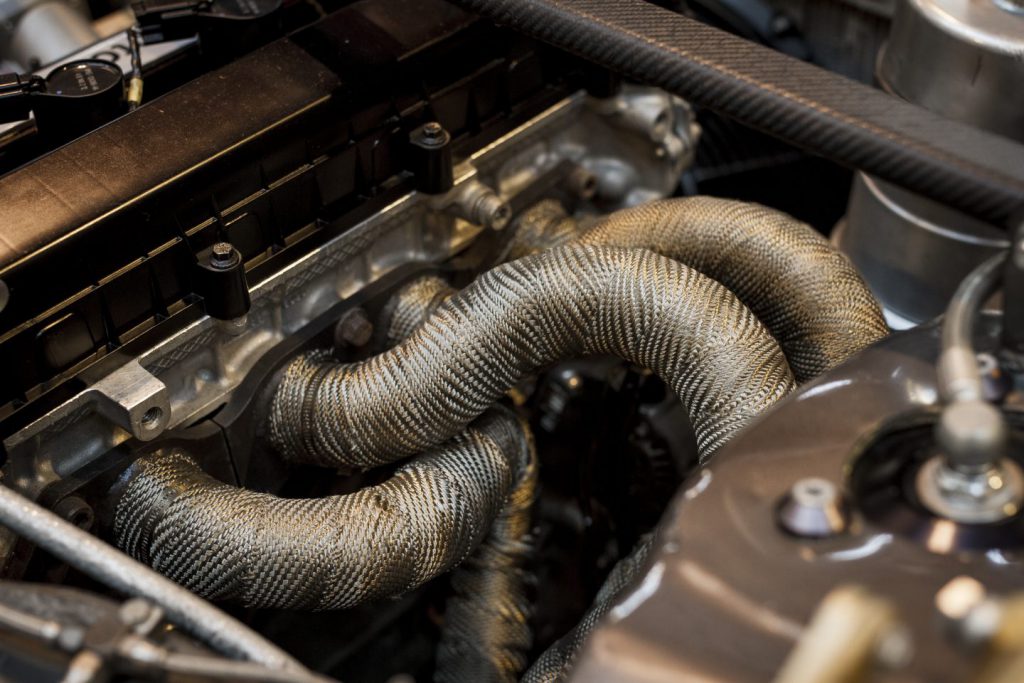 Wrapping any type of exhaust piping is an important step towards controlling exhaust temperatures and reducing radiated under-bonnet heat. Keeping exhaust gases hotter within the exhaust system helps in decreasing density and increasing the flow of exhaust gases. This improves exhaust scavenging which, in turn, helps power. The greatly reduced radiant heat in the engine bay can decrease temperatures up to 50%. This reduces heat absorption to the engine intake and fuel system, especially important for carburettor engines. The reduction of heat transfer through the bulkhead keeps dash components and interior temperatures to an absolute minimum.
There are two basic types of exhaust wrap, the more cost-effective wraps are fiberglass fibres and the premium types are Basalt, a type of lava rock. A recent addition is fiberglass but with a stainless mesh outer for very harsh environments such as off-road racing, ideal for very exposed exhausts. The wraps normally come in 1" or 2" widths but 6" is also available in some brands. The 1" is intended for tightly coupled pipes, 2" is for most manifolds and exhaust pipes. The 6" can be used on large diameter pipes in a straight run or silencer boxes. The wrap is best held in place with stainless steel locking ties. These are easy to install and do not cut into the wrap. Stainless steel hose clamps or lockwire can also be used but these give a less professional look and can damage the wrap if care is not taken. The wrap should have approximately ¼" / 6mm overlap to work best, some wraps come with guidelines in the material to achieve this. The quantity required can be worked out using online wrap calculators. ( search "exhaust wrap calculator" )
Just remember to take note of any bends in your pipe as they will result in additional overlap not accounted for in the final total. As a rule, one 2" x 50-foot roll will do most four-cylinder manifolds.
Steel exhaust pipes or manifold are best de-rusted and painted with the correct silicone VHT coating before wrapping. The bare wraps will also last better if painted externally, although some include a paint/coating so please refer to the relevant instructions.
It is best practice to get the fiberglass wrap wet before installing. However, you need to be careful about how much you use. Run the roll under a small stream of water. Do not soak or submerge wrap in a bucket. Most wraps, especially DEI brand products, have a special coating that you do not want to remove by using too much water. Also, a soaking wet wrap will make a mess while you're trying to install it. As you are running the wrap under water, squeeze the wrap until it feels soft and there are no more hard spots in the roll. Have a squirt bottle of water handy while you are installing the wrap. If it begins to dry out before you are finished spray a little water onto the dry area. The tighter the wrap is applied the better the result, it is a good idea to secure the wrap at the start point to allow tension to be applied. The locking ties designed for exhaust wrap will secure the best to achieve this tension. If the wrap is being painted afterward the wrap should be left to dry thoroughly. The lava rock wraps are very flexible out of the box so can be installed without wetting.
If the car is running in a class where the stock cast manifold must be retained these are difficult to wrap due to the shape, these can benefit from a formable heat shield such Design Engineering Form-A-Shield or Zircotec Zircoflex Rigid Formable Heat Shield. See links at end of the blog.
Turbo Shields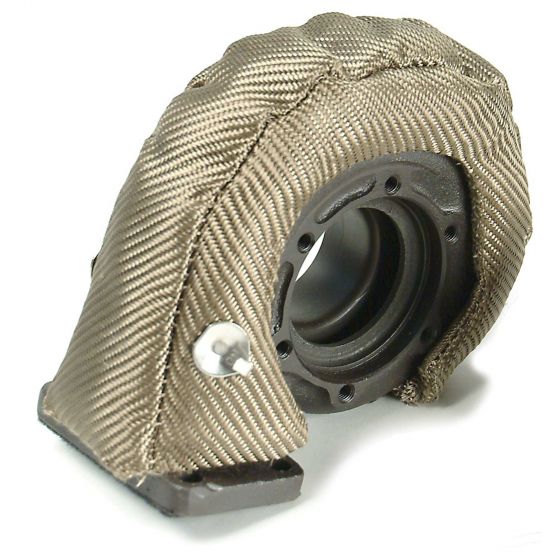 Turbocharged engines create lots of heat from the turbo through passage of exhaust gases and from compressing the intake charge. There are bespoke heat shields for many popular turbo units as well as universal kits for less common turbos. The shield covers the exhaust side of the turbo unit and the kits normally come with exhaust wrap to cover the exhaust pipe from the turbo. The reduced under-bonnet kit will help protect nearby components and reduce the temperature of the intake charge. The shield over the exhaust side keeps the exhaust gases hot and less dense helping flow, this can in turn help reduce lag.
Heat Reflective Materials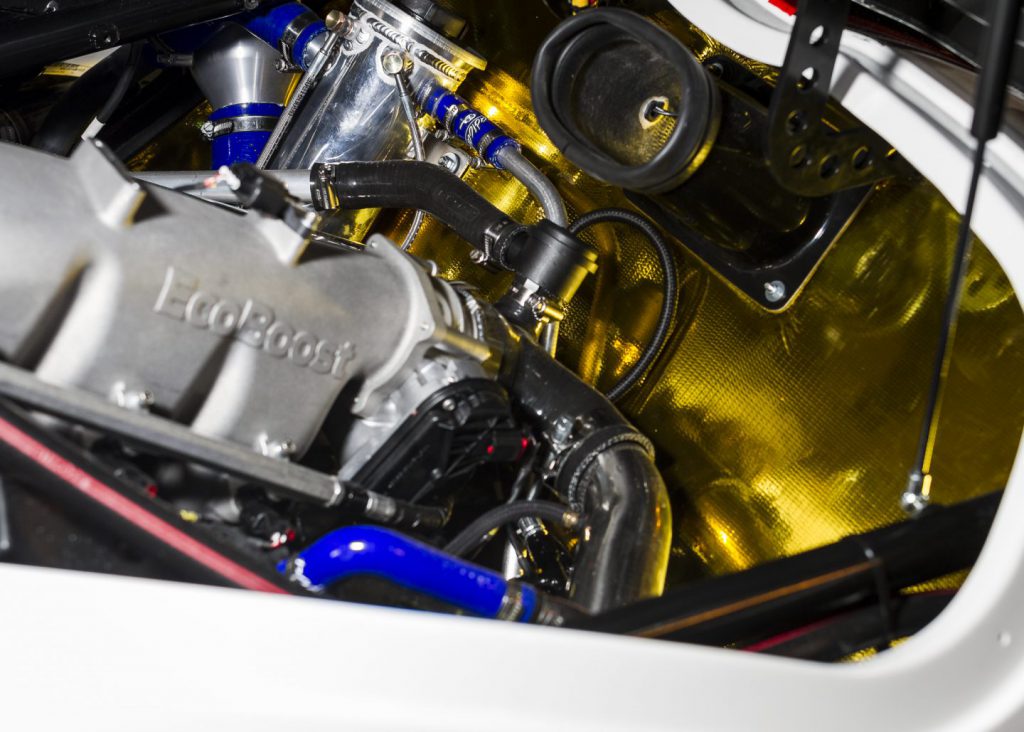 There are many components on a production car that are not expected to see the heat generated by competition cars, or road cars that are heavily modified or tuned. A good example is a car where a turbo or supercharger has been added. While some of these parts may cope with the extra heat it may affect reliability or lifespan. Heat reflective products will reduce the temperature on the protected parts considerably. They can also be used on panels to stop heat transfer. An engine close to a bulkhead by the driver so protected, will bring the temperature down, making it cooler and more comfortable. The heat reflective properties mean the products can be used to keep heat out of the engine intake pipes giving a cooler denser charge for best power. The heat reflective materials can be silver or gold, the gold being more effective. The materials come in three basic forms:
Flexible Matting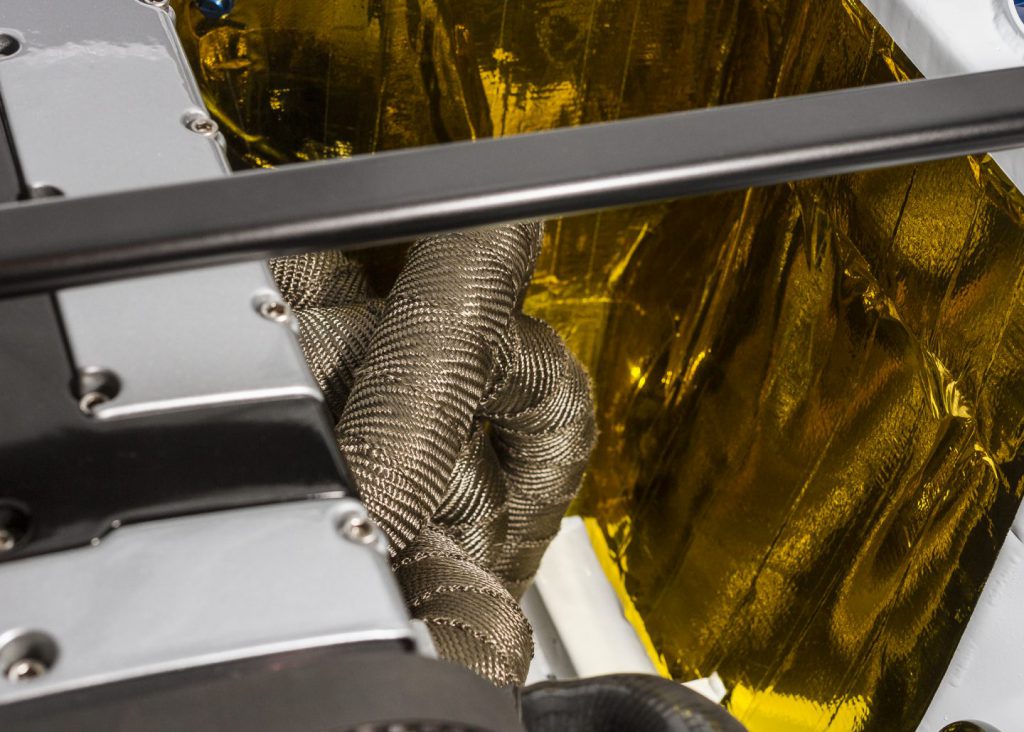 This can be self-adhesive to allow easy fixing, or plain so you can use your own fixing. This can be screws and washers, pop rivets, heatproof tape, or metal locking ties. The sheets are pliable so can be formed around curved or shaped panels. Cutting is easily done with good scissors or a sharp knife. The manufacturers offer ready-made kits for parts such as batteries, starter motors, under-bonnet, and transmission tunnels. Flexible material supplied in rolls of tape are also popular.
Tubing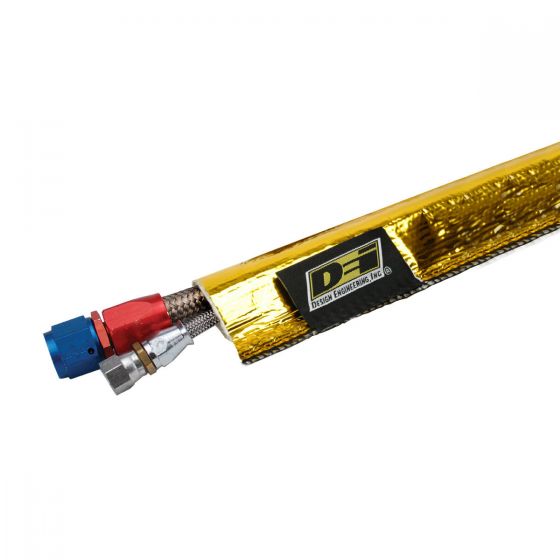 The heat reflective tubing is ideal for protecting electrical wiring, hoses, mechanical cables (e.g. clutch cable), pipes, and tubes. Special kits can be used to keep the heat off engine inlets, and kits to suit spark plug leads. This tubing is available in different diameters, and some are available with Velcro opening if removing the part is time consuming or inconvenient.
Formable Sheeting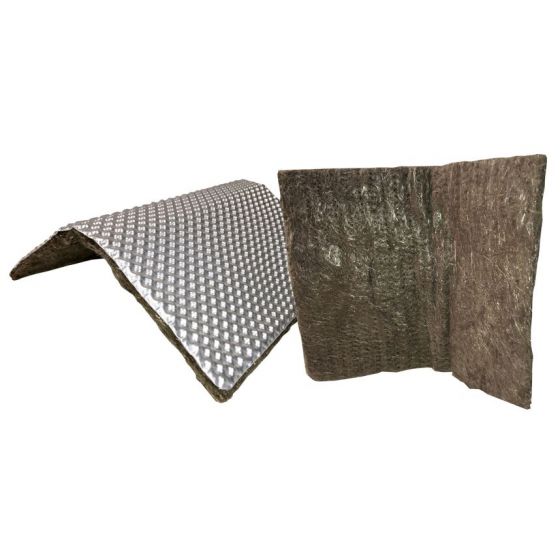 The sheet form heat reflective material is ideal for fabricating heat shields/heat barriers. The sheet can easily be bent to suit and drilled for easy mounting. A typical application would be to use to make an enclosure for an air filter to prevent heat from the engine bay affecting the intake charge. Another use would be protecting an ignition coil near a turbo.
Heat & Sound Insulation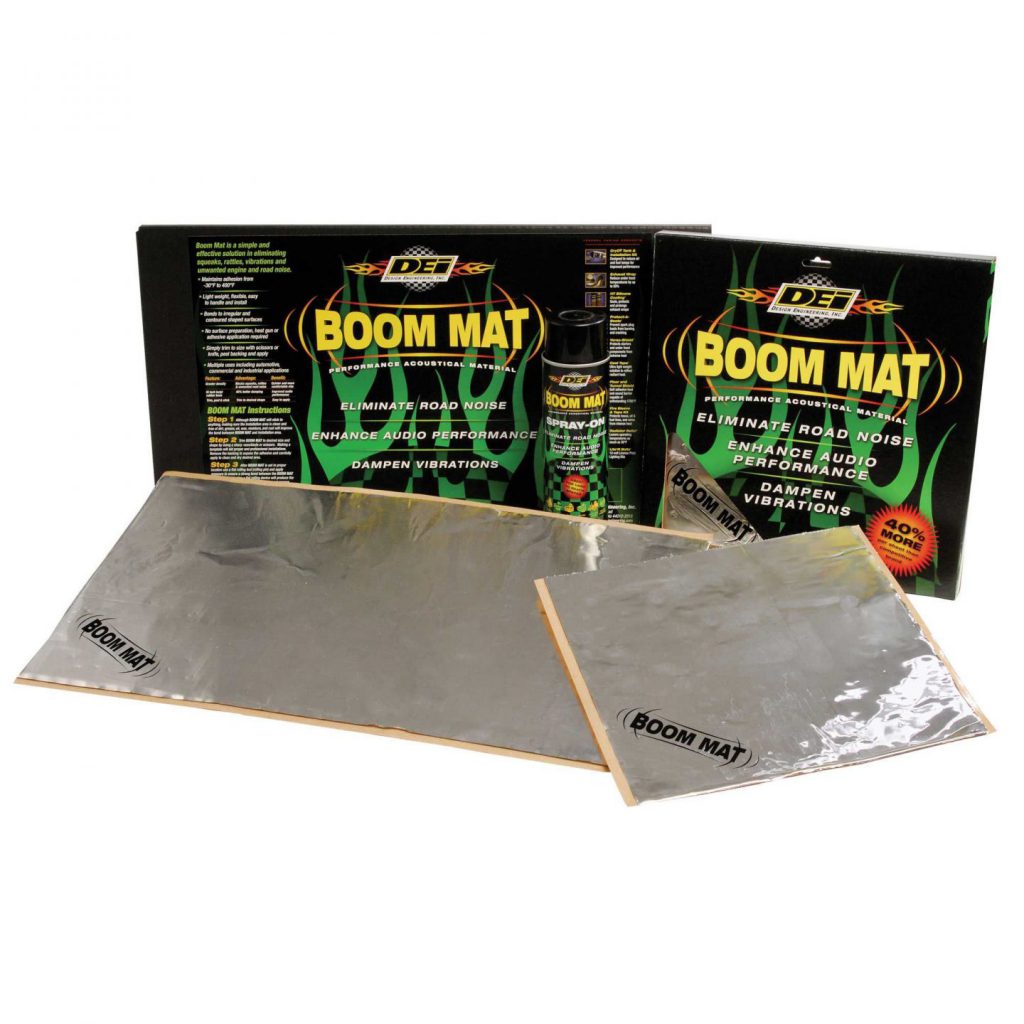 A modified road car or competition car that is extremely noisy can benefit from heat and sound insulation combined to bring the noise level to tolerable levels. These are flexible and can be supplied self-adhesive or plain to secure by your own choice of fastener. There is also a tape for sealing joins or hard to reach areas.
Specific Solutions
Tubular Exhaust manifold = DEI, Cool It, Pitking Exhaust wraps DEI High Temp Silicone Coating , or DEI Speed Sleeves
Cast Exhaust manifold = DEI Forma A Shield, Cool it blanket, Kevlar Heat Barrier Zircoflex II / III, Nimbus Lite GII
Exhaust Silencer = DEI Silencer Shield kit, Cool-It Silencer Heat Shield , Kevlar Silencer cover
Turbo = DEI Turbo Insulation Kit, DEI Titanium Turbo Shield, DEI Ultra 47 Turbo Heat Shield, DEI Onyx Turbo Heat Shield, Cool-It Thermo-Tec Turbo Kit
Spark Plug Leads = DEI Protect A Boot, DEI Titanium Protect A Boot, DEI Protect A Wire, DEI Cool Tube, DEI Heat Sheath, DEI Titanium Protect A Sleeve, Pitking Self Assemble Heat Reflective Sleeve, Cool-It Thermo Sleeve
Intake / Intercooler Pipes = DEI Air Intake Cover Kit, DEI Air Intake kit Gold, DEI Cool Tape, Pitking Cool Tape Cool-It Air Intake Cool Tube
Fuel / oil hoses = DEI Cool Tube, DEI Heat Shroud, DEI Heat Shroud Gold, DEI Heat Sheath, DEI Ultra Sheath MA Heat Sleeve, DEI Heat Sheath Gold, DEI Fire Wrap / Fire Sleeve, DEI Exo Sleeve, Pitking Self Assemble Heat Reflective Sleeve, Cool-It Thermo Sleeve, Aeroquip Fire Sleeve, Goodridge Fireproof Sleeve
Wiring = DEI Cool Tube, DEI Heat Shroud, DEI Heat Shroud Gold, DEI Heat Sheath, DEI Ultra Sheath MA Heat Sleeve, DEI Heat Sheath Gold, DEI Fire Wrap / Fire Sleeve, DEI Easy Loom Split Wire Sleeve, DEI Fire Tape, DEI Titanium Protect A Sleeve, DEI Exo Sleeve, Pitking Self Assemble Heat Reflective Sleeve, Cool-It Thermo Sleeve, Flex Wire Hose Shield, Aeroquip Fire Sleeve, Goodridge Fireproof Sleeve
Bulkhead / Floor = DEI Reflect A Cool, DEI Form-A-Shield, DEI Heat Screen Matting, DEI Reflect A Gold, DEI Heat Screen Gold Matting, Zircotec Zircoflex, Zircoflex 2, Zircoflex 1 Gold, Zircoflex 2 Gold, Zircoflex 3, Zircoflex Gold 3 Cool-It Aluminised Heat Barrier, Cool-It Adhesive Backed Heat Barrier, 24K Gold Heat Barrier, Kevlar Heat Barrier, Pitking Flex Blanket
Transmission Tunnel = DEI Floor & Tunnel Shield, Pitking Tunnel Shield 2.0
Battery = DEI Battery Insulation Kit, Cool-It Battery Wrap
ECU = DEI Reflect A Cool, DEI Form-A-Shield, DEI Heat Screen Matting, DEI Reflect A Gold, DEI Heat Screen Gold Matting, DEI Versa Shield, Zircoflex, Zircoflex 2, Zircoflex 1 Gold, Zircoflex 2 Gold, Zircoflex 3, Zircoflex Gold 3, Cool-It Aluminised Heat Barrier, Cool-It Adhesive Backed Heat Barrier, Pitking Flex Blanket
Starter Motor = DEI Versa Shield, DEI Mini Versa Shield, Cool-It Starter Heat Shield,
Oil Filter = DEI Oil Filter Heat Shield
Rigid Heat Shield / Barrier = Zircotec Zircoflex Form Rigid Formable Heat Shield, Nimbus GII Heat Shield, Nimbus Lite Heat Shield, Cirrus GIIIX 3 Layer Heat Shield
Heat & Sound Insulation = DEI Boom Mat, DEI Boom Mat Tape, Cool-It Acoustical & Heat Control Mat, Cool-It Thermo Guard FR, Cool-It Thermo-Tec Supersonic Acoustical Mat
Heat / Cool Tapes Cool It Thermo Shield Thermo-Tec Seam Tape DEI Cool Tape Pitking Cool Tape
Adhesive = DEI Hi Temp Spray Adhesive, DEI Heat Resistant Sealant, Zircotec Heat Shield Attachment Kit, Cool-It Heavy Duty Spray Adhesive
Browse all products : Here
In summary, there are lots of products to solve 99.9% of heat issues. The above guide should help pick the correct choice for your heat related problems. Our sales team are happy to give advice if you are unable to decide which to use or wish to discuss all the options.
---
Enjoyed this? Read more of our latest news:
Where To Next?
Looking for the latest motorsport parts and accessories? Check out our wide range from top brands.
Come and visit us at our store, showroom and fitting centre in Wrexham.
Want to know more about our story? Learn about who we are and why we've been driven by passion for over 50 years.
Interested in everything we do? Catch up on all the latest Demon Tweeks news.