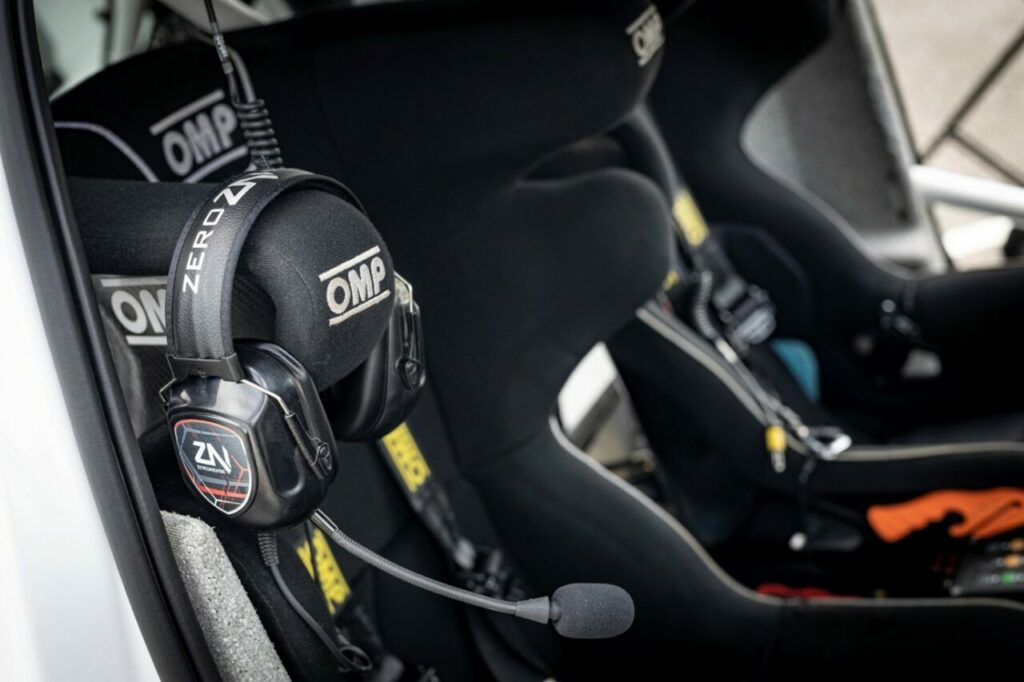 Back in the very early days of rallying, the driver and co-driver could quite easily converse one with another due to the cars not being too dissimilar to their road going equivalents, as well as not having to wear helmets. However, as motorsport developed with the driver and co-driver being required to wear heavily padded helmets there became the issue of not being able to hear each other over the sound of the engine.
As a result, an electrical intercom system was introduced that allowed the driver and co-driver to communicate clearly without the need to raise their voices. This meant that it was much easier to hear pace note calls, improving the performance of the crews while out on the stages.
As intercoms have evolved over the years, there are now multiple options available which can make it quite confusing as to which system you need. So, let's take a look at the components that make up an intercom system and what you need to know when selecting your next system.
The Amplifier
The amplifier is the heart of the intercom system. It is the control box which houses all the electronics and features such as the inputs for both the driver and co-driver as well as volume controls.
To put it in its most simple of terms, there are two different types of amplifier: analogue and digital. Although both types are an electrical amplifier system, the main difference between the two is the sound quality that is provided.
As the interior of a rally car is a very noisy environment, there will inevitably be a lot of background noise that can prevent the essential pace note calls of the co-driver from being heard clearly. As such, some intercom amplifiers have a noise cancelling feature to help reduce background noise and allow the voice of the co-driver to come through more clearly. Eight, digital intercom systems are able to provide the highest level of noise cancellation with additional sound dampening capabilities.
Designed to fit between the driver and co-driver, some amplifiers are made to be mounted straight to the roll cage while others are designed for mounting on the dashboard or even to the roof of the car. They are usually either cable tied or screwed in place depending on their mounting position. The main thing to remember is to have it positioned so that there isn't any unnecessary strain on the cables that connect to the driver and co-drivers' helmets, as this can cause damage to the wiring as well as adding an unnecessary strain on the drivers' head.
On the subject of these cables, they are usually supplied with a section of coiled cable that allows for a degree of stretching without restricting the movement of the driver or co-driver. Depending on the particular amplifier, the connectors on the end of the cables that connect to the wiring on the helmet feature either a male jack plug or female socket. But we will cover more on the different types of connectors later on.
Some rally amplifiers do more than simply allow the driver and co-driver to communicate with each other. There is the option on some systems to connect to a mobile phone to allow the crew in the car to contact the team back at the service park. This is particularly useful if there has been a mechanical issue out on the stage or they want to give them plenty of time to prepare for any amount of work that is required prior to the car returning to service.
Other features also include outputs for connecting to a video system to allow the pace note calls to be overlaid onto your video feed. Not only does this make it more enjoyable to watch when the event is over, it also acts as a useful tool when looking to try and improve the efficiency of the note calling and timing, resulting in better results on your next rally.
Most amplifiers are powered by a 9v battery but have the option to be hard wired into the vehicle's power supply to remove the possibility of losing the intercom halfway through a difficult stage.
The Headsets
An amplifier by itself is not going to be enough to allow the driver and co-driver to be able to communicate. Both users will need a headset that is compatible with the particular amplifier that you are using.
Some helmets are supplied with the necessary electronics pre-installed for use with an intercom system. For example, some open face helmets are supplied with either a fixed or adjustable microphone boom, with either thin style speakers that sit behind the lining or full sound attenuating ear cups for maximum sound quality. There are also some full face helmets that are equipped with an intercom headset system too.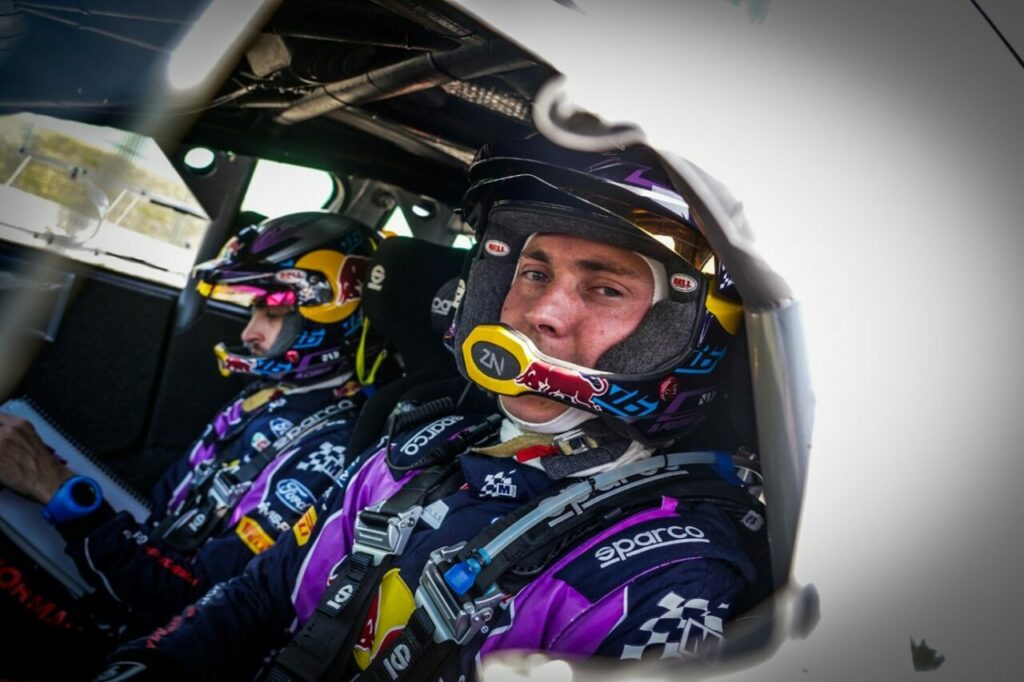 If your particular helmet is not fitted with any form of intercom electronics, it is possible to retro-fit them yourself as there is a wide selection of headset kits available for both full and open face helmets. However, you will need to make sure that your chosen kit is compatible with your type of helmet and amplifier, though we will cover this more in depth later.
If you compete in rallying, there will be a time when you will be between stages on a road section or doing a stage recce where you will not have to wear a helmet, but you will still need to be able to communicate with your co-driver without having to shout over the noise of the engine. This is where a practice headset comes in.
Designed to sit over your ears like a set of ear defenders, a practice headset features the same electrical connections to fit your chosen amplifier along with a pair of noise cancelling ear cups and a flexible microphone boom. Not only does this allow for better comfort and ease of communication when not competing, it also serves to protect your hearing when transiting between stages.
Connections
There are many different types of intercom system available for motorsport use, however not all of them feature the same type of connectors. As a result, it can become quite difficult to figure out what type of intercom is compatible with which helmet.
In general terms, there are 3 main types of connector that are used in motorsport intercom systems. These are female Nexus (Stilo), Male Nexus (Peltor) and Terratrip style connections. The main difference between them is the size and shape of the connector along with the compatibility with their respective amplifiers.
It is possible to use adaptors to make one style of plug fit a different type of amplifier, however you may find that the sound quality may suffer slightly. As a general rule, it is always best to use the correct amplifier for the headset and vice versa.
We know that this is not always possible, especially if you are a co-driver that regularly sits alongside different drivers in a wide variety of cars, each with their own respective intercom systems. In cases like these, running your helmet with an adaptor to suit the particular amplifier in the car is not normally a problem and won't cause any damage to either of the electronics.
Despite the range of adaptors available on the market, getting the correct plug for your helmet is not always possible. With this in mind, we have put together this useful table to show which intercom systems suit which helmets and what types of adaptors are available.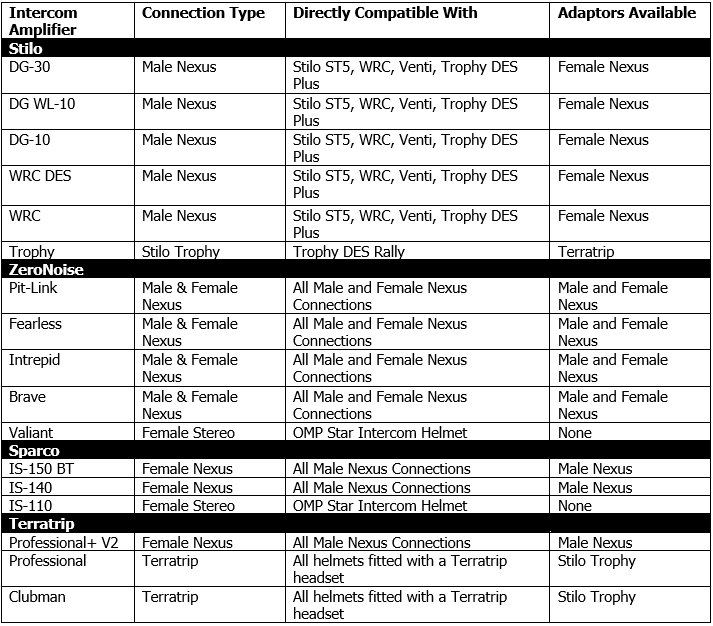 Pit Communication
Not all forms of communication are limited to the inside of the car. Sometimes it is necessary for the pit crew to communicate with each other as well as the driver. As such, there are a range of headsets that plug into a radio system that allow team members to easily communicate while in the noisy pit lane environment. Most of these kits feature full duplex communication, meaning that you can be completely hands free as you won't need to push a button to talk to your fellow team members.
If your chosen championship regulations allow, you may be able to benefit from Pit-to-car radio. This allows important messages to be sent directly to the driver such as when to pit, stage conditions, incidents on the stage or information about the car ahead or behind.
Examples includes the Stilo Verbacom system and ZeroNoise Pit-Link that makes use of a Bluetooth system paired to a mobile phone. This allows the driver and a member of the pit crew to communicate freely during the course of the race and can be vital to executing the perfect race winning strategy.
In Conclusion
Whether you compete in rallying or circuit racing, communication is an essential part of Motorsport. So why not make life easier with a professional intercom or pit lane communication system? If you have any questions on any of the topics mentioned above, be sure to have a chat with our experienced sales team who will be able offer helpful advice on the right intercom system or adaptor for your needs.
---
Enjoyed this? Read more of our latest news:
Where To Next?
Looking for the latest motorsport parts and accessories? Check out our wide range from top brands.
Come and visit us at our store, showroom and fitting centre in Wrexham.
Want to know more about our story? Learn about who we are and why we've been driven by passion for over 50 years.
Interested in everything we do? Catch up on all the latest Demon Tweeks news.