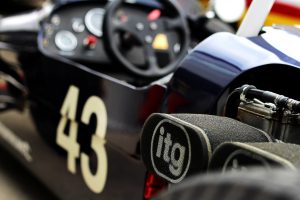 Air, or to be more precise oxygen, is an essential part of the combustion process and having enough airflow at maximum possible air pressure will achieve the best possible power output. Delivering this optimum depends on the constituent parts of the system. Firstly, the shape and size of the air filter/box governs how much air can be taken into the engine. If the inlet is too small, the engine will be 'starved' of air and therefore produce less power.
The air filter needs to flow well but also protect the engine. A restrictive filter will mean the flow of oxygen is hindered. Too little restriction and you run the risk of foreign bodies entering the engine, which can cause irreparable damage to the pistons and other engine internals. For this reason, filter manufacturers work on the optimum airflow of the air filter but also on its capability to retain debris.
Choosing an air filter for motorsport can be rather bewildering with so many choices of brand and types of filter. This blog will help determine the best type for your application step by step
Rules are rules
The first thing to check is the fancy carbon airbox you are drooling over it is not excluded by the regulations for your intended competition. If you must run the standard airbox there are still options below if filtering material is free.
Factory fitted air filter box options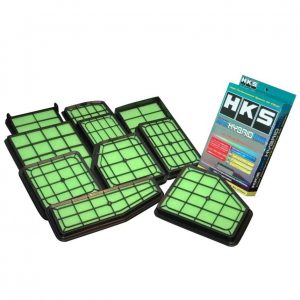 If the rules dictate you keep the factory fitted air filter box, there are many options that flow better than the stock paper filter. The two types are oiled cotton gauze or multiple layer foam. These materials pass air much better for better breathing but still effectively trap dirt that will cause engine damage. If you imagine your nose is the engine, breathing through a piece of cotton or foam will be much easier than a piece of paper, hence you can appreciate how much easier the air will flow into the intake. The choice between cotton gauze or foam is down to personal preference both will improve airflow. Cotton gauze is more robust than foam so may last slightly longer than foam, on the downside the ridges can make it slightly harder to clean. Foam is easier to clean but more likely to be damaged by rough handling. Both types will hold more dirt than a paper filter before it will cause a drop off in airflow. The brands of replacement element are as follows :
Foam Pipercross ITG HKS
If rules allow, a ducting pipe feeding colder denser air to the airbox entry will make the best of the intake charge,
The extra airflow will be compensated for by most injection systems if the car is carburettor type a jetting check will be beneficial if allowed by the rules.
Carburettor/throttle bodies Air Filter options
Classic cars with carburettors are normally fitted with restrictive air box assemblies from the factory, ( part of the restriction is a side effect of reducing the induction noise  ) This is fine for standard untuned engines but not for competition engines. These can also be quite heavy and prevent easy access to components for tuning/maintenance. A change of carburettor will also mean the standard air box will no longer fit. To choose a suitable filter the first step is to determine the make and model of the carburettor. Weber for instance make over fifty different models of the carburettor. This can be determined by looking at the carb most have to identify markings somewhere on the body. Check near the inlet mounting face or on the air filter face. If the carb is factory fitted a quick web search should find the details. The next step is to determine how much space there is for a filter, and if multiple carbs are fitted the spacing between each. The normal method for twin side-draughts is to measure the distance from the right-hand edge of the second choke to the same on the third choke. A single carb can have a large filter, but twin or triple close coupled carbs may require one filter assembly to allow a large filter to be used without them touching together. If the carb or carbs have ram pipes fitted, a clearance of at least 19mm / ¾" should be allowed against the filter outer edge to prevent restriction.
The choices for single carburettor fitments are below
K&N bolt on filters These are mostly stainless-steel top and bottom cotton gauze filters in small oval, large oval, round, or rectangle for applications where they bolt to the carb face. These are listed by the carburettor model or can be ordered blank to cut your own fixing. They also offer rubber neck where the filter needs to clamp to the carb protruding neck. These can be ordered by carb type or neck size.
Pipercross bolt on filters The majority of single carb foam filters from Pipercross are carb specific baseplate ( or blank ) and a choice of filters that clip to the baseplate. The filters are either flat / box style or domed for use where clearance is lacking. Pipercross also offer round complete bolt on filters for SU carburettors. If the carb has protruding round inlet they also offer a range of clamp on filters.
 ITG bolt on filters ITG offer two sizes of foam filters for single carbs in the same format as Pipercross, that is a carb specific baseplate and a choice of flat or domed filter that again clips to the baseplate. Carbs with an inlet stub can use Maxogen clamp on filters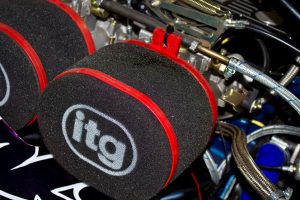 Ram Pipe/trumpet socks If the carburettor has ram pipes/trumpets then filter socks can be used but only where there is no space available for bolt on air filters. They will allow the protection of a filter, but the breathing and power will be much reduced compared with any of the above filters. The filters have much less surface area and negate a lot of the flow improvement from the ram pipe as the air is unable to circulate properly around the periphery of the radiused edge. A last resort if you are unable to fit any of the above.
The choices for twin or multiple carburettor fitments are as follows :
K&N Bolt on filters The K&N small oval filters have enough clearance to sit side by side on side draught Weber's, Dell 'Orto's and similar fitting after market throttle bodies such as OMEX and Weber Alpha etc. The Challenger rectangle filters also fit side by side. K&N also offer an airbox that can be used for twin carburettor applications. The baseplate is blank so can be cut to suit almost any application. This is very popular for auto grass and oval racing and is often used with a foam pre filter in very dusty conditions.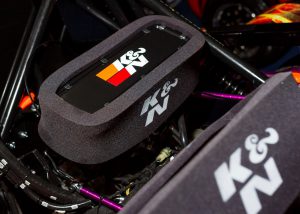 Pipercross bolt on air filters The twin carb Pipercross filters follow the same format as the single carb variants in having a baseplate and a clip-on filter, domed or flat. Pipercross offer the PX500 for twin single choke such as SU's and motorcycle carb conversions and the PX600 for twin Weber Dcoe's and similar carbs, and after-market throttle bodies. Pipercross also offer an enclosed airbox for twin carb/throttle body applications. This uses the PX600 baseplate to secure in place. The filter box is fed from the left or right ( viewed with the baseplate at the back ). This can be ordered with two different inlet sizes and with or without a built-in cone filter. This airbox has the advantage that it can be fed with cold air remotely ideal for hot cramped engine bays ( e.g. rear & mid-engine ) This airbox is also quieter if the engine intake is exposed, useful if you must comply with stringent noise regulations.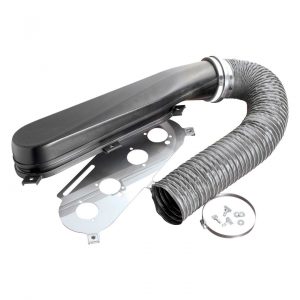 ITG bolt on filters ITG offer the same design of filter for twin or multiple carbs as for single carbs. The JC40 range is intended for twin single choke carbs or four bike carbs. The JC50 is suitable for twin Weber's or similar throttle bodies. The longer JC55 is intended for straight six single choke applications or JC100 for twin choke straight six or V12 applications. Specialist filters for DFV are the JC70 and for Weber IDA equipped Porsche 911 JC90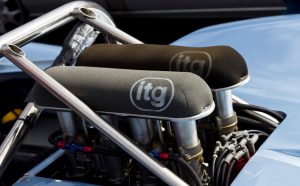 Reverie bolt on filters Reverie offer a selection of carbon fibre air boxes that can be used with Pipercross or ITG filters or remote cone filters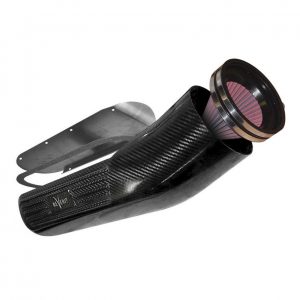 Fuel injected car filter options
Any petrol car after 1993 is almost certainly fuel injected with the odd exception. There are many options to improve air flow on these petrol injected cars as well as Diesels. If the car is standard injection layout the simplest solution is to use a car specific induction kit. These can be a simple cone through to a fancy carbon box with cold air ducting. An induction kit will improve airflow to help power, but fuelling mods may be required to get the best from this extra airflow. The detail below allows you to make the best choice.
K&N induction kits The 57i kit consists of a cone filter and in most cases a cold air feed. Great value and easy to fit. The only downside the filter can be affected by heat on cars with very hot engine bay.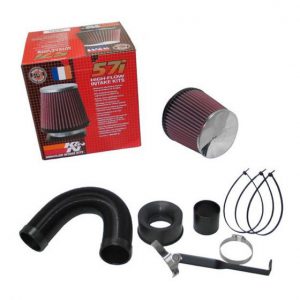 The 57S replaces the original airbox with a fully enclosed airbox and K&N high flow filter. The enclosed airbox means cool air is retained and fed to the engine without external heat sources affecting inlet. Better for power than a 57i but more expensive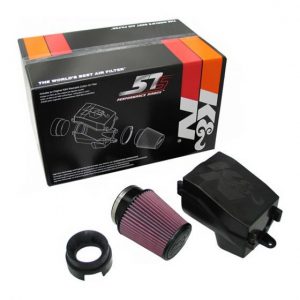 The K&N Apollo kit is a cone filter fitted in cylindrical casing with a cold air feed, this is much less affected by heat than the 57i kit. Great for power but only limited fitments.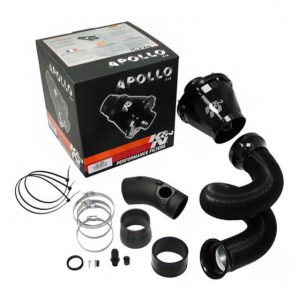 The K&N generation 2 is very similar to the 57i kit but the cone filter comes with a car specific heat shroud where needed to isolate the filter from the engine bay heat.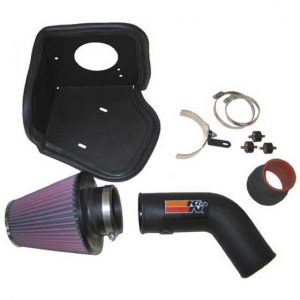 The Typhoon kit comes with X Stream cone filter and larger bore alloy induction pipe to improve airflow over the standard pipe and move the filter away from heat, some applications have a heat shield if required. Power increases 5-15 bhp depending on the application.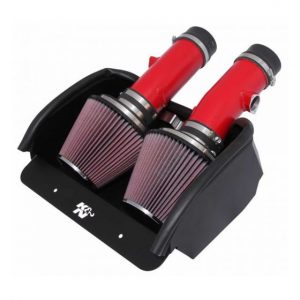 Pipercross induction kits Pipercross offer the Performance Induction Kit that is very similar to the above K&N 57i kit, this includes a foam cone filter and any adapters required, and in some applications a heat shield. Great value but can be affected by engine bay heat on applications with high engine bay temperature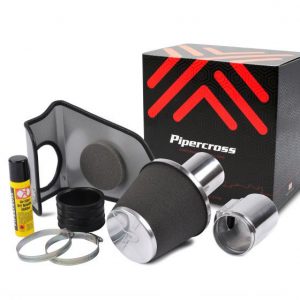 Pipercross also offer an excellent Viper kit that has an enclosed Carbon Fibre box fed with cold air from the front of the car. Car specific for easy bolt on. This kit fitted to a Saxo VTS gives 10 BHP and 15BHP on a 2001 Subaru Impreza WRX.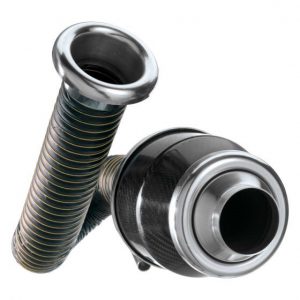 ITG induction kits ITG offer the Maxogen induction kit which includes in most applications cold air fed filter box for greatly improved airflow, where the box is not included the filter is well away from the engine bay heat (such as Fiesta 1.0 Ecoboost and 1.5 ST)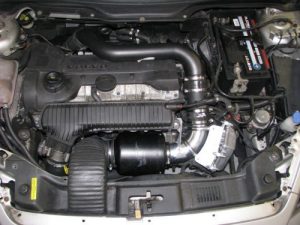 Green Induction Kits Green offer the direct induction kit which is very similar to the above K&N 57i, and the Powerflow induction kit that has a cone filter with a reverse inner cone for extra surface area to aid breathing capacity.
Forge induction kits Forge offer a varied selection of induction kits, some with enclosed cold air fed boxes and some with a cone filter but away from the engine bay heat. Many of the kits come with a larger less restrictive silicone or carbon fibre air intake pipe.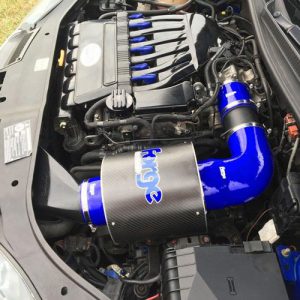 HKS induction kits HKS kits are mostly for Japanese cars, the entry level kit is the Super Power Flow, this is a dry foam 3-layer filter to improve breathing and sound. The filter has a built in radiused funnel to give the best airflow into the intake. Best used with a cold air feed if possible. The next option is the Racing Suction Reloaded is a two-layer oiled foam filter with an improved induction pipe to remove any restrictions in the standard pipework, again worth adding a cold air feed if possible.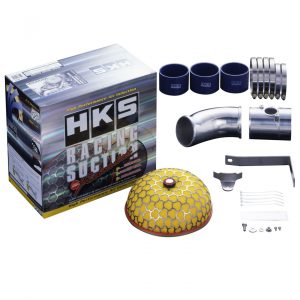 Revo Induction Kits Revo offer mostly Volkswagen Audi group cars and some recent Ford models. Comprehensive kits with high flow foam filters and cold air ducting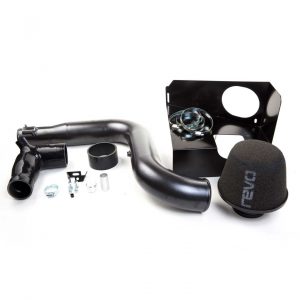 Custom Options for heavily modified intakes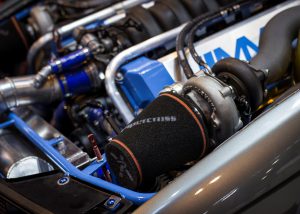 A competition car that has had the intake modified or has an engine transplant is not very likely to take a replacement induction kit designed for a standard production car. There are still many options for these cars.
Round intake to airflow meter or turbo: A round intake filter can be either rubber neck or alloy neck. A rubber neck filter will have an inside diameter to match the outer diameter of the stub on the airflow meter. The alloy neck filter will normally need a rubber or silicone joiner to allow fitment. These are sized by the outside diameter of the neck. An alloy neck filter is good for direct turbo fitment as it is much less likely to be affected by the high temperatures.  Care should be taken to ensure the filter has a higher enough BHP rating to suit the application going too big will not cause an issue if you have the room, but too small will restrict breathing. Interestingly a turbocharged or supercharged car can use a filter smaller than the BHP rating as these engines bring in air then compress the intake charge to create the extra power, useful to know if there is not much space for the filter. A rubber neck filter can be a cone/cylinder or even oval tend to be the exposed filter type, the alloy next tends to be round but, in many sizes, useful hyperlinks are below
Exposed Rubber neck filters:  K&N Pipercross Green
Exposed alloy neck filters: ITG  Pipercross
Cold Air feed alloy neck filters: K&N Apollo & Orion Pipercross Viper Venom & C7000  ITG Maxogen BMC
Some airflow meters have a bolt face rather than a round neck that means a clamp on filter has nothing to fit to, there are adapters listed for some applications.
If the bolt pattern is not listed a single bolt on carb type filter with a blank baseplate (listed above ) can be cut out to suit ideally with a cold air feed.
Air Filter Accessories
Breathers: fitting a high flow filter can sometimes mean that breather pipes no longer have anywhere to go to. A breather filter can be fitted on the end of the pipe or the whole pipe removed and the breather fitted direct to where the pipe originally started from, typically the cam/rocker cover. A neater solution especially if the engine vents oil as well as fumes is a combined breather/catch tank or a standard catch tank and add a breather filter to one of the outlets.
Ram Pipes Ram pipes smooth the flow of air into the carburettor and remove edges that hinder flow. These are offered by K&N, Pipercross, ITG and our own brand for SU's  ITG also offer alloy intake trumpet spinning's for custom applications.
Pre-Filters If the vehicle equipped with K&N's and is to be used in very muddy or dusty conditions it is good policy to use a foam pre filter
Service Kits Pre oiled filters will collect dirt and breathing will reduce over time. A service kit will allow the performance to be restored. These kits come with cleaner to degrease and take away the dirt and old filter oil. The service kit will include new filter oil to bring the filter back to as new.
Cold Air Feeds cold air is denser so will contain more oxygen which helps power, so ducts combined with a duct pipe or cold air feed kit is always beneficial.
In summary, improving the airflow into your engine is one of the simpler and easy to fit tuning methods. There are fitments for just about any internal combustion engine vehicle. The extra airflow will give further benefits if attention is made to the fuelling system. Carbs may benefit from bigger jets or chokes, and in some cases a more powerful feed pump.  Many Petrol injected cars can have the fuelling adjusted via an adjustable regulator, which adjusts the fuel pressure. A lot of recent production cars petrol or Diesel can be tuned by a chip or remapping. A good accessory to monitor your tuning is an air fuel ratio gauge. If you are not sure which of the above to use, please feel free to call or e-mail our sales team and they will be happy to run through your options.