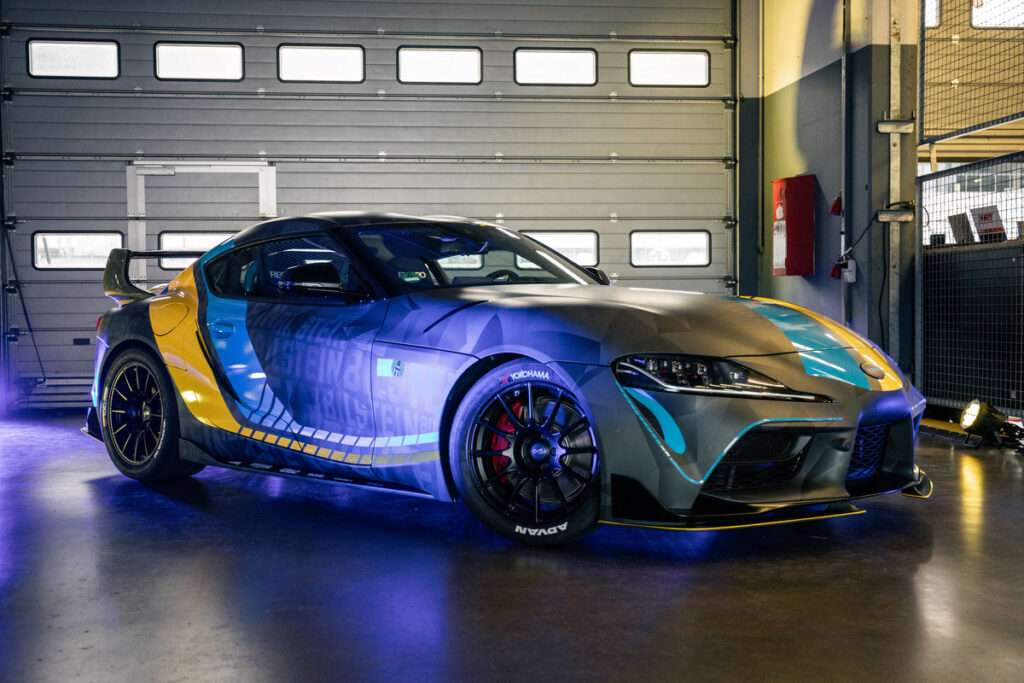 When the Bilstein brand was founded back in 1873 very few could have predicted the impact and influence that the company would have on the automobile sector over the course of the next 150 years.
Fast forward to today and Bilstein are arguably the biggest name in automotive suspension, developing products for the fast road and racing sectors, including the provision of OE parts for the biggest names in motoring like Aston Martin, Mercedes-Benz, BMW, Audi, Ford and Jaguar to name just a few.
Who are Bilstein?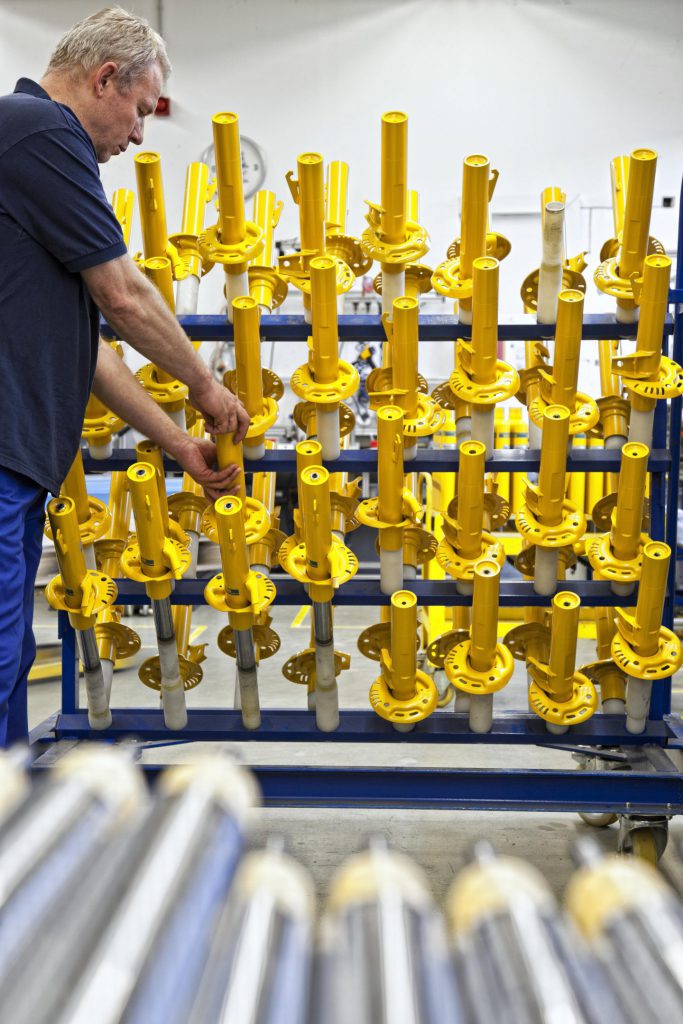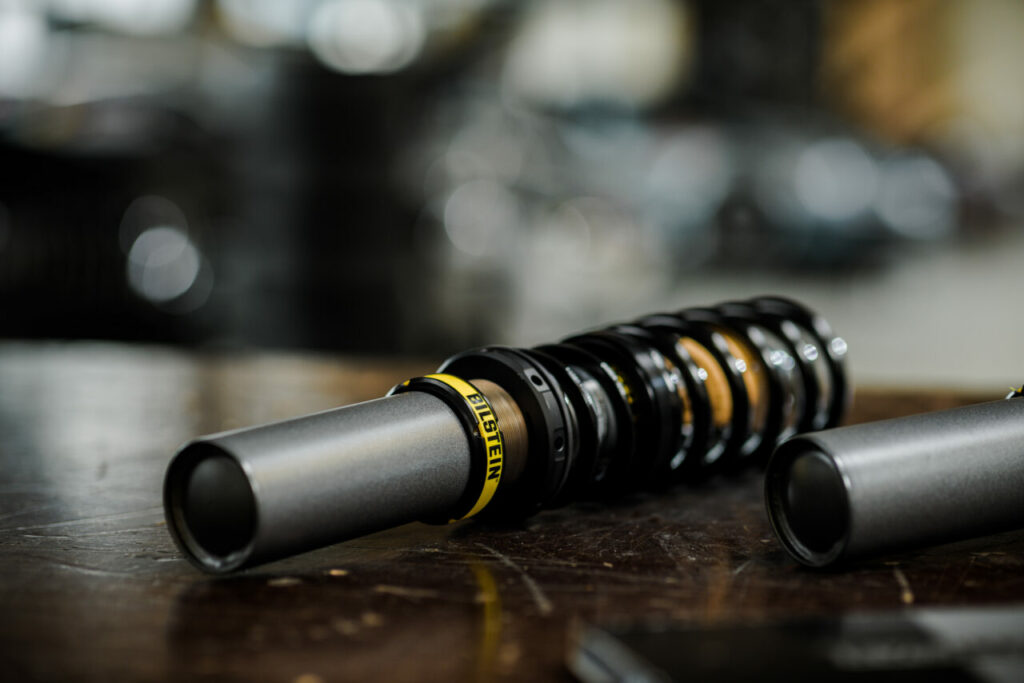 Starting out as a brand who made window fittings in Germany, Bilstein didn't actually have an involvement in the automotive sector until the late-1920s when they supplied the first chrome-plated bumper and a range of jacks under the leadership of Hans Bilstein who had taken over leadership over the company from his father, August.
Modern suspension is more advanced than anyone could've imagined when Bilstein first entered the market. Their first monotube gas pressure shock absorber wasn't released until 1957, but soon became the blueprint for successful suspension parts around the world. The Bugatti Veyron, Lamborghini Gallardo and Porsche 911 have all been fitted with Bilstein shocks which is the biggest nod of approval a brand can have when you think about it!
Bilstein in Motorsport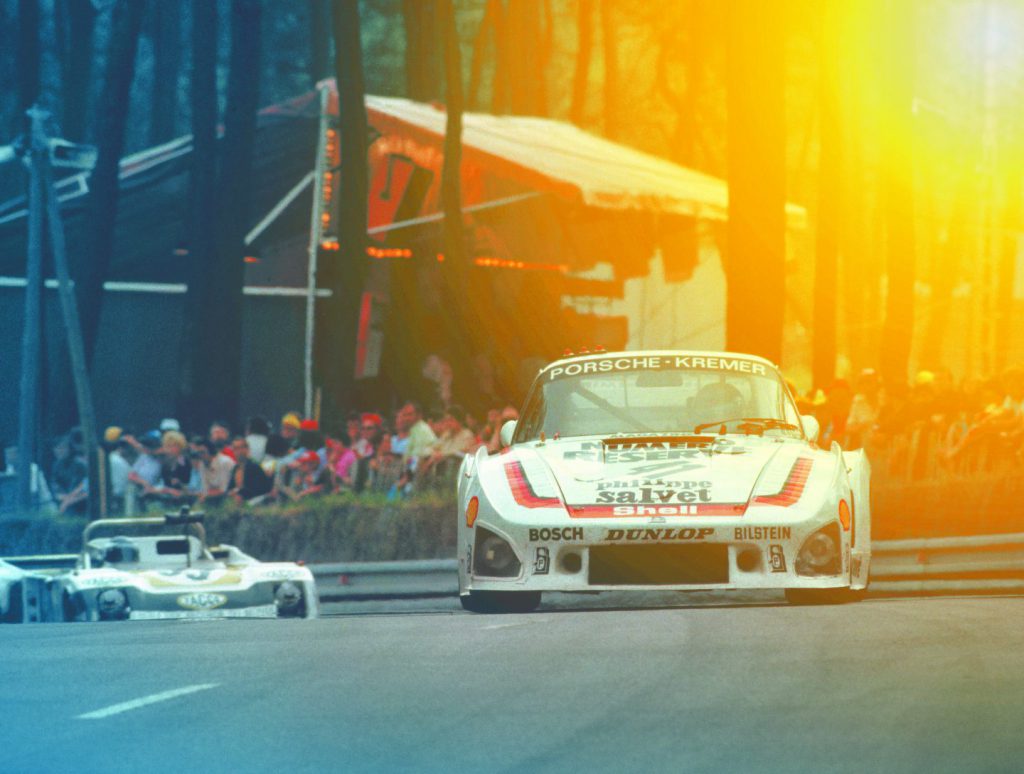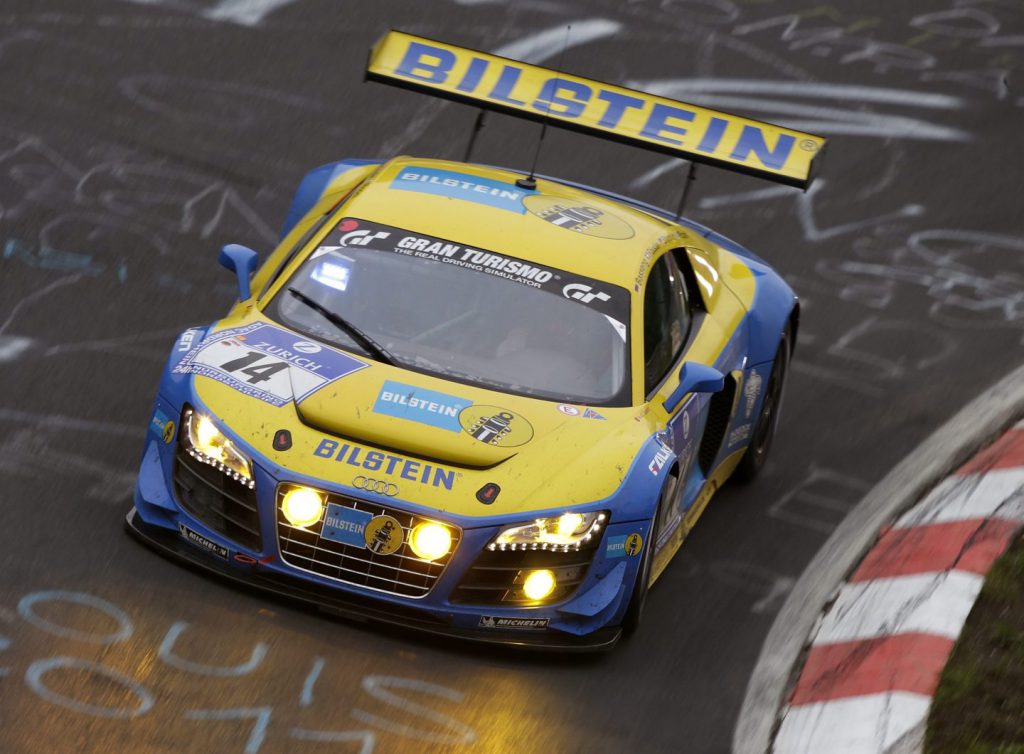 The introduction of Bilstein shocks onto such high performance cars isn't a new thing. Sure, being used by the likes of Bugatti and Lamborghini is great for the Bilstein brand's reputation, but they were already making waves on the track way before they hit the fast road market thereby prompting the investment from the big guns.
For more than 50 years Bilstein have been involved in motorsport, providing teams in the World Rally Championship, German Touring Cars (DTM) and Endurance racing championships with the very best in performance suspension parts.
Developed at the Nurburgring to give their products the ultimate test, Bilstein dampers and suspension parts are tested to the extremes with that technology taken to professional racing championships and, eventually, filtering down to the roads.
Bilstein on the road

Development at the Nurburgring and in professional motorsport means the products that filter their way down to the road market are of an incredibly high standard. No longer are parts developed on the road and then modified to suit the track, it's the other way around, with all Bilstein suspension parts meeting the strict TUV approvals.
As we've already touched upon, Bilstein shock absorbers, dampers and coilovers have all been fitted as OE parts on some of the most instantly recognisable and legendary cars to have taken to the roads; including many high performance models like the BMW M-cars, Land Rover's and even top-spec Subaru Impreza, WRX, and Legacy models.
The Bilstein suspension range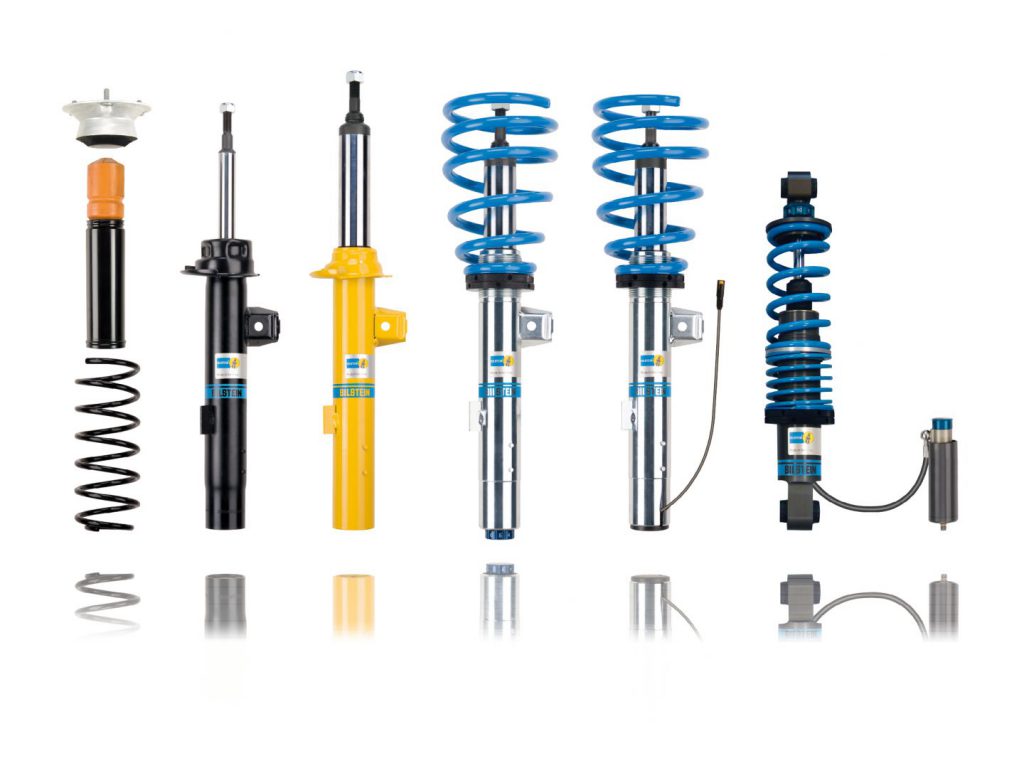 From rally legends to 1,000bhp supercars and everything in between; the Bilstein product range is seen as one of the very best on the market today. Whatever you're looking for in terms of suspension parts, Bilstein don't just offer it – they offer the best, which is why their parts are available as OE, replacement OE and performance upgrades, too.
Bilstein replacement dampers
Whatever brand of dampers your car came with, direct from the factory, Bilstein make perfect replacements. Bilstein B4 OE replacement dampers are direct replacements for tired or worn the factory components meaning you can essentially hit reset and go back to a completely fresh set of dampers if they start to wear out and affect your performance in the corners or under braking.
Bilstein performance dampers
When it comes to performance upgrades, Bilstein have every box covered there, too. Their big selling point is their range of monotube dampers which offer quicker response times, are less prone to heat fade, have greater sensitivity to low-speed movement and provide more precise control.
Offering an excellent balance between handling and comfort, Bilstein dampers are available in two different lengths. Firstly, you have the standard length Bilstein B6 which are for standard to mild lowering springs and work impeccably with the Eibach Pro-Kit. Then you have the short-stroke option, the Bilstein B8 which are specifically designed for lowering springs like the Eibach Sportline and out-perform standard height dampers which wear more quickly because they never fully extend and, as such, are at constant tension.
Bilstein B12 suspension kits
The Bilstein B12 suspension kit is an ideal option for a driver looking for the perfect blend of performance and comfort. Offering comfortable, but noticeable handling improvements, the B12 suspension kit is available in Pro-Kit or Sportline form and combines either Bilstein B6 Sport or B8 Sprint dampers with Eibach lowering springs reducing body roll and providing instant improvement in performance.
The Sportline model offers sportier handling while the Pro-Kit provides OE-standard comfort with enhanced handling.
Road and Clubsport coilovers from Bilstein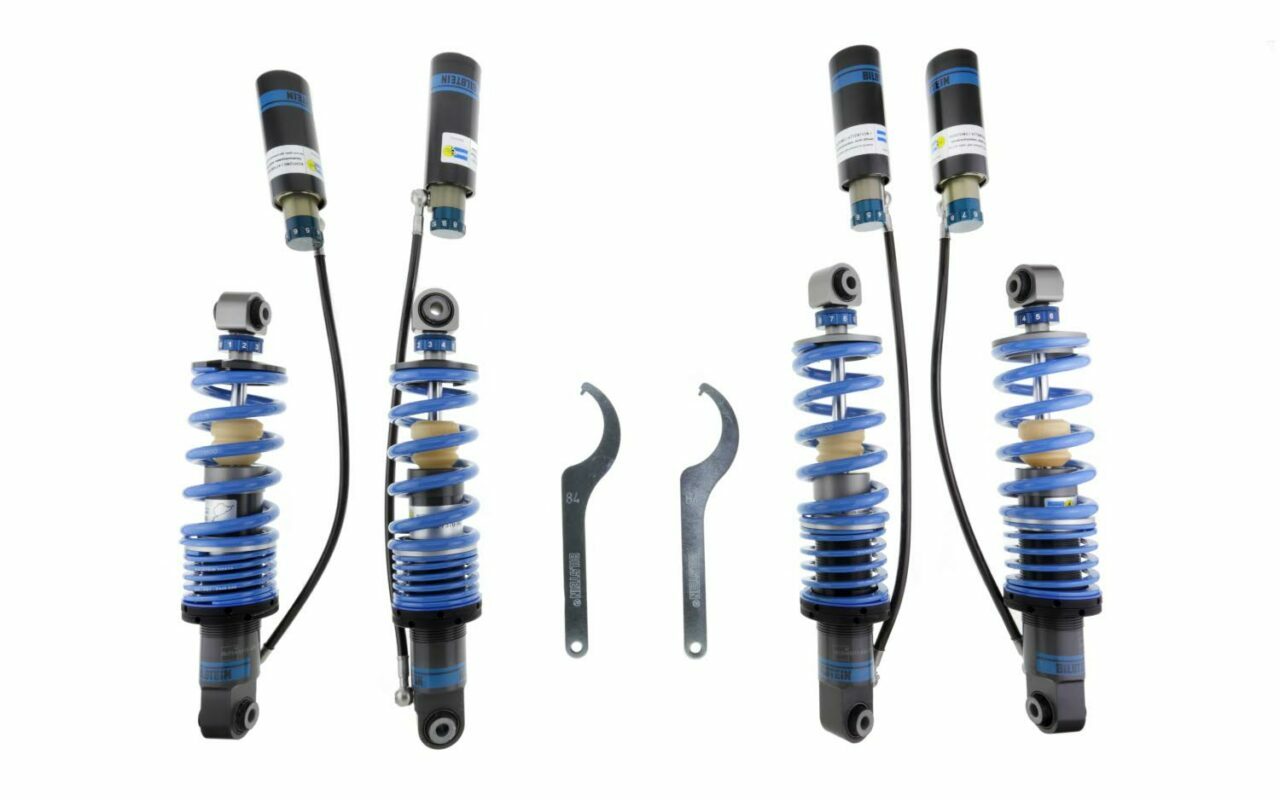 For a lot of road drivers looking to make improvements, a coilover kit is often the go-to. Bilstein offer a choice of either fixed rate or adjustable damping coilovers which can make instant improvements to the way a car handles. If you prefer a fixed rate style then the Bilstein B14 coilover kit or Evo S is for you, while the Bilstein B16 coilover kit or Evo T1 should be the choice for adjustable damping.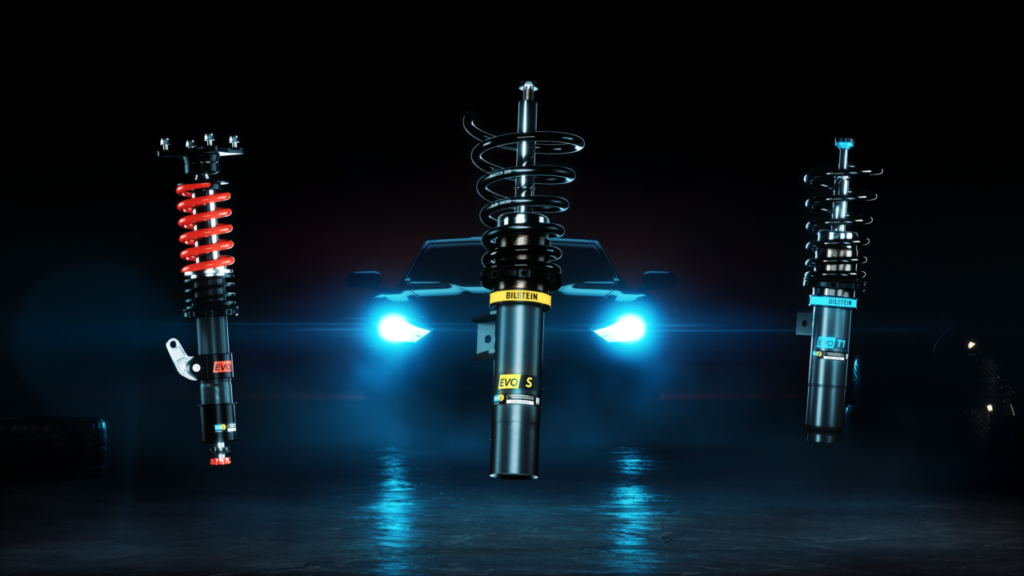 Both are great options and highly effective in improving handling, cornering and all-round performance so it really is all down to your own personal preference – but don't forget we have a team of experts in-house at Demon Tweeks who are on-hand to provide advice and assistance should you need it.
If you're thinking of upgrading your road legal track day car then a set of Bilstein Clubsport coilovers will give you the benefits of adjustable coilovers that work just as well on the road as they do on the track. However, if you want all out track/race coilovers then the Bilstein Evo R is the sensible choice, you'll need to contact us about those as they're ultra configurable and built to order.
Another style of Bilstein coilover kit is their Damptronic range. Compatible with OE and performance dampers, these kits are compatible with factory electronic damping for some makes and models, and simply plug into the system and offer simple adjustments as and when required at the touch of a button.
Bilstein air suspension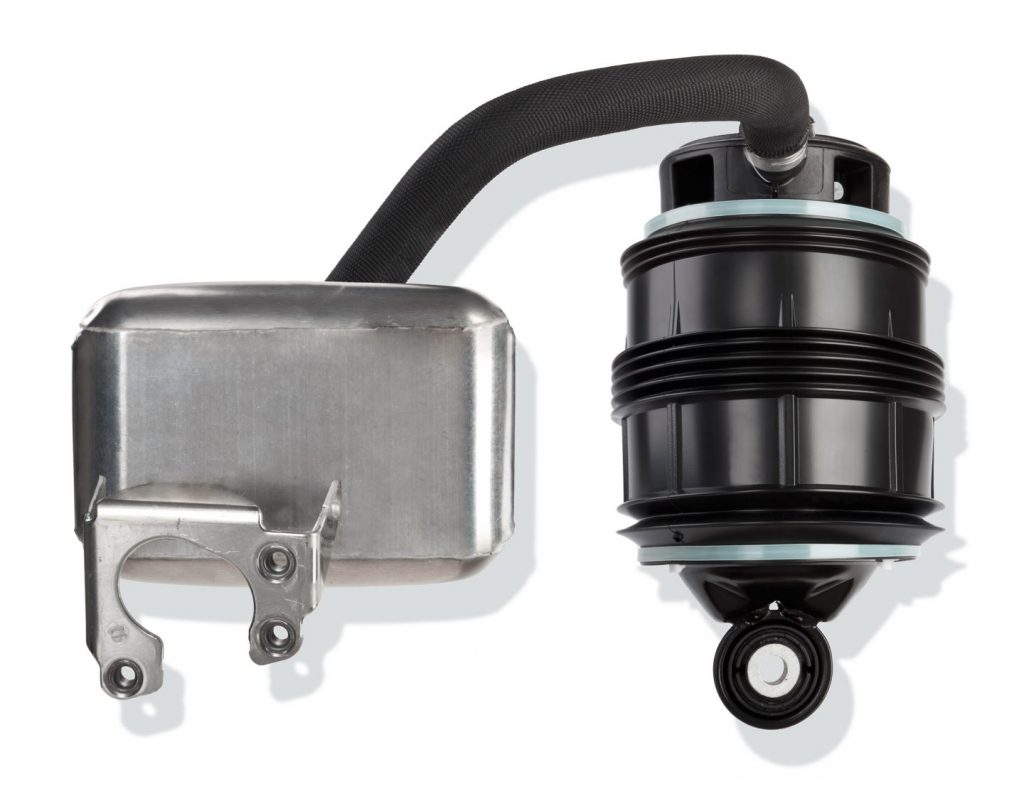 If your car is running air suspension, either from the factory or because that's your personal preference, Bilstein have you covered here, too (sensing a theme?) The Bilstein B3 and B4 air suspension modules comes as direct OE replacements for cars running air suspension and offer enhanced safety and durability compared to many manufacturer parts.

---
Enjoyed this? Read more of our latest news:
Where To Next?
Looking for the latest performance & tuning parts? Check out our wide range from top brands.
Come and visit us at our store, showroom and fitting centre in Wrexham.
Want to know more about our story? Learn about who we are and why we've been driven by passion for over 50 years.
Interested in everything we do? Catch up on all the latest Demon Tweeks news.