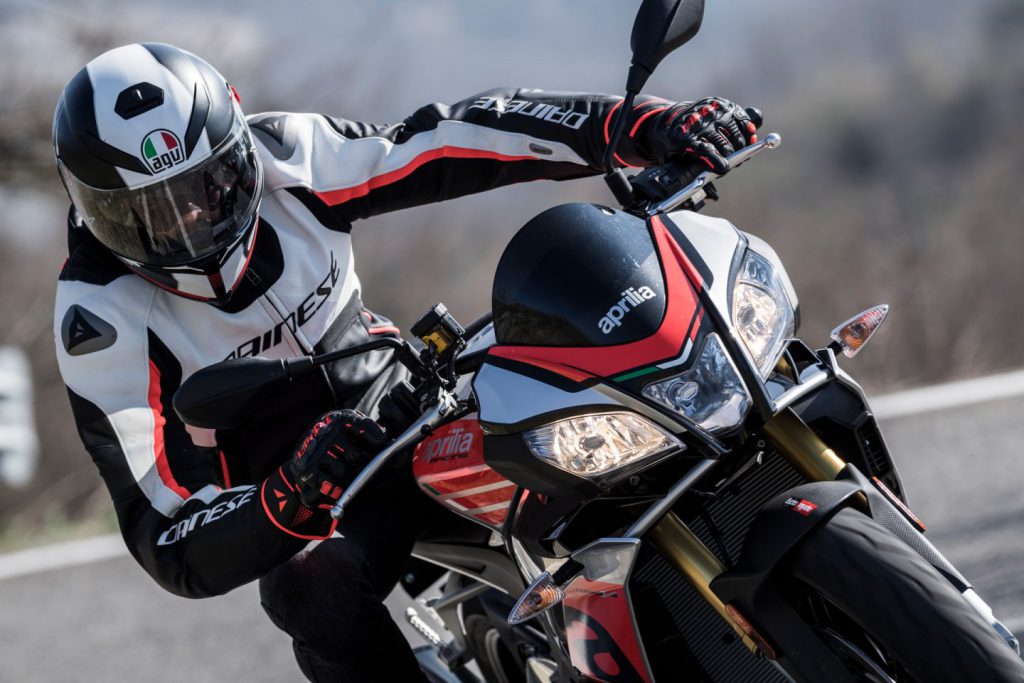 Throughout the world of motorcycling there are brands and products that you just know you can put your trust in to provide you with quality products that help you perform to the highest level whether you're a professional or track day racer, or someone who loves going for a ride at the weekend.
AGV is one of these companies, a brand who have been around since the 1940s and who continue to provide riders with the very best that money can buy.
In the latest of our brand profiles, we take a look at the now legendary Italian brand and what has helped AGV to become one of the biggest names in motorcycling – so much so, that one of the greatest riders – if not THE greatest rider – ever, won't look anywhere else.
Who are AGV, and what do they do?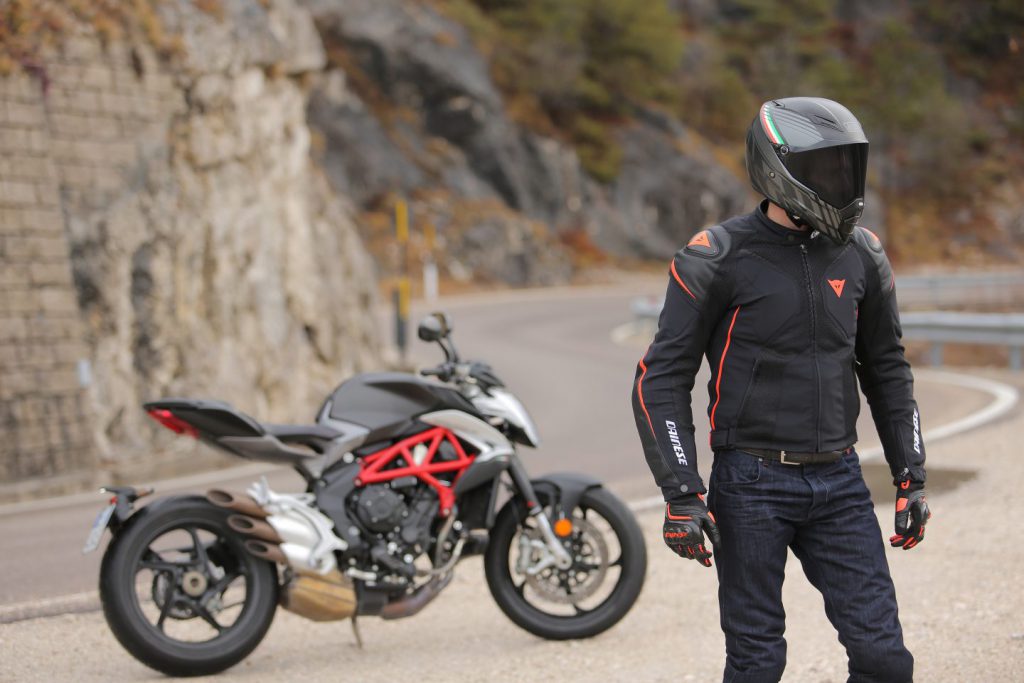 Founded in the town of Valenza in Italy in 1947 by Gino Amisano, the AGV brand takes its name from the initials of the founder and the Italian town where they were born. The company started life in the motorcycle sector by manufacturing a range of leather seats and saddles for various makes and models including Lambretta and Vespa, before moving into motorcycle helmets a year later.
With almost a decade of experience and development behind them, AGV helmets really started to come to prominence in 1954 when they started making a range of innovative fibreglass motorcycle helmets, a move which saw them ditch the development of seats and saddles to focus on providing high quality, lightweight, comfortable and supportive motorcycle helmets for riders and racers around the world.
Where are AGV helmets made?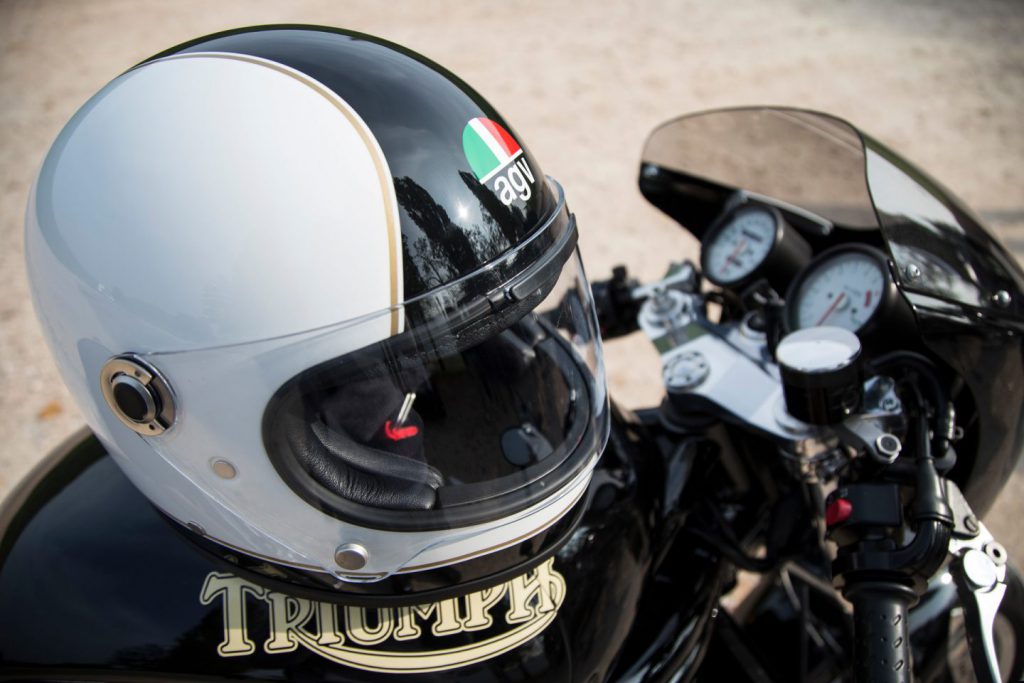 Despite being bought by Dainese in July 2007, AGV helmets are still made in Italy at the brand's headquarters in Colceresa, a small town in the Veneto region to the north east of the country with the company operating under their original name.
Open and full-face AGV helmets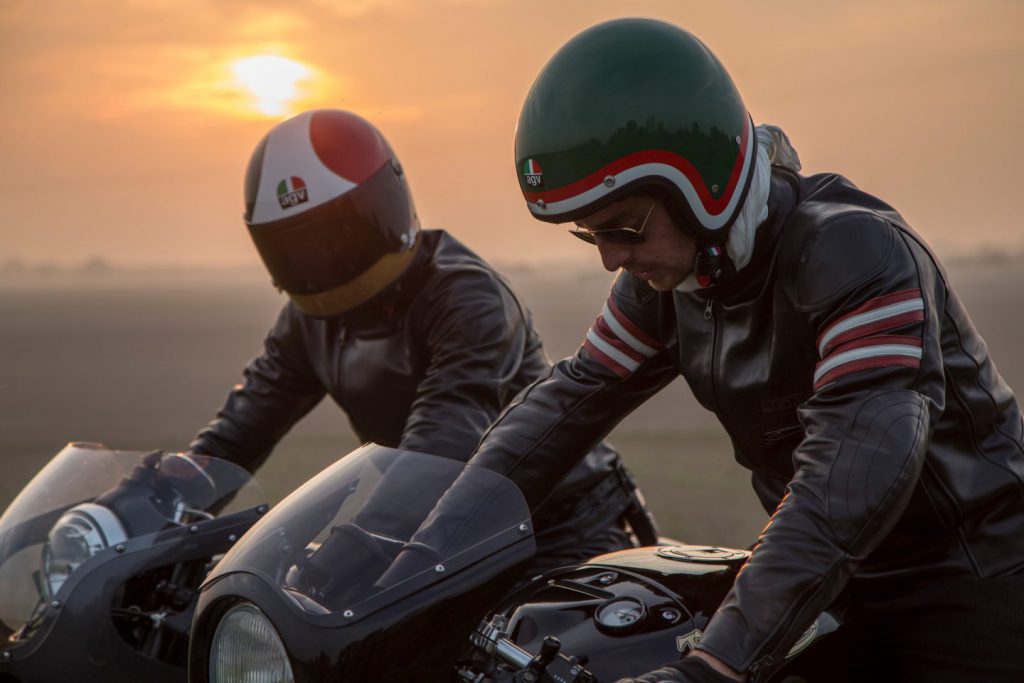 In the early years, like most manufacturers, AGV stuck to the tried and tested range of open face helmets that had served them so well. Open face helmets were now stronger and safer than ever before, even without the full protection that we now have today with full-face helmets.
To this day AGV lead the way in terms of their range of open face helmets with models such as the AGV K5 Jet and AGV Orbyt open face helmets meet high standards in terms of comfort and protection, with the Orbyt in particular designed for riders who wear glasses.
AGV were the first company to produce a full face helmet worn at the Italian Grand Prix at Imola in 1969. From that point onwards they have been revolutionising the industry with a range of stylish, practical and protective full face motorcycle helmets for use on the road and out on the track. Over the years, technologies have been passed down from racing to the road. Models such as the AGV K3 motorcycle helmet were originally developed as entry level helmets, but over the years have evolved into feature rich road helmets with a host of replicas from professional racers who made their own unique designs, like Valentino Rossi's AGV K3 Rossi Tartaruga replica helmet.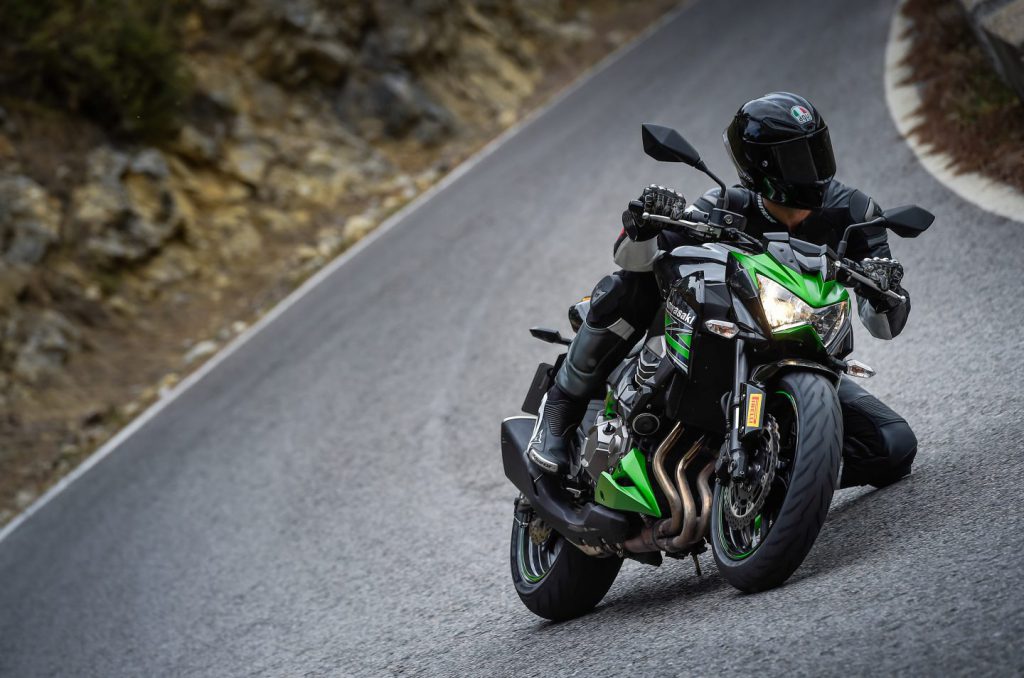 In more recent times models like the AGV Corsa-R motorcycle helmet as seen above and the AGV Pista GP-R motorcycle helmet have proven to be particularly popular. The racing inspired helmets have been transformed into full replica helmets so everyday riders and amateur racers can wear the same lids as their idols.
Which racers wear AGV helmets?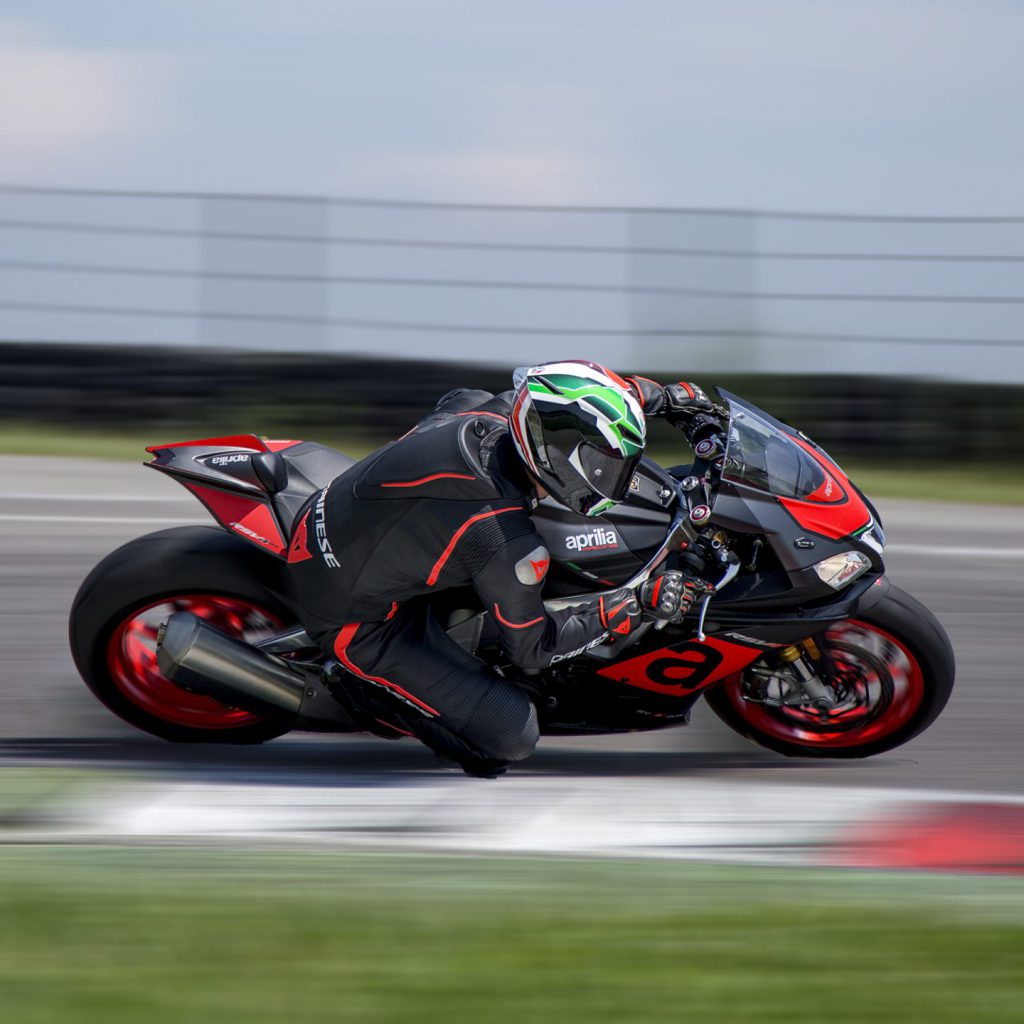 The reputation for quality and years of expertise have helped AGV to become one of the leading names in the ongoing development of motorcycle helmets. Using the latest innovations and materials to make them lighter and more comfortable than ever, AGV began sponsoring riders back in the early 1970s when their list of riders included the likes of Barry Sheene, Randy Mamola, Kenny Roberts and Angel Nieto.
Fast-forward to the present day and AGV helmets are worn by some of the world's biggest names including many members of the current MotoGP paddock. Perhaps the greatest rider of all time, Valentino Rossi, wears an AGV helmet – and is in fact the honorary president of the AGV company such has been his involvement in developing the current range of motorcycle helmets. Other present AGV-sponsored riders include Jack Miller, Franco Morbidelli, Pol Esparagaro and current Moto3 Champion Jorge Martin.
There are also a number of road racers and now retired racers who wear/have worn AGV helmets in their careers, including Guy Martin, James Hillier, Ivan Lintin, Troy Corser Marco Lucchinelli, Franco Uncini, Johnny Cecotto and the great 15-time World Champion Giacomo Agostini.
Special edition Valentino Rossi helmets from AGV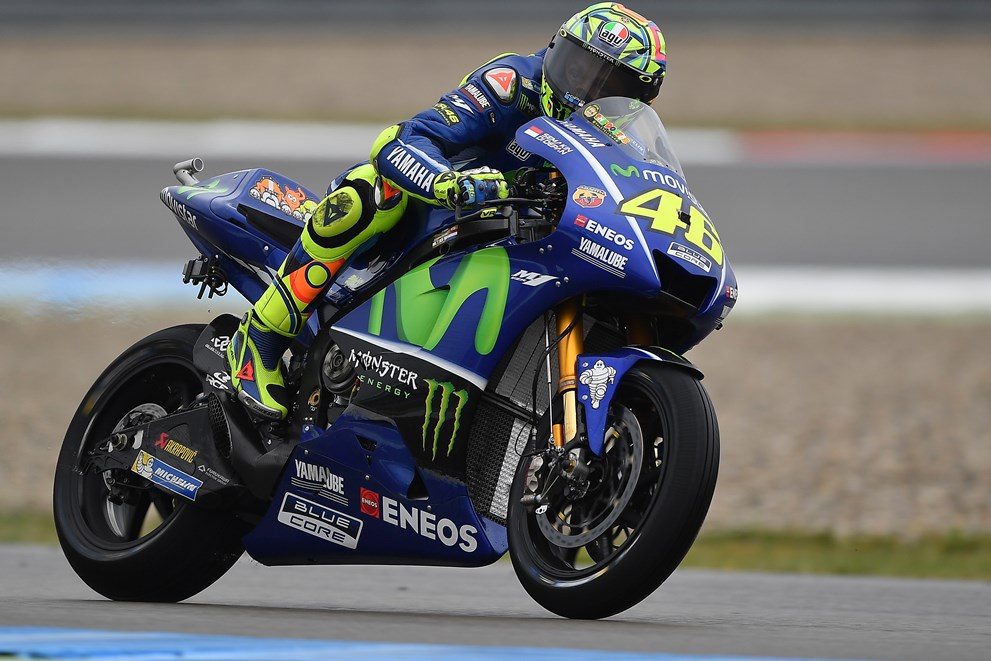 Valentino Rossi is worshipped the world over for his achievements in motorcycling and his all-round persona. Over the years the G.O.A.T. has built up a fanbase spanning all corners of the world with his own range of special edition AGV Valentino Rossi helmets made for one-off races, special occasions and winter testing.
The classic sun and moon design of the AGV Pista GP-R Rossi Soleluna 2018 replica motorcycle helmet remains one of the most iconic AGV helmets made available to the public, and comes complete with a built-in hydration system. The carbon fibre helmet has been tested to the highest safety standards and developed by Vale himself – which is possibly the best endorsement around!
Another popular replica Rossi helmet is the AGV K1 Rossi Gothic 46 replica motorcycle helmet. Also featuring the sun and moon design from the season, this particular helmet features a gothic-style VR46 down the rear of the lid, and comes with a clear visor and four densities of EPS for maximum protection.
The latest addition to the range of Rossi replica helmets from AGV is from his winter testing campaign. The AGV GP-R Rossi Winter Test 2019 replica motorcycle helmet is one of his most eye-catching to date. Made completely from carbon fibre with a double-D retention system and a 5-density EPS inner foam construction making it one of the most comfortable and protective.