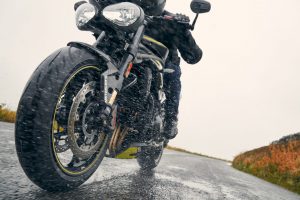 Now the clocks have gone back, Autumn has really kicked in with darker nights, darker mornings, shorter days, and weather that changes its mind every couple of hours let alone daily! Even so, this is no reason to reduce our riding time – all we need is the right gear, good bike prep and the correct tyres underneath us!
As we come into the Winter, we automatically think of preparing for leaky / frozen pipes, draughty windows, and doors and maybe this year – a Covid booster along with your Flu jab – but as bikers, instead of just concentrating on the bike maintenance and cleaning, we need to think about our tyres too!
We do occasionally get a few dry, sunny days during the winter months, but, as we all know, these are few and far between – meaning if we want to be riding all-year round, then we need to make sure we have good all-round rubber on our bikes! As the temperatures fall and the rain sets in, our sticky summer rubber just won't cut it. Generally, the "stickier" the tyre, the longer it will take to get up to temperature and the harder it will be to keep any temperature in the tyre and achieve any grip whatsoever.
If we ride all year round or want to commute stress free and not looking like Bambi on ice, then it is essential to fit tyres that are good in the wet, have a fast warm-up time and give us a good feel and reassuring handling. Any modern quality sports touring tyre will give this in the bucket load! A sports touring tyre has to offer the rider good grip and handling, work well from cold and through a wide variety of temperatures as well as offering good mileage to ensure it can last!
Sports-touring tyres are an increasingly popular option amongst a lot of riders – the modern-day miracle of the motorcycle tyre world!! Most modern-day motorcycles can easily cope with a European adventure, a blast down to your local bike meet, or a commute to work and we need a tyre to cope with it all!
Below is what we think is possibly the best collection of sports touring tyres available now to keep you moving through Autumn / Winter and into the Spring…
Metzeler Roadtec 01 SE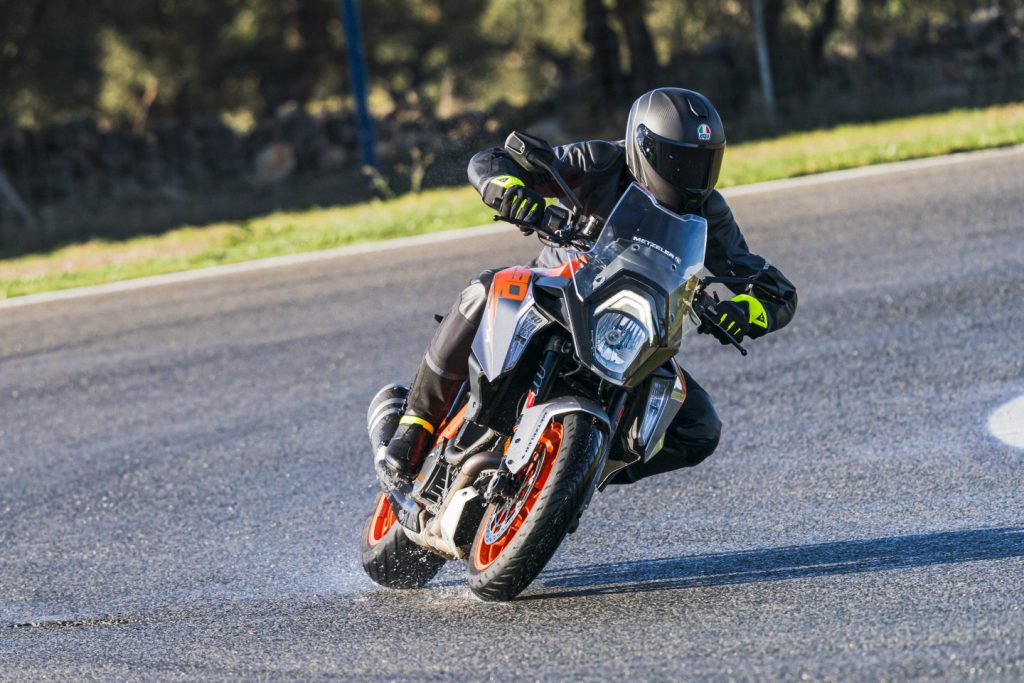 The Metzeler Roadtec 01 SE is an evolution of the multi award-winning Roadtec 01, which has sat top of the sports touring tyre category for some time… The Roadtec 01 SE airs on the sporty side of touring – enhancing handling and grip whether you ride a sports tourer, naked, or even sports bike. The tread pattern is instantly recognisable from the Roadtec 01, but new compounds and an increased land/sea ratio mean more "slick" rubber on the edges for better cornering and a sportier feel in the dry. Just like its predecessor, the Roadtec 01 SE's tread pattern gives excellent mechanical grip, water drainage – enhancing wet grip and grip on low friction surface to inspire confidence under acceleration, braking and cornering. Its shorter – yet larger contact patch reduces tyre wear, and its dual compound design is finely tuned structurally to promote stability, precision, and predictability – perfect traits for a laden sports touring bike! Available individually or as a tyre package.
Michelin Road 5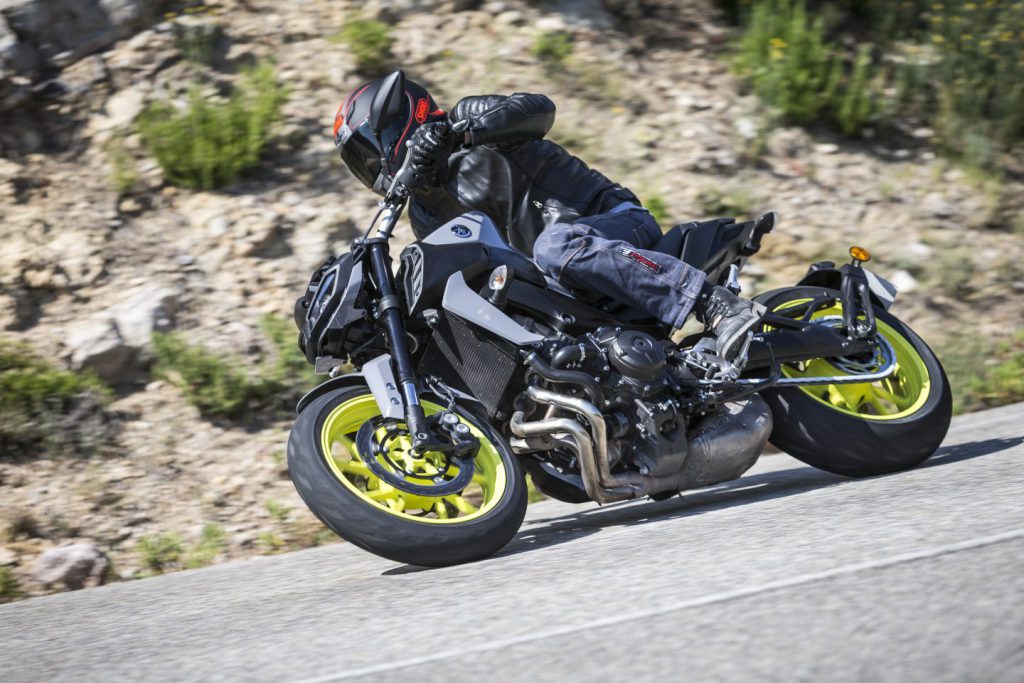 The Michelin Road 5 is the successor to Michelin Pilot Road 4 and even though it was released 3 years ago, still Michelin's latest sports touring tyre (although could we see a replacement soon?). It is aimed at riders used to changeable conditions – we could say riding in the UK qualifies for that?! The Road 5 id brimming with features – Its aim is to give the rider more confidence, no matter whether it is wet or dry – even when 50% worn! It uses the latest compounds and Michelin's 2CT and 2CT+ technologies along with siped tread to offer incredible wet grip without sacrificing performance in the dry. Patented ACT+ casing technology increases the contact patch to achieve increased straight line and cornering stability. A perfect choice for anyone wanting to munch the miles all year-round it is and available in a wide range of sizes to for all machines. Available individually or as a tyre package.
Dunlop Roadsmart III
The Dunlop Roadsmart 3's mission statement is "performance that's stronger for longer"! It features an innovative tread pattern, which enables the tyre to maintain its performance for longer. The Roadsmart 3 also has a unique interconnecting groove tread (IGT) which ensures the fast and efficient evacuation of water to maintain class-leading grip and handling, whilst it's multi tread compound delivers maximum grip and performance as well as delivering improved mileage to munch those miles! Excellent wet grip is catered for with a new tri-polymer blend compound, whilst a new front tyre carcass significantly reduces the steering input required and offers more precise handling – perfect for flicking through those mountain passes with ease! Available individually or as a tyre package.
Pirelli Angel GT II
Pirelli sports touring tyres have earned a reputation as being some of the best in the world and Pirelli are renowned as one of the world leaders in motorcycle tyre design and development. The Angel GT II is an extensive development of the incredibly successful Angel GT. Building on the Strengths of the original Angel GT, the Angel GT II offers: fantastic handling (in line with the Pirelli DNA used throughout their range), exceptional wear characteristics and long-lasting performance and outstanding wet grip thanks to is race derived tread pattern. It is also designed to work in conjunction with modern day electronic aids on new motorcycles for optimum performance and response. Whatever, or wherever you ride, the Angel GT II is guaranteed to keep you rubber side down and put a smile on your face! Available individually or as a tyre package.
Bridgestone T32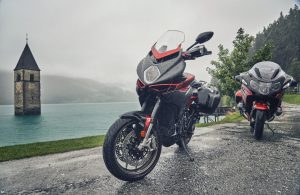 The Bridgestone T32 is Bridgestone's newest Sports Touring Flagship tyre and brings together everything that the category strives for. It gives exceptional handling, great mileage, and impeccable performance in both the wet and dry – what more could you ask for from a sports touring tyre? Bridgestone say that the T32 motorcycle tyre is one of Bridgestone's most advanced yet and sets a new benchmark for the sports touring category. It uses cutting edge materials and compounds and combines them with advanced casing and construction techniques to give you a sports touring tyre that performs like a sports tyre – not compromise on braking or handling whilst still giving the mileage and comfort we would expect, as well as excellent water drainage, thanks to its new Pulse Groove Tread pattern technology. Available as a tyre package here or buy individually here.
---
Enjoyed this? Read more of our latest news:
Where To Next?
Looking for the latest motorcycle parts and accessories? Check out our wide range from top brands.
Come and visit us at our store, showroom and fitting centre in Wrexham.
Want to know more about our story? Learn about who we are and why we've been driven by passion for over 50 years.
Interested in everything we do? Catch up on all the latest Demon Tweeks news.