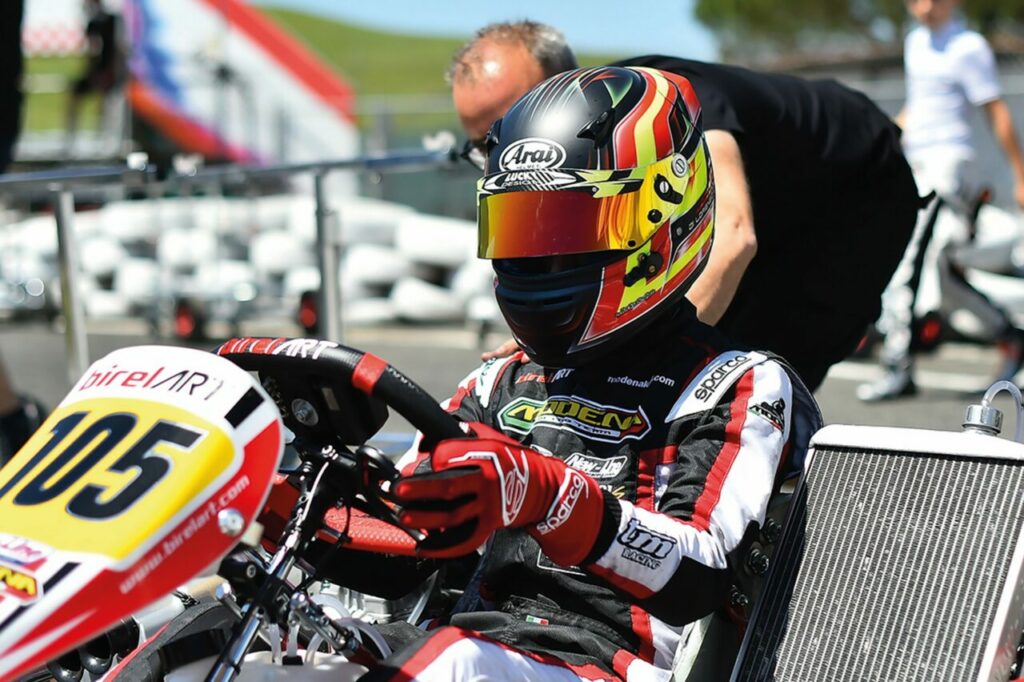 Karting is a great way of getting into motorsport. Not only is it cheaper than racing cars, it's also great fun. If you are thinking of delving into the realm of kart racing, the chances are that you will most likely have visited one of the many kart circuits around the country for some arrive and drive action with your friends. In this case you will have been provided with basic kartwear, a helmet and a set of, what can best be described as, glorified mechanics overalls.
If you are looking at seriously starting karting, you will need something with better protection than that. In this article we will guide you through all that you need to know about selecting the right kartwear for you and what you need to watch out for. So, let's begin.
The Regulations
Unlike the racewear requirements for cars, there is only one homologation requirement for karting and that is for the suit. The safety standard required for competing in Motorsport UK sanctioned events is a suit which carries a CIK homologation with the standard of 2001-1 or 2013-1 to level one or two. You will find that most of the kart suits on our website are Level 2 approved and are suitable for use in all forms of karting competition.
The only other items which are required for karting are boots and gloves, however these don't require a specific homologation. The only requirements are that gloves must be complete and not have open backs, while the boots must cover and provide support for the ankles.
Buying your first kart suit
Just like a race suit that you would expect to find for car racing, a kart suit is designed to protect the driver. However, whereas a race suit protects from the dangers of fire, the requirements for a kart suit are slightly different.
Design & Comfort
Due to the driver being more exposed in a kart, and also due to the lack of seat belts, a kart suit is designed to be abrasion resistant. This means that the materials used in their construction are much tougher than their race suit equivalents. Despite being manufactured for additional strength, kart suits are designed to be as light as possible, as weight is a crucial factor in how the kart handles.
As you tend to move about a lot more when driving a kart than you would strapped into a car, the driver's comfort and freedom of movement is an important factor of kart suit construction which is why many kart suits incorporate stretch panels in key areas. These allow for better flexibility, while highly breathable materials are used to provide better cooling for the driver.
Sizing
Just like fireproof race suits, kart suits are continentally sized and can range from a size 40 to a size 62. However, some suits are conventionally sized (small/medium/large etc.) As you can start karting when you are 8 years old, there are also kart suits designed specifically for children. These are sized as 120-160, which refers to the overall height of the child in centimetres. Each of these sizes have a small amount of leeway in how they fit certain parts of the body so at least you will have sufficient growing room!
As there are numerous different sizing types, each suit will show a size guide in the product description on our website, which is a handy way to make sure that you find the correct size for you. These guides display the available sizes with measurements for chest, waist, hips, height, and weight.
It is worth mentioning that the dimensions between brands can differ. So, a size 52 in an OMP kart suit would be slightly smaller than a 52 in an Alpinestars kart suit. So, pay particular attention to the individual sizing charts for your chosen brand.
As not everyone has the same body shape, there is always going to be an element of compromise when finding the right size for you. The two critical measurements to get right are the height and weight. If the suit which best fits your height does not match your weight requirements, you would need to choose a size which best accommodates both your height and weight.
With a suit which is too short in length or too small in width, this will cause tightness across the shoulders or around the middle when sitting in a race seat, reducing freedom of movement and making you feel uncomfortable.
If you are unable to find a size that will fit correctly, there is always the option to order a made-to-measure suit for an additional cost.
How to choose the right kart gloves
Having the best possible grip on the steering wheel is important, which is why a quality pair of karting gloves can make all the difference when it comes to providing both feel and safety.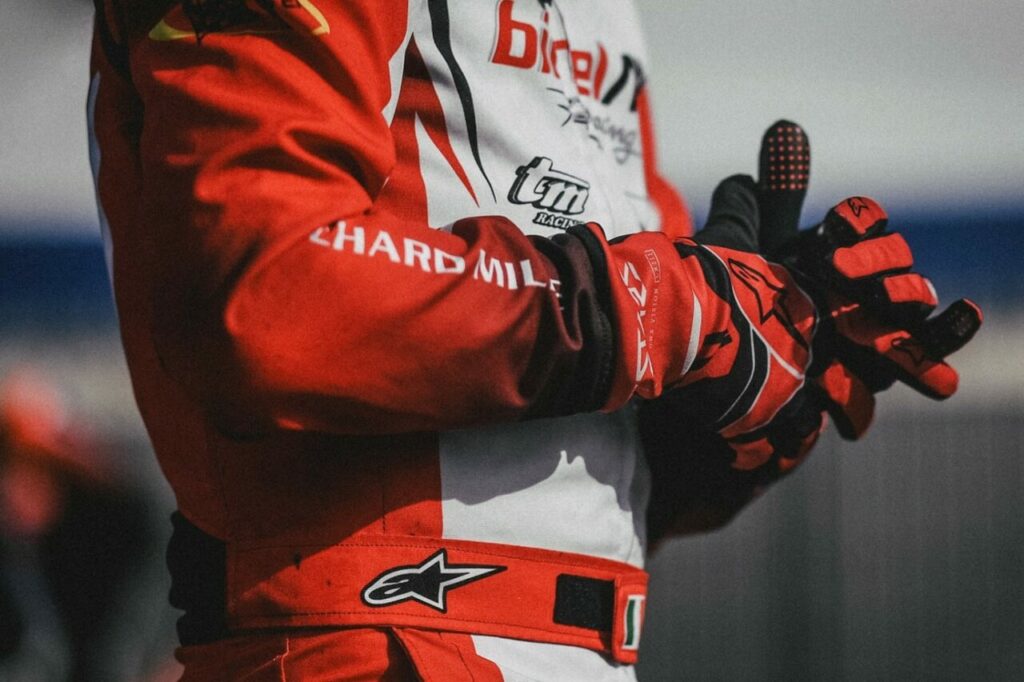 Design & Comfort
There are many similarities between karting gloves and their fireproof equivalents, namely the choice of internal or external seams for improved comfort via less pressure points. Others will be very similar in design to their race glove siblings, however, there are some key features which are unique to kart gloves.
The main point of difference is the addition of impact protection. As there is always the possibility of the driver being subject to an impact from another kart or with a barrier, some gloves feature additional padding on the top of the knuckles as well as on the palm area. This is particularly useful as your hands are the first thing that you put out to protect yourself, should you become separated from your kart.
Sizing
The correct way to measure your hand is to hold your hand out flat with the palm up and run a tape measure across the widest part. Then close your hand into a fist and run the tape measure over your knuckles, excluding the thumb.
Once you have this measurement in inches or centimetres, you can refer to the sizing charts for each product on our website or catalogue where you can select the size which best fits.
With gloves, you don't want them to have too much excess material on the palm when you close your fingers as if you were gripping the steering wheel as this would cause additional pressure points and make holding the steering wheel a little more uncomfortable. You also need to make sure that the glove fits snuggly at the tips of the fingers so that you have the best grip available.
Just like the kart suits, there are gloves available in sizes suitable for children.
Choosing a pair of kart boots
As mentioned earlier regarding the regulations, a pair of kart boots are required to provide adequate support for your ankles, but there is much more to them than that.
Design & Comfort
With your feet providing two of the three driver inputs for a kart, making sure that you are getting the best out of them is important.
A key part of the design of a karting boot is the sole. With the pedals on karts being very light, obtaining the best feel possible is influenced by the construction of the sole. You will find that most kart boots feature a very thin sole. This not only reduces the overall weight of the boot, it also allows for a more natural feel on the pedal. This means that you can modulate the pedals with a greater degree of accuracy.
There is a choice of materials available as some entry level boots are constructed from a soft suede, while the majority of the mid-to-high end boots feature a supple leather construction. Both materials allow for a high level of comfort, but those with the leather construction offer improved protection in the case of wet weather driving as well as keeping your feet warmer.
Other features to look out for include a Velcro fastening strap for additional ankle support as well as quick lace systems. These allow for easier tightening of the boot via the simple turn of a dial while ensuring that the boot stays tight while in use.
Sizing
Kart boots follow the continental sizing system with a range from child's 26 to adults 48 (UK kids 8.5 to adults 12). The details, of which, along with UK, US and Japanese centimetre equivalents can be found within the sizing charts shown on each product page our website.
As with kart gloves, your new boots should be a close fit. This is to avoid your foot moving about along with avoiding a large gap between your toes and the end of the boot. The result of this would be a decrease in pedal feel and control.
Karting boots tend to be sized a the same as a standard shoes, so if you are normally a size 8, then order a size 8.
Another key point to consider is that when you are sat in the car, your feet are going to be in an upright position. This means that your feet will naturally want to slip to the back of the boot. So, if your foot is loose inside the boot, then the gap from the toes to the tip of the boot will become exaggerated.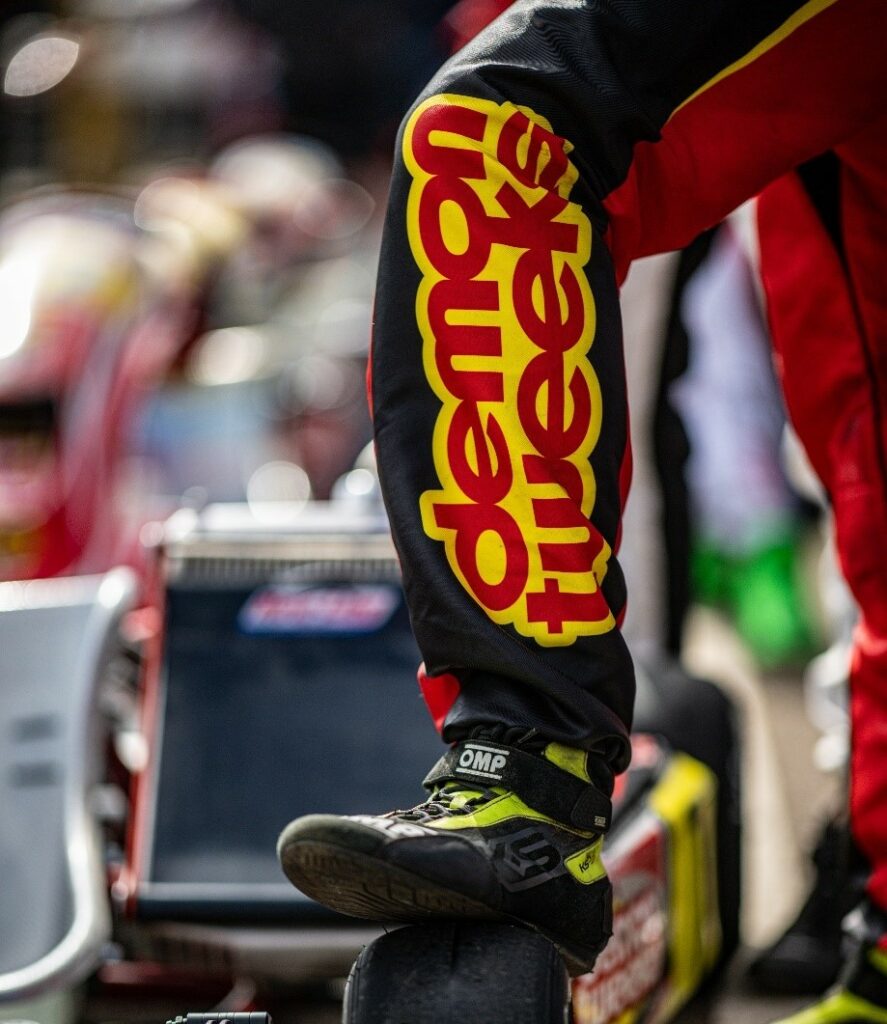 Wet Weather Kart Clothing
If you are looking at racing over the winter, or indeed the British summer, there is a very good chance that you are going to get caught in the rain. Happily, there are a range of kartwear items available which are designed to help protect you from the elements.
The main piece of waterproof clothing is a driver's wet suit. These are designed to be worn over the top of your standard kart suit and are made from a transparent PVC which allows sponsors logos on your kart suit to remain visible, while providing the very best in waterproof protection.
Aside from the rain suit, both your hands and feet can also be kept dry. For your hands, there are a selection of wet weather kart gloves which are made from a Neoprene material, similar to that of a surfing wetsuit. These not only keep your hands dry, but they also keep them warm on those cold winter days.
Alternatively, you can also wear a pair of waterproof glove liners underneath your regular gloves. These also allow for a greater level of protection from the elements.
Waterproof boots are also available for your feet, typically featuring a leather construction with a waterproof lining. This way they can still provide the same level of feel on the pedals and ankle support while keeping you warm and dry.
Other options include waterproof overshoes which simply slip over your existing boots. These help to keep your race boots clean and dry and can help to prolong their life. These vary from small slip-on type overshoes which cover the sole and toes, through to full "wellington boot" style, calf length solutions that are ideal for use in the paddock between races.
Body Protection
Karting is a very physical sport. As there are no seat belts or suspension, the driver is subject to bumps, vibrations and movement much more than in a race car – not to mention the potential for crashes. If you have ever been indoor karting before, you will most likely notice that you are sore for a couple of days afterwards.
But, to help minimise the toll taken on your body, there are a great range of body protection products available that protect your neck, ribs, elbows and knees.
Let's start from the top. A neck brace can be considered an essential item of driver protection as, unlike in car racing, rallying etc, the driver doesn't have an FHR device to protect them in the event of an impact. Wearing a neck brace can greatly reduce the chances of whiplash and neck damage.
Karting neck braces range from basic foam rings to fully composite devices with shock absorption properties. All of these neck braces sit underneath the helmet and on top of the shoulders, restricting the distance that the head can travel once an impact occurs.
The other main area of body protection is a rib protector. These typically feature a waistcoat style design with reinforced plates around the ribcage area to protect from impacts. Designed to be warn underneath your race suit, a rib protector provides the comfort and support that is required to keep your body protected. Some rib protectors also include back and shoulder padding for more complete driver protection.
Other additional protective items which come in handy include elbow and knee pads to protect these areas from knocks as well as heat resistant sleeve protectors for drivers whose arms get too close to the hot engine.
In Conclusion
So, armed with this information, you are ready to venture out into the world of Karting. The important things to remember are to make sure that you are comfortable and well protected. It always makes sense to buy the best equipment that you can afford. Once you are all set up, you are ready to hit the track and have fun!
If you need help with any of the points mentioned in this article, our knowledgeable sales team are always on hand to offer help and advice.
---
Enjoyed this? Read more of our latest news:
Where To Next?
Looking for the latest motorsport parts and accessories? Check out our wide range from top brands.
Come and visit us at our store, showroom and fitting centre in Wrexham.
Want to know more about our story? Learn about who we are and why we've been driven by passion for over 50 years.
Interested in everything we do? Catch up on all the latest Demon Tweeks news.