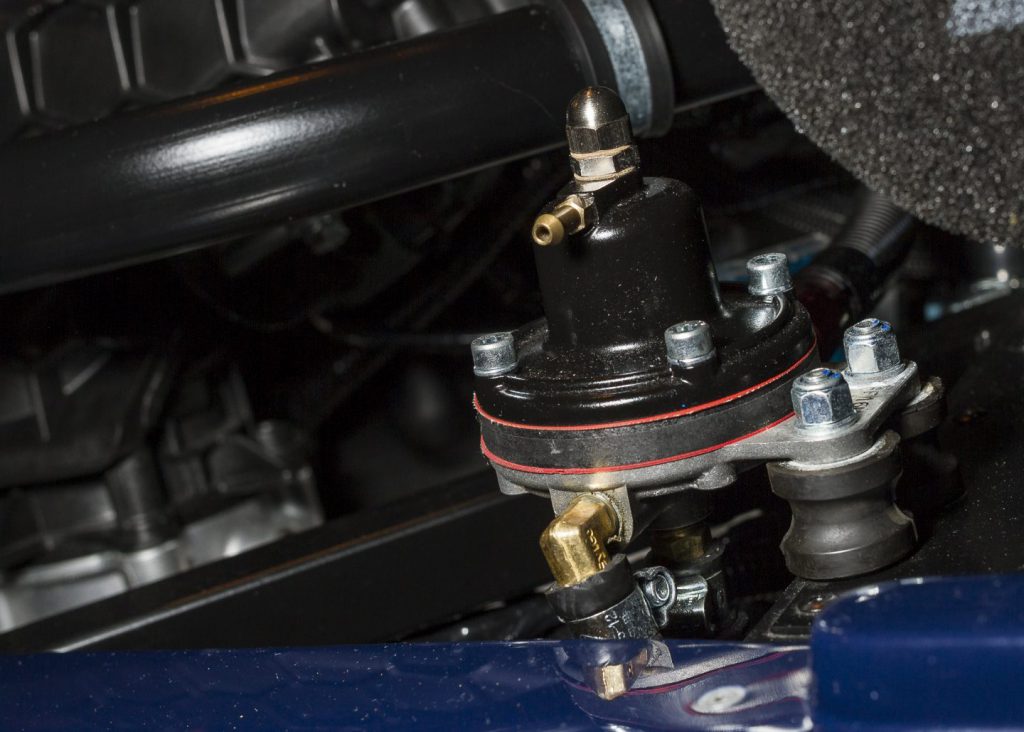 The plumbing of a fuel system in a competition or modified car can be rather daunting but can actually be quite straight forward with a little bit of planning.
We would recommend that you draw a simple diagram of where you intend to mount the various components. This allows you visualise where everything will go and if there are likely to be any issues before starting. It is easier to redraw the diagram than change the design halfway through the installation and can make sure that you are not missing four vital parts at 3am on a Sunday morning!
But before you go hunting for that pencil and paper, there are several criteria that need determining before choosing which parts you require.
Fuel System Hose Sizing
The hose is the vital link to join all the components together and there are many choices available. The first point to check is the type of fitting required.
Most production cars will have push on hose all the way through, 8mm bore push on hose being the most likely. Some older, smaller engined cars running carburettors can be 6mm, while larger engined cars can run 10mm hose. Fuel injected cars can have 12mm or 15mm from the tank to the pump depending on the application. This type of hose is sized by measuring the internal diameter.
The ends of each hose will be push on and secured in place with hose clips or in some cases factory swaged. Swaging is where a metal collar is crimped over the hose instead of using a hose clip. Some modern cars may have quick release fittings on the fuel rail, filter etc.
It is common with competition cars already built or high-performance vehicles that they may have screw on fittings. If this is the case, the type of fitting and thread will need to be identified. The most common is JIC / AN fittings and these are typically sized by a combination of the thread size and hose size. This will be covered in more detail below.
Fuel System Hose Types
There are several types of hose as follows:
Push-On Rubber hose
Low cost and easy to fit in place, this type of hose can be used on standard parts with no modification. The hose is easy to cut to length and is available in 6mm, 8mm, 10mm, 12mm, 15mm and 19mm internal diameters.
Intended to be secured with hose clips or swaged on, it can be supplied in low pressure (for carburettors) or high pressure (for fuel injection) options. The hose can be supplied as plain rubber or with a stainless-steel over-braid for protection against cuts and abrasion.
Push on hose is a very cost-effective solution when looking to renew your fuel lines, although it is not recommended for use inside the car. Whilst it will not leak, it will allow vapour and fumes to escape. This will make the cockpit a very unpleasant place to be. Being very flexible if used in long lengths, it will need lots of supporting clamps to keep it in place.
The increasing amount of Ethanol in pump fuel means some budget fuel hoses can have a short life before they need replacing. Ethanol is chemically aggressive and has a tendency to attack the rubber compounds used to make cheaper fuel hosing. The hose will perish, swell and crack under the influence of Ethanol and will ultimately fail. The recent arrival of R9 specification fuel hose means pump fuel with an Ethanol content can be used without the above issues. The hose is a higher price than budget fuel hose, but as it lasts much longer and will represent better value in the end. The Ethanol resistance will mean the chance of fuel leaks and the risk of fuel fires will be drastically reduced, so definitely worth the extra price in 99% of applications. R9 hose is available in 6mm ( 1/4" ) 7.3mm, 8mm ( 5/16" ) and 10mm ( 3/8" ) The R9 hose can be used for Carburettor and Injection applications.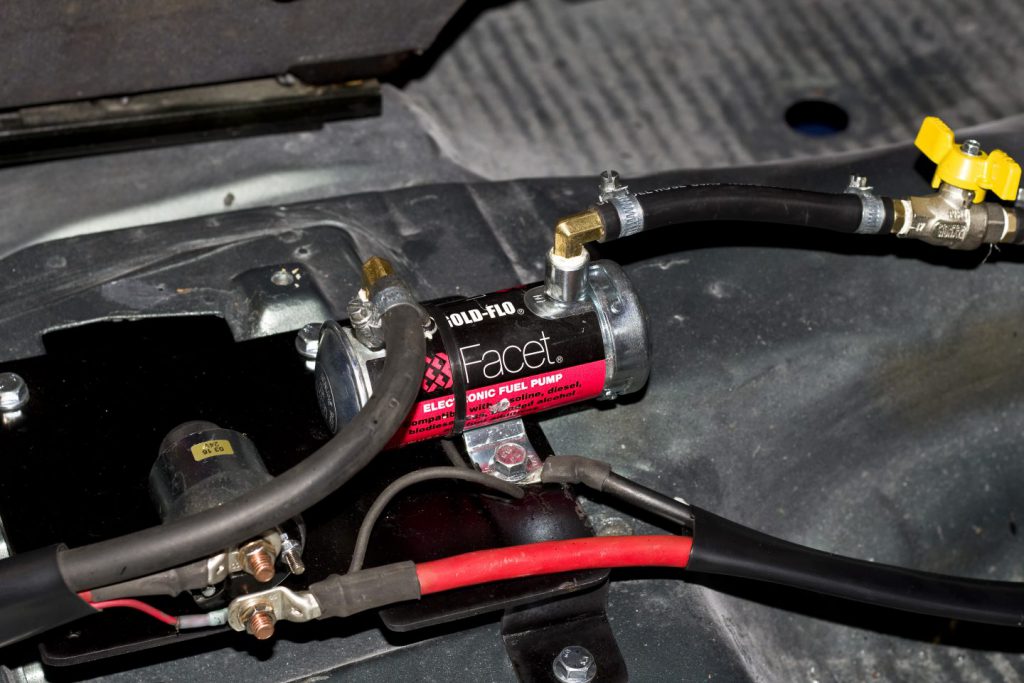 Reusable / Cutter / Compression type hose
This type of hose is used with fittings that mechanically clamp to the hose, making a very secure connection. The hose comes in dash 6 (-6) or dash 8 (-8) sizes, this relates the hose bore and the thread of the fitting.
The fittings are screw on and some parts of the car will require changing to suit. This can be done by removing screw in hose tails and replacing with a male / male adaptor or by changing to weld on threaded adapters. There are also adapters that will fit a push on hose tail and convert to a threaded fitting.
The hose can have black nylon or stainless-steel over-braid. This makes the hose is slightly less flexible than the above, so will require less supporting if used underneath the car.
Sometimes known by brand names such as Aeroquip, Earls, Goodridge or APS hose, the fittings to suit can be red / blue or black. The hose will suit low or high-pressure systems and can be used inside the car, however the hose below is better.
PFTE / Teflon type hose
This Teflon / PTFE lined hose can be used inside and outside the car as the liner prevents the escape of fuel vapour, so with interior use there will be no stale fuel smell.
The hose is supplied with an outer stainless-steel over-braid and comes in dash 6 (-6) or dash 8 (-8) sizes, this relates the hose bore and the thread of the fitting.
The fittings clamp to the hose with a compression olive to make a very strong connection. As with the above hose, the fittings are threaded so the car may require changing to suit. The alloy fittings to suit are available in red / blue or black, while steel fittings have a plated finish.
The Teflon / PTFE hose has very little internal friction compared with the above hoses so is ideal for use in long lengths. The hose also has a small outside diameter in relation to the bore size, making it a good choice for tight installations.
The hose is reasonably flexible but will require less supports than simple push on hose. It is suitable for high or low-pressure applications with popular brands including Goodridge and APS
Alloy Hardline
Hardline comprises of aluminium tube that can be formed easily to follow the required path. The tube requires the use of threaded fittingsto match, so may require changes as with the two above hoses.
The tubing is available in 8mm and 10mm sizes and will retain its own shape, so will require less supporting clamps than the above hoses. This makes it ideal of long hose runs.
The tubing is non-permeable, so does not allow vapours to escape, again making it ideal for inside the car. As an added bonus, the pressure rating is way above any typical fuel hose.
In Tank Hose
This hose is used where there is any connection inside the tank and the hose is submerged. The hose can be fuel suitable plastic or rubber and uses push on fittings.
Fuel System Hose Fittings
Now that you have figured out what type of hose you want to run, the following will need to be determined:
Fuel Tank
Is the outlet on the fuel tank push on? If so, you will need to measure the outside diameter of the stub. If the outlet is threaded, check the thread and bore size of the outlet.
Fuel Pump
Is the fuel pump outlet push on? if so measure the outside diameter of the stub. If the outlet is threaded, check the thread size and type. Is the outlet a banjo fitting? Check the thread and diameter of the banjo.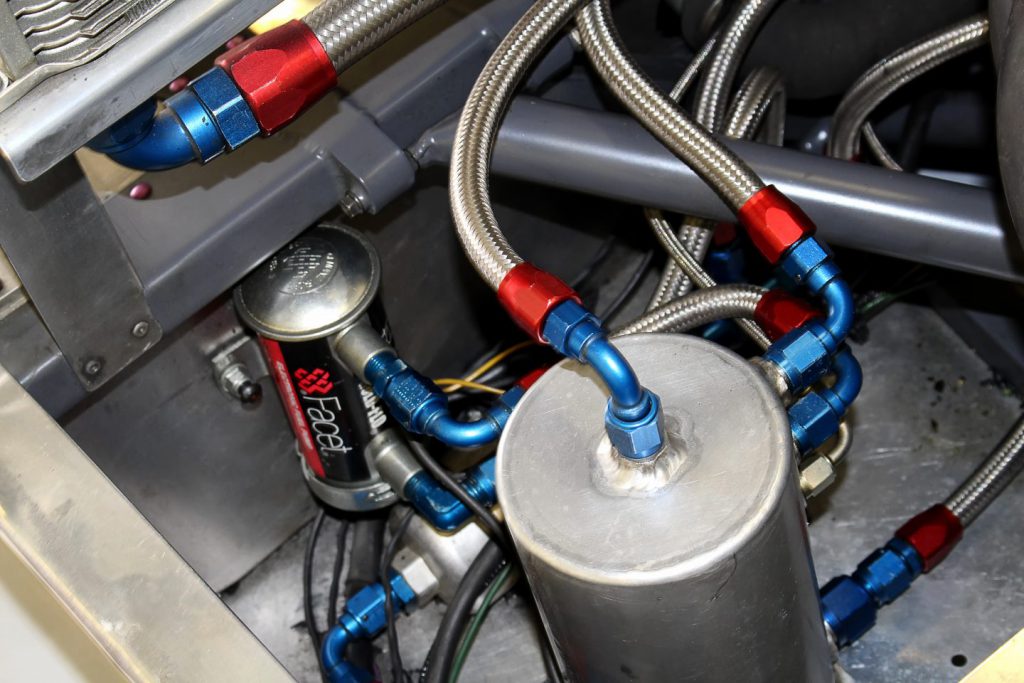 Filter / Swirl Pot / Fuel Rail
Is the outlet on the filter, swirl pot or fuel rail push on? if so measure the outside diameter of the stub. If the outlet is threaded, check the thread size and type.
Bulkheads / panels
The recommended method to pass through a bulkhead is with a threaded bulkhead fitting. This is a male to male adapter with a long thread on one side to allow a nut to clamp in place. This will hold the hose in place and is less like to be crushed or the hose cut in an accident.
These fittings can either take threaded hose fittings to suit the push on hose with clips, or the fittings that clamp to the hose as above. This setup will comply with motorsport rules. For non-motorsport applications you can use a grommet, but the threaded fittings are always preferable.
The quantity and size required will need to be noted prior to preparing your list.
Fuel Threads
The threads likely to be found in fuel systems are Metric, JIC / AN, NPTF, and sometimes BSP. Let's take a closer look at what sets these threads apart.
Metric
This is defined by the measurement of the outside diameter of the thread and the pitch. M10 x 1, M12 x 1.5, M18 x 1.5 are the most common examples.
JIC / AN
The sizes typically used in fuel systems are AN6 / Dash 6 / -6, which equates to a thread measuring 9/16" x 18 (threads per inch) with a hose bore around 3/8", and AN8 / Dash 8 / -8 which has a thread measuring 3/4" x 16 (threads per inch) with a hose bore of around 1/2".
The male threads have a convex tapered seat and the female threads have a corresponding concave seating.
The AN is an abbreviation for Army / Navy as these fittings originated from second world war US aircraft. When surplus became available, these types of fittings ended up on competition vehicles.
NPTF / NPT
NPTF stands for National Pipe Thread Fuel and is typically used on carburettor fuel pumps and some fuel pressure regulators. The thread is tapered, meaning that the female and male thread tighten against each other to form a seal.
The common sizes for fuel systems are 1/8", 1/4″, 3/8" and occasionally 1/2″. The 1/8" measures around 10mm, 1/4″ is around 13mm, 3/8" is around 17mm and 1/2" is around 21mm.
BSP
This thread is not common on fuel fittings but is sometimes used on fuel taps and pressure gauge adapters.
Sizes likely to be found are 1/4″, 3/8" and 1/2″ BSP, the sizing relates to the hose size used. The 1/4″ thread measures around 13mm, 3/8" thread measures around 15mm, and 1/2" measures around 19mm.
The male thread has a concave tapered seat and female fittings have a matching convex seating.
Fuel System Layout
The heart of the fuel system is the fuel tank. This can be the factory fitted steel or plastic tank or an aftermarket alloy or plastic fuel cell.
If the tank is the heart, the beat is provided by the fuel pump. This can be inside the tank for injected cars or outside for carburettors and some injection cars.
Stock fuel tanks may not be able to handle hard cornering or feed enough fuel for heavily tuned engines. If this is likely or known, a swirl pot added to the system will prevent fuel starvation and fuel cavitation (fuel frothing in layman terms). This will prevent the car running lean and potential engine damage.
The other option is to look at in-tank high flow pump conversions or one of our replacement motorsport tanks.
Some examples of typical layouts are below:
Carburettor
START In tank pickup –> Carb type pump, preferably with a coarse fuel filter facing the tank –> Swirl pot if required –> Feed to carb, sometimes with another coarse filter upstream FINISH
If the pump provides higher pressure than the carb requires, an adjustable regulator will allow fine tuning to suit. Carburettors are generally push on connections but for Weber, Dellorto, and most US carbs such as Holley we offer threaded connectors. Some carburettors may also have a return pipe to tank.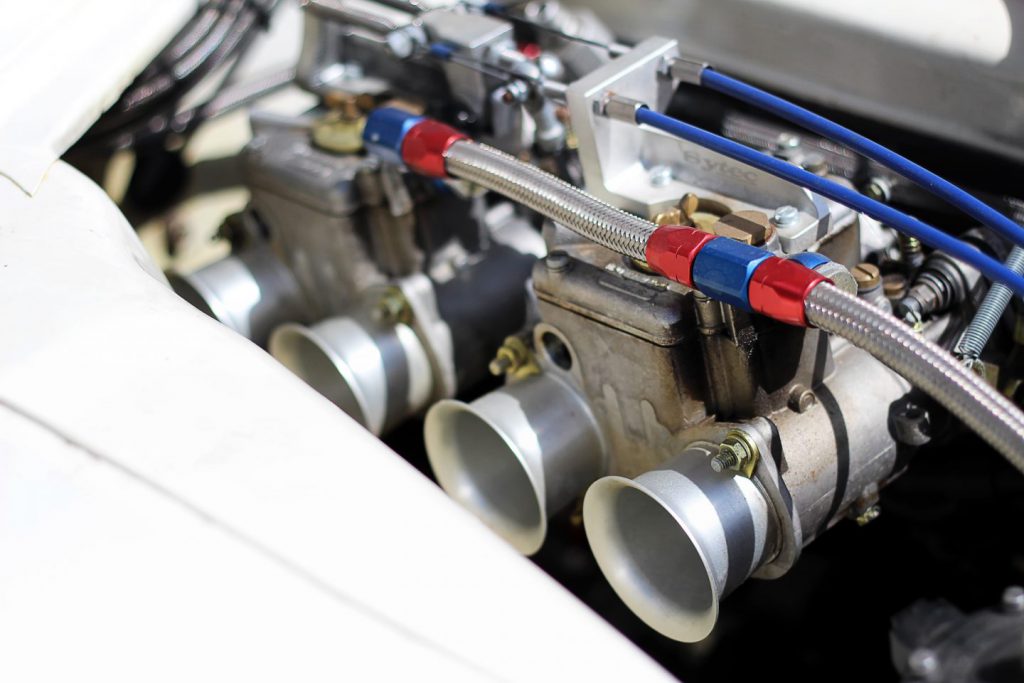 Fuel injection In-tank Pump
START In tank pump generally with a coarse filter attached –> Swirl pot if required –> Fine Filter to protect injectors –> Fuel Rail –> Regulator (this can sometimes be in the tank) –> Return to tank FINISH
Fuel injection out of tank pump (standard)
START Tank –> Fuel pump –> Filter –> Injector –> Fuel rail –> Pressure regulator –> Return to tank FINISH
Fuel injection out of tank pump (uprated / competition)
START Tank –> Low pressure carburettor type pump –> Swirl pot –> High pressure pump –> Filter –> Fuel rail –> Pressure regulator –> Return to tank via swirl pot FINISH
Fuel System Extras
Besides the items already mentioned, a fuel system features many more components. Below are some of these extra items which can make all the difference.
If the car has a replacement tank (alloy/plastic fuel cell etc) that has removed the in-tank pump, this can sometimes have a built-in regulator as well (quite common on single point injection cars). If the car does not run properly once the fuel system is plumbed, it is worth clamping the return pipe and see if the car picks up and runs well. If this is the case a regulator will need adding in the return line to allow the fuel system to pressurise. We offer adjustable regulators to suit.
For cars used in rallying a fuel sampling kit will need to be added in the system, these can be push on hose types, or threaded male/male, or threaded male/female. The fuel sampling kit has a dry break coupling that allows fuel to flow once the drain hose is connected. This can also be used outside of rallying if a fuel drain is required.
Thought should be given to securing the fuel hose so that it will not move and also be protected from heat. We offer a choice of hose securing clips and lots of heat management products.
If the car has a fuel pressure gauge, dash display or data logging, provision for a fuel pressure sender will need to be considered. We offer a selection of options with either push on or threaded hose tails.
We have a wide range of fuel filters available with coarse or fine filters. A coarse filter will have a higher micron number as it lets larger particles through but will have a higher flow rate. This is usually used between the tank and pump or for carburettor use. A fine filter will have a low micron number. This will remove very small particles but flow rate will be reduced. This is typically used after the pump but before the injectors. Some filter bodies can be fitted with either type of filter elements.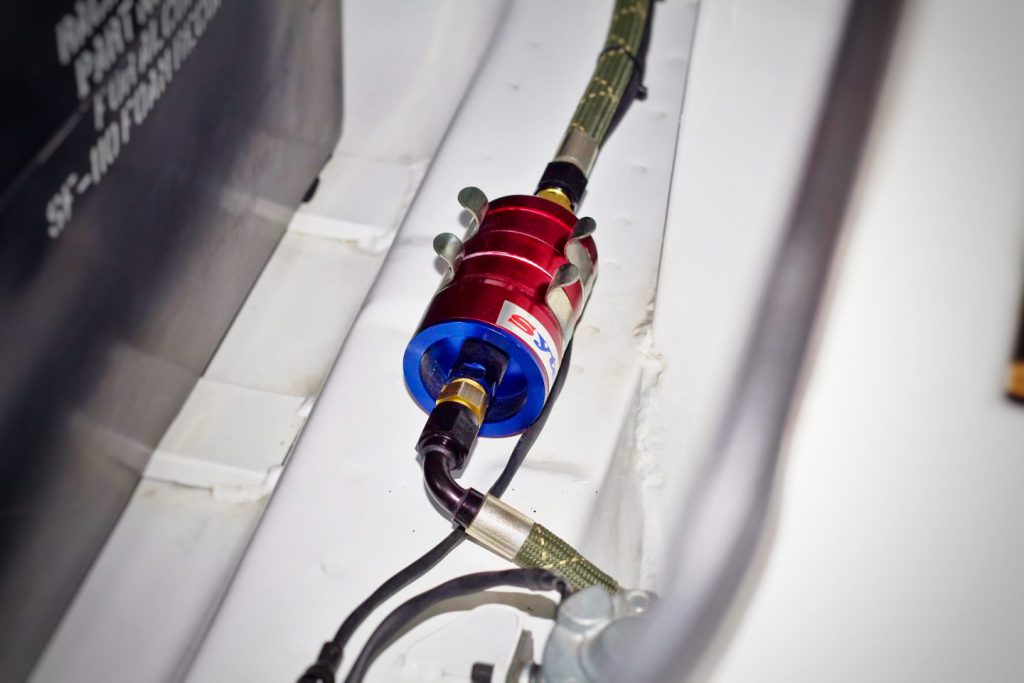 A fuel tap can be incorporated in the system useful if parts need removing for servicing or as a security measure. These can be push on or threaded.
A one-way check valve may be required if twin pumps or twin tanks are used. A check valve will allow fuel to flow in one direction only. A twin tank twin pump set up can end up pumping fuel to the second tank rather than the engine if the valve is not fitted. These can be push on or threaded.
Conclusion
So, there it is, a complete rundown on a competition fuel system and what will need to know when looking to upgrade the system in your car.
If you are unsure about anything in this post or you still have questions about what is best for your requirements, our knowledgeable sales team are on hand to offer advice and recommendations for what you need.
---
Enjoyed this? Read more of our latest news:
Where To Next?
Looking for the latest motorsport parts and accessories? Check out our wide range from top brands.
Come and visit us at our store, showroom and fitting centre in Wrexham.
Want to know more about our story? Learn about who we are and why we've been driven by passion for over 50 years.
Interested in everything we do? Catch up on all the latest Demon Tweeks news.