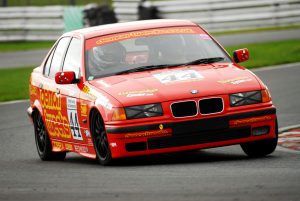 Are you thinking about building a track car? There are a few things to think about!
Budget
How much money do you want to spend? How many times realistically do you think you can get out on track? It's possible to have fun in something cheap, but you might want to spend a little more to go faster on the straights, or round the corners!
Just remember, whilst most track days are fun, they can also end abruptly with an accident or mechanical failure which can be costly, something to bear in mind if looking to spend a little more! Lastly, don't blow your whole budget just on the car, your going to need some money to make some improvements!
What car should I build?
You know what sort of fun you want to have out on track, is it chasing lap times? Having fun? Or mastering the art of car control?
Think if you want something front wheel drive, rear wheel drive or four-wheel drive?
You can of course track whatever car you like but remember if its sole purpose is being a track car, don't be too fussy about any scuffs or scratches, so long as your car is mechanically sound it's a good starting point for your build!
Below we have listed 10 popular cars for track days, in no particular order, see what you think and if one takes your fancy!
Civic Type R EP3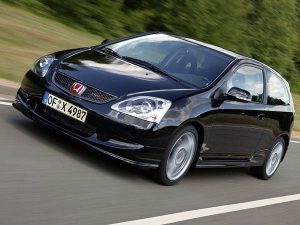 Pros: Reliable High revving VTEC engine
Cons: Worn gearbox synchro's lead to crunches on abused examples
Renault Clio Sport 172/182
Pros: Great chassis
Cons: Be careful of the dreaded dephaser pulley failing!
Mazda MX-5 Mk1/Mk2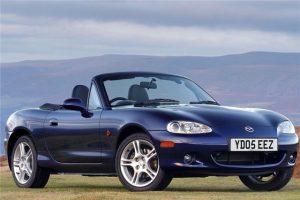 Pros: Cheap RWD fun
Cons: Rust!
Mitsubishi Evo 6-9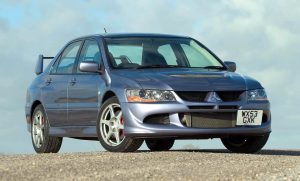 Pros: 4-wheel drive grip
Cons: AYC pump failures are expensive
Caterham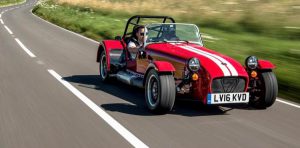 Pros: Stripped back thrills
Cons: Getting wet!
Renault Megane 265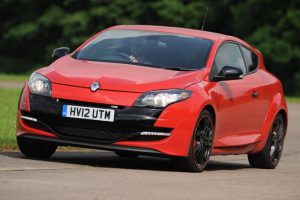 Pros: Another great handling Renault sport chassis!
Cons: It's a Renault!
BMW E46 M3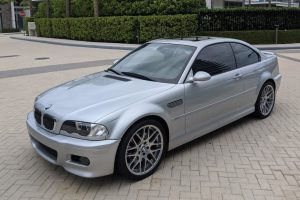 Pros: Straight 6 noise and M car handling
Cons: Boot floor cracking and 'M car' price tag on parts
Fiesta Mk7 ST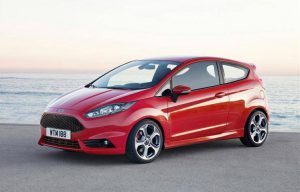 Pros: Great handling
Cons: Boost pipes coming loose
Subaru Impreza WRX/STi (all)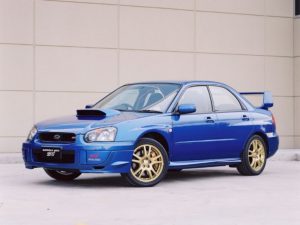 Pros: That iconic rally rumble!
Cons: Engine and gearbox failures
Porsche Cayman (all)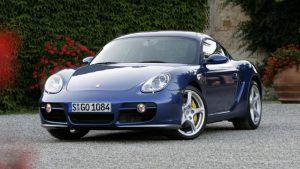 Pros: Great drivers' car
Cons: Expensive to buy compared to some of the above
I've bought my car, what's next?
Right, now you've got your car, it's time to get started! It's a good idea to get your project up on a ramp or jacked up in the air and on axle stands, to give it a good inspection.
Check for fluid leaks, corrosion, worn components and bushes. This way you know what needs sorting before pushing it to its limits or making it faster. It's important to have a car that's safe and reliable to make sure you have a good track day so definitely worth refreshing the engine and gearbox oil to make sure the engine and gearbox can cope with hotter temperatures! It might be worth using a thicker engine oil from standard if it's going to take a beating on track!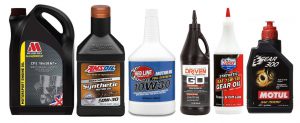 Now your car is safe for track, it's time to make it faster around a track! That means more power, right? Well, yes and no, firstly we are going to make your car stop and handle better. Most time on track can be made up on the brakes, and around the corners!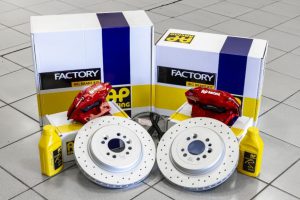 So, let's have a look at the brakes, there are many things to fit to improve your braking power.
Brake Pads – A set of high-performance or even racing brake pads will increase stopping power, depending on how many track days you are looking to do, and depending on how hard you will be on the brakes, there are different options for pads; something like a Ferodo DS2500 or EBC Yellowstuff will be a nice upgrade from standard, and will work from cold up to a decent temperature, though will fade if used harshly on track.
If you're quite hard on the brakes and are always leaving it to the last minute to jam on the anchors, then something like a Ferodo DS3000, PBS Pro Race or EBC RP-1 or RP-X might be a better choice, these pads need a little warming up to get there best performance, but once they are up to temperature they can cope with higher temperatures and will not fade.
Brake Discs– A set of discs that can cope with increased temperatures created with a higher friction brake pad, we sell discs from AP Racing, Wilwood, DBA, Brembo, Tarox, EBC, and Black Diamond who all offer upgraded discs for many applications!
From each of our brands, there are various options of discs, the first being a vented discs; that have a plain face but are vented between each face, dimpled and vented; these have dimples and grooves in them to allow heat to escape from the friction materials, and lastly drilled discs; these have holes in them to allow heat to escape from the disc and pad when in use, poor quality drilled discs are prone to cracking, as they quickly change temperature from hot to cold.
Brake lines– braided brake lines are often overlooked when upgrading your braking system, standard brake lines often bulge when used on track as the pressure within the system is very high. These bulges often result in a spongy pedal feel which doesn't give much confidence when pressing the middle pedal! And those bulges can often lead to a brake line bursting, meaning no brakes at all! Not much fun at track speeds!
A set of Goodridge, EBC or Black Diamond braided brake lines will improve pedal feel and ensure you have no line failures!
Brake fluid– without a doubt the most overlooked part of the braking system, whilst the brake fluid in road cars is fine for day to day use, it's often realized after a handful of laps that your brakes are not as powerful as they were to start with, this is because the brake fluid has boiled, now there are tiny water droplets in the fluid, which massively affect the efficiency of your brakes, they will feel spongy and will have minimal braking capacity.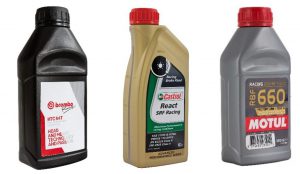 This can easily be solved by changing the standard brake fluid for a racing brake fluid, which can cope with temperatures in excess of 300 degrees C.
For those with a little more available budget, a big brake kit will considerably improve braking performance, these kits are a direct replacement for the stock caliper and discs, and usually have a bigger disc and larger calipers housing a larger brake pad, giving you a larger contact patch, greater force, and more friction, stopping you faster. It's worth mentioning that big brake kits may require you to change your wheels to allow them to fit!
Cooling– Now you have more stopping power, which's going to mean higher temperatures caused by the higher levels of friction. We suggest running some ducting from the front of your car to the brakes, giving them some cool air to help maintain efficiency.
Now you can stop on a six-pence, next thing for improvement is your car's suspension. Most cars out the factory are built for comfort rather than speed, where we want to be doing the total opposite! We will cover some points below that will give you some options on improving handling.
Bushes– Suspension bushes are rarely thought about until they fail but replacing suspension bushes can stiffen the feel of the chassis and give a more positive feel on track rather than bushes moving and twisting under load. Some bushes can alter the geometry to make the car more track-focused such as by changing the camber/caster/toe and offer anti-lift/squat properties.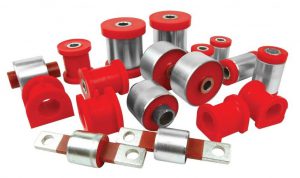 Springs– a set of lowering springs do not only improve the look of your car by lowering it, but also give you a stiffer spring, which can reduce body roll and give you a lower center of gravity giving a more sporty feel.
Spring and damper kits– These kits are comprised of a set of lowering springs, and a set of uprated dampers, similarly to the spring kit these will lower a set amount, and this is not adjustable. The uprated dampers will offer a stiffer ride, and further reduce body roll and improve control.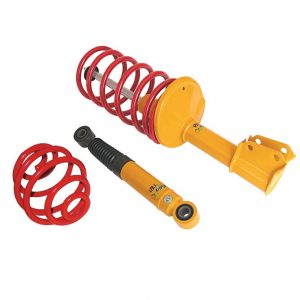 Coilover kits– the most popular option for track day go-ers, coilover kits give you height adjustability so you can set your ride height to your exact needs, and also some kits offer adjustable dampening, so you can adjust the bump and rebound of the damper to compliment the spring/track conditions. You can also add adjustable top mounts to coilover kits (if they don't already come with them), which can offer more adjustment of camber and caster depending on application.
Anti-roll bars– Do exactly what they say on the tin! Reduce roll! An anti-roll bar is connected from one side of the car to another, and reduces roll, installing a thicker anti-roll bar further reduces roll. For many applications, you can buy thicker bars for the front, or more commonly the rear of your car! They also have a positive effect on handling and a thicker rear anti-roll bar can improve turn in.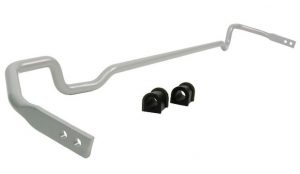 After you have made changes to your suspension, it's very important to get the geometry done, as when your car is lowered it usually increases camber, and that will give you uneven tyre wear.
Whilst some of the more expensive machinery come with adjustable components to correct alignment, for most applications you are restricted with the OE setups, there are alignment correcting products out there for some applications such as camber bolts and camber arms which can be fitted to correct geometry.
As for your alignment (tracking), it can be done on hunter alignment laser tracking machines (like ours!), or with string lines. Laser machines are more expensive but are more accurate, but string lines have been used for the last 40 years and managed to produce race winning results and can be used in conjunction with corner weight scales, to help get that perfect weight distribution side to side or front to rear!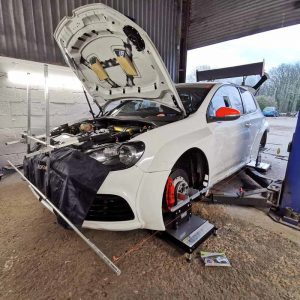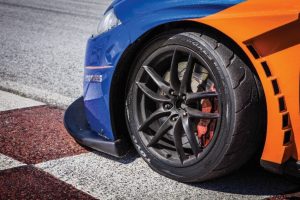 You should now be feeling some very big improvements after upgrading your brakes and suspension. There's no doubt the car will be stopping quicker and able to carry more speed through the corners! But you might notice your tyres keep squealing at you, begging for mercy as you pound around the track! It's no secret that more grip will make your lap faster than before!
You could buy some new wheels that are wider than your standard wheels, which would allow you to fit a wider tyre, giving you a larger contact patch and again, more grip!
A premium road tyre will be better on track than a budget one, but still, when they get hot, they will start to give up their grip. There are some popular track day tyres available from Nankang, Toyo, Dunlop and MRF who offer semi slick options which are designed to cope with higher temperatures and offer you more grip than you've felt before. Worth mentioning these semi slick tyres are great when it's dry but can be quite sketchy when it's raining or when it's damp. For the trickier conditions, popular choices are Uniroyal Rainsport 5's or Michelin Pilot Sport 4S, though if you are going full on race car for your track car, then a set of wets are definitely worth keeping thanks to British summertime!
Most road cars have an open differential, which will spin the driven wheel with the least amount of grip/resistance as that's the easier one to spin, though some high-performance cars are fitted with a limited slip differential (LSD) from the factory. If you don't have one, we suggest installing one as they limit the amount of wheelspin when the driven wheels lose grip when power is applied. The LSD does this by redistributing engine power to the wheels with the most grip, either with a mechanical system, with electronics or through a combination of the two.
We offer LSD's from Quaife, Wavetrac and Kazz which are without a doubt some of the world's leading brands!
Power upgrades
The one you've all been waiting for, right? How can I make my car more powerful?
Is your car naturally aspirated? Or Turbo/Supercharged? If your car is naturally aspirated normally it's more expensive to extract more power, just so you know! But below are a few ideas on how you can extract some more power!
Air filter – a less restrictive air filter will allow more air into the engine and make more power.
Exhaust – a less restrictive exhaust will let the exhaust gasses out of the engine faster and make more power. Also, worth changing your exhaust manifold if you can!
High lift cams – these will require a remap to get the most from them but can give you that extra grunt you're looking for!
Intercooler – If your car is turbo or supercharged then you upgrade the intercooler for a larger one which will reduce intake temperatures and keep them stable during prolonged track sessions.
Remap – a remap can vastly improve the drivability of your car, many parameters can be adjusted on the car's ECU to optimise cam timing, boost amongst other things! Some standard ECU's are remappable, some aren't and will require a standalone unit to control the engine.
Forced induction– Turbo or Supercharge your naturally aspirated car, there's no doubting this will be expensive and require a lot of work if there is not an off the shelf kit available, but will give you a chunk more power and torque to pull you out the corners and down the straights!
Engine conversion– swap your engine out for another one with more power- again this will require a lot of fabrication work, time and patience.
If you will be extracting more power from your car's engine, you may need a few other upgrades so you can get the most out of your engine and be able to use it such as an uprated clutch to cope with the extra torque, fuel pump/injectors to be able to feed the engine with enough fuel to be able to produce more power and, if you are really chasing some big power, then you will need a forged/built engine, we suggest speaking with a recommended engine builder with your needs if that's the case.
Interior changes
Weight reduction
If you have been getting on well with the changes so far, you might be thinking about removing some unnecessary weight from the car. For most cars removing the back seats are a good start unless you plan on taking the family for a hot lap! Less weight means you can accelerate faster, stop faster and corner faster! A great all-rounder and most of all FREE!
There's also a lot of other options for removing weight, without going into each in detail, we will list a few things that can be done to lose a few more pounds; fit a race battery, removing sound deadening, fitting an alloy radiator, remove door cards, just to name a few!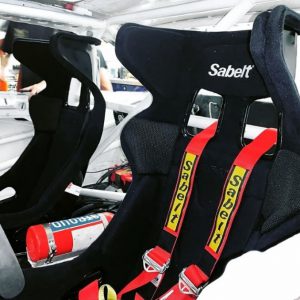 Now you're going around corners faster and stopping quicker, you might notice you're moving around in your seat or bracing yourself by holding the steering wheel in a way to keep your body upright, then it's time for some bucket seats and harnesses!
There's a lot of choice for bucket seats, we offer over 100 different seats that range in price, and also in size. It's important to get a seat that you fit into nicely, you don't want a seat that is too tight that it's uncomfortable, and nor do you want a seat that's too large, or you will move around too much!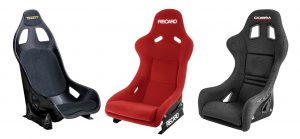 Seats must be mounted securely and can be fixed either to a base frame, or straight to the car via side mounts.
It's a good idea to come to our showroom in North Wales, where we have seats on display that you can try, we recommend sitting in as many as you can, and see what's comfortable for you!
Much like seats, there are hundreds of harnesses to choose from too that again range in price, and levels of protection! Popular choices for track day cars are either a 4-point or a 6-point harness as shown below. Importantly harnesses must be fixed securely as you don't want an anchor point failing in an accident. If you have a roll cage the shoulder straps can be wrapped around the cage, and the lap and crotch straps can be clipped to eye bolts that are screwed into stress plates.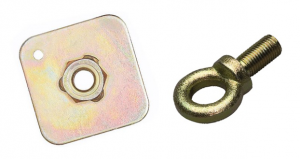 A 4-point harness will be a big improvement over a standard seat belt, and definitely stop you from moving around so much in the seat, but what a 4 point doesn't do, is in the case of an accident, a driver can slide down the seat and under the belts. The main choice with 4-point harnesses is that you have a choice of buckle, on the left shows an ECE approved harness, which has a push button release (much like a normal road car) and to the right is an FIA approved harness which has a twist buckle.
A 6-point harness is quite similar to a 4 point but has 2 more belts, that go between your crotch and stop you from submarining (sliding under the harness and down the seat in the event of an impact), a safer option most definitely although a little more expensive. They are only available as FIA approved harnesses with the twist/aircraft style buckle as shown below.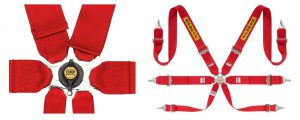 Once you have made your choice of 4 or 6-point harness, the next thing to think about is how wide you want the strapping to be, there is a choice or 2 or 3 inch. 2 inch strapping is generally more comfortable and fits a lot nicer if you do decide to use a HANS device later down the line.
There is a difference between a cheaper harness and some of the more expensive ones, the adjusters on the cheaper harnesses are steel, and some of the more expensive harnesses have alloy adjusters. Alloy adjusters are much easier to adjust as the webbing slides easily through the adjusters, where the steel adjusters have more friction on the belts and require more of a 'pull' to tighten up/loosen. It all depends on how much you are using the car and how often it's adjusted, if you share a car it can be quite tiresome yanking on the adjusters!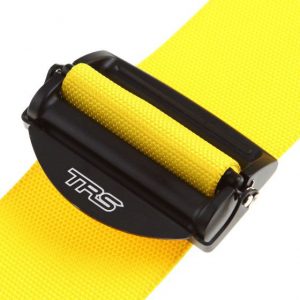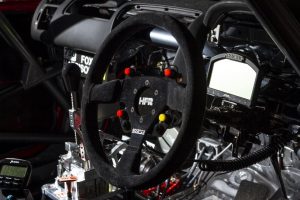 Most standard steering wheels are quite large in diameter (approx. 370-380mm) and are finished in leather so can be a little slippy when your hands get hot and sweaty!
We recommend changing it for a racing one which will be finished in suede and when coupled with some gloves, will give you a much better grip!
You will need a steering boss kit to be able to fit one of our racing steering wheels, these can be found here! These steering wheel bosses adapt your steering column to a 6 bolt fixing so the wheel can be mounted. The only thing to look out for here is making sure the PCD on the steering boss and your chosen steering wheel are the same, the usual PCD is 6x70mm which is the same on all Sparco, OMP, Momo, and Sabelt steering wheels, and standard fitment on all OMP, Simoni Racing, BG Racing and Momo bosses.
Depending on your car, there are different sizes of steering wheel that are suitable, for a saloon/hatch we would recommend a 330mm or 350mm diameter steering wheel depending on preference and size of the original.
It's not just size that you can choose from, the dish of the wheel also varies depending on the wheel, some are flat, and some are dished up to 90mm, and therefore sit closer to you, it's finding something that puts you in that comfortable driving position, there's no right or wrong answer, its what's comfortable for you.
Further to the bosses and steering wheels, you could also fit a spacer, to adjust the reach of your steering wheel, or you can fit a quick release boss which is usually approx. 50mm in depth which will make the steering wheel closer to you, but give you the option of removing the steering wheel to get in and out of the car. As well as being able to remove the steering wheel when the car is not in use can also be a deterrent for anyone thinking of stealing your pride and joy!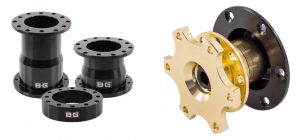 All the above products need to be thought about carefully when choosing your steering wheel, so you have the best and most comfortable setup, allowing you to focus on hitting that apex!

If you're thinking about installing a roll cage, its safe to say things are getting serious!
Roll cages are not just there to protect you in the event of an accident, they also offer rigidity to the chassis and do improve handling even though you are adding a little weight!
We offer roll cage options from Custom Cages, OMP and Sparco that are all approved motorsport roll cages. They are designed to be effective and use the correct grade of steel. Often the wrong type of steel is used by some fabricators so always best to buy from a reputable retailer!
Quite a lot of track cars run rear roll cages, which we do have available from Custom Cages, these stiffen the rear of the car up and offer a form of roll over protection. But for the best protection, it's advised to go with a full cage, that will require you to either remove or make alterations to your dash to fit.
Cooling
After a period of time out on track your temperatures will no doubt be starting to rise, by keeping certain things cold, and keeping the heat in others can improve performance, as well as reliability!
Here's a couple of things to get you started!
Alloy Radiator– To help keep your coolant temperatures down we recommend upgrading your standard radiator to an alloy one, they are usually thicker than standard and are much more efficient at keeping cool. Also as mentioned above, usually lighter too!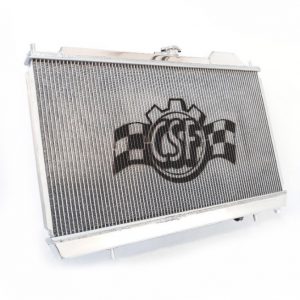 Coolant additives– Products like Redline's water wetter are designed to cool your system's temperatures and stop your coolant from boiling over!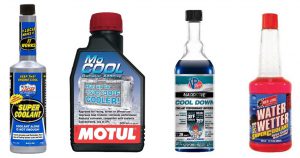 Heat wrap– Wrapping your exhaust manifold will keep your extremely hot exhaust temperatures away from things like your air filter or intake pipes which want nice cold air to give you maximum performance! Keeping your headers hot also aids the flow of exhaust gasses out of your engine, giving you more power too, win, win!

Safety Equipment
So far we have already mentioned quite a few products that are upgrades for your track car, and they also great at keeping you safe like seats, harnesses and roll cage, here are a few more that you might want to think about depending on how many track days you're doing, or even if your track car is more looking like a race car now and your thinking about competing!
Fireproof clothing– It might seem a bit over the top but when your track car is running so hot, but when something does go wrong, there is unfortunately a chance of something catching fire! We offer fireproof suits, boots and gloves which will protect you from any fire and give you much needed time to get out of the car! There are various sizes of clothing available from our brands, and we provide size guides to help with making your choice, again if you can it's worth coming to see us to try it all on, and make sure each part of your racewear feels comfortable.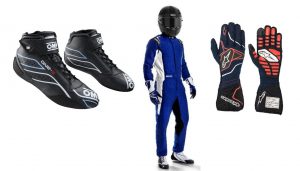 If your budget can't stretch to some of our fireproof racewear, it's worth looking at our Kartwear section, where you can get some kart boots which are similar to race boots and have thin soles for a good pedal feel, or some karting gloves which can give you improved grip on your steering wheel so you feel in control, but remember no Kartwear is fireproof!
Fire Extinguisher– On the same note as fireproof clothing, a plumbed in fire extinguisher can be installed so that in the case of a fire, with 1 pull of a cable, or push of a button, the fire can be extinguished and prevent any further damage to the car.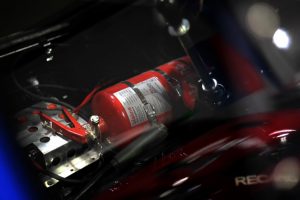 There are also hand-held versions available if you want to have some kind of extinguisher but maybe can't afford a plumbed in system. The handheld units mount in the car and would require you to remove and use yourself so make sure its close by and doesn't require you to get out of the car and grab it, it could be too late by that point!

A plumbed in extinguisher and a handheld unit are mandatory for anyone who is racing!
Helmet & HANS Devices– You won't be allowed on a track day without a helmet, but the minimum standard for track days is that the helmet must be ECE approved like these helmets here!
But you only have 1 head, so protect it! You've maybe spent thousands on your car turning it into a serious track car, that is to be driven fast. We all hope we never have one, but in the event of an accident, you want to make sure you give yourself the best chance of surviving. So maybe look at our selection of FIA approved helmets which have been tested by the FIA to provide you with excellent protection!

If you do opt for one of our FIA approved helmets it's likely that you will be interested in a HANS (head and neck support device), these devices clip onto FIA approved helmets, and are fastened down by your harnesses, preventing your head and neck snapping forwards in the event of an accident – they are compulsory for anyone who is racing and have been used for over 20 years, saving lives every weekend!
The above should give you some good starting points on how to build a track car, but if you are unsure on anything or need some advice, feel free to give us a call on 01978 664466, or drop us an email at sales@demon-tweeks.com and we can help you make the right decisions.
Once you're on track and feel like you're up to speed, we suggest reading our 12 guaranteed ways of making you a faster driver blog to hone your skills!