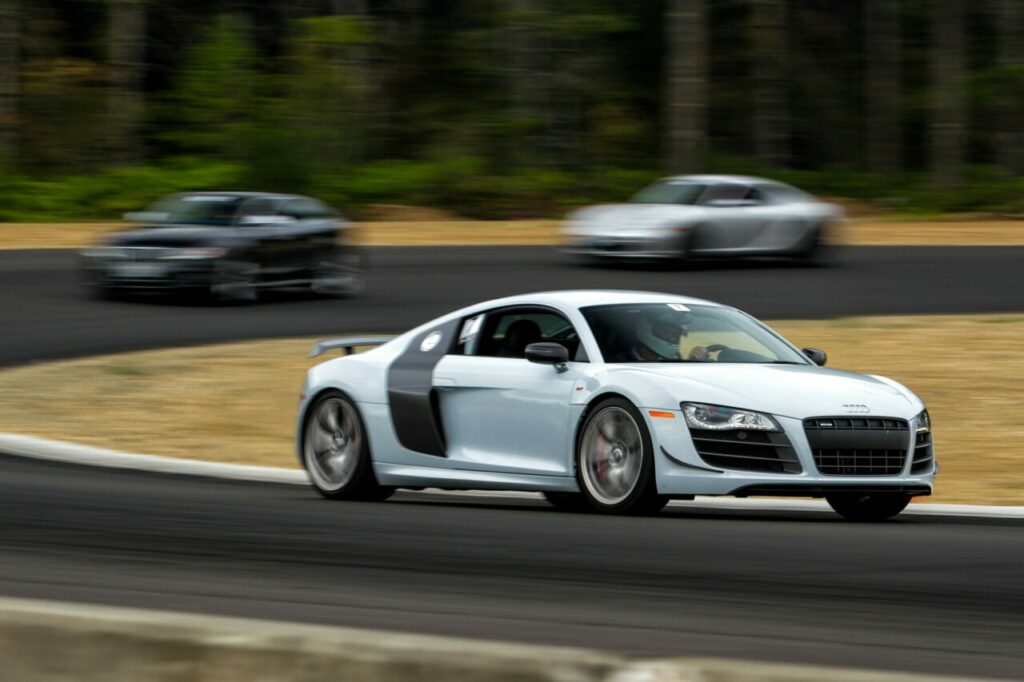 An upcoming track day builds the excitement and adrenaline levels that it can be easy to forget to take some important equipment on the day. This top ten list hopefully will make this much less likely, feel free to print it out and stick it on the dash! If it's your first track day, it will double as a useful guide.
Tyre Pressure Gauge
Tyre pressures will need adjusting for track use, a reliable accurate gauge is invaluable. A gauge with a bleed off valve is useful, tyres can be overinflated then adjusted down to the correct pressure via the gauge. Displays are analogue or digital, this is down to personal choice. Some tyre gauges come with useful extras such as logging features/downloads, stopwatches or a tyre temp sensor.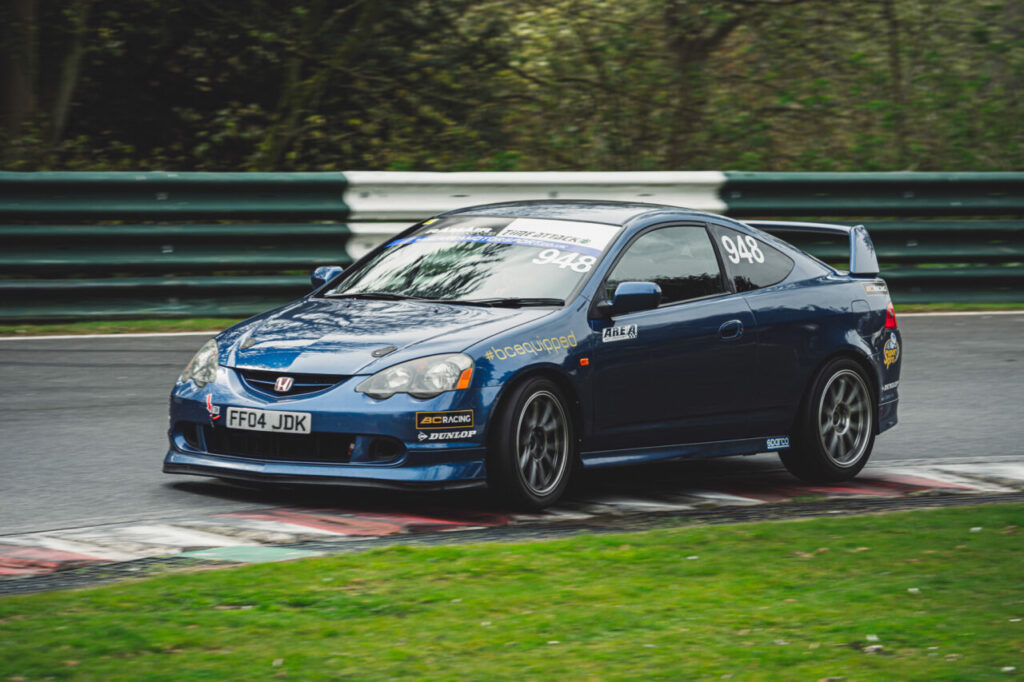 Tyre Inflation
Adjusting tyre pressure means it's very useful to have your own independent means of adding air to your tyres. This can be done by a simple foot pump, hand held inflator kit or 12 volt compressor all compact solutions, ideal if you are driving the track car direct to the track. If you have a support vehicle to carry a mains electric  compressor with appropriate inflator equipment this makes the job easier (as well as allowing the use of other air tools) 
Brake Pads
Road use pads are not going to cut it out on the track and even dedicated track pads may wear much quicker than expected especially on older/under braked cars. A spare set of track day pads will allow continued track time and if the car is driven to the track, will mean you can get home! A choice of compounds might be useful if the track or car is an unknown. Suitable track pads can be purchased either by brake caliper brand and model or by car if brakes are a factory fit.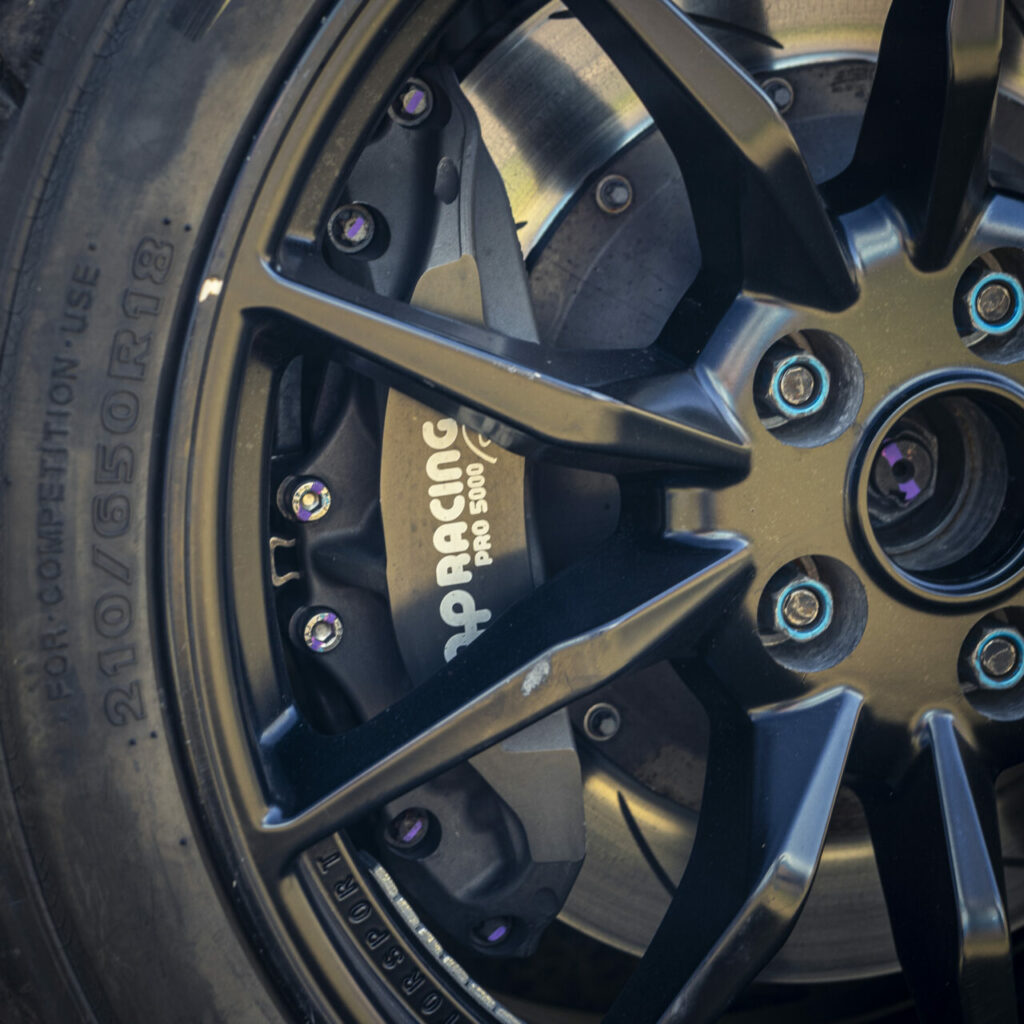 Jack & Safety Equipment
The ability to change wheels and brake pads (and sometimes remove unwanted scenery!) safely and quickly means more track time. A good trolley jack combined with axle stands is normally the default choice. Ramps can also be useful for some tasks, with some ramps also helpful to get the car off the trailer
Fuel & fuelling equipment
fuel is sometimes known as "motion lotion" a rather good name if you run out, the motion will cease! A car driven hard on track will use a lot more fuel than road use, so it is advisable to have a means of refuelling the car. Fuel containers can be metal or plastic, which can be used with a fuel funnel. Alternatively if using a metal jerry can the fuel can be pressurised to flow quicker with a fuel transfer pump which also saves lifting the can. Some plastic containers can be used with a rotary pump. If the car needs specialised race fuel it's worth buying before travelling in case there is no supply locally.  This fuel is typically supplied in metal drums, these can be fitted with pumps for easy filling. A handheld fire extinguisher is a good idea especially when refuelling cars still hot from the track. 
Helmet
A helmet is always required for track days – the minimum requirement should be ECE approved, but an FIA standard helmet will give much better protection. A full face is often specified if using an open car.  It is often said "I am only doing a track day", but it must be remembered you can be going as quick as a competition car but with less grip and often much less safety equipment. Remember your body will likely mend, but heads are much more difficult to fix! A few balaclava's fireproof or karting type to change between sessions can make putting on a hot sweaty helmet a bit more pleasant!
Brake fluid
Ideally, the brake fluid should be refilled with high quality high temperature fluid before getting to the track, especially if the car has stood between events. A high temp fluid will attract water much more readily so it's worth replacing, boiling fluid causing a poor pedal is often a reason for finishing a session early. It's worth taking a top up just in case any brake bleeding is required. A brake bleeder kit makes the job much easier and quicker.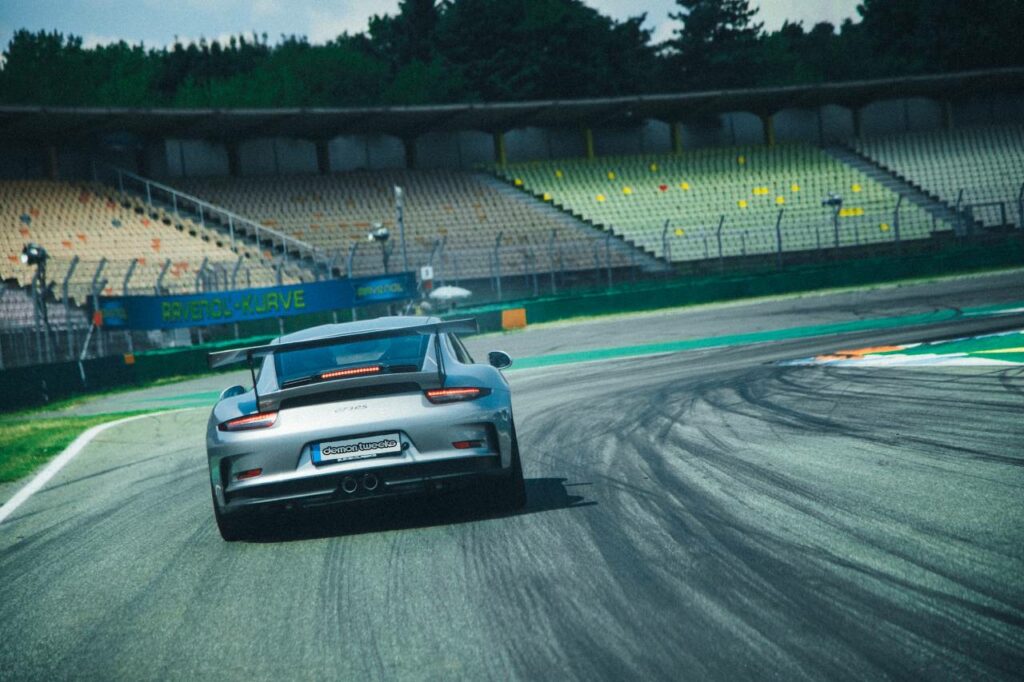 Tyres
Tyre wear will be much higher than for road use so spare tyres are always a good idea, also you may wish to drive to the track on road tyres and then swap at the circuit. It can pay to have tyres for different conditions especially if the weather is uncertain ( we are in the UK ! )  A set of tyres for mostly dry use and another set with lots of drainage channels will be a good idea. Treaded track day tyres are the better choice for most cars and drivers as their wide temperature range means they will always be predictable. Slicks will give ultimate grip but may be hard to keep at the correct tyre temperature.
Gloves
A firm grip on the steering wheel combined with lots of wheel movement can take a toll on the hands. A set of driving gloves will make the experience a lot more pleasurable, fireproof gloves are the best choice if things go wrong, or karting or Sim Racing non fireproof gloves are quite acceptable if on a budget. 
Tools
A good selection of tools if you are mechanically minded will often allow you to get back out on track after issues. A quality socket set in ½" drive or 3/8" drive a selection of screwdrivers, hex key set, and pliers and of course a trusty hammer if all else fails! 
In summary, a top ten list is always going to be a bit personal, and we could have easily made it a top 30. We hope you find the list useful, and please remember we are always happy to give advice and recommendations by phone or e-mail.
Click this link to take you to our useful circuit guide
---
Enjoyed this? Read more of our latest news:
Where To Next?
Looking for the latest motorsport parts and accessories? Check out our wide range from top brands.
Come and visit us at our store, showroom and fitting centre in Wrexham.
Want to know more about our story? Learn about who we are and why we've been driven by passion for over 50 years.
Interested in everything we do? Catch up on all the latest Demon Tweeks news.