If you are getting into motorsport for the first time this year or have been competing for years, you may have some questions about gear or products. In this blog about what you need to know in motorsport 2023 we answer some of the most asked questions this year.
2023 is set to be a big year in the world of motorsport, especially at Demon Tweeks as we have so many new products in store and on our website. We have also revamped our showroom for a fresh feel and have doubled down on this years sponsorship scheme to make it better than ever.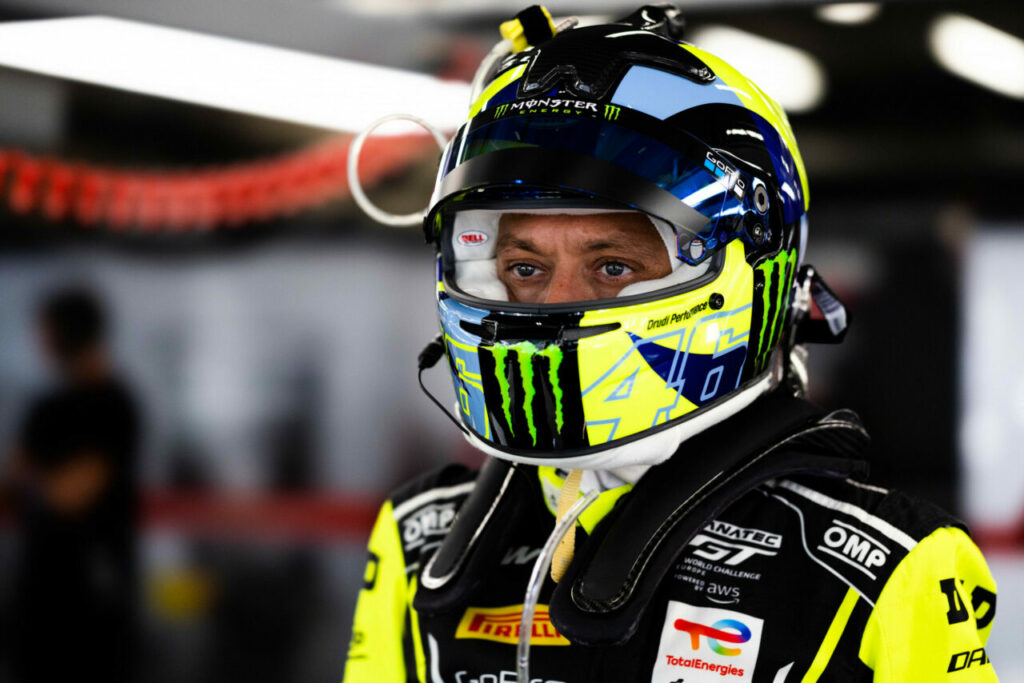 General:
What is the latest helmet safety standard?
The latest FIA standard is 8860-2018ABP, but other standards such as 8859-2015 and 8860-2018 are still the most up to date of there class.
If I don't drop it or have a crash can I keep the same helmet forever?
No, helmet standards are often updated and the previous standard is no longer accepted after some time, please check your regulations for what you need. Also helmets do deteriorate over long periods of time, meaning they start to loose their structural rigidity.
How long will my helmet last before I need to replace it?
It depends what standard is meets, some Snell helmets won't last as long as an FIA one, but remember if your helmet is dual standard then the standard that keeps going is the one you can continue to use on.
How do I know which helmet size is the right one for me?
Measure the circumference of your head, just above the ears, then check the measurement against each helmets sizing chart as sizing does differ brand to brand.
What are pre threaded helmets?
A number of helmets (mainly Arai and some entry level Bell helmets) come with M6 pre threaded inserts so you can add Hans posts at a later date if required, or just purchase the posts when you are buying the helmet if you are using an FHR straight away.
Do I need a carbon fibre helmet?
Want, and need are 2 different things, but if you're to spend your money on 1 piece of safety equipment we suggest spending the bulk of your budget on your helmet, after all, you've only got 1 head! Carbon fibre helmets don't only look good, they are stronger and lighter too. Lightness of the helmet helps reduce neck fatigue during longer races in cars where you have high grip.
Are intercoms extra or integrated into some helmets? Are intercoms needed?
Intercoms are fitted to all rally helmets, but they can also be fitted afterwards, but the fit is never as good as how they come out of the factory so if you can, buy a factory fitted one. You'll need an intercom if you are rallying, so communication between driver and codriver can be made. You can also use an intercom for tuition! and something similar, but also different you can but helmets that come with comms partially fitted for circuit racing/car to pit radio.
What colour visor can I use? And are there any regulations?
You can use any colour you like, but the visor must fit the helmet it's designed for.
Why are the 8860-2018 homologated helmets so much more expensive?
They are more expensive than 8859-2015 helmets because they are lighter and stronger, the materials and procedures used to make 8860 helmets are superior.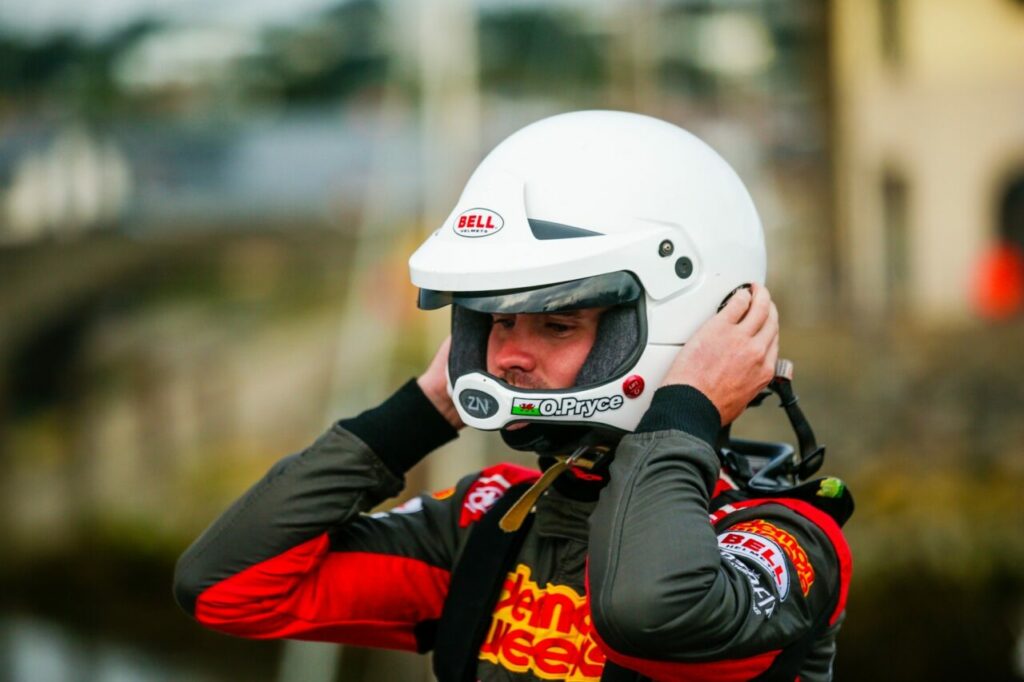 Which helmets can I use for rallying?
You can use any helmet which meets the latest homologations and has an intercom system fitted.
Can I have 2 different helmets for rallying?
Yes you can, but depending on the fitment of the intercom cables, you may need adaptors.
What intercoms can I use with these?
A range of intercoms are available, but if you can, try to avoid using adaptors as they reduce the noise quality.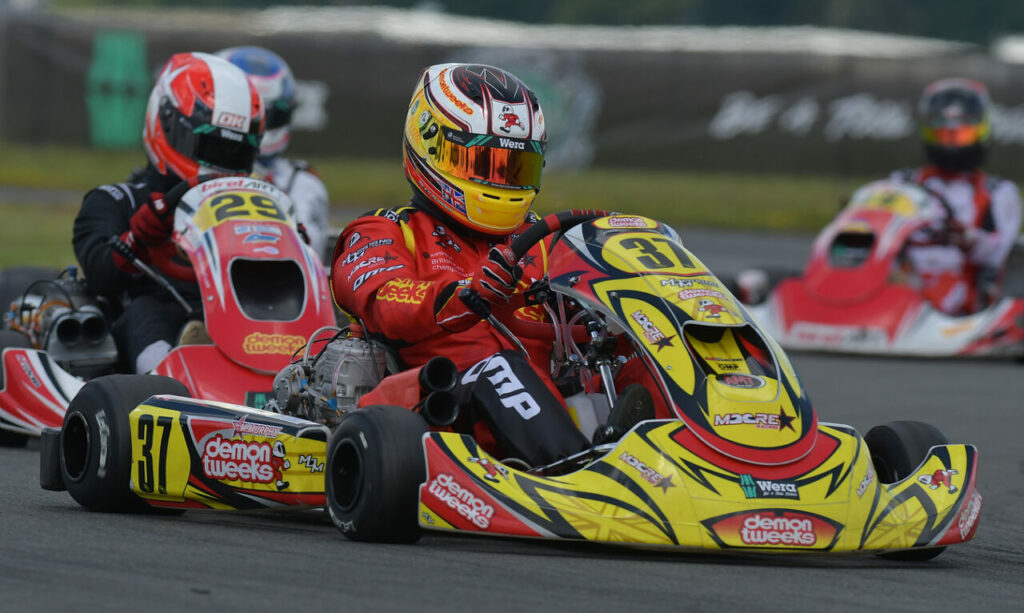 What helmet do I need if under 15?
Snell CMR 2016
Can I use a racing helmet for karting or a kart helmet for racing?
If you are older than 16 you can use a full race racing helmet that's 8859-2015 or 8860-2018 approved, but NOT the other way round.
Can I use a motorcycle helmet for karting?
For arrive and drive karting/indoor karting you can use a number of ECE approved helmets, but check your regulations before buying!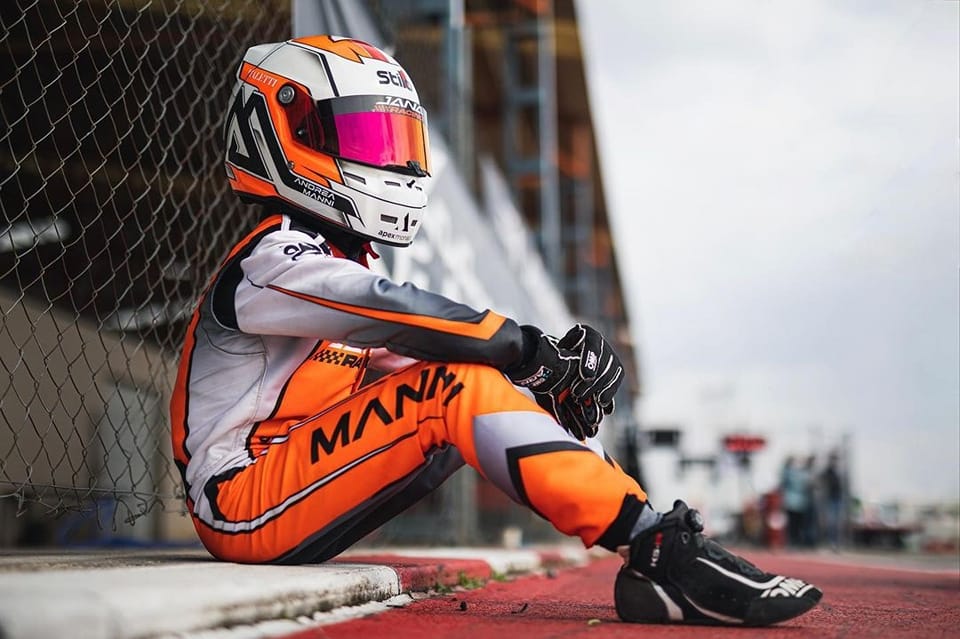 Suits
Suit sizing – how do a size a race suit?
Please refer to our size guides and take your largest measurement to size yourself up. It's no good choosing a suit based on size if it won't be wide enough (and visa versa).
Homologation / How long will a race suit last?
8856-2018 suits now come with a 10 year life, but that is only for FIA sanctioned events, in the UK there is no expiry date as yet, and you can even still use 8856-2000!
How long will a kart suit last?
There is currently no expiry dates on kart suits, they will last as long as they aren't damaged or don't fit.
Entry level vs high end race suit – what's the difference?
Quality of materials/fit/breathability/features like floating arms, stretch panels, layers of fire resistant materials
Entry level vs high end kart suit – what's the difference?
quality of materials/fit/breathability/features like floating arms, stretch panels
What's the difference between a race and a kart suit?
Race suits are flame resistant, kart suits are abrasion resistant.
Are there female versions, how do I size for one?
Yes, please check the size guides and size based on your largest measurement, height, waist, chest.
Can I order a made to measure suit?
Yes, please get in touch with our sales team today or if ordering a Sparco custom race suit you can do this on the online order forms.
Can I wear the same gear for both racing and karting?
You can wear race boots and gloves for karting, but that's where it stops. You cant use your race suit for karting, and you cant use kart boots or gloves for racing.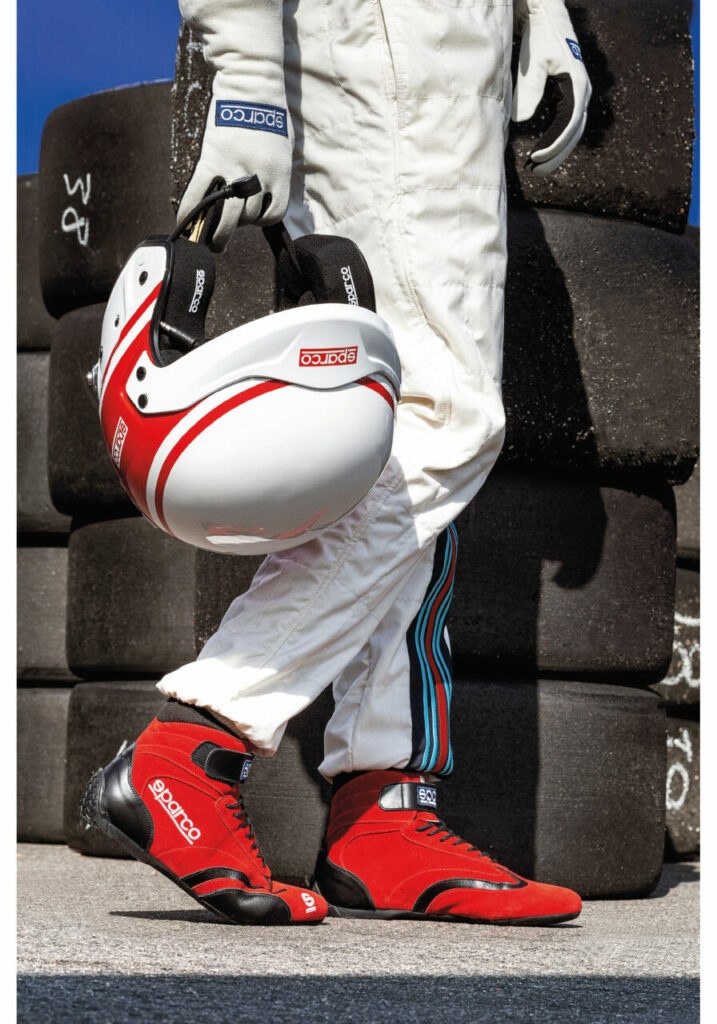 Boot Sizing – how do you size boots? Are they the same as trainers?
They are the same, although sometimes a little narrower.
Homologation / How long will they last? Where do you find out?
They are now all made to 8856-2018 which do not expire. Hologram is usually on the tongue of the boots.
Entry level vs high end – what's the difference?
Materials used, breathability, design, soles, features, quick lace systems.
What's the main difference between a race and a kart boot?
Race boots are flame resistant. Kart boots share many other features though.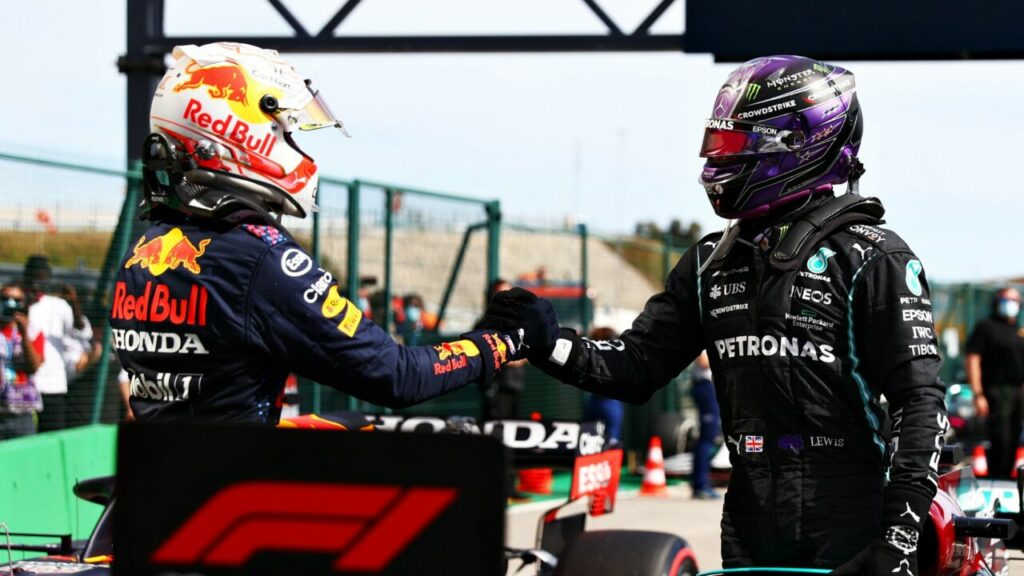 Glove sizing – how do you size gloves?
Check our sizing guides on the website, make a fist and measure around your hand excluding the thumb and then check against the size chart.
Homologation / How long will they last?
Where to find They are now all made to 8856-2018 which do not expire. – hologram is found on the gloves themselves.
Entry level vs high end – what's the difference?
Materials used, breathability, design, grips/suede/silicone vs silicone volcano, features, external seems.
What's the main difference between a race and a kart glove?
Race gloves are flame resistant, kart gloves aren't. Simple as that.
Underwear
Is it true that competitors will have to wear personal fireproof underwear this year?
Boxers, bra etc etc – this is only mandatory in f1 in 2023. For 2024 it will be mandatory in WEC, WRC and then it will filter down into clubman motorsport over the years.
Do I need to wear special underwear for karting? or just racing?
You can wear whatever you like for karting. When racing you must wear fireproof tops, bottoms, socks and balaclava.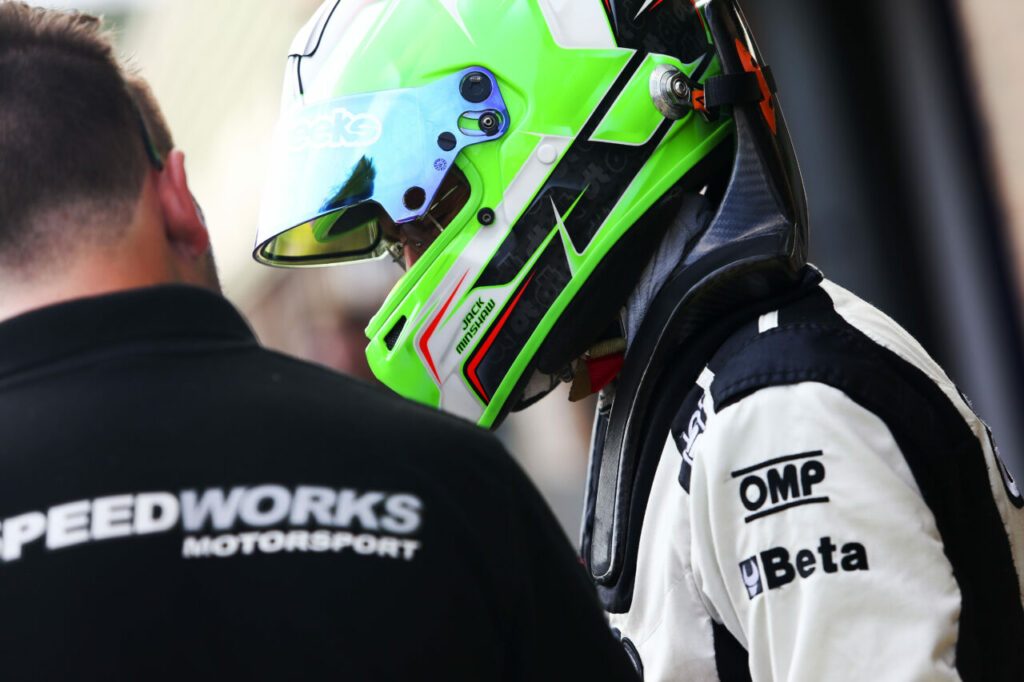 What's the options for FHR/Hans devices?
20/30 degree (which depends on your seating position most GT/saloon racing use 20 degree (even Caterham's, 30 degree is used in formula cars) and medium & large which depends on your collar neck size up to or over 17/18''.
Why would I buy a carbon hans device when the harnesses pull it down anyway?
To lower the combined weight of car/driver. We don't need to tell you how important this is when racing!
Do I need a special helmet for one, or do I need to drill my helmet?
DO NOT drill your helmet, when using an FHR device, please ensure you are fitting it to an approved helmet that has or can accept FHR posts – the approval on the FHR and the posts/tether must all match – 8858-2010.
So there you have it! The most important questions answered for motorsport 2023. But if we didn't cover what you needed to know, simply get in contact with our team over at Demon Tweeks HQ and they will help.
---
Enjoyed this? Read more of our latest news:
Where To Next?
Looking for the latest motorsport parts and accessories? Check out our wide range from top brands.
Come and visit us at our store, showroom and fitting centre in Wrexham.
Want to know more about our story? Learn about who we are and why we've been driven by passion for over 50 years.
Interested in everything we do? Catch up on all the latest Demon Tweeks news.