Rev up your style and take on the road with confidence in 2023 with the ultimate must-have for every motorcycle enthusiast—the motorcycle jacket. Gear up in these six extraordinary jackets that have captured the attention of riders this year. From sleek armoured shirts to rugged leather jackets and versatile textiles, these jackets combine fashion-forward design, uncompromising safety, and unparalleled performance. Get ready to make a statement on the road as we dive into the exhilarating world of these extraordinary motorcycle jackets!
Off the back of discussing our overall top picks for clothing in 2023 we are taking a deep dive into the best motorcycle jackets for 2023. In no particular order:
Knox Urbane Pro Men's MKIII Armoured Motorcycle Shirt: The Urban Warrior's Shield
Unleash your inner urban warrior with the Knox Urbane Pro Men's MKIII Armoured Motorcycle Shirt — an astonishing blend of protection and style. It has the cut, abrasion and tear resistance you'd expect in a jacket but it's a shirt! You don't need to wear any jacket on top of this, so it's perfect for warm weather.
Crafted from high-tenacity fabrics, this badass shirt features Knox's cutting-edge Micro-Lock armour, strategically placed to safeguard your vital areas. Ride in confidence with its CE Level 2 armour in the shoulders, elbows and back, it is approved to class AA under EN17092. Relish in its moisture-wicking properties that keep you cool and comfortable. Dominate the concrete jungle with this revolutionary armoured shirt that seamlessly blends into your everyday style.
Oxford Rockland Textile Motorcycle Jacket: Your Versatile Adventure Companion
Ready for any adventure that comes your way, the Oxford Rockland Textile Motorcycle Jacket is your go-to choice for versatility and ruggedness. Constructed from resilient 600D polyester, it laughs in the face of abrasion. Engineered with multiple ventilation points, this jacket ensures a cool breeze flows through your ride, even during the most demanding journeys.
Gear up with confidence, thanks to the CE Level 1 armour that protects your shoulders and elbows. With its removable waterproof and thermal liner with adjustable cuffs, this jacket stands strong against changing weather conditions. The Rockland Jacket: fuelling your spirit of adventure.
Alpinestars Sherpa Motorcycle Hoodie: The Pinnacle of Casual Cool
Embrace the epitome of casual cool with the Alpinestars Sherpa Motorcycle Hoodie — an absolute game-changer in the world of streetwear-inspired motorcycle jackets. Crafted from a luxurious softshell, this hoodie oozes comfort and style. Fearlessly ride the streets while protected by Nucleon Flex Plus armour that blends seamlessly with its laid-back design.
The Sherpa Hoodie effortlessly transitions from the roaring engine of your bike to the bustling streets, all while keeping you cosy and protected. Turn heads with this blend of fashion and functionality, redefining what it means to ride in style.
Alpinestars GP Plus R V3 Rideknit Leather Motorcycle Jacket: The Art of Speed
Unleash your inner speed demon with the Alpinestars GP Plus R V3 Rideknit Leather Motorcycle Jacket — the next in our list of motorcycle jackets 2023. It's an exquisite masterpiece that showcases the union of technology and style. Meticulously crafted from premium bovine leather for superior abrasion resistance, this jacket whispers luxury while boasting a large mesh panel on back of collar for optimised levels of airflow that scream strength and durability.
Feel the thrill of unrestricted movement with its pre-curved sleeves, designed for the true enthusiast. The level 1 Nucleon Flex Plus armour stands as the guardian of your shoulders and elbows, providing unrivalled impact protection. Experience pure adrenaline as you carve through the bends in this extraordinary leather jacket.
RST 2977 S1 Leather Motorcycle Jacket: Unleash Your Inner Rebel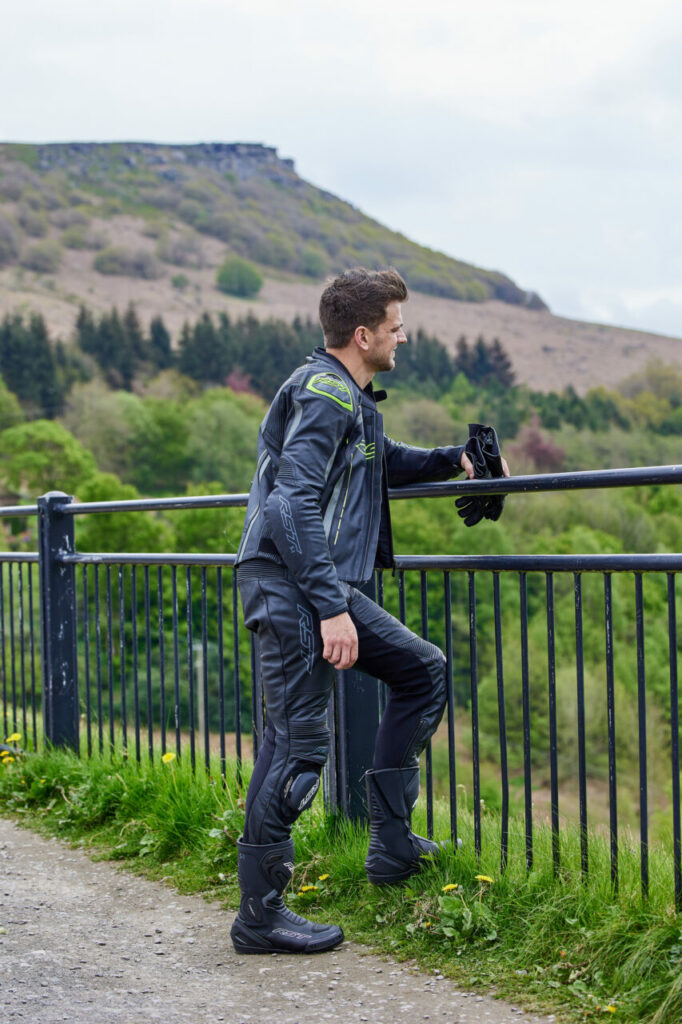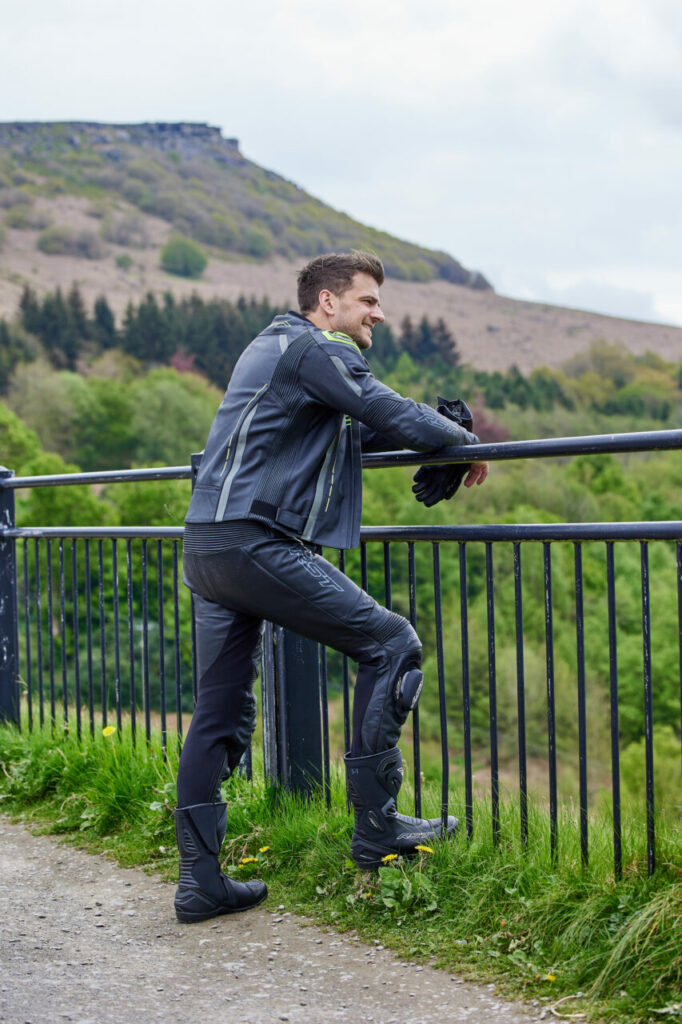 Embrace the spirit of rebellion with the RST 2977 S1 Leather Motorcycle Jacket — an embodiment of edgy style and uncompromising protection. Crafted from high-quality full-grain leather, this jacket takes a stand against abrasion. Unleash your wild side as the CE Level 1 armour on your shoulders and elbows fearlessly shields you from impacts.
The jacket's perforated leather panels provide a striking visual appeal while optimising airflow for a fresh breeze as you hit the throttle. With its adjustable waist, cuffs and array of stylised pockets, this jacket ensures a personalised fit that helps you stand out and which will resonate with your rebellious soul.
RST 2148 Pilot Evo Textile Motorcycle Jacket: Conquer Every Terrain
Conquer the roads, rain or shine, with the RST 2148 Pilot Evo Textile Motorcycle Jacket — a true all-rounder designed for the adventurers at heart. Engineered using MaxTex fabrics, this jacket is your ultimate shield against abrasion and wear.
Feel the reassurance of CE Level 2 armour as it guards your shoulders and elbows on every journey. Let the wind guide you with its breathable membrane, and when the temperature drops, snuggle into its removable thermal lining. The Pilot Evo Jacket: your trusty companion, ready to take on any ride.
Conclusion
Ignite your passion for motorcycles and express your unique riding style with these sensational motorcycle jackets 2023. From the urban warrior vibes of the Knox Urbane Pro Armoured Motorcycle Shirt to the rebellious spirit embodied by the RST 2977 S1 Leather Motorcycle Jacket, these jackets redefine what it means to ride with flair.
Embrace the fusion of fashion, safety, and performance and embark on an unforgettable journey as you roar down the open road in the jacket that resonates with your personality. Elevate your riding experience and make heads turn with the best motorcycle jackets of the year!
---
Enjoyed this? Read more of our latest news:
Where To Next?
Looking for the latest motorcycle parts and accessories? Check out our wide range from top brands.
Come and visit us at our store, showroom and fitting centre in Wrexham.
Want to know more about our story? Learn about who we are and why we've been driven by passion for over 50 years.
Interested in everything we do? Catch up on all the latest Demon Tweeks news.