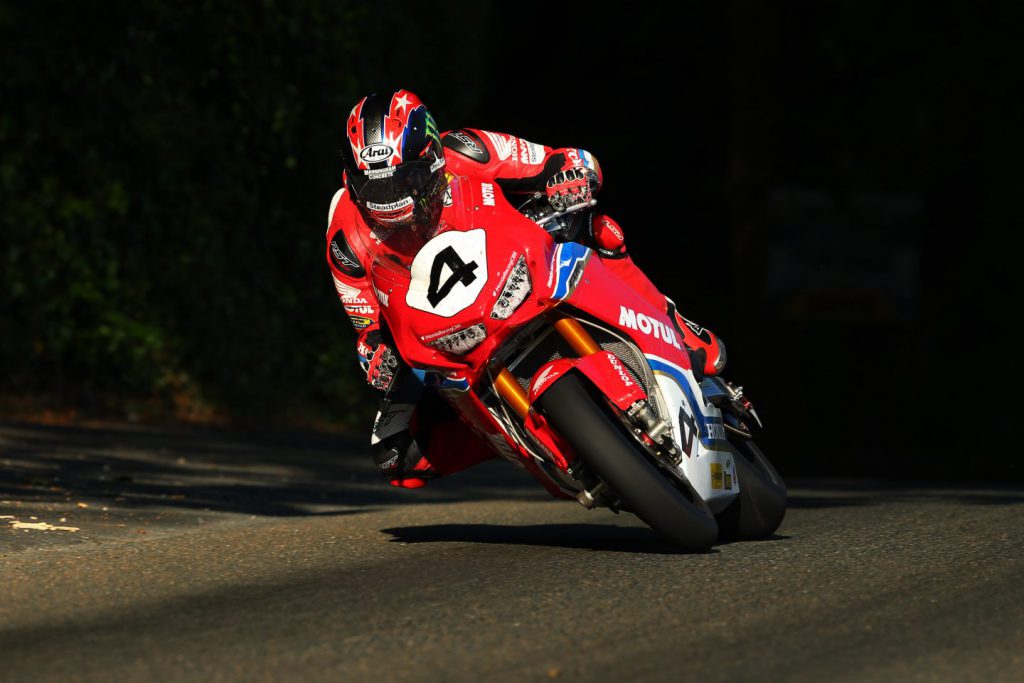 Arai have earned themselves a reputation around the world amongst riders and drivers alike as being one of the best you can buy to protect your head. This reputation has been earned by Arai's relentless and meticulous approach to design and safety that has meant Arai has been trusted by countless Championship-winning racers for decades. Arai don't compromise, they have a simple goal to "be the number one helmet in the world". 
This was a statement made by "Mitch" Arai – son of the brand founder Hirotake Arai – made in 1976 and an ambition that the brand has stuck to ever since. His aim of being number one didn't just refer to selling the greatest number of helmets each year or even making more profit than their competitors; he wanted the Arai name to be associated with motorcycle helmets that offered more protection than any other.
Michio, to use his full name, was a motorcycle rider just like his father and the company founder, and understood not only how important it was to have a helmet that could save a rider's life, but to produce a range of helmets that were comfortable and manufactured by people who love what they do and constantly strive to produce the best.
Who are Arai?
Arai started out in 1926 with the aim of producing motorcycle helmets, utilising founder Hirotake Arai's knowledge and expertise as a hatmaker to produce safe, comfortable and affordable helmets for motorcyclists – and all other forms of motorsport, too.
Every Arai helmet is "almost 100% handmade" a line that the brand themselves look to emphasise. Each helmet takes around 18 hours to make by hand, with the "almost" referring to a short process where a laser cutter makes the space for the visor aperture.
Not only is each Arai helmet made by hand, it is passed through five sets of hands for inspection before it gets the seal of approval and the brand logo is then added. It is this personal touch that resonates with a lot of Arai wearers – including professional and amateur racers, and those that have never raced and never intend to race. Furthermore, inside every Arai helmet is the signature of the person who made it which shows the faith the craftsman has in the final product.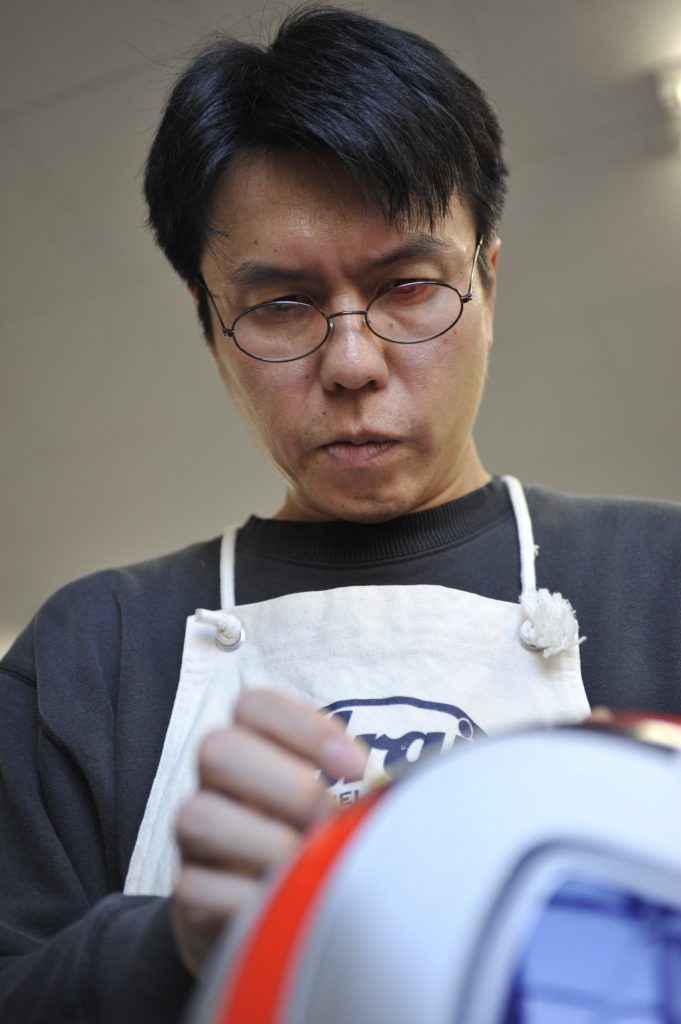 What type of helmets do Arai make?
Arai make helmets for almost all forms of motorsport, with a particular – but by no means sole – focus on motorcycle helmets. What's worth noting, and remembering, is that they also make helmets for everyday riders including commuters and people who simply enjoy riding motorbikes.
Arai make helmets for almost all forms of motorsport, with a particular – but by no means sole – focus on motorcycle helmets. What's worth noting, and remembering, is that they also make helmets for everyday riders including commuters and people who simply enjoy riding motorbikes.
Every Arai helmet worn on the track by a MotoGP, World Superbike, British Superbike or Isle of Man TT rider is available – to the exact same spec – to the everyday man and woman on the street. The same applies to their range of motorsport helmets, with their Formula One and Karting helmets also available to amateur racers. This is another core value created and implemented by "Mitch" Arai – "how can you say one person's head is worth more than another's?! This means that you and I can wear the exact same helmet as the likes of Jonathan Rea, Sebastian Vettel and more World Champions on our daily commutes, track day exertions and off-road blasts, how cool is that! (We make no apologies for the impromptu fan boy moment!)
The range features everything from full face racing helmets to the classic open-face helmets, and even a range of motorsport and karting helmets. Essentially, every form of racing and riding is catered for!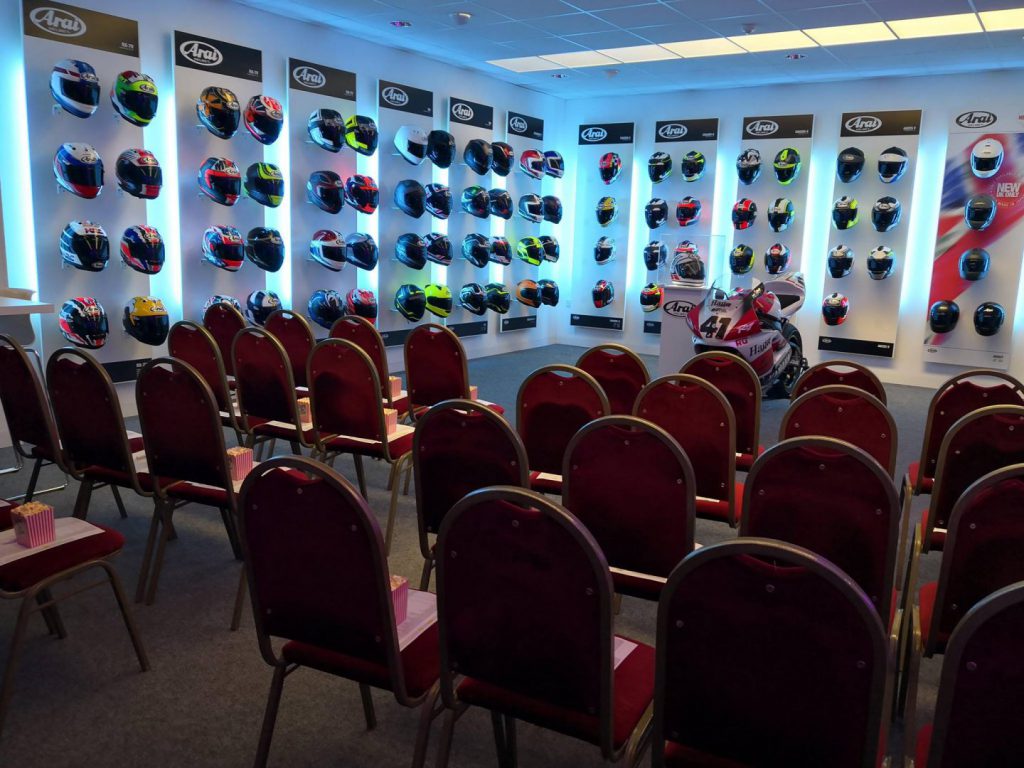 Arai full face motorcycle helmets
At the top of the range is the Arai RX-7V motorbike helmet. As we've already mentioned, every Arai shell is designed to be worn by professional racers and everyday riders, but these are the models that contain the greatest amount of technology and know-how and are available in a range of replica racer designs including Maverick Vinales, Cal Crutchlow, Leon Haslam, Mick Doohan, Dani Pedrosa, Jonathan Rea, Kevin Schwantz and Nicky Hayden.
The Arai Renegade V is another popular helmet, designed for touring bikes and providing the rider with all of the style and protection benefits of an Arai helmet with added noise reducing capabilities for a quieter ride.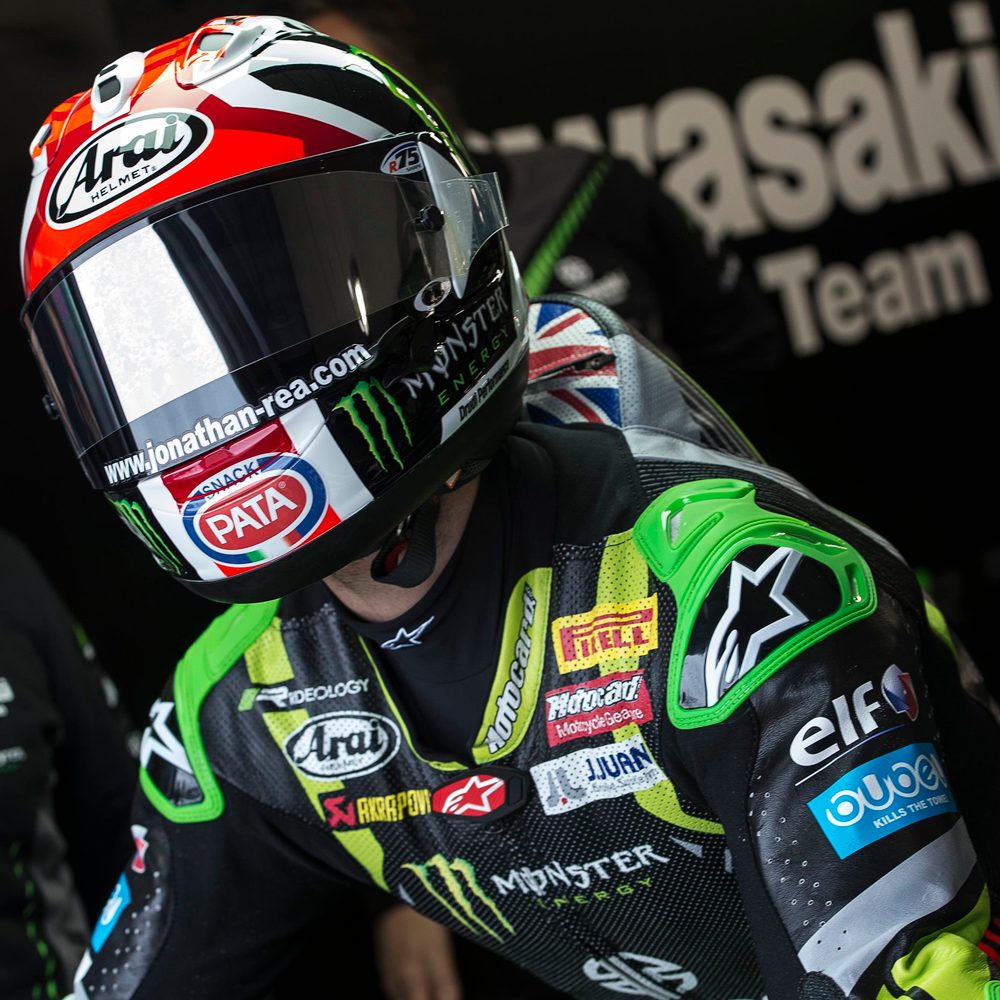 Arai MX and off-road helmets
Worn throughout the famous Long Way Down series in which actors Euan McGregor and Charlie Boorman travel from London to South Africa on their motorbikes, the Arai Tour-X helmet has become the off-road helmet of choice for adventures and motocross riders alike. Designed to be tough, strong and comfortable it is suitable for all conditions and the larger aperture ensures that you can wear your MX goggles comfortably.
Arai open face helmets
In terms of open face helmet design and technology, the most popular is the Arai Freeway which offers one of the lightest, but strongest open face helmet on the market. The Arai CT-F helmet has also set a new standard, offering more protection and comfort than ever before through the new extended lower sides but without obscuring your vision in any way. The latest models in the Arai CT-F helmet range also offer an adjustable peak to help you block out the sun as you cruise.
Arai karting helmets
With a range of helmets especially for karting, Arai are starting to branch out into other areas of motorsport where they can show their expertise. Karting is famous for being where many modern racing champions start their careers and the Arai CK-6 helmet for junior drivers is an excellent way for them to start building a relationship with drivers – and riders – at an early age. From there they can then progress onto the Arai SK-6 helmet which is a larger version designed for adults.
How does an Arai helmet fit?
Arai helmets fit in much the same way to all other motorcycle helmets, so you don't have to worry about them coming up too small or too large when you buy one. These Arai helmet size guidelines should help you to pick out the ideal size, but remember to double check your size with a tape measure (and someone reliable to read it) first.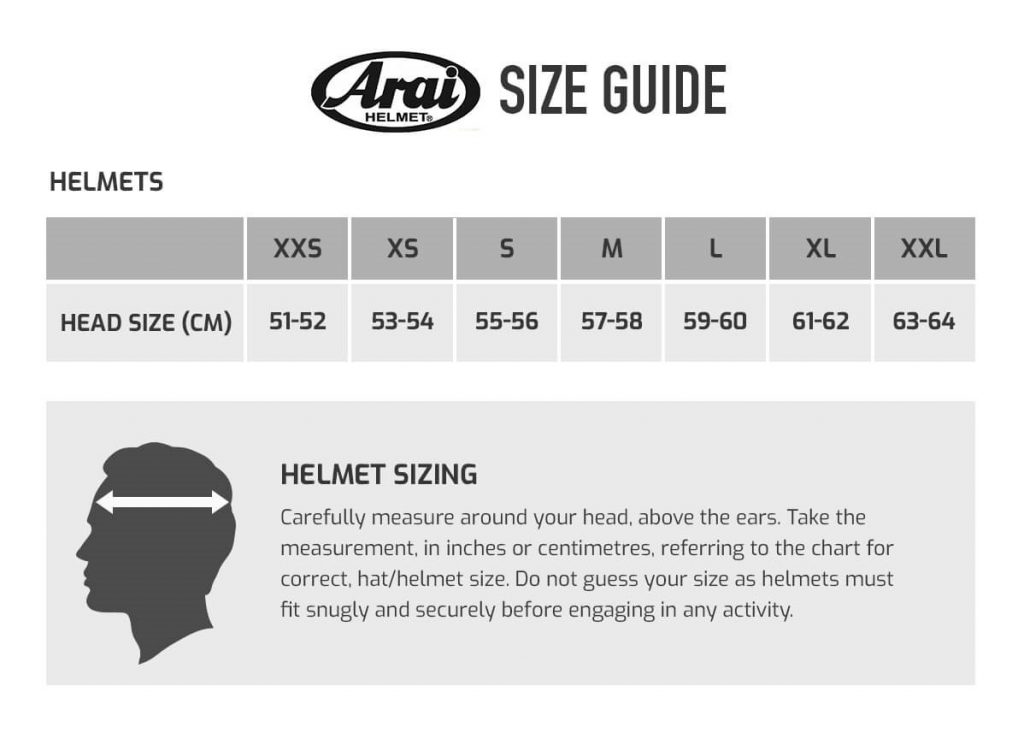 Which professional racers wear Arai helmets?
Arai helmets are worn across the world of motorsport, providing the ultimate in safety and comfort (this includes adhering to the ECE 22.06 helmet standard) for drivers and riders. In Formula One, Arai lids are worn by the likes of Sebastian Vettel, Max Verstappen and Daniel Ricciardo – three of the biggest names on the grid – and when it comes to two wheels the Arai line-up is even more impressive.
Arai motorcycle helmets are worn by professional riders past and present, like Maverick Vinales, Cal Crutchlow, Tito Rabat, Takaaki Nakagami and Dani Pedrosa.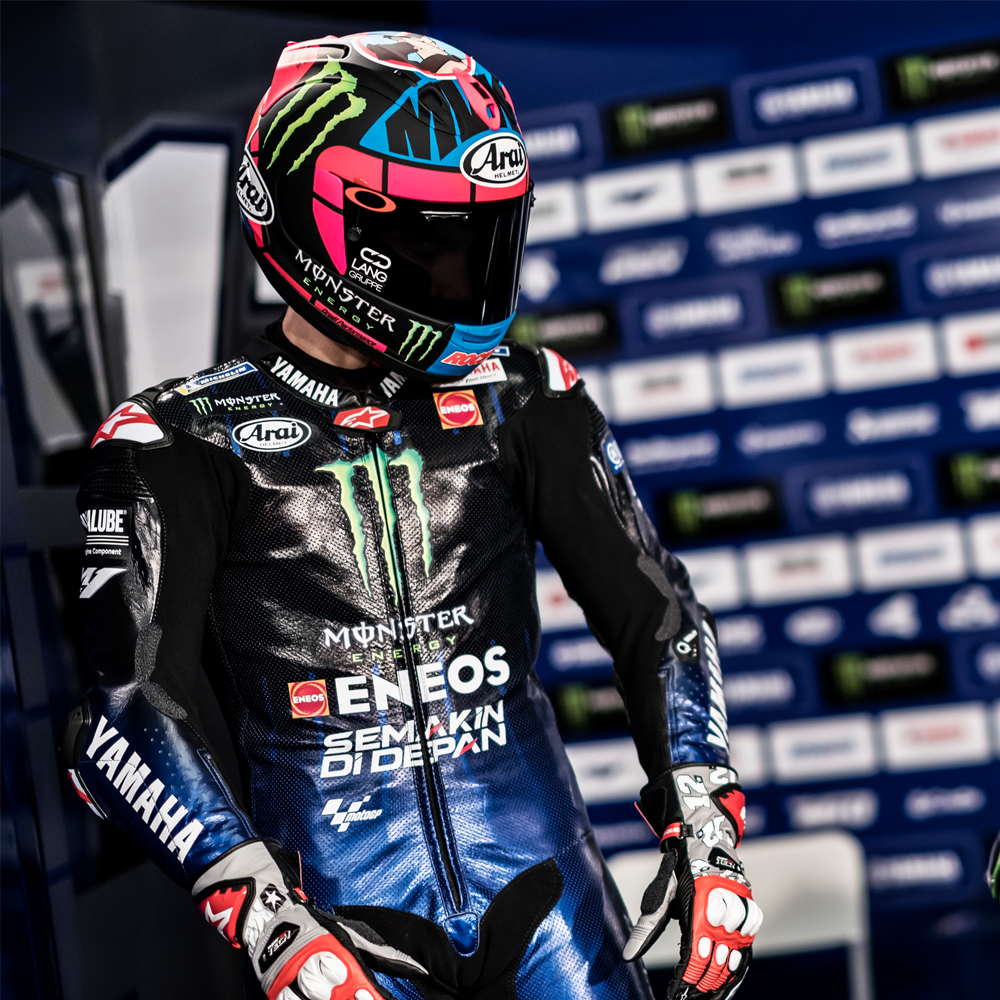 At World Superbike level they don't come much bigger. 4-time world champion Jonathan Rea is a long-time Arai ambassador, wearing the Arai RX-7V – a model you can buy as a Rea replica. There is then the likes of Michael van der Mark and newly-crowned British Superbike champion Leon Haslam, who is joining Rea at Kawasaki in World Superbikes from 2019, who also wear Arai helmets.
Josh Brookes, one of the most competitive British Superbike riders, is also an Arai-sponsored rider, along with some of the biggest names in road racing including Cameron Donald and Connor Cummins.
---
Enjoyed this? Read more of our latest news:
Where To Next?
Looking for the latest motorcycle parts and accessories? Check out our wide range from top brands.
Come and visit us at our store, showroom and fitting centre in Wrexham.
Want to know more about our story? Learn about who we are and why we've been driven by passion for over 50 years.
Interested in everything we do? Catch up on all the latest Demon Tweeks news.