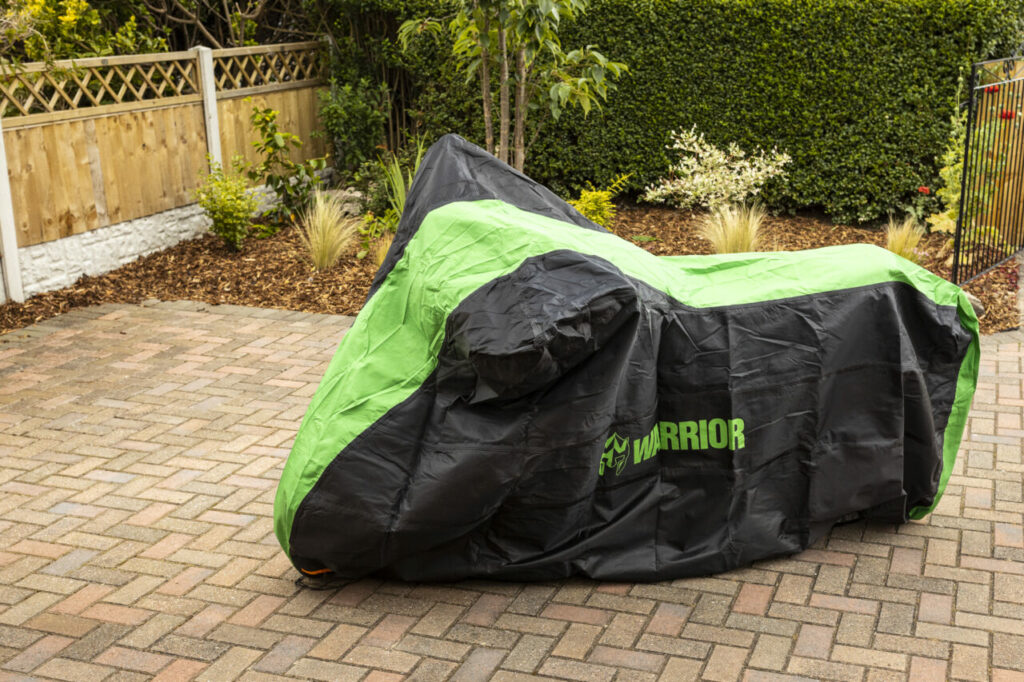 So, it's that time of year again. September is well and truly here. The days are getting shorter, and the weather is, well… becoming quite wet and miserable. (Doom and gloom!)
Thankfully, this isn't a weather report and we're actually here to tell you that, whether you're a rider who enjoys blasting through the lanes in the summer sun or someone who commutes to and from work in all conditions, it's time to start thinking about how to best protect your bike in the Autumn and Winter months.
It can be a bit of a maze trying to find which motorcycle covers are best value for money and ultimately, what will do the job when it comes to protecting your pride and joy from the elements.
Fortunately, Warrior has just released their brand new Premium Outdoor Motorcycle Cover and here's why it could just be the answer to all your problems…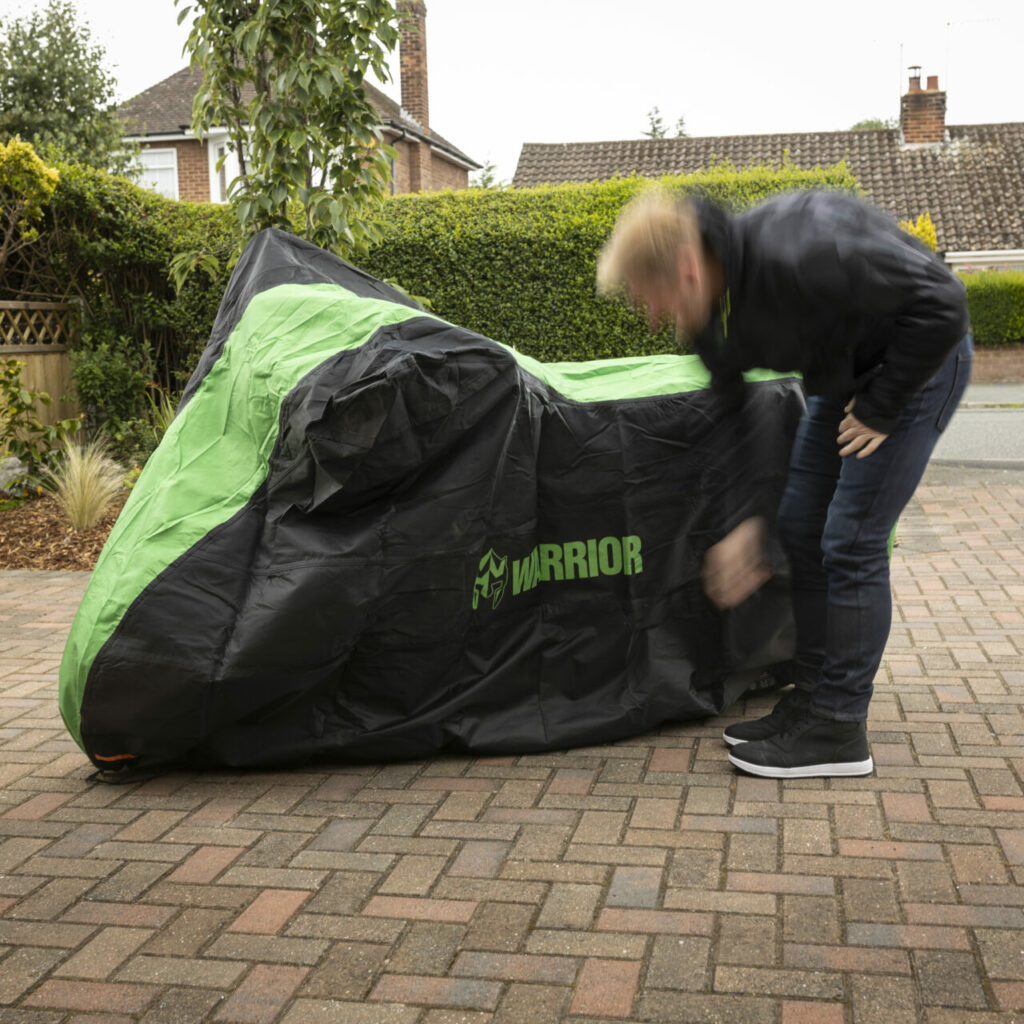 Do motorcycle covers work?
In short, yes but only if you are buying the right cover for your bike. Afterall, you wouldn't buy a medium shirt knowing that (no matter how much you don't want to admit it) you're an XL or use a pair of flip-flops to go hiking.

The same principal applies here and with sizes available from Small to Extra Large, the Warrior Premium Outdoor Motorcycle Cover caters for the majority of shapes and sizes. Why not check out the handy size guide below so you can be sure you're getting the right size for your bike: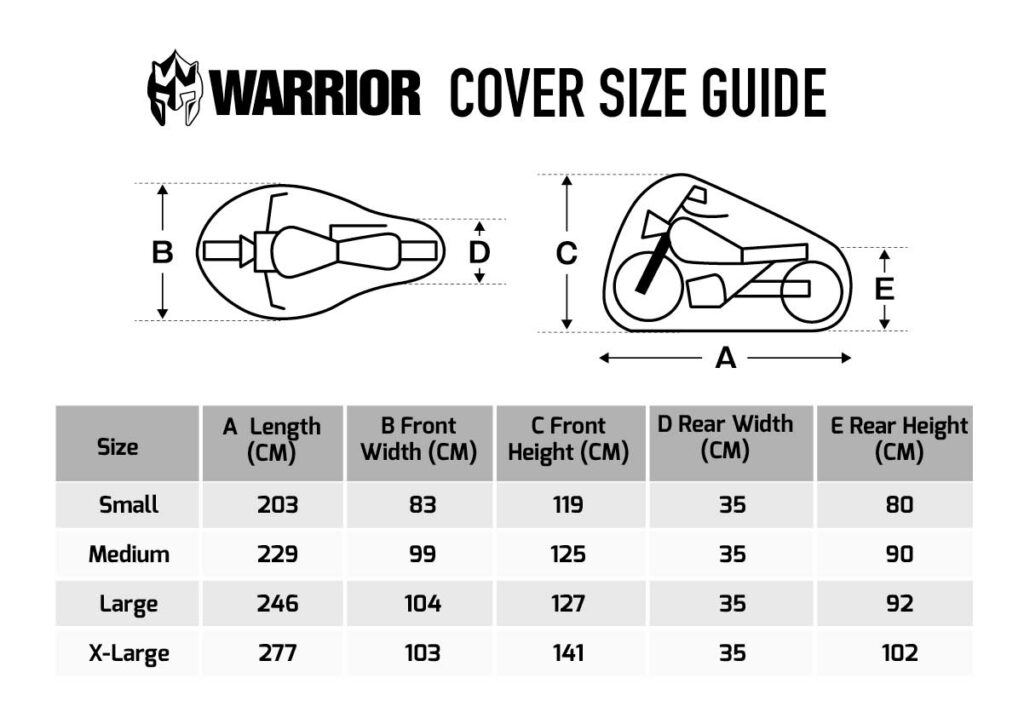 So now you know which size is right for your pride and joy, read on to find out why this cover is the one to choose.
What does this motorbike cover protect against?
Motorcycle covers are available for indoor and/or outdoor use. Apart from the dust covers which just aim to protect your bike for indoor storage, the vast majority out there are for outdoor use.
Warrior's brand-new cover is made from high quality materials to make sure your motorcycle is well protected from sun, rain, wind, snow and dust.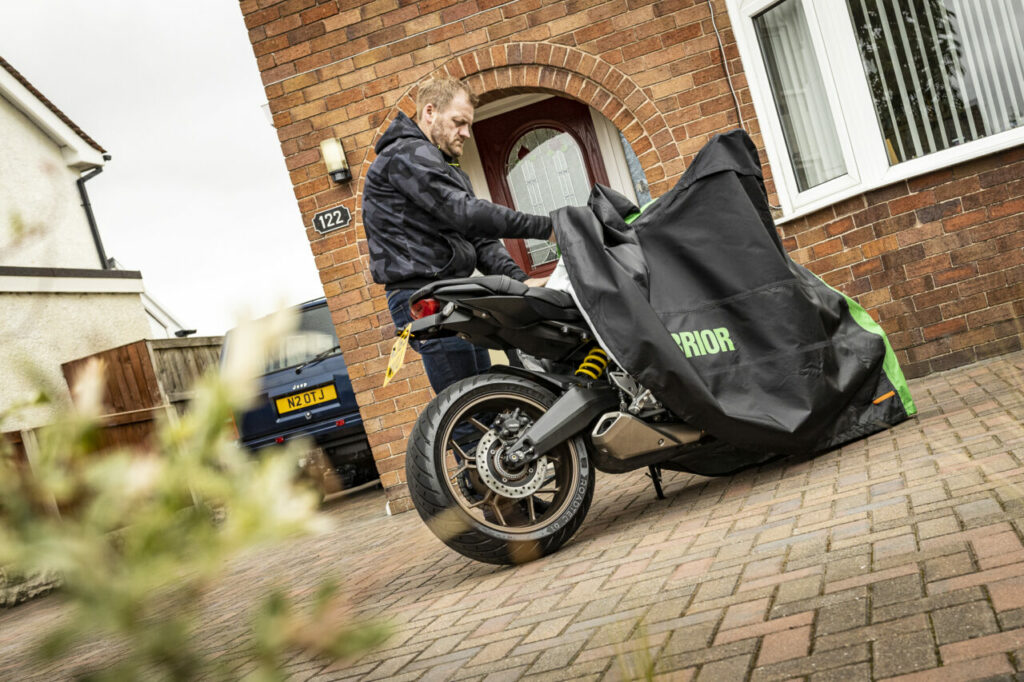 Great, it keeps the rain off but why exactly is this cover so special?

Well, it uses 210D ripstop oxford cotton fabric which is sealed and double stitched to make sure it has maximum protection from moisture and with the strategically placed vents keeping the air flowing through the cover, you can be assured you will be safeguarded from condensation build up underneath.

This isn't typically standard with most covers and will help keep your bike from becoming damaged by rust or corrosion, especially when enclosed for long periods of time!
What else can it do?
So, as we've found out, the Premium Outdoor Motorcycle Cover protects from all that nature can throw at it but what are the special features that really separate this from any other cover?
Picture the scene… You've just had a long day at work, it's raining. You pull up to your home after a difficult ride and you go to put your cover on, except you can't until the engine and exhaust have cooled down. That's either a long wait in the wet or another trip outside later on, disrupting your well-earned relaxing time.
Worry no more! Warrior use a soft, heat resistant lining material that not only protects the bodywork of your motorbike from dents and scratches but can also be used right after a long ride. How convenient is that?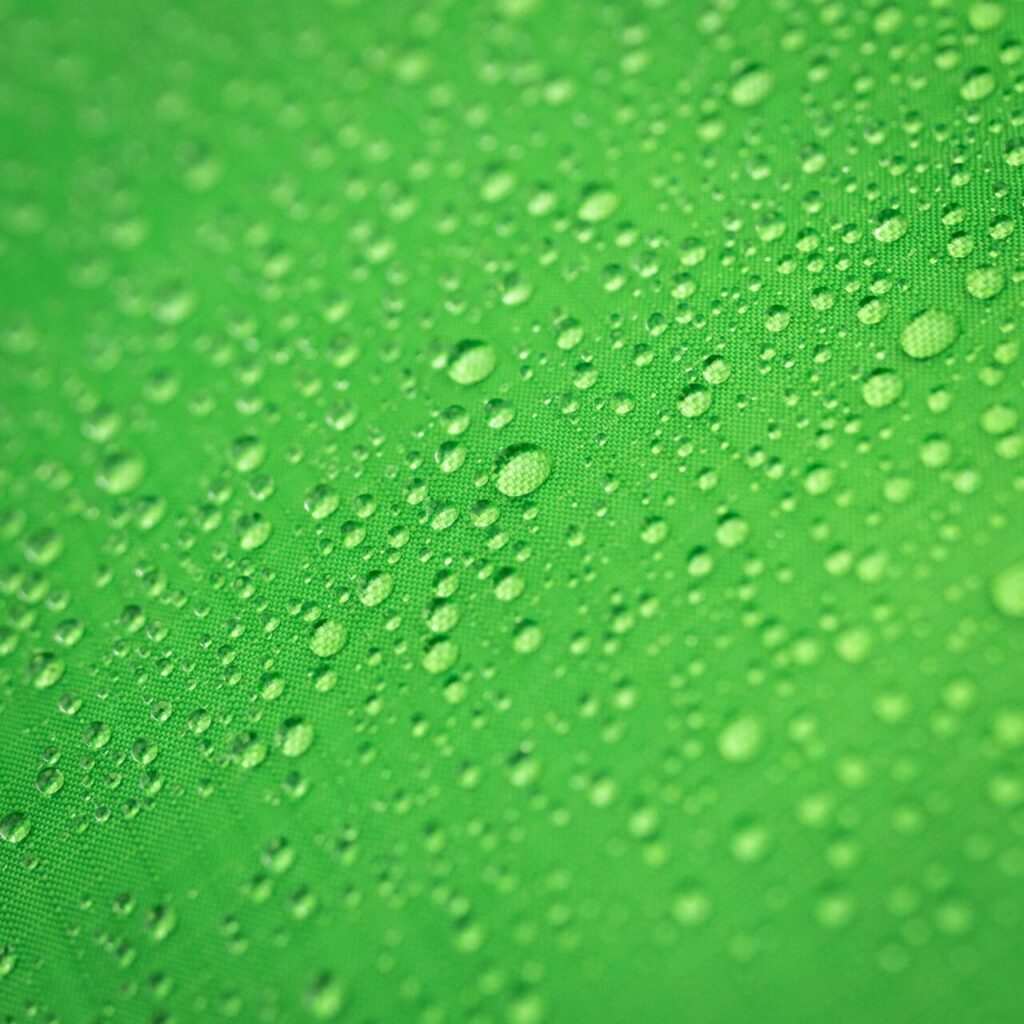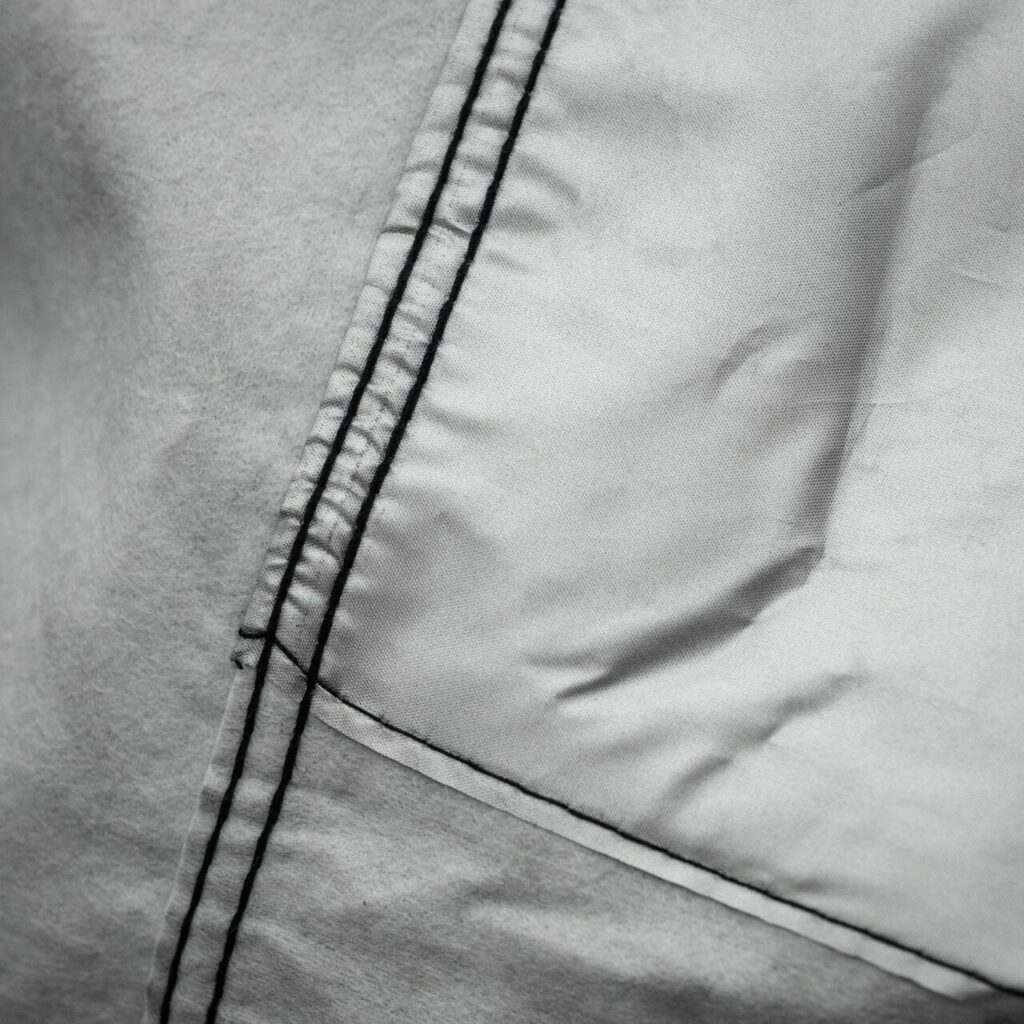 How safe will my motorbike be?
The big question. With bike theft on the rise, it's vitally important that safeguarding isn't compromised when protecting your motorcycle from the elements.
This is a component that hasn't been overlooked by any means. It features an adjustable belly pan strap and toggle cords to hold the cover tight around your bike, keeping it hidden from plain site. Another feature includes integrated holes to facilitate the use of a lock and chain so there's no compromise on security.
Take a look at the cover in action below and trust that your bike is being wholly protected with Warrior.
---
Enjoyed this? Read more of our latest news:

Where To Next?
Looking for the latest motorcycle parts and accessories? Check out our wide range from top brands.
Come and visit us at our store, showroom and fitting centre in Wrexham.
Want to know more about our story? Learn about who we are and why we've been driven by passion for over 50 years.
Interested in everything we do? Catch up on all the latest Demon Tweeks news.