Need help in finding the perfect gift for the racing driver in your family? Check out this racewear gift guide 2022!
No matter your budget we have curated a list of racewear products from a range of categories, so you can win at shopping this year! Whether you have a large or small budget, this guide will show you the range of products available.
Continue reading to find a whole host of products from helmets and racewear to leisurewear.
We have even more products and categories available on our website if nothing here takes your fancy, click here to see!
Undoubtedly the most important piece of equipment when competing – motorsport helmets are a necessity, you cannot compete without one! You shouldn't compromise on your helmet, meaning you should spend as much as you can afford to, your loved one only has one head, so it needs protecting.
Below are 2 options, 1 more affordable than the other so you can see the range available. If you don't see something you like we have plenty more here!
This version of the OMP GP-R helmet feels light on the head with its lightweight construction, but it still offers maximum protection by being FIA 8859-2025 approved. As well as being light the lining is made from a fire retardant Nomex, it also has multiple ventilation holes to keep the driver cool.
This helmet comes as standard with FHR/HANS device posts and a double D-Ring fastener for safety and security. There are many sizes offered, and there is also the option of a smoked or iridium visor if you don't fancy a clear one!
If you can afford it why not look at Stilo's ST5 FN helmet. It meets all the latest safety standards as it is FIA 8859-2015 & Snell SA2020 approved. This helmet is ideal for circuit racing of closed or open cockpit carts with its aerodynamic design, however this particular model is suited best to open cockpit vehicles as it is not fitted with any electronics or side ports. Like OMP's offering above it is very lightweight and has fantastic ventilation throughout.
Optional extras for this helmet are vast, choices include spoilers, visors, tear offs, drinking systems and more!
If a helmet with electronics is required, check out the Stilo ST5 F helmet.
Now if the person you are buying for already has a helmet and all the accessories for it, they will need a good place to store and carry it! Enter the helmet bag. Yes, they can carry their helmet in the soft lining it came in but to do it better, and to protect the helmet more, they will need a bag that's built for the sole purpose of carrying a crash helmet. A helmet bag is undoubtedly the best way to carry a helmet between races and for storing when not at the track. Made with soft lining and some with built in drying capabilities they are a must have…
Have a look below at 2 examples, 1 more affordable than the other if you are after a stocking filler!
There are plenty of other options available by clicking here.
Our own helmet bag is as robust as they come, designed to offer protection and easy transportation of the helmet with a large zip opening and a soft fleece lining to keep the helmet secure. It also comes in a stylish red and black.
At the other end of the spectrum, we have Sparco's Dry-Tech Helmet Bag. The clamshell design opens to allow easy access to their helmet, and it also fits their FHR device (used to support their head and neck). This bag also includes a built in 12 volt drier, which allows them to dry off their helmet after a strenuous and exhilarating time on track. This bag also features a shoulder strap and 2 carry handles for when they need to transport it.
Made mandatory in 2016 at Motorsport UK National Events, the FHR device is a system designed to reduce injury by limiting the force experienced by a person's neck in the event of a collision. As safety is paramount in racing you should spend as much as can afforded when looking to buy an FHR device. These devices are available in a selection of fixed reline angles to suit various seating positions, for example saloon or single seater racing.
For more info on all things FHR devices, check out our video buying guide by clicking here.
Again, we have selected 2 excellent buying options which are sure to put a smile on the face of whoever you are buying it for.
There are plenty of other options available by clicking here.
This fantastic entry level FHR device is for anyone entering the world of racing and is looking to get all the gear needed at an affordable price. This Stand21 device is just that, but it does not compromise on safety. This device is part of Stand21's 'Club' range and is available in 20 degree recline and in 2 sizes.
For more information on this FHR device specifically check out this video buying guide!
At the upper end of the scale, we have one of Simpson's FHR devices. This version is super light and constructed with carbon fibre meaning it's incredibly strong. It is designed for safety and easy exit out of the car, as the device sits on the back and shoulders of the driver. It is available in many sizes for a secure and comfortable fit.
If you want even more information, click here to read all about it.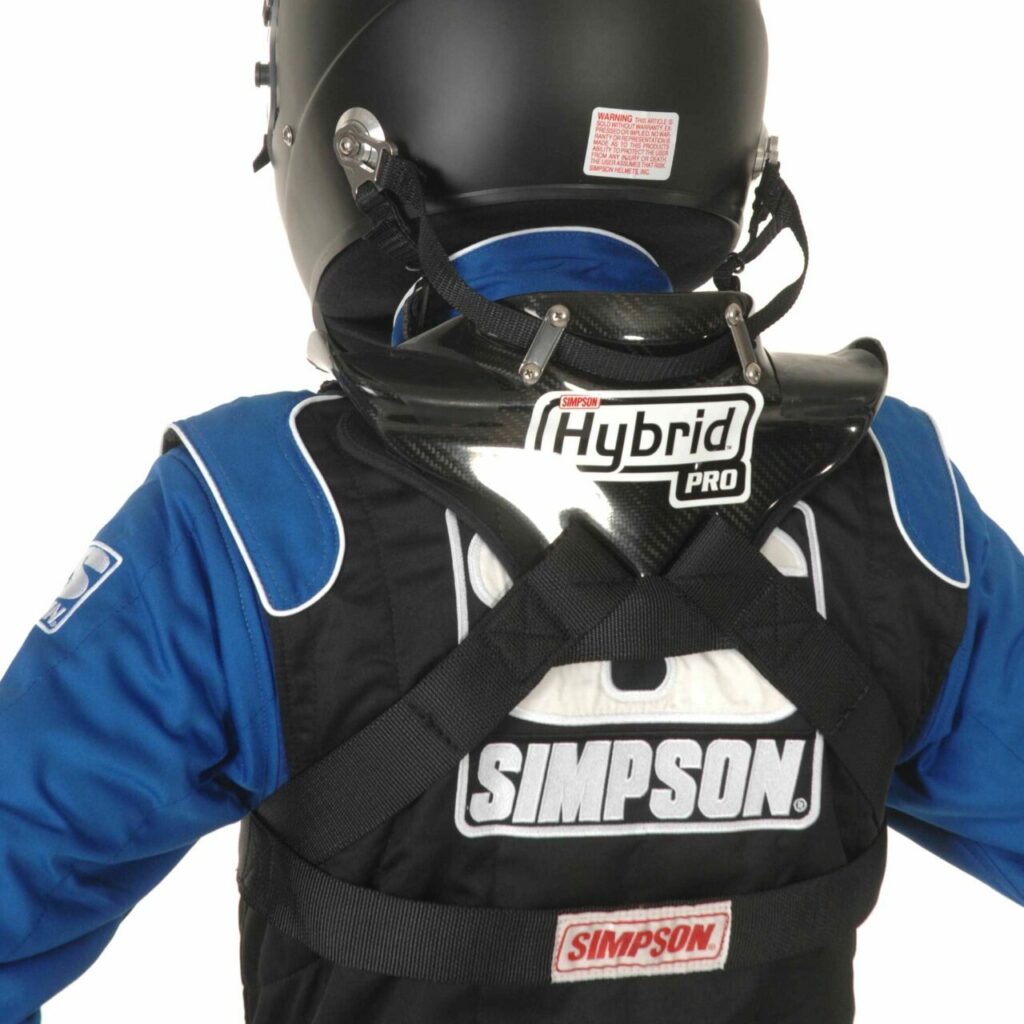 An essential item used in motorsport competition. A race suit is created with a blend of fire-retardant materials and is the first line of protection in the event of a fire.
Not used by just drivers, marshals, pit, and garage crew members also need a race suit due to its fire protective properties.
For a lot more info on this check out our Racewear FIA Standards 2022 Guide blog.
At Demon Tweeks we offer a huge range of suits from various brands and manufacturers which meet the required FIA safety standard. Have a look below at 2 of our favourite choices for both a high and low budget.
If you can't find what you want below, click here to view all the options available on our website.
Complying with the latest FIA 8856-2018 homologation standard, the OMP Sport Race Suit is a great entry level suit. This suit features a 2-layer Nomex construction. Compared to the previous model this version features improved fire protection and less weight. It provides a very nice fit with elasticated parts throughout and is available in various colours.
Also meeting the latest FIA 8856-2018 approval, the updated version of Alpinestars GP Pro Comp suit is incredibly light and is super comfy!
This suit includes silicone grip technology on the shoulder and back, which reduces the movement in the seat and the FHR device around their neck. This addition is a first for Alpinestars and shouldn't be ignored…
This new suit is perfect for your loved one as it provides exceptional heat resistance and has a soft Aramidic knitted lining feature with an open weave – meaning comfort is next level! It also has Formula 1 derived cable openings so the driver can wire up communication systems or a cooling vest. As well as this it also features fully floating sleeves and stretch mesh panels. For more information on what these are and everything else check out our buying guide by clicking here.
As well as a race suit for fire protection it is also extremely advised to have fire resistant underwear as it is a requirement for a large majority of motorsport disciplines.
Now, we don't mean the underwear you think we mean! We are talking about race underwear. This includes but is not always limited to, tops, bottoms, socks, and even balaclavas. They are considered 'fireproof' as they are created with a Nomex fabric meaning it is capable of withstanding extreme heat and fire while protecting the user.
As with race suits, race underwear also has to meet certain FIA homologation standards to be used in certain motorsport disciplines, buy the latest FIA 8856-2018 approval underwear to avoid disappointment!
No matter your budget we have something for you, below you'll find 2 options, one more affordable then the other. If neither takes your fancy, there are plenty of other options available by clicking here.
Sparco are a big name in the race underwear department, their products are used by high level athletes all over the world! This particular shirt has a relaxed fit and is touted as being highly comfortable while maintaining the stringent FIA 8856-2018 standard.
It comes in white and in various sizes, covering 34″-45″ inch chest sizes.
This OMP One top is again FIA 8856-2018 approved meaning you can rest assured the user is safe when the heat rises in the event of an accident.
This top has OMP's DRY SYSTEM meaning it keeps the user dry while perspiring on the track. It also has 'advanced cooling' which allows the user to stay cool and maintain their temperature even in hot climate conditions. Ultra-flat seams throughout mean there is very little rubbing which vastly increases comfort levels when wearing for long periods of time. This technology helps to reduce fatigue and stress of the driver meaning they can push harder for longer while maintaining 100% focus.
Don't underestimate the importance of good race underwear!
A mandatory requirement for competing in many motorsport disciplines, race boots, just like race suits, underwear and gloves offer a fire resistance via Nomex materials which 'normal' boots don't. As well as safety a good pair of racing boots can enhance your performance in your car as they have thin soles which give the driver the ability to precisely feel the pedals and apply the accelerator and brake in a controlled progressive manner which will give you that consistent lap time.
They come in varying shapes and sizes from some of the best-known brands in the industry, some with increased support on the toes if the car has a foot clutch and they must heel and toe through the gears. Some boots also have reinforced ankle support via Velcro straps.
Have a click through here to watch our boots buying guide for even more info!
Below are 2 examples of racing boots, one more affordable than the other. If the below don't take your fancy, there are plenty of other options available on our website by clicking here.
These boots meet the latest homologation standard which is FIA 8856-2018. This model is fully suede and has a natural rubber sole designed for optimum pedal grip and feel which will allow them to get the best from the car. This boot also offers generous ankle support and comfort when driving and walking with soft fabric rear cuffs.
Have a click through to get even more info!
The OMP One S boots meet the stringent FIA 8856-2018 standard with ease. They have been redesigned to increase comfort and enhance protection.
These boots have increased heat and fire protection with a soft knit Nomex lining. They also reduce fatigue of the wearer with heel support, which is key to maintaining focus and concentration on track. OMP have added a hi-tech insole which increases the sensitivity on the pedals for the driver.
For more info click to read everything you need to know.
Gloves are mandatory in most forms of motorsport. Expertly designed racing gloves from the best-known brands in the industry like Alpinestars, OMP and Sparco help enhance driver performance as they can get consistent grip and feel through the steering wheel, which in the heat of the moment can be the key between standing on the podium or not! As well as this, proper racing gloves offer an increased level of safety in the event of an accident due to them being lined with a protective layer of Nomex.
Gripping a steering wheel for sometimes over an hour at a time can put a lot of pressure on certain areas of the hands, for example on the inside of the thumbs and the palm of the hand. A glove not suited to the job will make the driving experience worse rather than better… As they will rub and no doubt will cause blisters – which is not what anyone wants!
Features to look for in a good pair of racing gloves are the seams. Seams on the outside of the glove can remove a lot of the pressure points in a glove. Also be on the look out for grippy palms which again can reduce the amount the glove moves around when driving, again reducing the chance of nasty injuries to the hand.
If you want more info to make a better buying decision – have a watch of the Demon Tweeks glove buying guide by clicking here.
Below you'll find 2 pairs of gloves. There are plenty of options available on our website by clicking here if you can't find what you are after.
At the more affordable end of the scale are these gloves from Alpinestars. They offer heat and fire resistance while not compromising on any safety, performance, and comfort.
Silicone printed palms allow optimum grip to be had on the steering wheel consistently. The FIA 8856-2018 homologation standard has been met with this product meaning you can have the confidence in knowing they will perform on track.
Available in many colours and sizes.
This glove is the flagship model from OMP.
FIA 8856-2018 homologation approved; this premium pair of gloves have been designed to provide the best performance with state-of-the-art silicone palm print technology which is exclusive to OMP. It has unrivalled comfort on the market with pre curved fingers and external seams which allow for longevity and a reduction in fatigue behind the wheel.
Available in a range of sizes and colours. To find out more click here.
No matter where or what they are doing this Christmas, they will want to look the best they can. If the person on your Christmas list is motorsport mad but they have got all the gear already, then they can always use another t-shirt or hat to lounge around the paddock or at home.
We have a whole host of clothing which takes styling cues from the very best in motorsport, whether it be socks in the style of classic cars, or t-shirts with iconic logos for legendary brands.
Have a look below at just 2 examples which are sure to put a smile on someone's face.
We have a whole host of leisurewear products available beyond what you will find below, click here to see.
In need of some new trainers that personify form as well as function?
What do you get when 2 power houses in their respective industries come together? you get performance trainers which can fill both roles of an everyday shoe and excellent driving footwear. The shoe features a low cut design with a motorsport derived rubber sole meaning you can get excellent feel through the pedals.
Available in a range of sizes and in 2 colours!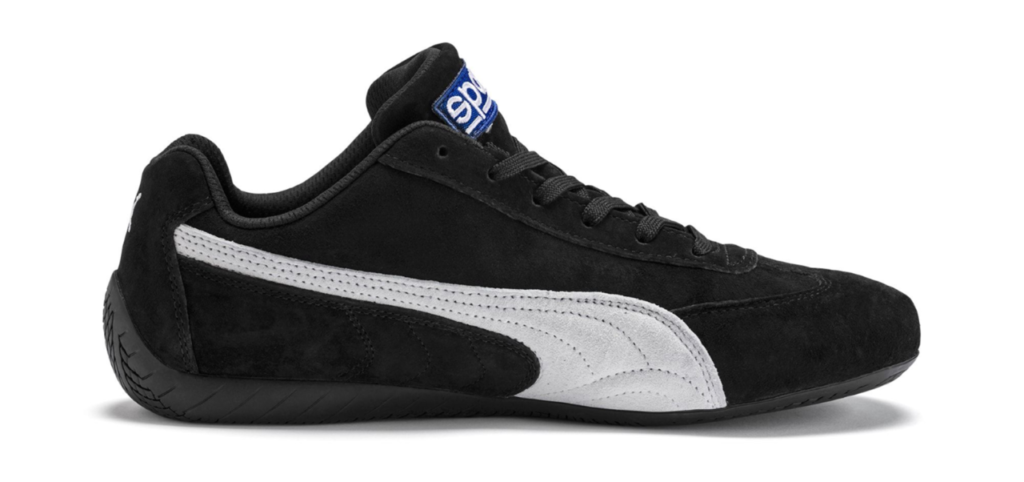 Is there a more iconic design than the Martini Racing livery? Take a look at this hoodie from a collaboration between Sparco and Martini Racing. Harking back to the memorable racing suit designs from the 1980s this hoodie features Martini and Sparco branding throughout, and its extra comfy! It's perfect for lounging around the paddock or the home!
Available in a range of sizes and colours.
Now you're all clued up on some of the best gifts available for all budgets, what are you waiting for? Get them quick while stocks last!
Nothing here interest you? We have many more products and categories available on our website, click here to see!
To get the best fit possible, we always recommend you try on your racewear at our showroom in Wrexham, North Wales. We have hundreds of products in stock for you to try on in store!
If you can't make it down, then buy in confidence with our fast delivery and 365 day return policy.
Unsure on which product is best for you? Speak to one of our extremely knowledgeable staff on 01978 664 466 or email us on sales@demon-tweeks.com.
---
Enjoyed this? Read more of our latest news:
Where To Next?
Looking for more present inspiration? Check out our wide selection of gifts.
Come and visit us at our store, showroom and fitting centre in Wrexham.
Want to know more about our story? Learn about who we are and why we've been driven by passion for over 50 years.
Interested in everything we do? Catch up on all the latest Demon Tweeks news.