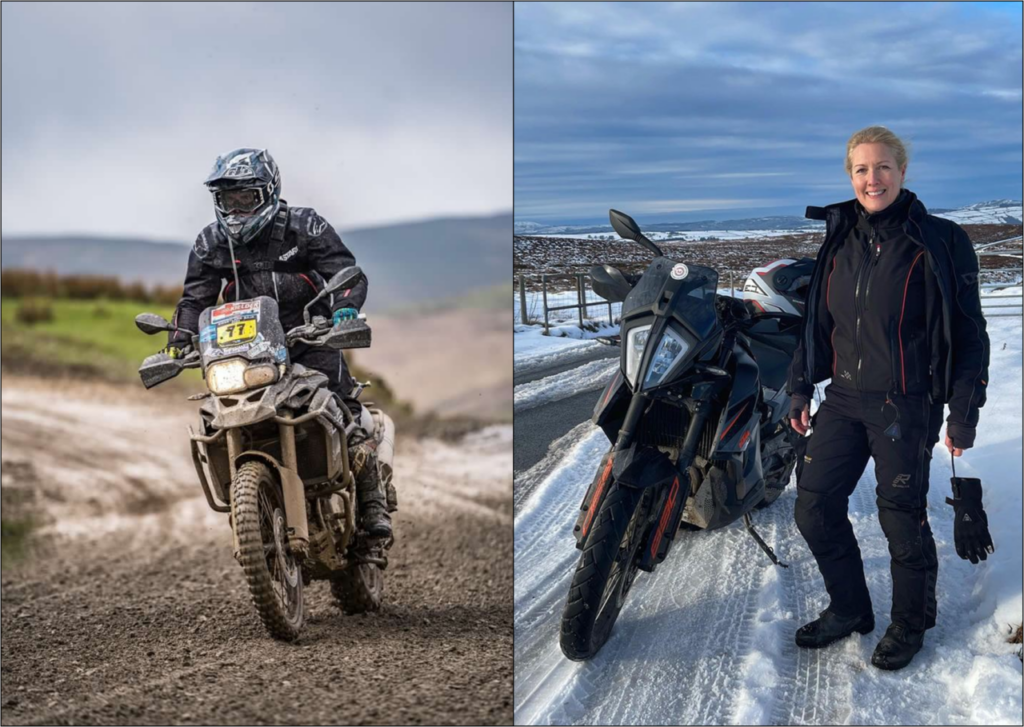 The Demon Tweeks x Michelin Ambassador Program is in full swing. Each member has been representing both brands in 2023, but how did they get here?
We have been speaking to all members to gain an understanding about what it takes to become an ambassador.
In this blog we caught up with the Adventure Bike ambassadors, Maja Kenney aka, biker_maja and Alan Jones, aka welsh_gser on Instagram.
DT: Let's start with the basics, introduce yourself, who are you and when did you first develop a love for bikes?
biker_maja: Hi, I'm Maja and I like to say I'm an adventurer. I've always loved travelling and exploring new places. Since I was a little girl, I remember looking out of my parents' car enviously at all of the motorcycles filtering whilst we were stuck in traffic and I decided then that one day I will have a motorcycle, too. Not just any motorcycle but a Ducati.
welsh_gser: I'm Alan, 43, and my love for bikes has only really developed in the last few years. I passed my test back in 2008, but the 'love' only really came when I bought my BMW R1250GS Adventure in 2019, after a visit to the Off Road Skills team in south Wales. Since then, I've done so much on bikes even I struggle to remember it all.
DT: When did you pass your bike test and what bike did you buy first?
biker_maja: I passed my test at the age of 42 and the first 'big' bike I bought was a custom built bike based on a Suzuki SV650. Previously I have only ever ridden my lovely 50 cc moped in my teens.
welsh_gser: I passed my test late in 2008, and despite at the time saying I probably wouldn't buy a bike any time soon, a work colleague advertised a 1995 Yamaha XJ600 Diversion for sale at a very good price a week later … sounded like perfect timing to me, so it became mine. I didn't really gel with the bike, and didn't do many miles, and replaced in with an FZ6 Fazer 18 months later.
DT: What bike are you riding at the moment?
biker_maja: I have a Ducati Supersport S (I did promise myself a Ducati) and a KTM 890 Adventure.
welsh_gser: I'm fortunate enough to have a few bikes to choose from. My 'main' bike is a BMW R1250GS Adventure, my first 'brand new' bike, that I bought in 2019. I've taken it all over Europe on various trips now, and can't imagine another bike fitting me better (always happy to try some out though!). I've also got a BMW F800GS, which I owned for a couple of years before the 1250 arrived. This is now my main 'off road' bike, wearing knobbly tyres and being used for green laning, rallies, and even a few races! I always forget how capable it is, even if not quite as fast as the 1250. I'm currently reorganising my priorities and my garage, but I also have a Honda CRF250X and a little Kymco scooter, both of which will probably depart soon.
But, hidden in the back of the garage, is my 1984 BMW K100 project bike, which I'm customising to be "me" – a long story as to why not much progress has been made for a while, but I'm hoping that other changes I'm making to my priorities will give me more time to focus on it again soon … and I'm so excited to see the end result!
DT: What area of biking would you say you get involved in most and why?
biker_maja: I do touring. A lot of touring. For me travelling on a motorcycle is the best way to explore new destinations. I mostly do road riding but recently I have discovered green lanes and I love being able to ride off the tarmac roads and explore the new views off-roading gives you as well as the challenge of staying on the bike!
welsh_gser: Mostly touring, days out, and off roading. I found my love for riding on the dirt a few years back with some lessons from the Off Road Skills team, and I love being able to ride off road and get away from the hustle and bustle of day-to-day life. But I love getting out and touring, and discovering new places and roads. I'm not doing a "big trip" this year now, but over the last few years I've been around Scotland, Ireland, and countries across Europe from Spain all the way across to Croatia and Bosnia, of course with many other places in between!

DT: What did you think of the Demon Tweeks and Michelin Tyre Ambassador Program and what made you apply?
biker_maja: Having lived fairly locally to Demon Tweeks for the last 20 years I was very much aware of the business and always used their services with the cars. Being able to team up with a successful local business was an opportunity too good to miss. I was also curious to try Michelin tyres as I've not ran them on my bikes before.
welsh_gser: I've known of Demon Tweeks since the 1990's, when my passion was cars rather than bikes, and I saw the brand advertised on various racing cars. When I bought my first car, I still remember browsing the Demon Tweeks catalogue for parts I could modify it with. So when the chance came up to become an ambassador, I jumped at it! It's a great opportunity to be involved with two big name brands, but with very little pressure or demands.
DT: What would you say is your biggest biking achievement date?
biker_maja: I have done a few big trips since obtaining my licence. The bravest one was a 3-week solo ride around Europe only a couple of years after getting the licence. After that I had an opportunity for a 5-day solo ride around Tasmania. And the biggest achievement has to be taking a group from the UK all the way to Nordkapp and back.
welsh_gser: I'd have to say that my biggest achievement was when I took a giant step outside my comfort zone in 2019 – going on a three week tour across Europe to Croatia & Bosnia. Up until the day I left for the trip, I'd never been brave enough to even have a single night away somewhere on the bike, so doing three weeks in foreign countries, with (at that point) very little riding experience, was a massive step. It was then that I really caught the bug and wanted to do so much more!
DT: What would you say is the best place to go ride – where's your favourite?
biker_maja: I am fortunate to live in North Wales where we are spoilt for choice with good roads, wonderful views and plenty of green lanes. I love heading out for a day or two and exploring the lesser known roads.
I'd love to ride in South America so that's definitely on my list of places to see.
welsh_gser: My favourite place will always be 'home' … south Wales. There are some great views and amazing roads, but it's the feeling I get riding around there that does it for me. There are better roads and better views, but it's the overall experience and feeling.
The place I'm most excited to go and ride next, hopefully next year now, will be Romania, mainly the Transfăgărășan and Transalpina, although I have a few other trips I'd like to do on my bucket list.
DT: If you had all the money in the world what bike would you buy?
biker_maja: Probably an MV Agusta Brutale. Just because it looks mean and a lot of fun! And there aren't many around.
welsh_gser: For actually riding, I've already got it … my R1250GSA! If I could buy a bike just to put in the living room and look at though, it would be a Ducati 1299 Panigale Final Edition … for me it's the best looking bike I've ever seen, though I'd probably be too scared to ride it! That said, at some point I'd love to add a BMW S1000RR to my garage … we shall see!
DT: Finally, what's the best piece of advice for someone starting out biking?
biker_maja: Ride your own ride. Make sure you are comfortable and happy riding at your own pace and always wear protective gear.
welsh_gser: That's a simple one … look where you want to go! I really struggled with that one for ages … I'd always end up focusing on the tree I didn't want to hit, or the edge I didn't want to go over!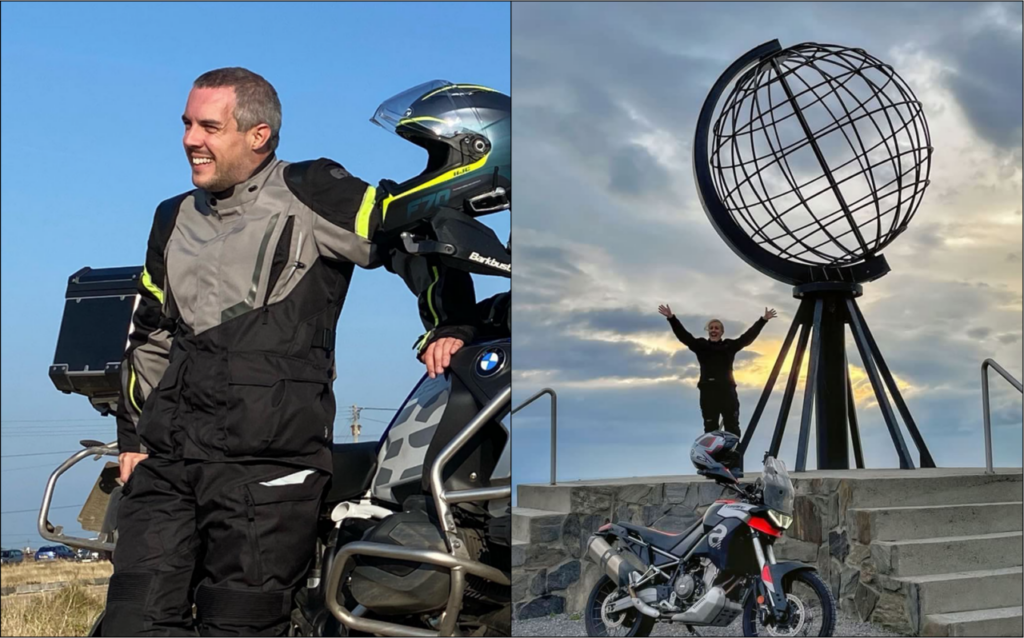 DT: Where can people follow your story?
biker_maja: Instagram @biker_maja
Twitter @maja_kenney
Facebook Maja's Motorcycle Adventures
YouTube Maja's Motorcycle Adventures
Website www.majasmotorcycleadventures.co.uk
welsh_gser: I'm only on Instagram so far …. @welsh_gser on there!
DT: Awesome to have you both part of the scheme and showing anything is possible if you have the drive and desire to do it!
---
Want to be our next ambassador? Keep an eye on the website.
Email | Facebook | Instagram | TikTok
Read more about what makes an ambassador and what it takes to be one: