How do you become Track Day ambassadors for Demon Tweeks and Michelin?

We have been asked this countless times and for a lucky 12 this has become a reality – tyres unfortunately are one of the biggest expenses when it comes to bike riding, but through passion and enthusiasm these guys have managed to get tyres to go on track with for nothing!
In this blog we get to know Carl Ward, aka 'wardy258' and Joe and George Payne, aka 'r6__bros'. 2 guys who can live their passion of track riding but without the need to buy new tyres every time, imagine that!
DT: Please introduce yourself and let our readers know who you are
wardy258: Hey, my name is Carl Ward more commonly known as Wardy, was always a car man and a boy racer in my teens and 20's and have watched racing since the 80's, but it just wasn't my thing, that came at the age of 30 even after having two scooters early on. The bug started when a group of mates fancied it too, I wouldn't go back now though and I'm the big 4 0 in September 2023.
r6__bros: Joe 36 and George 34 – Interest in motorcycles started around 1993-1994 at a really young age watching a TV program called Biker Mice From Mars, at the time funds didn't allow the small starter bikes like the PW50's, so was mainly push bikes, TV and Toy bikes. We had a ride on an electric bike with plastic wheels that eventually we cut the stabilisers off but obviously didn't work how we thought it would!
DT: How long have you been riding? And when did you first start?
wardy258: 21/11/2013 and I used a suzuki sv650s from November to March to get me into things but always wanted an early Street Triple R.
r6__bros: Joe – done a CBT at 16 owned a Piaggio Typhoon 50 that ended up a 70 with tuning then a restricted access at 17 at the time was a 3 day course that allowed you to ride larger bikes and carry passengers (Mainly George) restricted on power for 2 years then anything after that without any further tests. First bike on a full licence was a Gilera Runner 180cc, that changed multiple times to others. First sports bike was a G registered Ninja 400 H model then Suzuki Bandit 600cc, Suzuki DRZ 400SM, Yamaha R6 5SL, Yamaha R6 13S (Now a track bike), Yamaha MT10.
George – CBT at 16 took ownership of the same Typhoon 50/70 then some 125cc scooters, Gilera Runner 125 tuned to 172cc eventually then did a full licence the more current way of MOD 1 & 2. First sports bike Yamaha R6 5SL changing multiple times. Now onto a newer Yamaha R6 13S (Now a track bike) CBR 1000 RR, Yamaha MT10.
Both rode motocross / off road with a youth project called Spark Plug in our pre legal riding days.
DT: Can you let the readers know what you are currently riding?
wardy258: The one and only first gen Triumph 765 Street Triple RS in yellow.
r6__bros: Joe is riding a Yamaha R6 Track and KTM 690 SMC R. George is riding a Yamaha R6 Track and BMW S1000RR K67.
DT: What would you say is the main type of riding you do nowadays and why?
wardy258: Race, trackday only, adventure, just for commuting, dirt, trails etc. I do very little commuting, plenty of fun road riding and at least ten track days a year.
r6__bros: Track Days for the love of going fast and constantly improving track craft and on the road in between track days for fun mainly. Also country lanes bike meets and the occasional wheelie / stoppie on closed roads of course!

DT: What made you decide to apply to the 2023 Demon Tweeks Michelin Tyre Ambassador Program?
wardy258: I thought why not?! It made sense and I just told the truth in my application, I feel I give a fair test to whatever model I'm using in all conditions.
r6__bros: As our Instagram grew we really wanted to get involved with 2 wheel related brands and the Demon Tweeks and Michelin Tyre Ambassador Program ticked all the right boxes in a dream world. We would love to do this full time and see the program as a gateway to our dreams. We hope to continue past the program and produce more fun content, giveaways and share our knowledge with helpful videos (possibly voice overs as we find it hard not to laugh and get words out on camera 🤣).
DT: Have you got a big biking achievement you can share?
wardy258: I've done scotland 3 times, Isle of Man 4 times and over 40 track days, not really won anything but triumph have made a yellow street off the back of mine!
r6__bros: Biggest biking achievement would be the progress made on track from our first track day in 2015 to now, and the highlight would be plain and simple, riding some of the world's most famous race tracks in the UK and Europe together.
DT: Do you have a favourite place to ride? In the UK or abroad?
wardy258: My favourites got to be the yorkshire dales or just above it over the other side of the A66.
r6__bros: Favourite track so far would be Portimao and the track we would like to ride in the near future would be Mugello.
DT: The big question, if you had all the money you could ever want, which bike are you buying?
wardy258: Got to be a Ducati Streetfighter V4S, but I would like to try a Aprilia Tuono v4 and BMW M1000R too!
r6__bros: We usually have the same taste in bikes so realistic choice would be a Ducati Panigale Superleggera V4 fully loaded and the more unrealistic choice a Yamaha YZR500 MotoGP bike (But I think you need to let go of organs as well as have money for one of these!!).
DT: Have you got a piece of advice which someone has given you which has been invaluable?
wardy258: Don't rush anything, look as far ahead as possible, do track days, all about being smooth and consistent, no matter what you're doing.
r6__bros: We both learned from each other's mistakes and techniques as we went along. Which has helped us improve.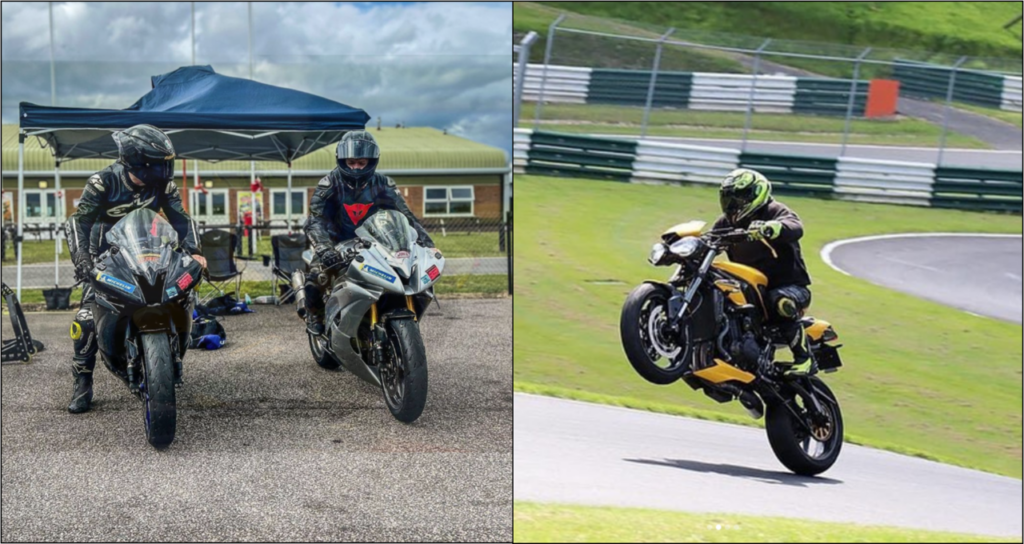 DT: Where can people follow your story?
wardy258: wardy258 on Instagram, carl ward on multiple street triple groups on Facebook, and carlward09 on TikTok but it's not my forte.
r6__bros: We are on Instagram r6__bros
DT: Thanks guys, great to have you on the team for 2023!
---
Want to be our next ambassador? Keep an eye on the website.
Email | Facebook | Instagram | TikTok
Read more about what makes an ambassador and what it takes to be one: