Sports touring riding involves eating up the miles, which invariably means you use your tyres. A lot. And doing a lot of miles, you want the best tyres so you have the confidence to go for hours.
As tyres are one of the most expensive consumables on your bike, it would be good if you could get them for free wouldn't it? Well that's just what Deanna, aka DMP_BIKER and Calum, aka tartantriple_rs have been able to get as Sports Touring Ambassadors as part of the Demon Tweeks and Michelin Motorcycle Tyre Ambassador Program.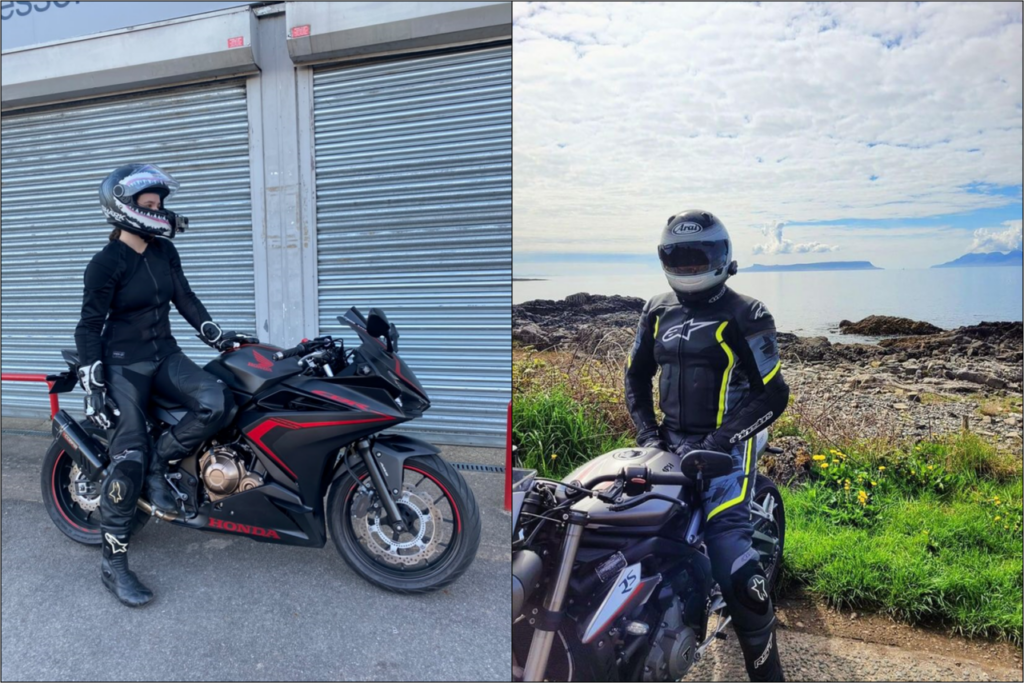 How did they get selected and what does someone need to do to be part of the program? Read on to find out…
DT: Please give an introduction to yourself and how you got into bikes
DMP_BIKER: Hi there! My name is Deanna, I'm 23 years old and I'm aka DMP_BIKER. Since I was around the age of 8, I've always had a passion for motorcycles – this starting from when my Dad brought home his Suzuki Bandit S 650. My parents got me all of the bike gear I needed for the many ride outs, and I vividly remember having a bright blue helmet (like the bluest, brightest helmet you could ever imagine!). Couldn't miss me!
tartantriple_rs: I'm Calum. I've been riding bikes since I was about 10, starting with a Yamaha PW80 (what a machine!). Fell away from bikes in my teens and fell PROPERLY back in love with it about 7 years ago when my wife couldn't decide what to get me for Christmas so finally caved and booked my CBT for me!
DT: How long have you been riding, what bike did you first buy when you could?
DMP_BIKER: I passed my A2 licence back in July of 2021 (I'm hoping to complete my full A licence soon!). Prior to that I had passed my CBT back in 2017 and had owned a Yamaha YBR125 – great starter bikes! Everyone has to start somewhere.
tartantriple_rs: I passed my test in 2018 and at the time I had a KTM RC125 loved that bike! Shortly after that I fell in love with the Yamaha XSR900 and picked it up on a FREEEEZING cold December afternoon and rode it home from Macclesfield to Glasgow at about -4, freezing fog and horrific rain still don't think I've thawed out 5 years later 🤣.
DT: Our readers would love to know what bike you're currently riding…
DMP_BIKER: Currently I am riding a 2019 CBR500R.
tartantriple_rs: Currently riding an S1000XR & a Street triple 765 RS. The beemer is genuinely a do everything comfy as a couch missile but the triumph is my baby I absolutely love that bike!
DT: Do you have a specific type of riding you get involved in most?
DMP_BIKER: I mainly ride socially – I love meeting up with the bike crew down at H cafe for bike nights and then planning an evening ride with no destination in mind. A full tank of fuel can take you to great places. I also enjoy going on camping trips with the bikes, it's definitely something you have to do if you haven't already!
tartantriple_rs: Mainly my biking consists of touring and commuting ditched the car almost straight away for the bike, nothing starts your day off like a quick blast!  And if you've had a rubbish day you take the long way home. As soon as I'm not working well that's where I am absolutely spoiled!!  Within half an hour from home you've got some of the best biking roads in the UK (I may be biassed haha). If you're not from Scotland or planning a visit with the bike the west coast and north coast are hiding some truly unbelievable biking roads just come and try for yourself!!
DT: This is the first time we have run the Ambassador Program at Demon Tweeks in collaboration with Michelin. What persuaded you to apply?
DMP_BIKER: I wanted to apply to the Demon Tweeks Michelin Tyre Ambassador Program for various reasons. However, the main reason being is that I've always enjoyed being a customer of both companies over the years – these being very reputable companies that I had to get involved with if given the chance, and fortunately I was given that chance. It's been such an experience so far and I'm grateful for the opportunity!
tartantriple_rs: I applied for the ambassador program as it seemed like a great way to share some of the amazing places I get to go and try the best of the best rubber at the same time! Every time I've used Demon Tweeks the service has been top notch and couldn't wait to get on board with the team!
DT: What would you say is your biggest biking achievement to date?
DMP_BIKER: I've always enjoyed fixing things since I was young. When it comes to motorbikes, I've always been attentive in learning new things, so when friends have issues with their bikes or they need new modifications done to their bikes, I'm more than happy to help. My most recent experience was fitting a new Black Widow Exhaust to a Superlight125 – it was very fun and we all had a laugh fitting it. Making memories is part of the whole biking scene.
tartantriple_rs: One of the highlights so far, road trips and stunning scenery aside was getting my two nephews and niece out for a spin! It wasn't far and it wasn't an exciting road but seeing the excitement on their face and how buzzing they were took me back to my first time on the back of a big bike as a youngster and it is honestly one of my favourite biking memories to date!
DT: What would be your dream or favourite place to go and ride your bike? Anywhere in particular?
DMP_BIKER: I love riding to Chain Hill in Wantage, the roads are so twisty and the views there are breathtaking. The Michelin Road 6's have been very impressive when dealing with various corners – I really trust my bike a whole lot more and have become much more confident within my riding skill set.
tartantriple_rs: My favourite ride hands down is the west coast from Dornie to Tongue on the popular NC500 route. There are roads that are nicer to ride etc but for sheer wow factor, nothing compares to the west coast!! A close second is definitely Loch Lomond to Oban via Inveraray!
DT: What would be your dream bike if you could afford it and money didn't matter?
DMP_BIKER: My dream bike has always been a Suzuki GSX-R 750 K8. This has been my dream since I was very young and still to this day is. One day I'll own one.
tartantriple_rs: Money being no object? I honestly don't think I could have just one 🤣. It would be a 3 bike line up. The new street triple RS, that yellow is ridiculously good looking! The BMW S1000XR M, if you've not seen it go have a look at hickey thrashing it round the TT that man has serious titanium tackle 🤣. And lastly for some absolutely bragging rights a Ducati V4 Superleggara!!
DT: Second to last question, whats the one piece of advice you have taken with you and helped you the most?
DMP_BIKER: The best piece of advice someone has given me about riding is that you never stop learning. We all learn something new on each ride we go out on – also, the whole phrasing: "dress for the slide, not the ride" is very important. Always wear your gear!
tartantriple_rs: The best bit of biking advice anyone has given? Loads to be fair and some that has properly stuck with me but I think the best bit was definitely "Ride your own ride". If you're out on your own or a mate or a group, ride your own ride, don't follow and overtake or take a risk because someone else is going for it. They're not planning on you following so there might not be space or time for your escape route! And most importantly…. EARPLUGS 🤣.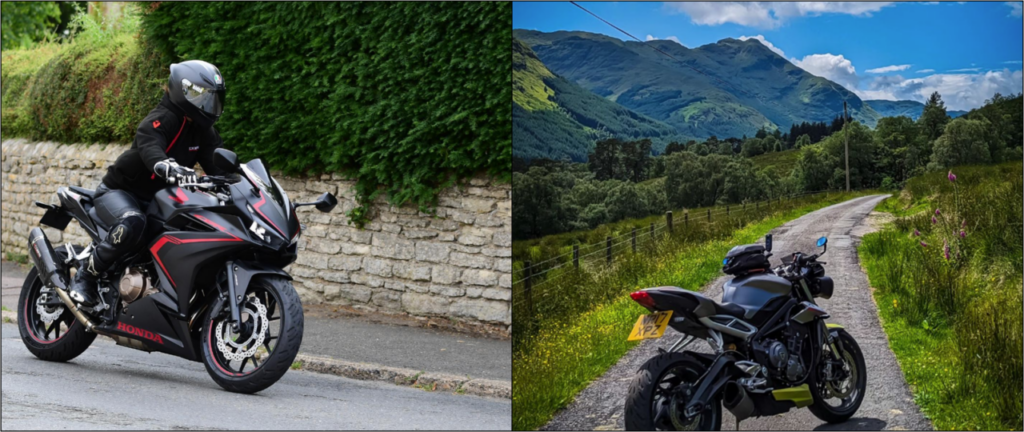 DT: How can people keep up with you and follow you?
DMP_BIKER: My Instagram is the only social media I have for @DMP_BIKER.
tartantriple_rs: You can follow me @tartantriple_rs on Instagram
DT: Great incite and inspiration for anyone looking to apply next year!
---
Want to be our next ambassador? Keep an eye on the website.
Email | Facebook | Instagram | TikTok
Read more about what makes an ambassador and what it takes to be one: