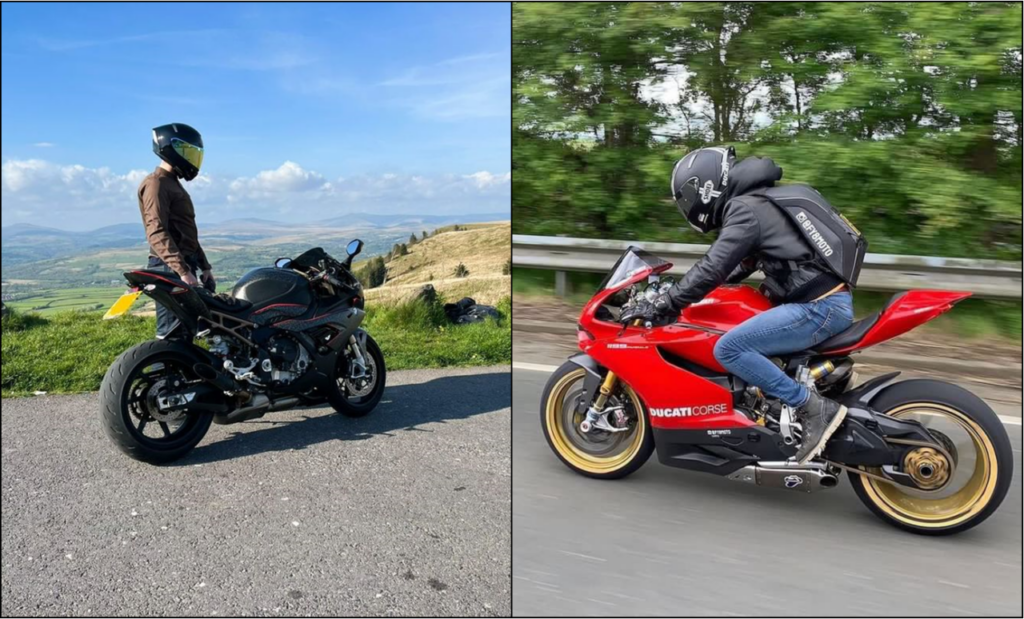 So you might have heard or seen our Demon Tweeks and Michelin Tyre Ambassadors for 2023. But who exactly are they and how did they come to be Sports Bike ambassadors for us and Michelin?
We have caught up with all them across the 6 categories they represent to learn more about them and what makes them tick.
Interested in becoming an ambassador next year? Read on to see what it takes…
First up we have been talking to our Sports Bike riders Superduck_chronicles and FY8MOTO, two guys who don't believe in anything less than 1000cc
DT: First off, please introduce yourselves and explain when you first developed a love for bikes and biking?
Superduck: Hi there, my name is Lewis! But I go by the name of Superduck on social media. This name came about initially as a nickname for my 1290 Superduke GT, which is the bike I had when I started my Instagram account.
FY8MOTO: My name is Dale, I'm 42 years old and based in the Northwest of England, Laboratory manager by day in the Nuclear Fuel Industry and also run a luxury apartment business as of this year. Bikes have always been a part of my life since being young, no one in the family introduced me to them, I remember buying a moped (pedal and pop) off an old lady down the road at 13 years old, I used to ride it up and down the beach with my friends. to my first road bike being an Aprilia RS250.
DT: When did you pass your bike test, what was the first bike you owned?
Superduck: I initially started riding when I lived in London – back in 2014, and couldn't bear to use public transport – due to the length of time it would've taken me to travel from south east to north west London. I only ever saw the motorbike as a tool (boo!). At the time I had a 2012 ER6-F, which I quickly traded in for a new one. I then wrote that off in 2016, so decided to go for a naked one. They're cracking bikes and made for commuting.
FY8MOTO: Passed my test in 1995 and my first bike was a Aprilia RS250 – 2002.
DT: What are you currently riding?
Superduck: Once I moved back to Wales, I discovered some real roads for biking. And I wanted to upgrade. Initially I wanted an MT-10, but the latest Superduke R had been released. I test rode that and the thing was crazy. I then came across the GT version, and the rest is history…
These days I'm riding an S1000RR, which is a decent bike – but doesn't have the soul or passion of a 1290 superduke.
FY8MOTO: Ducati 1199s, BMW R Nine T, Honda CB750 1977. Im now a Ducati Preston ambassador so I have access to the full range of brand new Ducati Bikes
DT: What type of biking do you get involved in and why?
Superduck: The type of biking I love is either touring or using my local roads as a test bed for learning how to ride better. I'm not sure what type of biker I'd call myself?
FY8MOTO: Mainly road trips and the odd trackday (due to working commitments) would love to explore and learn more off riding.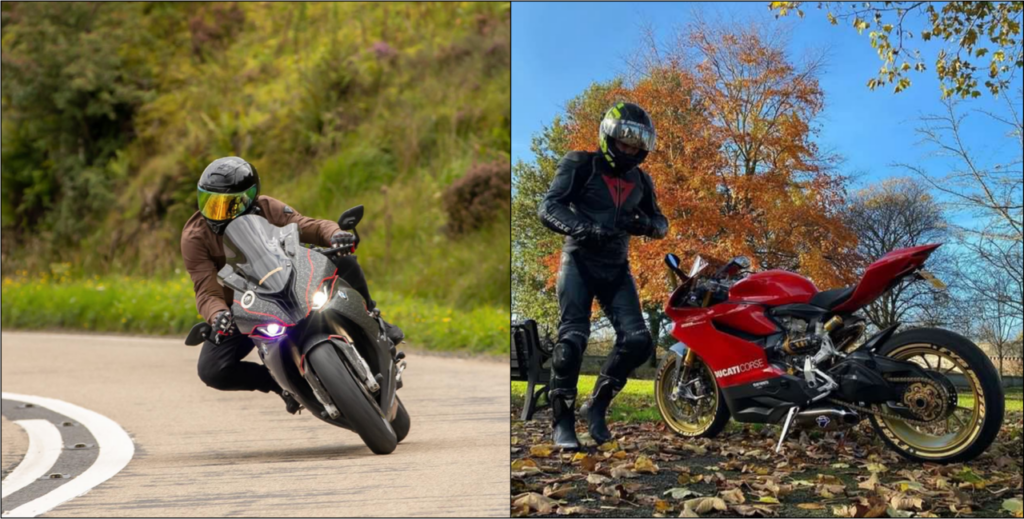 DT: What made you decide to apply to the Demon Tweeks Michelin Tyre Ambassador Program?
Superduck: The choice to become a Demon Tweeks Ambassador was easy. I've always had a love for Michelins since swapping out my slippery Dunlops' whilst commuting. I tried Bridgestone (but came off 4 times whilst they were cold). I can do things on Michelins I could have only dreamed on – on other brands.
When DT presented the opportunity to showcase more of Michelins' tyres, I jumped at the chance – because I've always recommended them to friends. I'm really excited about the brand. I'm very proud to represent them, along with Demon Tweeks – who have been incredible to me over the years. I've always used them due to their awesome customer service and quick delivery. And so has my fiancée.
FY8MOTO: Always had a great relationship with Demon Tweeks as a longtime customer for two wheels and four. In recent years we've been more in touch more via Instagram with their support of my page. It would have been rude not to apply for this ambassador program.
DT: What would you say is your biggest biking achievement or highlight to date?
Superduck: Some of my biggest highlights on two wheels are completing the NC500 in 11 hours, persevering through brutal weather and midgies. Also travelling down to Germany on my ER6, and of course going to the Isle of Man and proposing at Bungalow.
FY8MOTO: Big solo European road trips over the years, one on a Ducati 900ss, two on a Aprilia RSV1000 Factory and a month long adventure GSXR1000 K7 including a beach festival in Croatia. Won nothing to date, just filled my life with lots of incredible memories on two wheels.
DT: Where is your favourite place to ride or the one place you'd like to go and ride?
Superduck: My favourite place to ride is south wales, in general. Places I'd like to explore more of are on the continent. Maybe Spain one day?
FY8MOTO: West coast – highlands of Scotland is pretty amazing! The forest of Germany (Black Forest) are epic, as are many roads in Austria. Croatia is pretty stunning too if you can handle the heat (38 degrees). Yet to explore any of Spain on two wheels. I'd also like to tick off every BSB circuit in the UK.
DT: If money was no object, what bike would you buy tomorrow?
Superduck: If money was no object when looking for a bike to buy – I'd buy an M1000RR and build it up to be a high level race bike (like in the TT).
FY8MOTO: Ducati Panigale Superleggera V4 – Also make a full start on my Café Racer Build HondaCB750 1977
DT: What is the best piece of advice someone has given you about biking?
Superduck: The best piece of advice anybody has given me in the biking community is to always ride your own pace at 75%.
FY8MOTO: Best advice I can give is aimed for the new riders out there mainly. Always go at 'your own pace', never try to impress other riders, get as many miles on the bike as you can – just ride, ride and ride, whatever the weather is doing too. Some of the greatest rides I've had were in wet conditions, in Europe and Scotland. Always invest in good clothing & kit, quality and comfort makes all the difference when you're riding, only then can you truly focus on your riding and being safe. When it goes wrong, it happens fast and usually hurts, Keep it real…!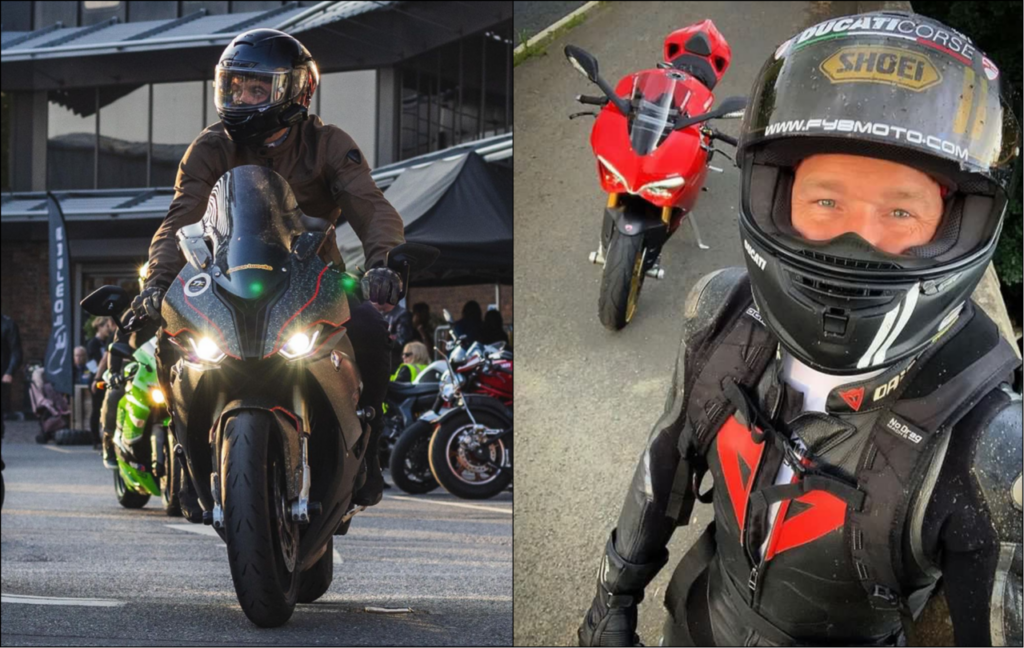 DT: Where can people follow your story?
Superduck: My social media platforms are both Superduck_chronicles on insta and TikTok.
FY8MOTO: People can check out my socials via Instagram and Facebook – FY8MOTO Always up for meeting new like minded good souls.
DT: Thank you both for being a part of the program and for inspiring others each and every day to get their leg over and enjoy the ride!
---
Want to be our next ambassador? Keep an eye on the website.
Email | Facebook | Instagram | TikTok
Read more about what makes an ambassador and what it takes to be one: