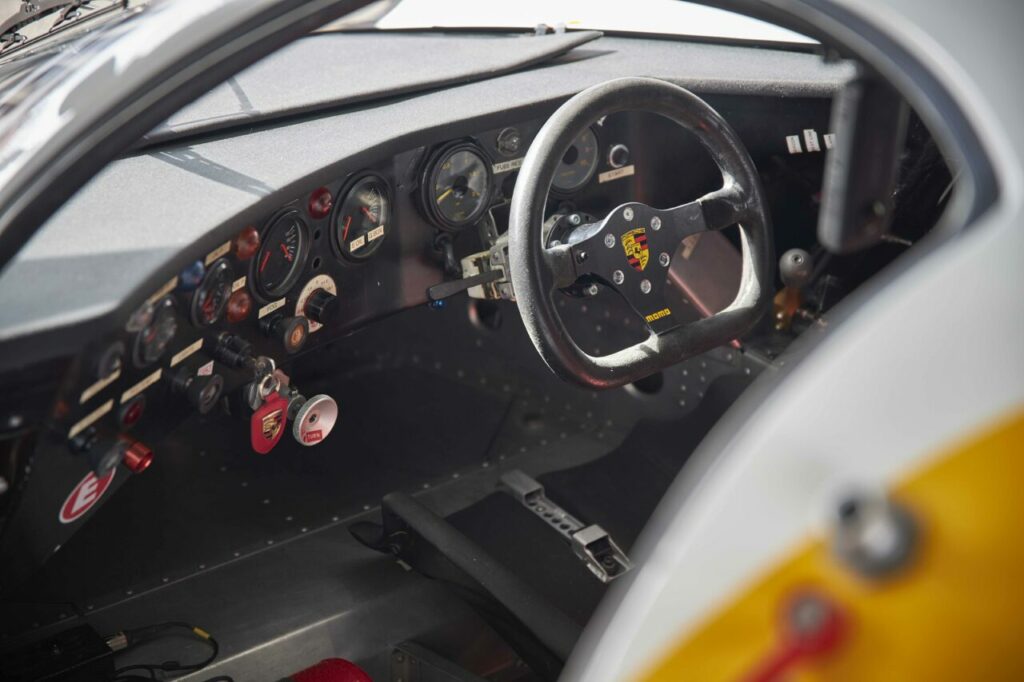 Most engines used in motorsport rev much more freely and respond much faster than the average road car. In the heat of competition with so much to concentrate on it can be very easy to take the engine over the safe rev limit. This is where this rev limiter and shift light guide comes in useful. A rev limiter can help prevent serious damage and let the driver give full attention to the driving. A shift light can also give a useful visual indication of the impending rev limit. It can also be set to allow gearchanges at peak power / torque rather than where it tails off, so can be a beneficial driver aid.
There is quite a selection so the following racing rev limiter and shift light guide will help you choose the best type for your application.
Rev Limiters
Lumenition Rev Limiter
This Lumenition Rev Limiter works on all inductive ignition coil type systems, whether contact breaker (points) , optical or magnetic triggered. The units are set at 5,500 rpm. on 4-cylinder engines. This is equivalent to 3,667 rpm. on 6-cylinder engines and 2,750 rpm. on 8-cylinder engines. Further adjustment is made by rotating the screw on the side of the Rev. Limiter. Turning clockwise increases the limit speed and anti-clock decreases the limit speed. Test the rev. limiter on vehicle by approaching the set limit with care. 
Ranges Covered: 4 cyl.- 4,500 to 18,000 rpm, 6 cyl.- 3,000 to 12,000 rpm, 8 cyl.- 2,250 to 9,000 rpm.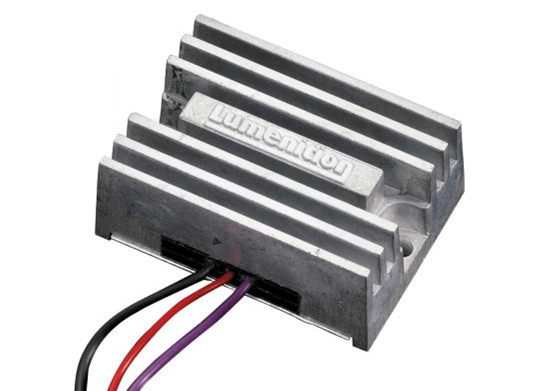 Micro Dynamics Rev Limiter RL3
The Micro Dynamics Rev Limiter RL3 like the above works on all inductive coil type systems. These units run SmoothCut technology which means the engine can be taken right to the rev limit. The SmoothCut circuitry overcomes many of the problems previously encountered with ignition cut devices as it burns off excess fuel in a controlled manner. In the narrow band between the speeds for full and controlled sparks, there is a region where only some sparks are cut (e.g., 1 in 4,2 in 8); this provides a softening effect, eliminating much of the noise, vibration and backfire found in other types of RPM limit.
The rev limiter also monitors engine RPM by measuring the period between ignition events. If the ignition system is experiencing contact breaker bounce or a similar ignition system misfires the rev limiter will interpret the multiple-firing as additional ignition events and ignore so the rev limit is maintained. 
The unit is set by a screw adjuster as the above Lumenition. The screw adjuster is covered by a screw on cover that keeps the screw clean and ready to use.
Ranges Covered:
4 cyl – 4000 to 14,000 rpm
6 cyl – 2700 to 9250 rpm
8 cyl – 2000 to 7000 rpm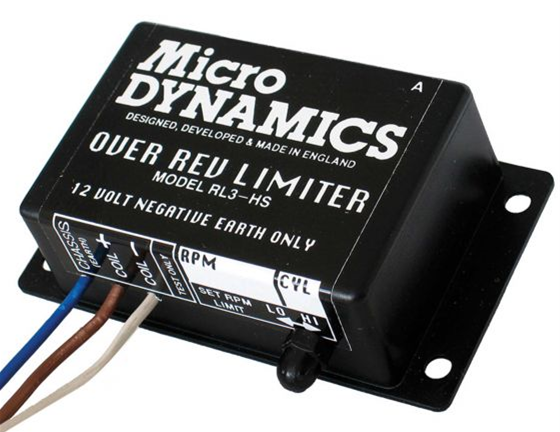 Micro Dynamics Rev Master / Swift Shift
The Rev Master limiter uses digital microprocessor technology giving pinpoint accuracy. This unit works up to up to 27,000 rpm for 4-cylinder engines and up to 13,000 rpm for 8-cylinder engines so covers almost any application. It can be used with all contact breaker, optical, and most transistorised and ECU controlled ignition systems. The system will work with single coil ignition and coil pack equipped engines, each type having a specific unit ( not coil on plug type ) The rev limit is set at half the required rev limit so easier to set than the above units.
The Rev Master also has an option of full throttle gear change. This will hold the revs at the current engine speed as soon the clutch is depressed, so if the clutch is operated at 6000rpm it will not allow the revs to increase above this until the clutch is released. This allows the driver to safely change up a gear without lifting off the throttle pedal for quicker gear shifts and improved acceleration. If the clutch pedal is pressed when the engine speed is below the full throttle gear setting the unit will not activate the secondary rev limit as this may hinder acceleration at the start line.
The Swift Shift unit has the above features but comes with a settable ultra-bright shift light 
Both units can be used with an optional Rapid Start Control switch. This allows the revs to be limited to prevent wheel spin while the button is activated giving a simple form of launch control. Ideal for powerful classic cars with narrow tyres or those competing on loose surfaces.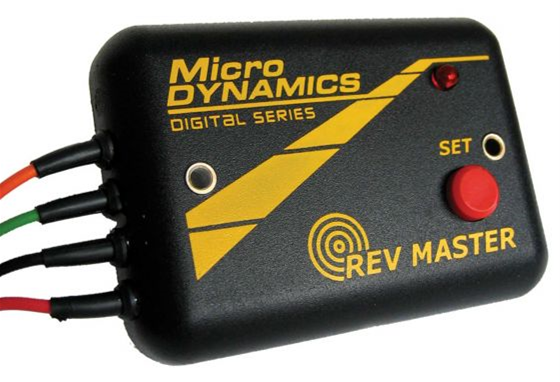 MSD Ignition Soft Touch Rev Control
The MSD unit can be installed on engines with contact breaker points systems or any inductive electronic ignition. The Soft Touch Rev Control is adjusted with plug-in modules and comes supplied with 6,000, 7,000 and 8,000 rpm modules. (Alternative modules are available separately) When the engine reaches your set rpm, the Soft Touch circuitry kicks in and drops the spark to certain cylinders. This limiter produces very accurate and smooth, backfire-free rev limits. Can be used on 4, 6 or 8-cylinder engines.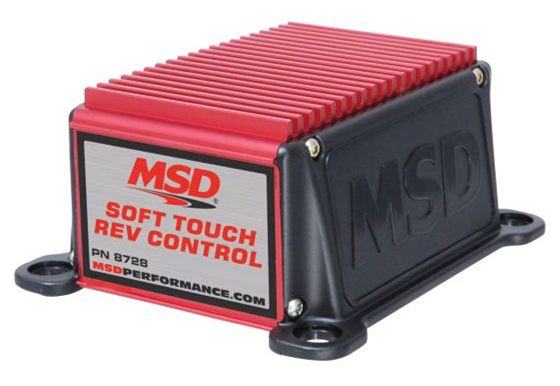 Shift lights
The next part of the racing rev limiter and shift light guide concerns shift lights. These come in two forms, the simplest is a bright shift light triggered by external source such as signal wire from a programmable ecu, or datalogger. The more sophisticated types can be set to read a coil or ecu feed etc. but also allow the parameters to be set by the end user. Most of these have sequential lights. Specifications and options are below :
Micro Dynamics Shift Light
The Shift Light unit triggers a remotely mounted ultra-bright 10mm circular LED. This makes it ideal for single seaters with very little space around the instruments , or classics if a discrete light is required. ( Unlit it looks like a warning light ) The unit is set at half the RPM of the required shift point and is very easy to set up. Adjustable to any RPM between 1,000 to 40,000 sparks / minute (equates to 500 RPM to 20,000 RPM on a four cylinder )
Micro Dynamics Super Shift
The Super Shift has a series of ultra-bright coloured LEDS that light up sequentially. The lower range LEDs light up green and then progress to yellow, the last four light up red. Once the upper limit is reached the red LEDS then strobe to make it clear its time to shift.  The upper limit shift point, and the start of the first green LED are both set at half the desired RPM. Adjustable to any RPM between 1,000 to 40,000 sparks / minute (equates to 500 RPM to 20,000 RPM on a four cylinder ) The LEDs have 8 settable levels of brightness. This unit permits the driver to anticipate the optimum time to change gear and extract the best performance from the vehicle without the distraction of watching the tachometer.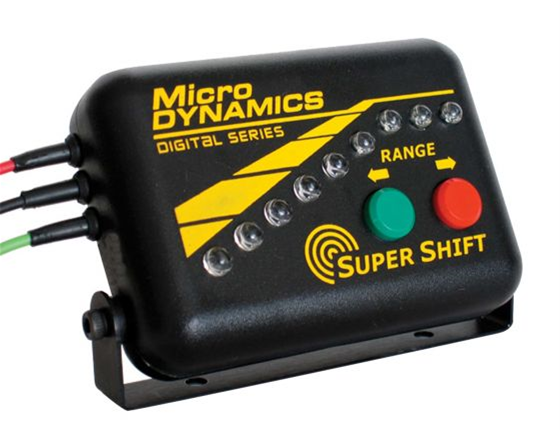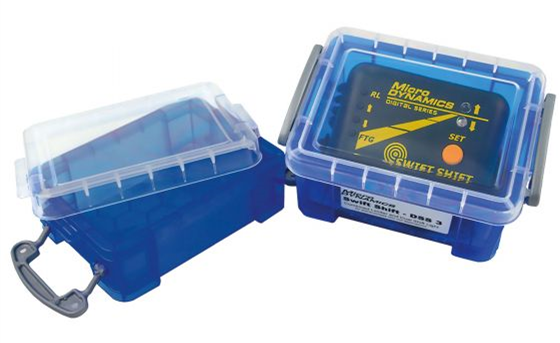 CARTEK Shift Light
The CARTEK Shift Light is a dashboard mounted device that displays 8 multi-coloured LEDs. These form a display sequence that will commence at the engine speed selected and complete at the user set shift point.  The display has six left to right linear settings or two that converge to the centre. The light settings can be configured with or without the engine running. Brightness of the LEDs can be set to suit day or night use. Fully sealed so suitable for open-cockpit cars or motorcycles. Two units are available: 
CK-LS-CL requires an engine speed signal which can be any RPM output from an ECU (5V or 12V square wave), tachometer signal or ignition coil signal. There is an additional filter setting available designed for historic applications. This unit also has an Alarm feature which can be used to alert the driver of an engine issue by connecting to a compatible sensor, data logging system, or dashboard alarm output signal.
CK-LS-OBD connects directly to the OBD2 port, so probably as easy as it can be provided you can find it!
AIM Motorsport Shift Light Module
The AIM shift light module is an add on to the AIM units listed below and features 10 configurable RGB LEDs, giving you complete control over your shift point. You can easily set the LED colour and the RPM value that turns each LED on/off and depending on the gear number. It is possible to select a solid alarm or flashing one, you can even choose the flashing frequency. The shift light module uses a CAN connection, which is a 712-712 male 5 pin patch lead. Can be used with AIM MXL2, MXS, MXP, MXG and Strada versions, EVO4S and EVO5 and PDM displays. The unit can also work as a predictive lap timer.
The shift light module can also be set as a predictive lap timer if using the MX series of displays combined with AIM's Race Studio 3 software. The LED bar can be converted to turn green if you are improving your times compared to the best one of the session or will turn red if you are slower.

Stack Sequential Shift Light suits ST8100
The ST539 5-LED Multi-Stage Shift Light Module is designed for use with Stack ST8100 Display Modules manufactured 2006 and on. The unit features five ultra-bright LED lamps 3 × Amber, 1 × Red and 1 × Blue, and has adjustable brightness levels via a single push-button. Simple three wire or 4-way Mini Sure Seal connection ( as fitted on newer ST8100 ) The five LEDs can be made to illuminate in sequence with each one coming on at your own configured engine speeds.
E.G, the first LED can be set to illuminate at 6200 RPM. Then both the first and second LEDs can be set to illuminate at 6400 RPM. An extra LED will illuminate in sequence at further RPM values until all five are lit.

Stack Standalone Shift Lights
If the ignition is provided by a programmable ecu or you have a data logger fitted and either of these can provide a shift point signal you can use a standalone light.  Stack offer standalone shift lights provide a solution, available either in dash panel mount or dash top pod type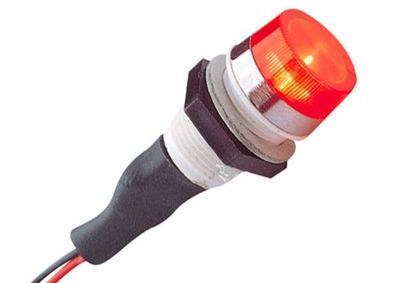 Gauges with Integrated Shift lights
Many manufacturers offer tachometers / rev counter with built in shift lights. So, if you are in the market for tacho these offer a neat solution of combining the two , useful links below: 
Rev Counters: 
Stack ST700
Smiths Prosport F1
Ractech 80mm Tachometer 
Auto Meter Sport-Comp
Longacre Accutech Data Logging DLI
Longacre Accutech Memory Tachometer
Longacre's Sportsman Gauge Panel With Gauges & Memory Tachometer
Longacre SMi Gauge Panel With Gauges & Memory Tachometer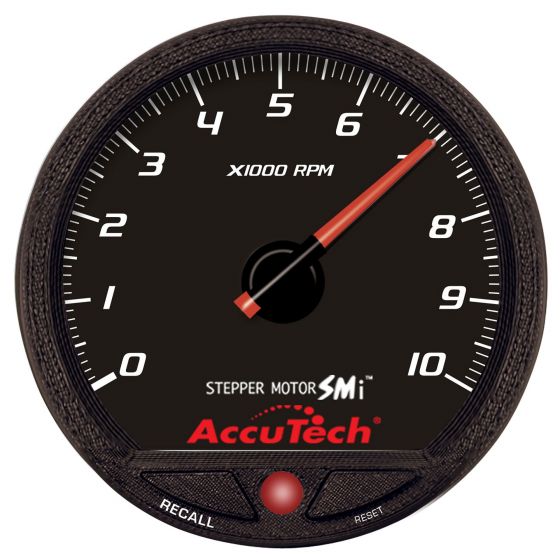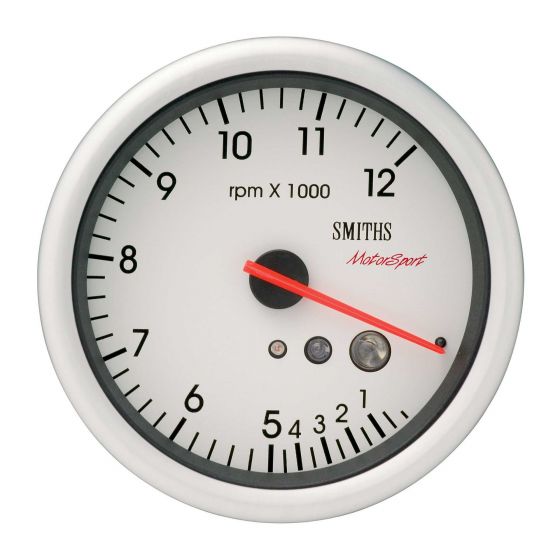 Auxiliary gauge option: 
Innovative Motorsports MTX-D Vacuum / Boost / Shift Light Gauge
Innovate Motorsports SCG-1 Solenoid Boost Controller / Wideband 02 Gauge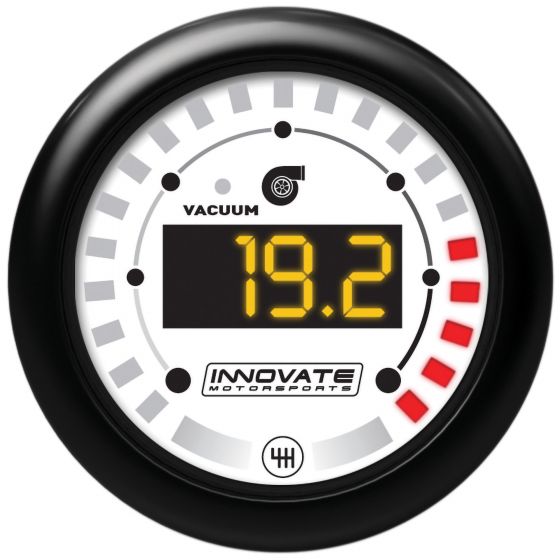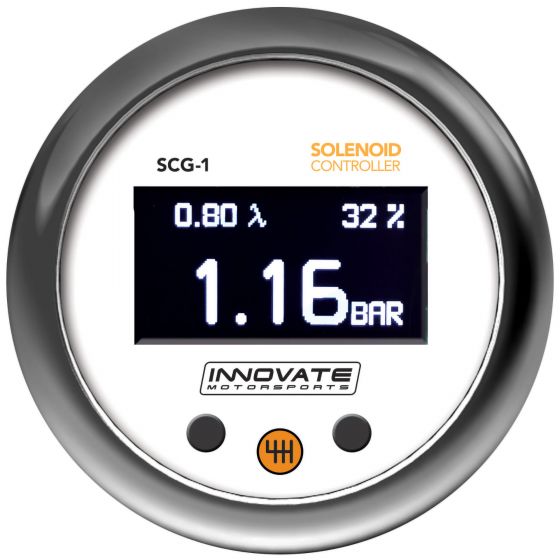 Gauges with Shift Light Output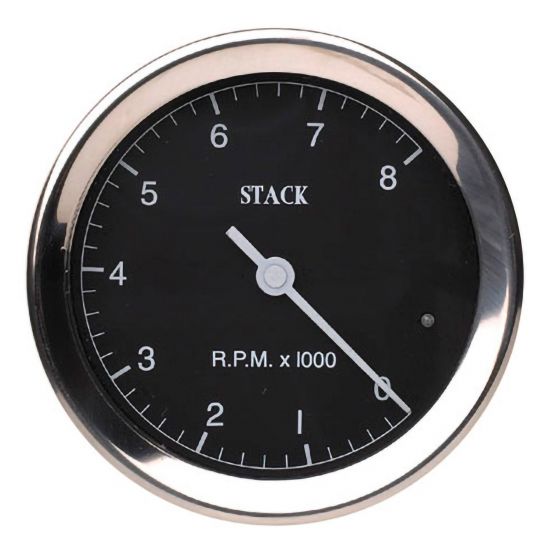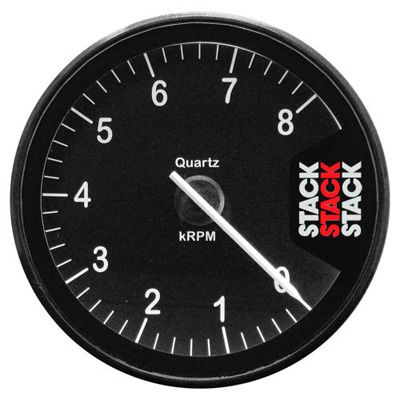 There you have it, this racing rev limiter and shift light guide is the most comprehensive information which will help you get the optimum from your car.
---
Enjoyed this? Read more of our latest news:
Where To Next?
Looking for the latest motorsport parts and accessories? Check out our wide range from top brands.
Come and visit us at our store, showroom and fitting centre in Wrexham.
Want to know more about our story? Learn about who we are and why we've been driven by passion for over 50 years.
Interested in everything we do? Catch up on all the latest Demon Tweeks news.