Here at Demon Tweeks, we like to keep you up to date as much as possible on the goings on here. In 2023 we're launching our newsletter blog calling out key topics, activity and news that has happened over the last few months. This is the first of the year and it will cover all activity from January, February and March!
Demon Tweeks Cars & Coffee
At the end of 2022 we collaborated with Chester Cars and Coffee to host events here at Demon Tweeks HQ. This quickly evolved into Demon Tweeks Cars and Coffee and within a few events it has grown substantially.
We kicked 2023 off with a bang and started with a Demon Tweeks Cars and Coffee on the 7th of January. Although it rained, we had a great turn out and filled all three car parks! It was also the first time we had a local racing team display a car and talk to the attendees! If you would like to read more about this particular cars and coffee and view the gallery, check out the blog.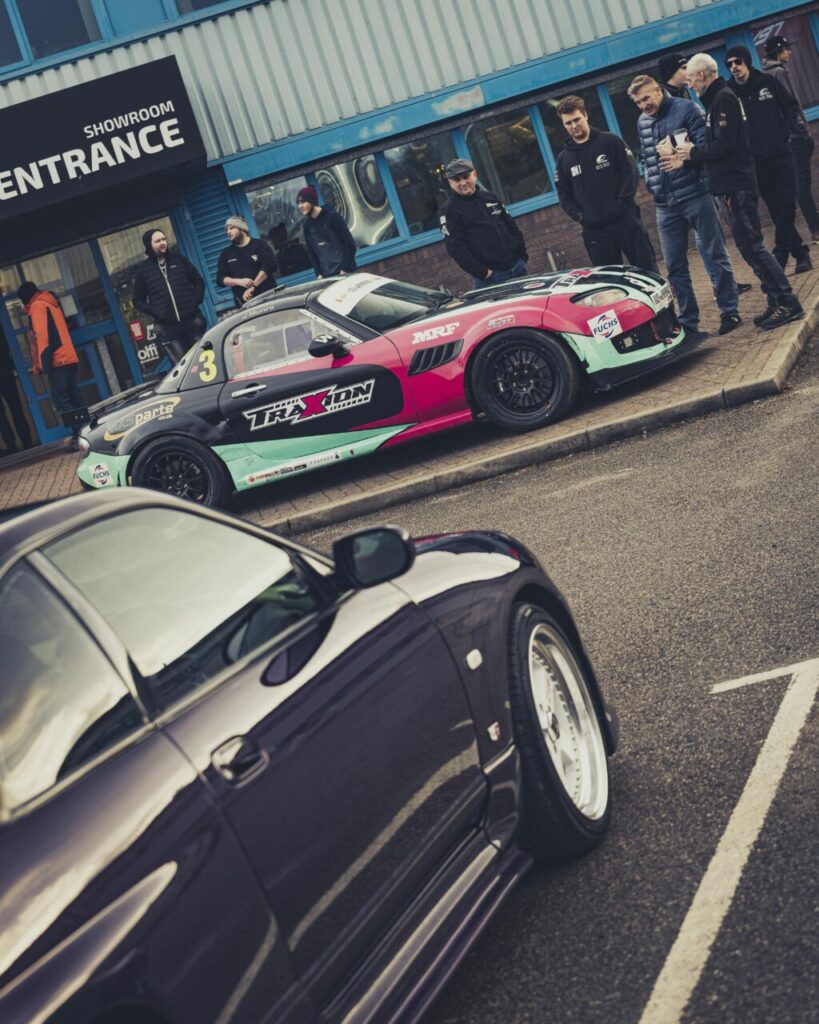 February saw us host our second Cars and Coffee of the year. With the success of the events so far, we anticipated a higher attendance and decided to open up another area for parking meaning we had four areas! It was an unbelievable turn out and the noise on social media about it was brilliant! It was by far our biggest yet and we've taken feedback from this event and we are working hard in the background to make positive changes for the future! Check out the gallery on our Cars & Coffee Instagram and keep your eyes peeled on our socials for news on future events.
Demon Tweeks Visit Forge
We were lucky enough to be invited to visit Forge Motorsport HQ here in the UK. We took the trip to Gloucester to have a tour of their facilities, meet the team, see new products and look around some of their impressive vehicles! To find out more about the visit, you can check out the blog!
Oval Owners Club
We also hosted our first club meet of 2023 here at Demon Tweeks. The Oval Owners Club had a private meet here at our head office. It was an exclusive meet for their club and it was great to have them here. We saw a good mix of old and new Fords. They were able to relax and chat, we enjoyed talking to them about their cars and sharing in their passion! If you would like to discuss with us having a private club meet, you can contact us at events@demon-tweeks.com.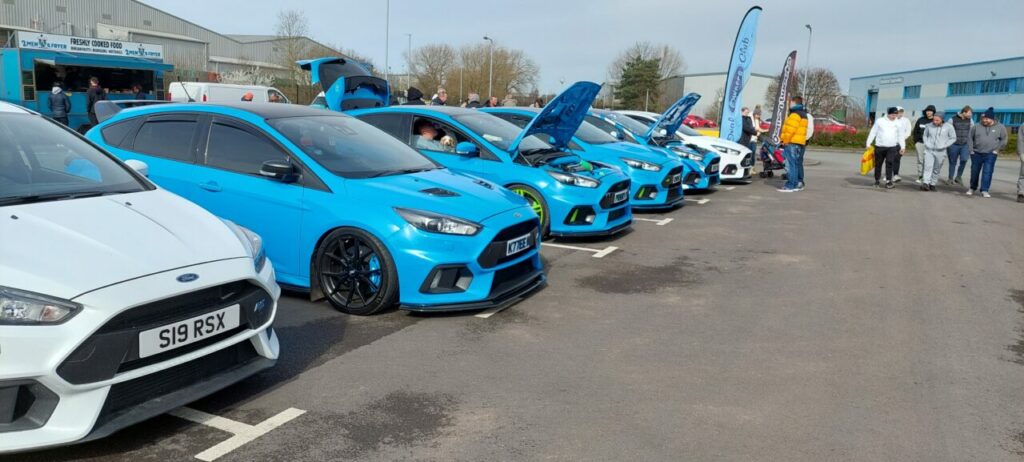 Sponsorship Scheme
Shoutout to our motorsport team! With the start of 2023 brings the launch of this year's Demon Tweeks Sponsorship Scheme. Each year we sponsor people from right across the world of motorsport including; karting, hill climb, rally and even sim! There are many benefits to being part of the scheme; to read more about the Sponsorship Scheme and apply, you can do so here. Be quick, as places are limited and are filling up fast!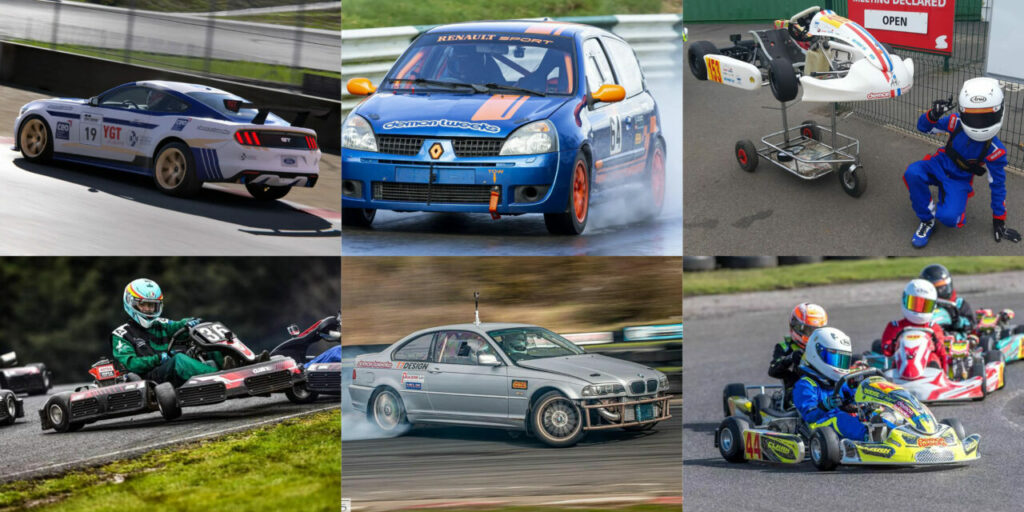 Motorcycle Ambassador Scheme
This year we've teamed up with our friends at Michelin to launch our very own ambassador scheme. At the end of February, we asked the motorcycle community to apply to become an ambassador for DT and Michelin. We've had 100s of applicants from track riders, tourers, dirt bikers, adventurers and more! Our motorcycle team are now tasked with whittling the list down to just a few lucky individuals who will be receiving a year's supply of tyres to put through their paces. Keep your eyes on the socials to see who managed to make it onto the scheme and follow their progress!
Showroom
We've made some exciting updates in our showroom this year. At the start of 2023 we decided to add a little something special for visitors to see!
If you follow our social media, you have probably seen the news that we've put our Audi A4 Supertourer Race car in the showroom. It's a brilliant piece of kit, with a fantastic history. If you can't make it down to see it in the flesh, then we've written all about it in our Super Touring Car Blog. The car is front and centre in the showroom so if you want to see it you can do! If you take pictures and share on social be sure to tag us!
We have also created a new dedicated kartwear area in our showroom, showcasing the very best of kartwear! If you follow our socials you will know that we are also in the process of adding a racing simulation set up in our showroom too!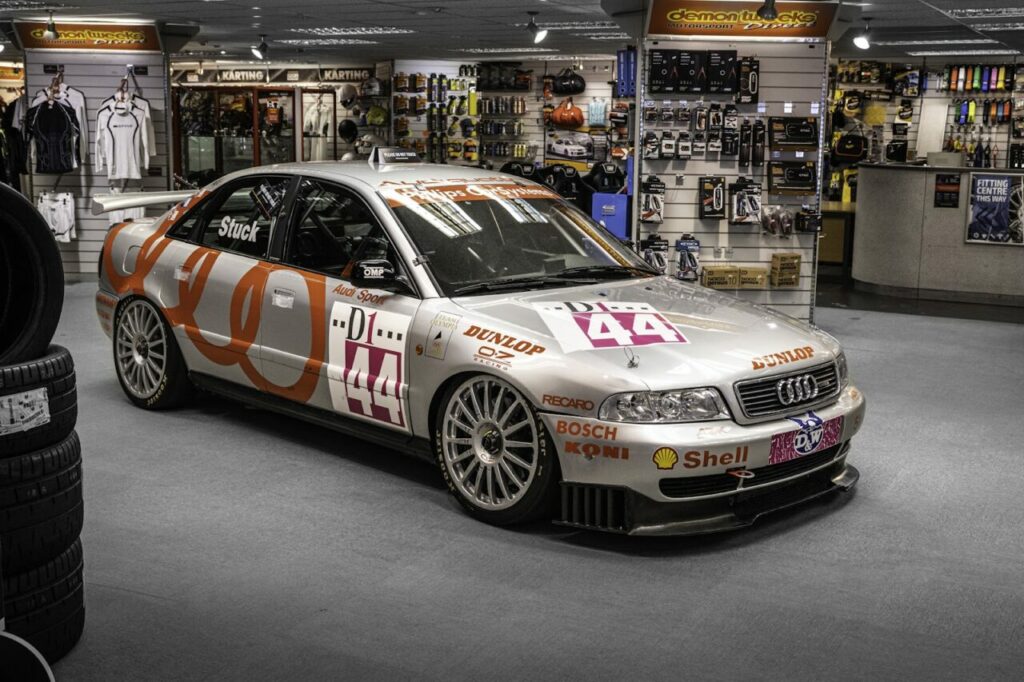 Tweek'd – VW MK8 Golf R
You may remember in 2022 we made some modifications to our VW Golf MK8 Golf R in the Tweek'd YouTube series. We have been keeping an eye on new products as they have come out, and in 2023 we managed to get a new Big Brake Kit for the MK8 Golf R from EBC Brakes. Now fitted, you can watch us put them to the test on our TikTok. As well as the install, we will be posting more about the kit so follow our socials to be kept up to date. Below are a couple of images of the Big Brake kit on the car! On our visit to Forge we also picked up something else that will be fitted so keep an eye on our socials!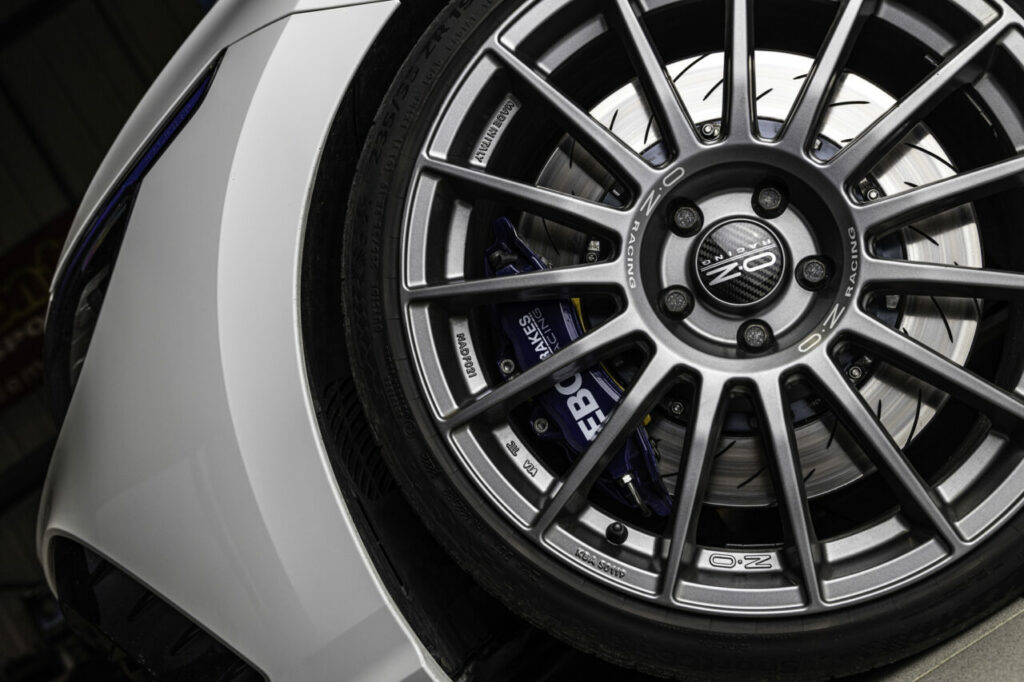 New Products & Brands
With a new year we have seen a host of new products being teased or released, we can't call them all out but here are a few that we thought are worthy!
Eventuri – Eventuri air filtration systems set the bar high in terms of performance and outstanding visual appeal! Not only do they produce premium high quality air filters, they also produce carbon fibre engine covers, ducts, airbox lids and more. We have now added Eventuri to our website, simply enter your car details and see what's available for you. Their products really do look stunning under the bonnet, if you don't believe us, take a look at these…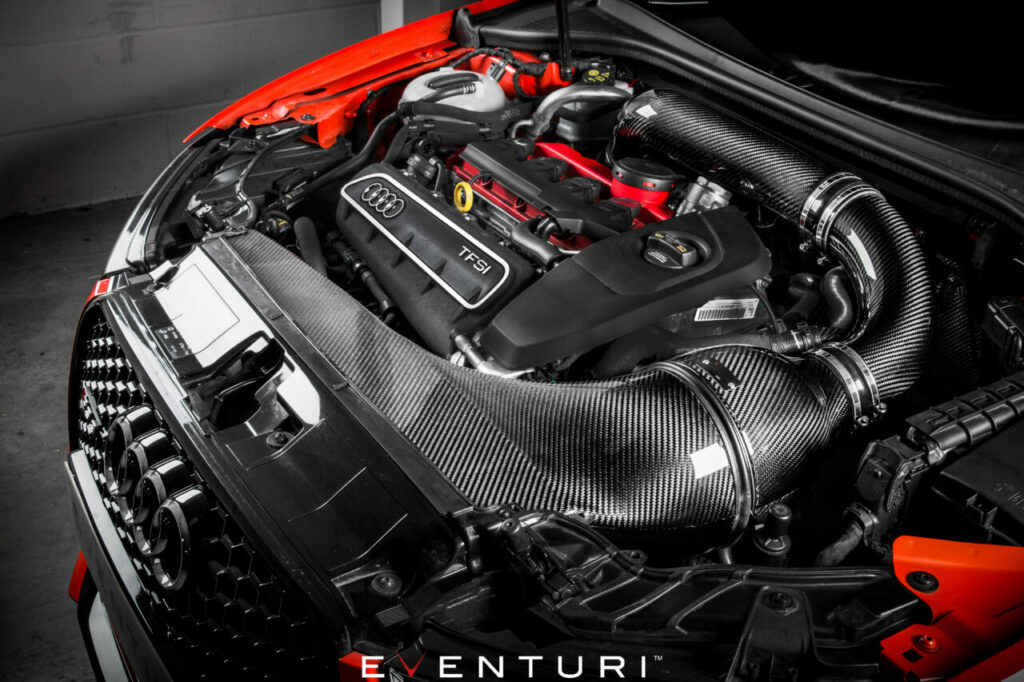 Bridgestone Potenza Race Tyre – The latest in the high performance line up from Bridgestone, this tyre is putting up a fight against it's competitors! It's a fantastic summer tyre for supercars and brilliant for track day toys too! Bridgestone have really gone to town on this tyre maximising the corner and braking potential!
Yokohama Advan Neova AD09 Tyre – the latest in Yokohama's line up, intended for club racers, performance and modified road cars. It features a high-performance compound and all new tread pattern. It is an excellent tyre for road and track with brilliant wet and dry performance!
Socials
Some news from our social channels!
We're absolutely delighted to see that our followers on TikTok have now risen to over 27,000! Thank you to all those that have followed! We have really enjoyed making a different style of content. If you haven't seen us on TikTok please have a look! We produce a mixture of content on there for cars, bikes and motorsport!
Our Instagram is also growing! We're are super pleased that we are nearly at 10k followers, it's a platform we're putting more effort into. We post about products, cars and suppliers that visit and what we do from Demon Tweeks Performance. We also post about cars and coffee and will be posting about shows that we attend this year. Give us a follow us to be kept up to date!
If you already follow our Instagram and TikTok, you will have seen that we recently had a visit from officially_gassed! We teamed up with Tillet Racing Seats and Officially Gassed to fit new Carbon/GRP B8 seats to the 770bhp DC5 Integra Type R. It was a pleasure to be apart of and we loved seeing the car here at DT HQ!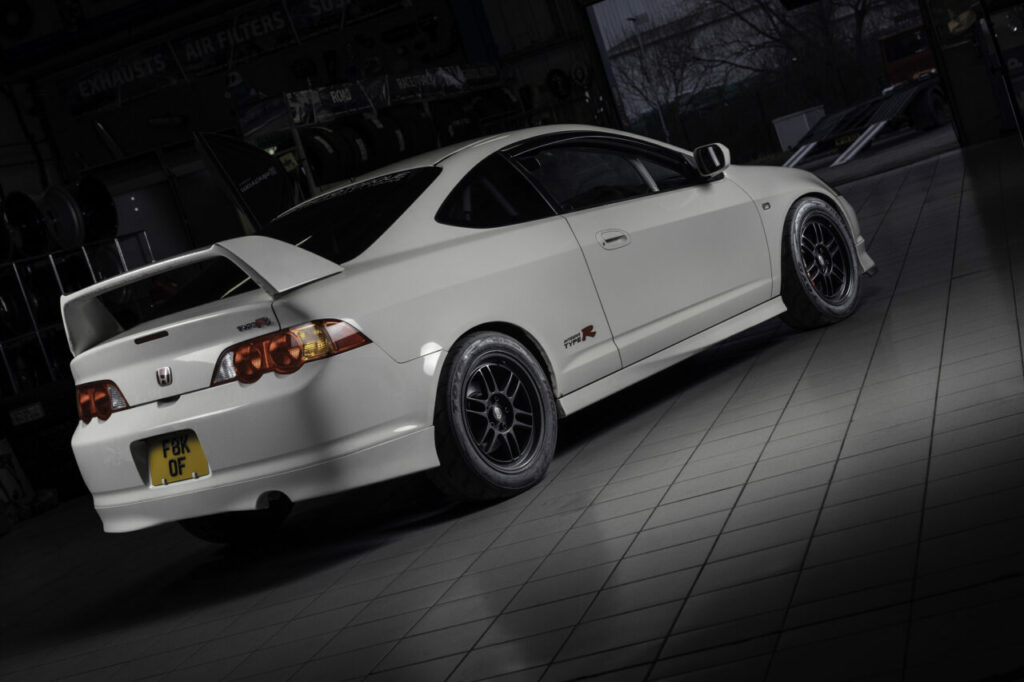 To keep up to date with Demon Tweeks, follow us on Instagram (@demontweeksperformance), TikTok (@demon_tweeks) and Facebook (demontweeksperf). You can also follow our Cars and Coffee Instagram account (@demontweekscarsandcoffee) to keep up to do date with news and content regarding these specific events! You can also subscribe to our email newsletter for updates on products, cars and coffee, blogs and offers!
---
Enjoyed this? Read more of our latest news:
Where To Next?
Come and visit us at our store, showroom and fitting centre in Wrexham.
Want to know more about our story? Learn about who we are and why we've been driven by passion for over 50 years.
Interested in everything we do? Catch up on all the latest Demon Tweeks news.