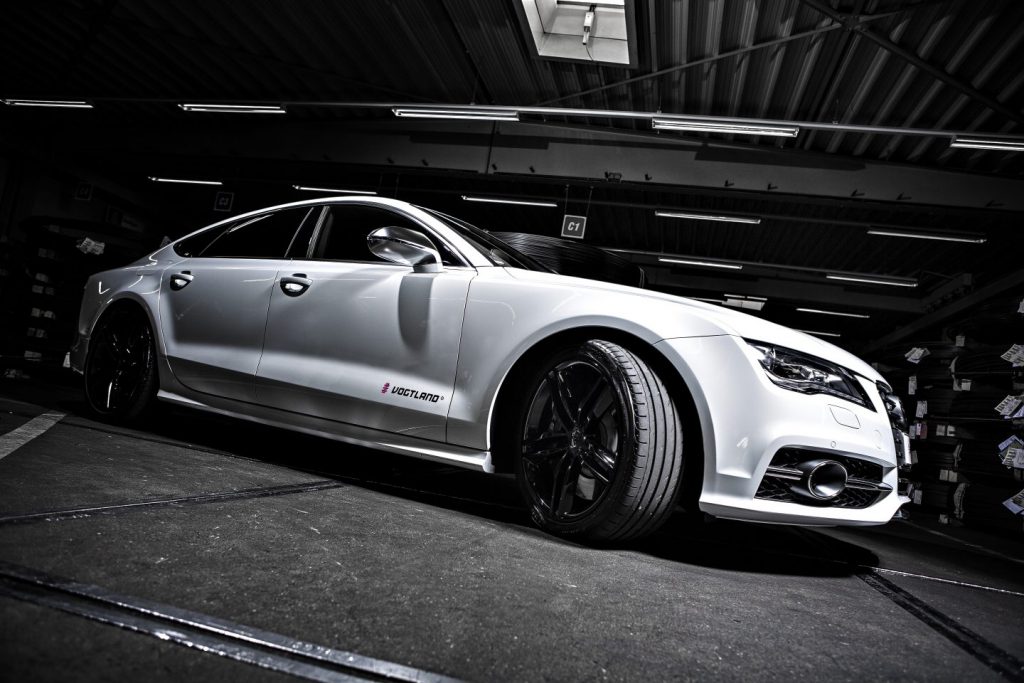 Formed more than 110 years ago, the Vogtland brand has come a long way from its humble beginnings. Having started out in a garage in 1908, the German brand is now one of the biggest spring manufacturers in Europe, and have even branched out into the North American market with Vogtland N.A.
The brand takes great pride in their product range and the extensive research and development that has helped them to reach their current status as one of the most popular spring and performance suspension manufacturers in the world. Every lowering spring, suspension kit and coilover is built to perform in any conditions and in any environment; helping Vogtland to enhance their reputation with each new component.
Interestingly, they are not named after the Vogtland region of Germany, but after the founder of the company, Bernhard Vogtland. As with a lot of spring companies, they didn't start with car springs but rather branched out into it in the 1930s.
Where do Vogtland sit in the suspension market today?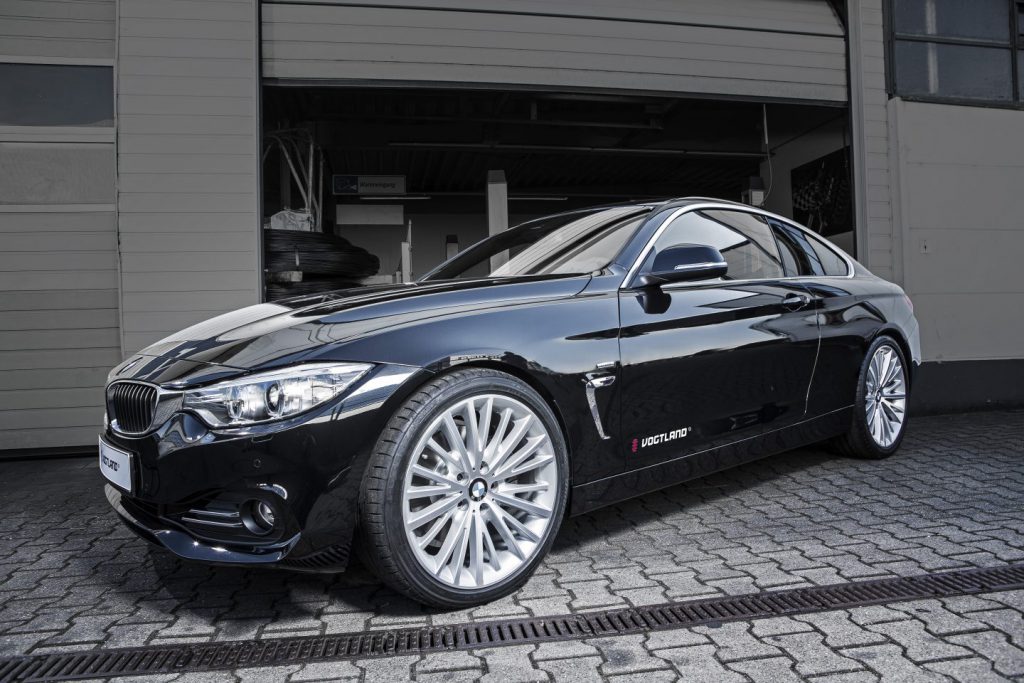 As you'd expect from a company who have been going this long, Vogtland are now rubbing shoulders with the likes of Eibach and H&R, with rather extensive research and manufacturing facilities in Germany. Their catalogue is very extensive and covers a wide range of cars.
They are however quite a new brand to the UK. We came across their product a couple of years ago in Germany and very quickly spotted their quality, depth of range, and fantastic value for money. We put their product on our shelves, on our website, and the rest has been history.
Their popularity has been growing rapidly with more and more people fitting their products. We suspect this is in large part down to word of mouth. With any suspension product, the proof is really in the pudding, and word of mouth for Vogtland has been very, very good.
There are several cars in the Demon Tweeks staff car park happily sitting on Vogtland suspension and they've quickly become a brand people at Demon Tweeks are happy to recommend through first-hand experience.
Vogtland springs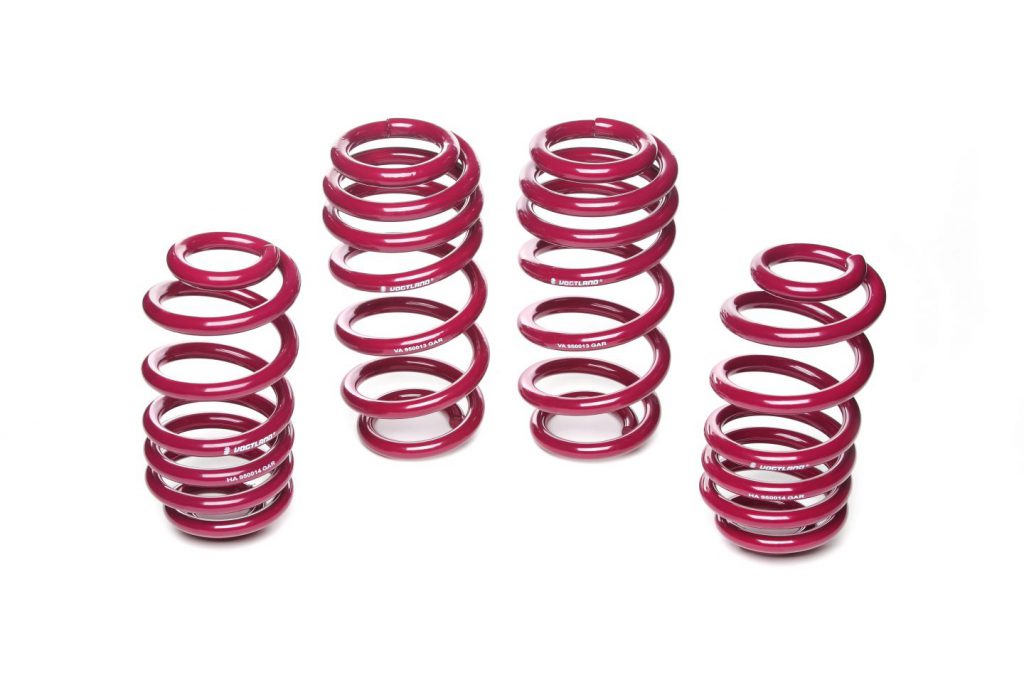 As you'd expect from a 111-year-old company, Vogtland know all about working steel into high quality springs. They use specially hardened Chrome-Silicon and Chrome-Silicon-Vanadium alloys. These stay strong and sag resistant for much longer. They're also powder coated for corrosion resistance which is essential when you consider the daily diet of road salt your springs eat in the winter.
As with all performance lowering springs, fitting a set to your car improves handling through two main mechanisms. Firstly, by lowering your car, you're lowering its Centre-Of-Gravity. This has a very direct effect on how much it leans over during cornering. The less it leans over, the less it leans off the inside wheels. More weight on all four wheels means more grip.
Secondly, lowering springs also tend to be firmer than the originals, more aggressively tuned to keep the car's tyres in contact with the tarmac. Any good lowering spring will help the car maintain traction as the car travels over the road surface as well. If you're looking for further information, check out our Performance Guide to Lowering Springs.
While all suspension is a bit of a compromise, and lowering your vehicle means making its suspension a bit firmer, the feedback we've been getting on Vogtland is that their spring kits manage to pull off the tricky balancing act of being both sporty and comfortable. The improved handling is not coming at the expense of ride quality and these are quite well tuned for British roads, bumps, ruts, and broken tarmac included.
Vogtland's lowering springs all come with TUV certification. TUV is a very strict set of safety standards. This is good if you're driving in countries outside the UK where it is required (trust us, you don't want to get caught without), but even if not, it means you know you're fitting a high-quality product to your car.
Vogtland suspension kits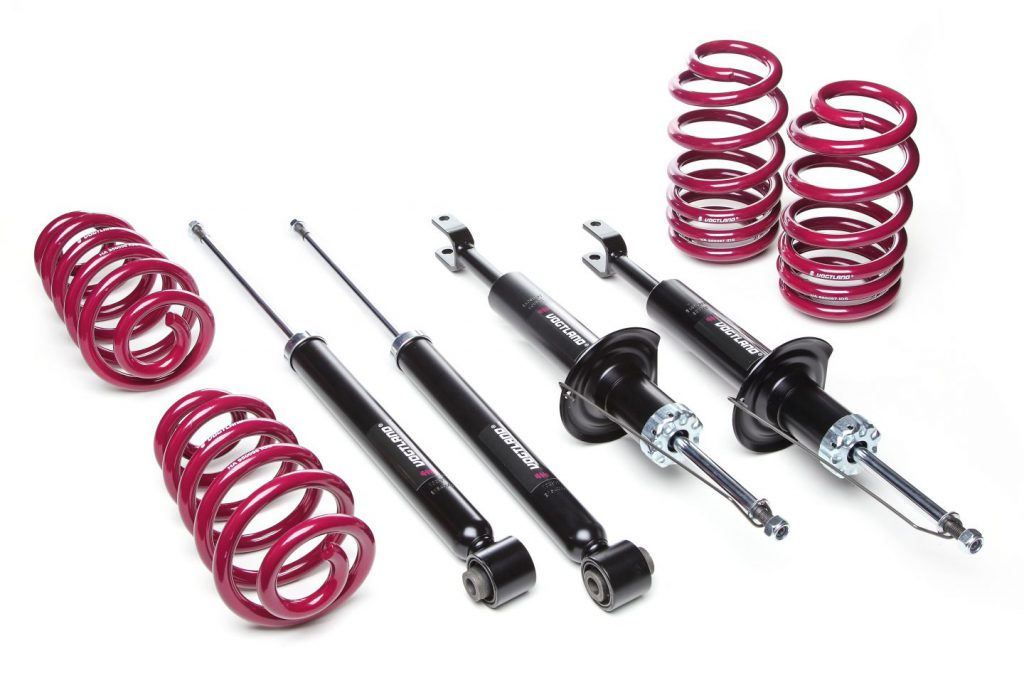 While Vogtland's lowering springs are good on their own, they get even better when paired with a sports damper in a suspension kit. By pairing all of the benefits of a lowering spring with an uprated sports damper, you get all of the benefits we talk about above but made even better by the sportier shock absorbers.
The shock absorbers job on the car is damping (hence their other name – dampers) the release of energy absorbed by the springs. You hit a bump, the springs soak up the impact, and the shock absorbers then control the release of that energy.
This means that a stiffer lowering spring is going to be placing greater demands on your shock absorbers.
While the Vogtland Lowering Springs will happily pair with the original shock absorbers and work well, you will enjoy even better handling if you fit upgraded Sports Dampers at the same time.
This will be most noticeable over bumps, especially at low speed, where your car can feel a bit busy on sports springs with non-sports dampers.
Vogtland have carefully matched their springs up to the right dampers, allowing you to both take your vehicles handling to the next level and completely overhaul your old/worn suspension at the same time.
Vogtland coilovers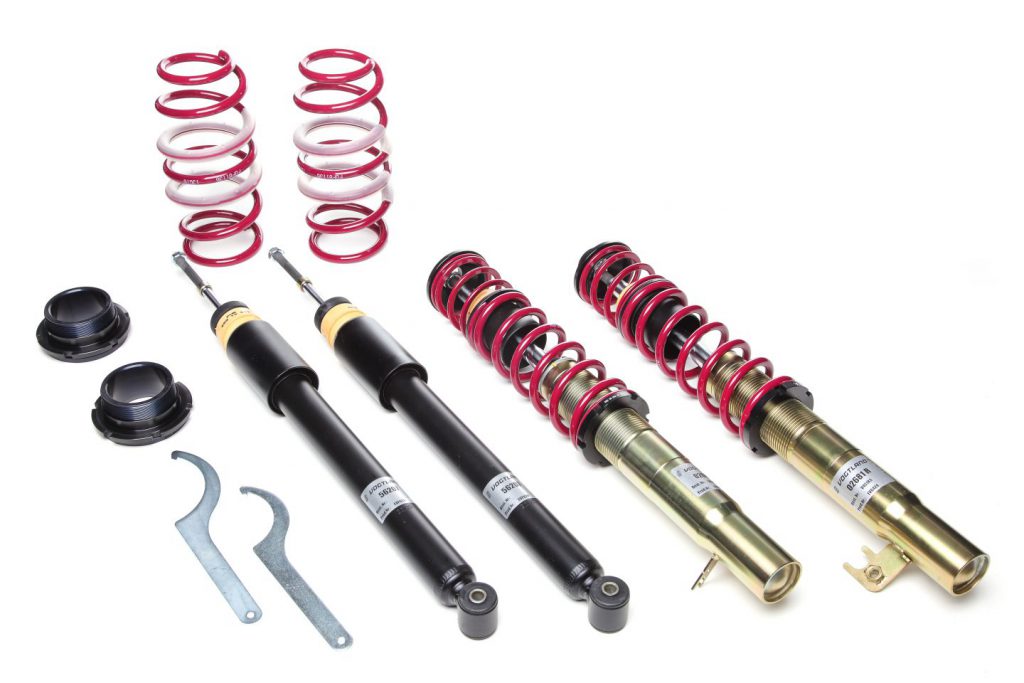 Coilovers are generally regarded as being the ultimate upgrade for any road car. Completely replacing the cars original set-up brings the opportunity to make everything lower, and more adjustable.
You have to exercise a bit of care when choosing your coilover though, particularly if you want an end result you can live with every day. Not all coilovers are created equal, with some offering a harsh and uncomfortable ride, particularly at the cheaper end of the market.
Not these though. As with their lowering springs, Vogtland have pulled off the trick of offering much improved handling and a much lower stance, without leaving your car overly firm or uncomfortable. They also offer a big improvement in handling, with the well-matched spring and damper rates putting you in much more direct control over your car. These should not be confused with some cheaper kits which only offer the looks, with none of the handling improvements on offer here.
Vogtland's obvious expertise at suspension development comes into play here with their springs being combined with good quality, twin-tube dampers. While they are of course firmer than the equivalent spring and damper kit, the dampers are good quality and well set-up for real road use. Big impacts are soaked up by the coilovers rather than being transmitted in their entirety to the chassis of the car.
These are available with both fixed and adjustable damping, depending on the level of control that you want. While some drivers will appreciate the extra degree of control, the fixed damping kits offer a good real-world set-up that should work well for a lot of drivers.
All kits are height adjustable, allowing you to both fine-tune your handling by corner weighting and achieve that perfect stance. Something our fitting centre here in Wrexham are well qualified to do.
---
Enjoyed this? Read more of our latest news:
Where To Next?
Looking for the latest performance & tuning parts? Check out our wide range from top brands.
Come and visit us at our store, showroom and fitting centre in Wrexham.
Want to know more about our story? Learn about who we are and why we've been driven by passion for over 50 years.
Interested in everything we do? Catch up on all the latest Demon Tweeks news.