Thank you to everyone who entered into our competition, but there can only be one track bike winner. Congratulations to Ash Daughtrey!
He's won a Michelin and Demon Tweeks branded 2009 Triumph Daytona 675 track bike
All by just purchasing a qualifying pair of Michelin tyres from Demon Tweeks
A 1 of a kind bike packed with custom modifications, including an Akrapovič exhaust silencer, Nitron rear shock absorber, K-Tech fork springs and much more!
Introductions
So Ash, welcome to Demon Tweeks, you're here today to collect you competition prize, has it sunk in yet that you're now the proud owner of our fully track prepared Triumph Daytona 675 track bike?
Honestly, no it hasn't! Even now I've seen it in the flesh, sat on it, fired it up, it will take a bit of time for it to sink in that it's mine.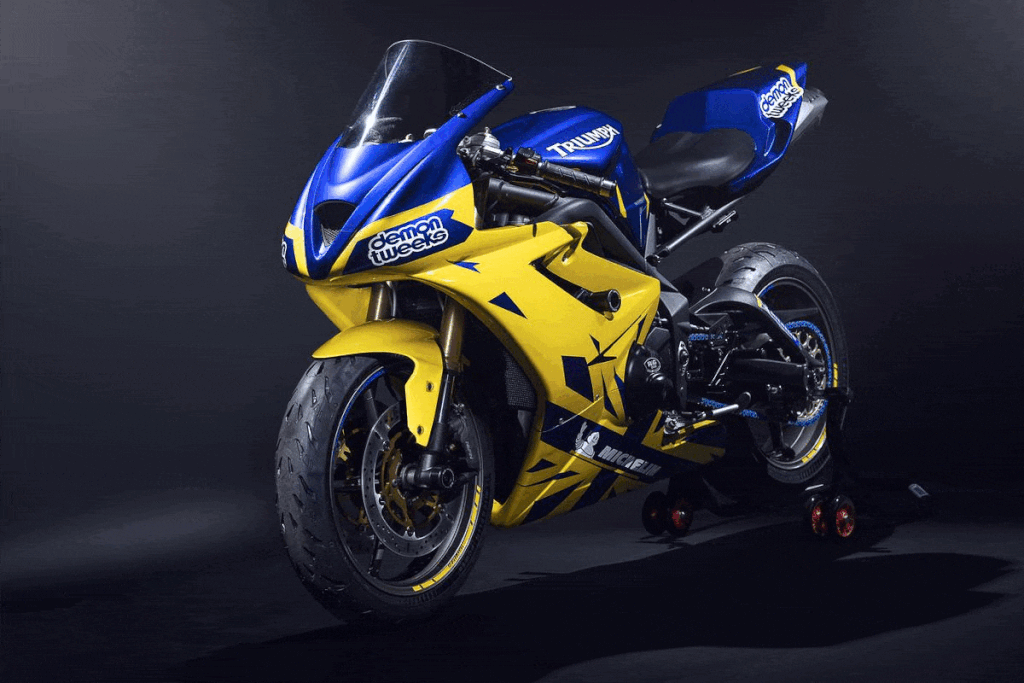 The Competition
So let's go back to the beginning of what won you this bike. Tell us a bit about your daily ride and what tyres it was you bought that entered you into the competition.
So my current road bike is a BMW GS1200. As well as using it at the weekends with my mates, I've also done several European tours on it, great bike. As for the tyres, the ones I purchased which won me the track bike were the Michelin Road 6's but I've used the Road series of tyres from the Pilot Road 3's.
A reminder of the competition can be found on our website.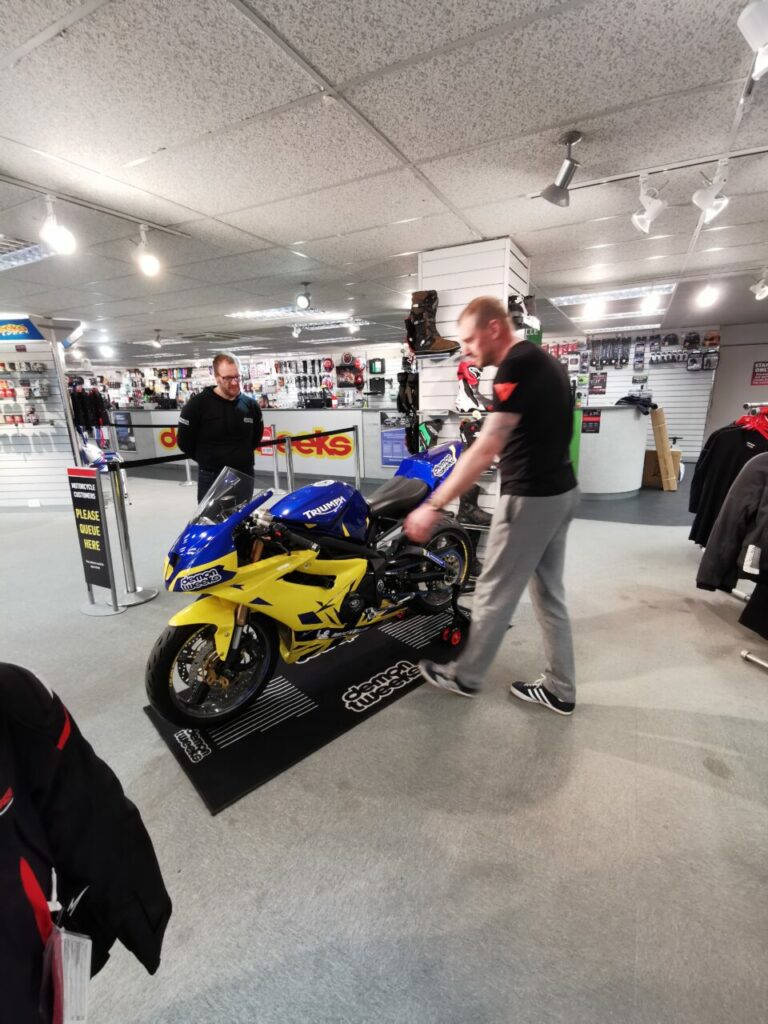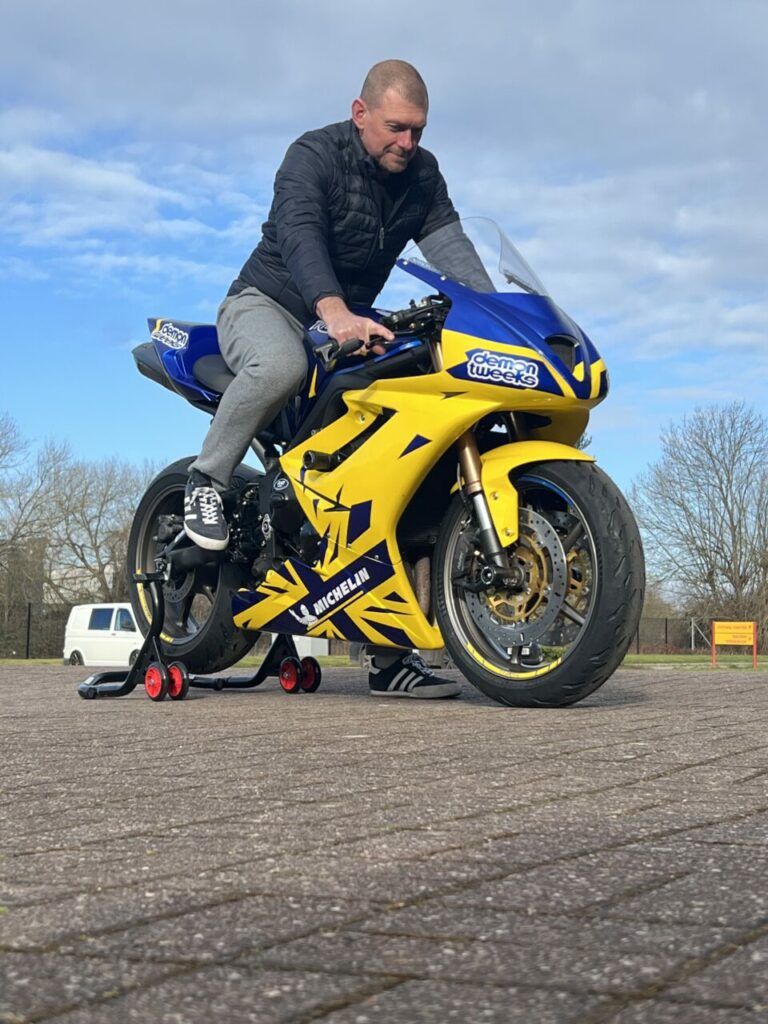 How Are Michelin Tyres?
So the fact that you've ridden on Michelin Road 3's, 4's, 5's and now 6's, you obviously like the Michelins?
Without doubt, in that sports touring segment, to me they are the best. Having ridden various different tyres on various different bikes over the years, there's nothing I've found that comes close. Usually you can have the dry grip, but you sacrifice the wet grip or vice versa, but with the Michelin's, you could do a track day on those Road 6's and then still ride in torrential rain and you'd still have grip.   
How many miles have you done on your Road 6's?
*little chuckle*, Obviously the way I ride and the fact that I've ridden in the Alps on them it's going to have an impact on the wear, but I would guess I'm getting around 5,000 miles on the rear and although that doesn't sound great, it's safe to say that they've been worked riding through Europe, Germany in particular and it was incredibly hot. The great thing about them is unlike a lot of other tyres I've tried, because of the weight of the bike, there's no getting away from the fact that you're trying to avoid a flat spot and the 2CT compound on the Michelins wears like nothing else.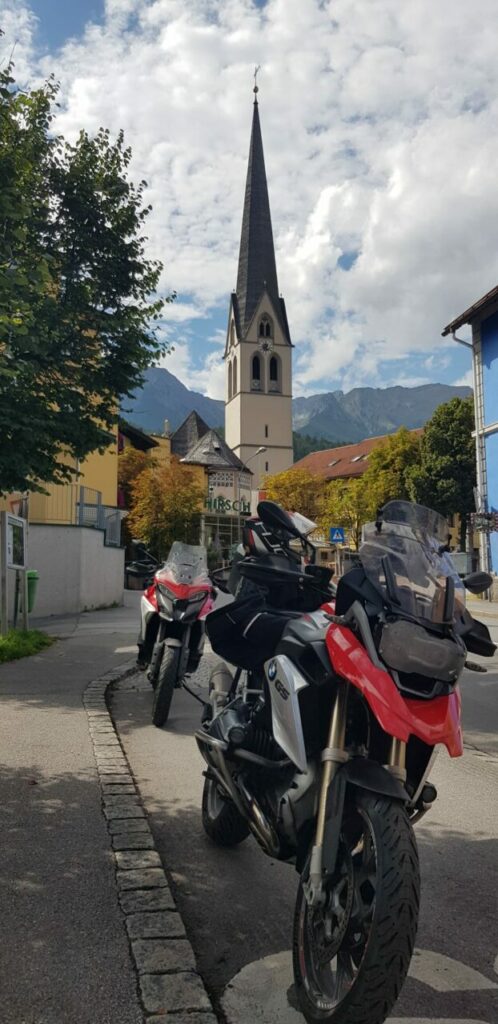 Wet Weather Riding
Have you been caught in any wet weather conditions on the Road 6's?
Horrendous! We got caught in some absolutely torrential rain through Holland and Belgium but the Road 6's were just incredible. We also rode up the Stelvio and encountered so terrible conditions at altitude and of course you've got to ride with a bit of respect, but you just don't think about the tyres anymore because the confidence you get from them is just fantastic.
Collecting The Bike
So obviously you're here today collecting your shiny new competition winning track bike, did you know about the competition when you bought your Road 6's?
Honestly, with the number of competitions and giveaway's you see online and in social media etc… I'd be lying if I said when I bought the tyres I was now thinking that I'm now in the competition, but when you mentioned it, I did recall seeing the details of the competition but probably like most people would, just assumed I'll never win that.
Ash's Racing Past
Well you have won, it's now on the back of your trailer ready to head home with you but the interesting thing for me, when we launched this competition, obviously we had no way of knowing who was going to win, it could have been anyone at any level, we just hoped that the winner would be able to use it but with you, you've done some racing previously so you'll very much be able to use it on track as was intended. Can you tell us a bit about what you've done on track in the past?
So all said and done, I was a club racer. I raced with Derby Phoenix back in the day, some massive names have been through Derby Phoenix over the years. I spent most of my time there but then left there to do a series that was called Hot Tracks at the time and was televised on Motors TV, so there are some cringeworthy interviews of me somewhere, but I spent a hell of a lot of time on the track and loved it.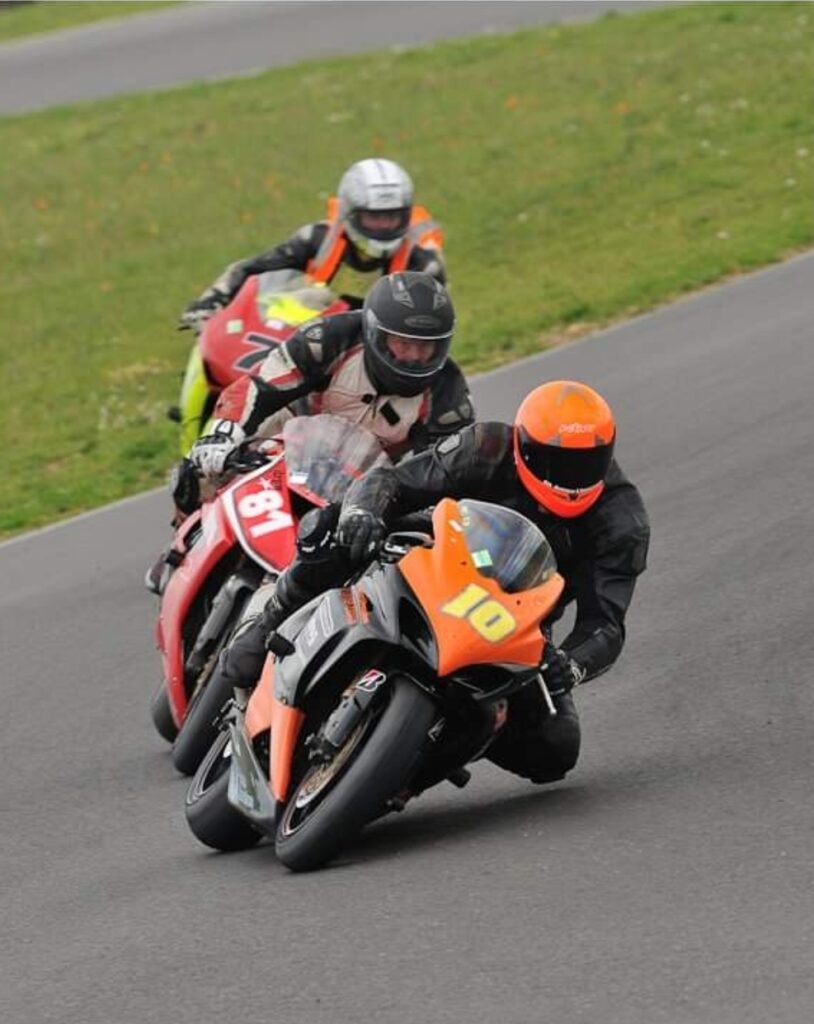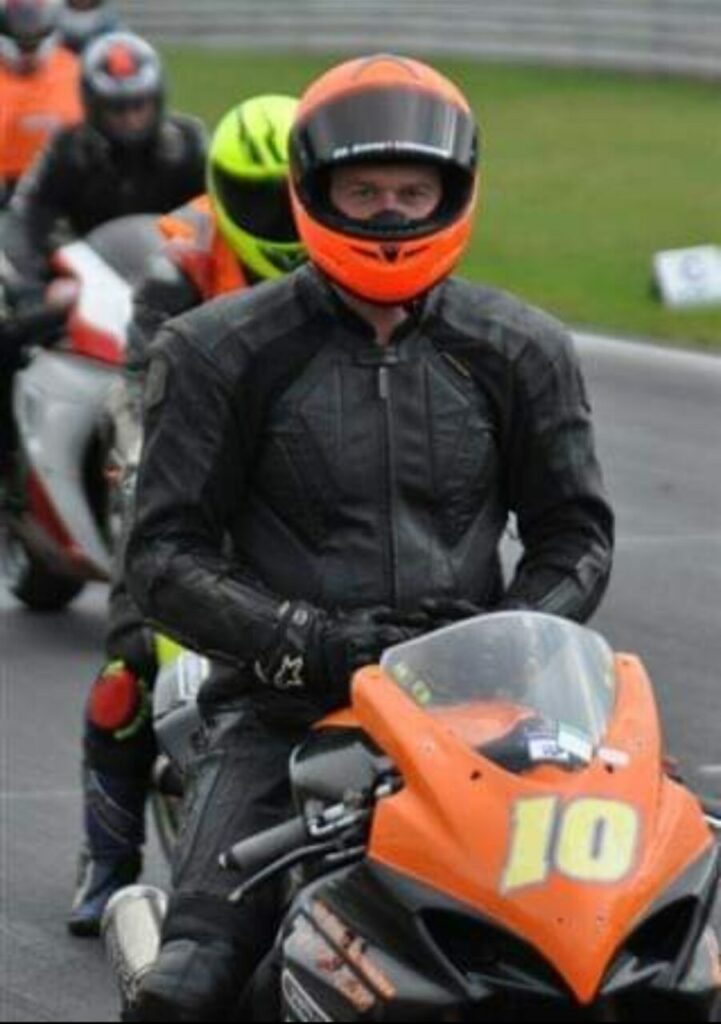 The ironic thing is I never really raced 600's, I spent most of my time on Suzuki 1000's because I'm tall, but then I got asked to do a 600 series with Derby Phoenix, a pre-injection series on an R6 and I won that championship in 2013. To be honest though, that was towards the end of my racing time, I thought I'd had a good run at this and because of work and family commitments and not wanting to break any arms and legs, I finished whilst I was doing well. I then became a bit of a fair-weather rider if I'm honest, but like something from a movie, this has now dragged me back in to it! I've just got to be careful now that I'm a lot older than I was, but I'm looking forward to trying it.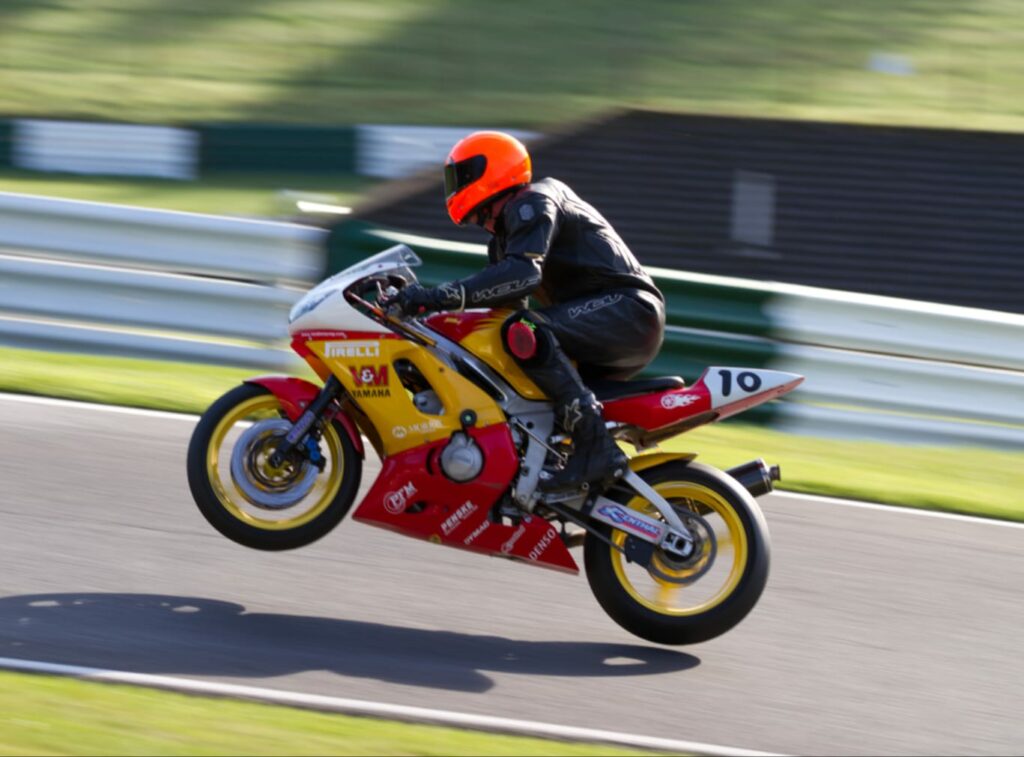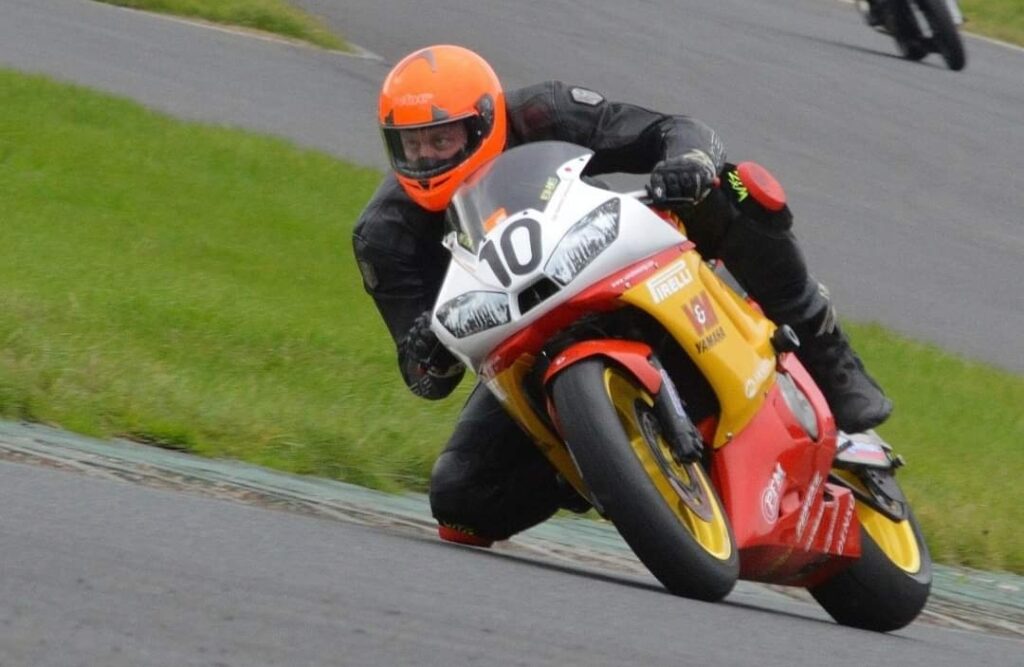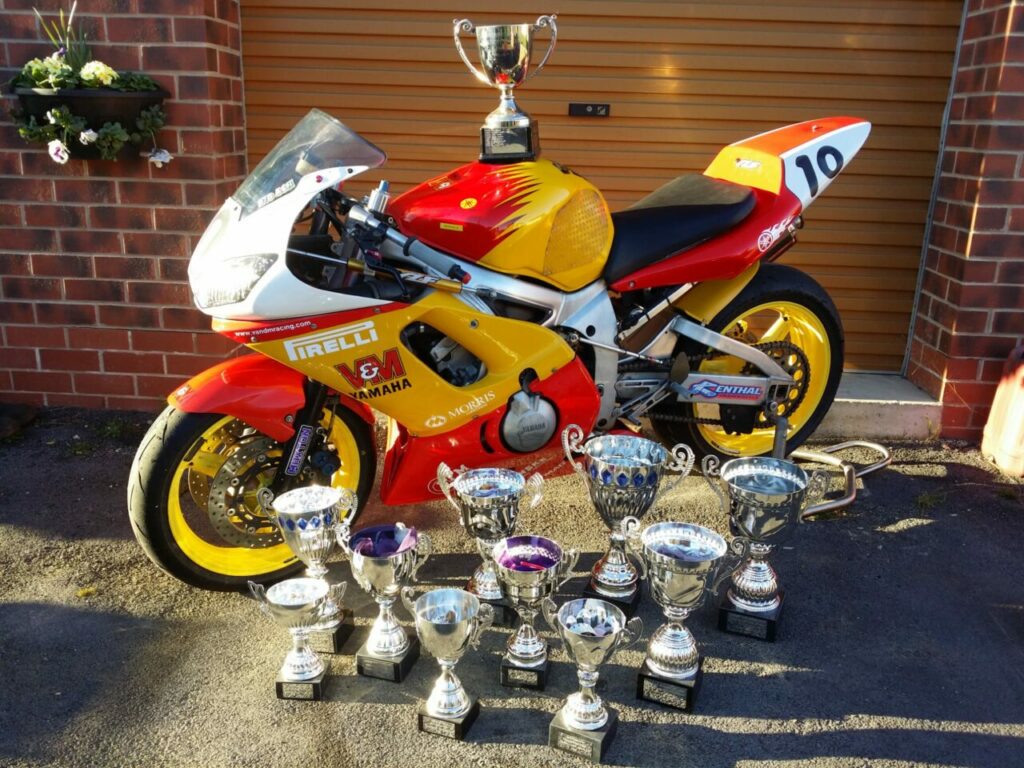 What tracks are you thinking of trying to get some time at with it?
Well because of where I'm based, I'm lucky that it's really easy for me to get to Donnington, Cadwell and it's fairly easy to get to Oulton as well. Snetterton was a favourite of mine, but whether I'll do that with this I don't know as it suits a big fast bike, but any of them really.
You've mentioned you've got a few mates who are a bit jealous of your now, the big question is, are you going to let anyone else have a go on it?
*laughs* No chance! No seriously, any of my mates who want to have a go on it are more than welcome.
Going To The Home Of The Track Bike Winner
It's obvious why we did this, we wanted to create a cool prize for someone to win and to help us sell more Michelin tyres, but you know, we put our heart and sole into the project and were really proud of the end result. I wouldn't have had any issues with whoever was drawn as the winner, but from the few conversations we've had, I'm genuinely chuffed to bits for you that you've won this because it's gone to someone that lives and breathes bikes, someone that's appreciative of it and is going to use it on the track as was intended with it
As I said, I still can't believe it! It's such an amazing prize, not only the bike but all the accessories that have come with it like the ramp, wheel chock, paddock stands, tyre warmers etc… I really can't believe it.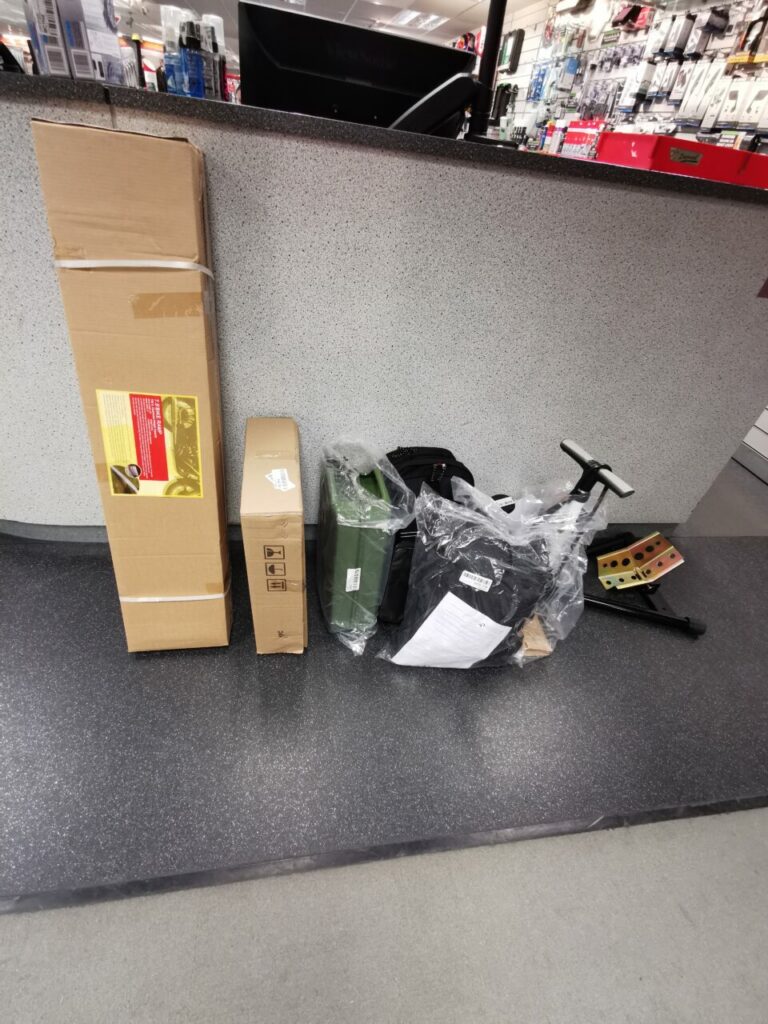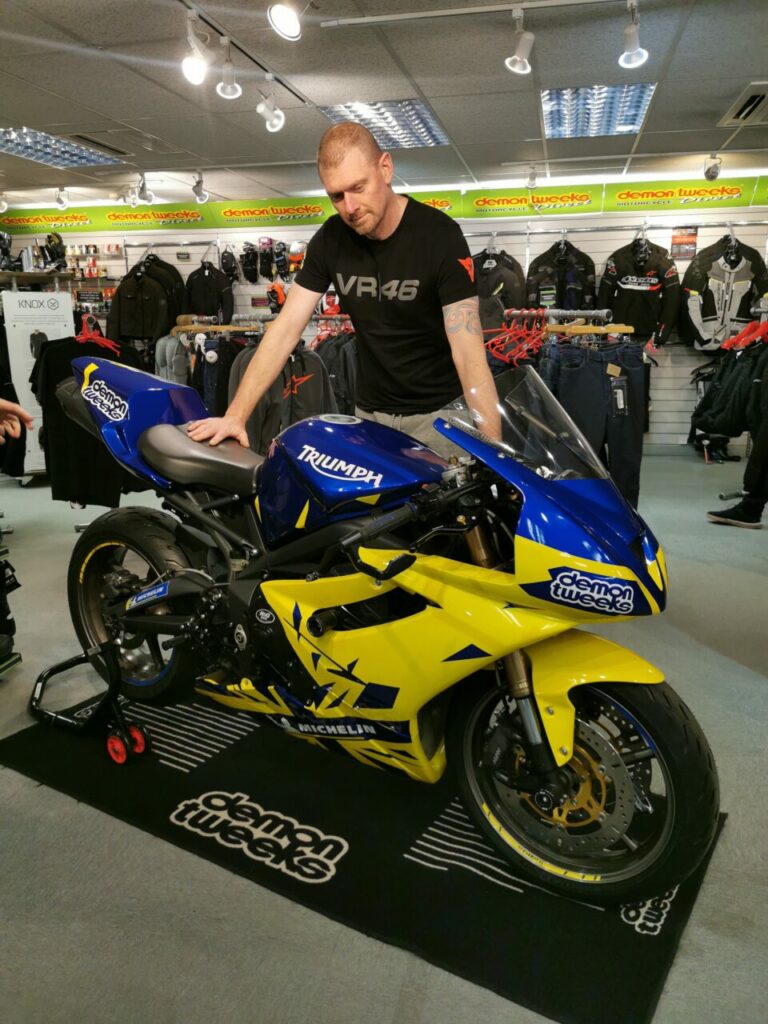 Well Ash, it's been lovely to meet you today, from all of us a Demon Tweeks many, many congratulations! Enjoy it, stay safe and keep us posted with some photographs when you use it
I honestly can't thank you guys enough. I've always bought my tyres from you guys, always great prices, fast delivery and always no issues, but this has now really put the cherry on the cake. I'm so grateful to you guys, thank you so much.
---
Enjoyed this? Read more of our latest news:
Where To Next?
Looking for the latest motorcycle parts and accessories? Check out our wide range from top brands.
Come and visit us at our store, showroom and fitting centre in Wrexham.
Want to know more about our story? Learn about who we are and why we've been driven by passion for over 50 years.
Interested in everything we do? Catch up on all the latest Demon Tweeks news.