The 2023 Sponsorship Scheme is underway and so far we've heard some amazing plans for the season from many of you. This week we're putting #TeamDT member, Katrina Gray in the spotlight.
DT: "Katrina, thank you for joining us! We're eager to find out all about you and your journey into motorsport. Please introduce yourself."
Katrina: "Hi, My name is Katrina Gray. I'm a race driver and mother of two teenage children, from Lincolnshire. My day job is an ADI (Approved Driving Instructor). I spend a lot of time in the passenger seat so it's great to don my race gear and swap seats to go racing. Driving above the national speed limit on a race track is an added bonus!
I race in the Scottish Motor Racing Club (SMRC), C1 Cup Championship, and also the C1 Racing Club endurance series.
Myself and my husband also run a race team. (Racing-Lines Race Team).There you will find me taking on team manager and pit wall duties.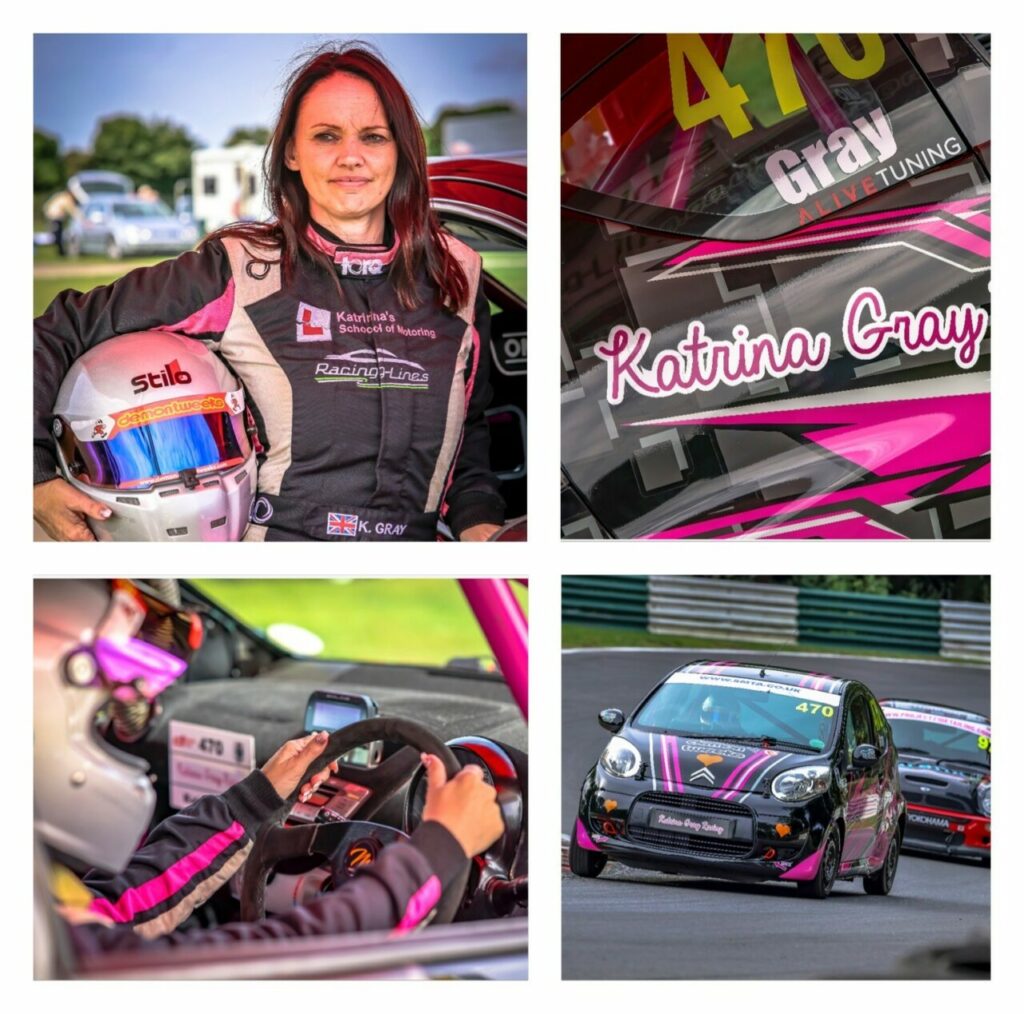 DT: "Sounds quite hectic! So away from motorsport for a moment, do you have any fun facts about yourself?"
Katrina: "No burping alphabet here I'm afraid, haha! My fun fact is that I have really bad OCD. It drives everyone crazy! I normally have the most clean and tidy race car on the circuit. Not to mention the tool box, All the tools can be found in little foam pockets in separate drawers."
DT: "I suppose that's both a gift and a curse. At least you'll be able to find something when needed! How did you get into motorsport in the first place?"
Katrina: "I've always had a love of cars but my first time on circuit was at Cadwell Park. I had entered the Formula Woman competition in 2004 and although I didn't win, it was great fun.
I had the opportunity to work for a super car company instructing under 17 drivers through my ADI badge. It was there that we got talking to race instructors that led me onto taking and passing my race licence in 2017.
My first race was in the C1 racing club 3 hour endurance race at Rockingham circuit, it was a sad day when I heard the news that the circuit was closing.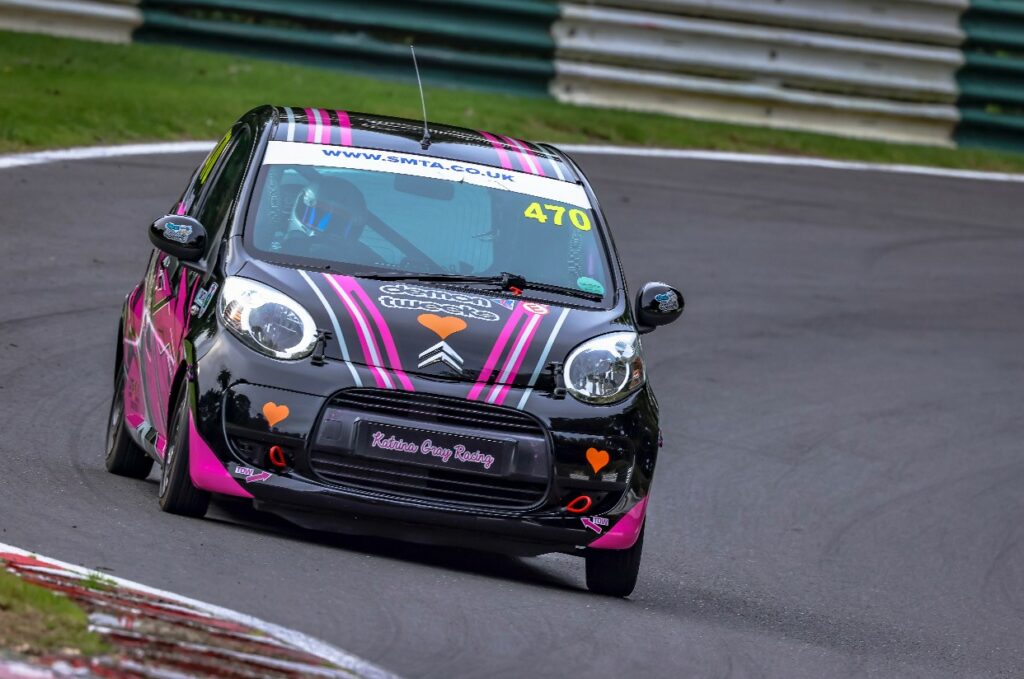 DT: "Such a massive shame! With motorsport being heavily male-dominated, who for you is an idol and inspires you to fly the flag for women in motorsport?"
Katrina: "My Idol is the late Sabine Schmitz, a true inspiration.
I just loved to see her racing around the Nürburgring circuit, especially beating the guys on BBC's Top Gear in the Jaguar S-Type. My favourite moment was Sabine driving the Ford Transit diesel van around the circuit just 9 seconds short of beating the Jaguar S-type."
DT: "She truly was one of the greats who achieved so much in her life and career! As one of many who are following in her footsteps, what is your biggest motorsport achievement to date?"
Katrina: "My biggest achievement in motorsport was to manage 2 race cars, 7 drivers plus 1 celebrity driver with a team of over 10 mechanics and helpers through a 24 hour race at Silverstone.
Such a great feeling when both cars crossed the finish line, battle scarred but they finished the race and the drivers raised over 25k for charity!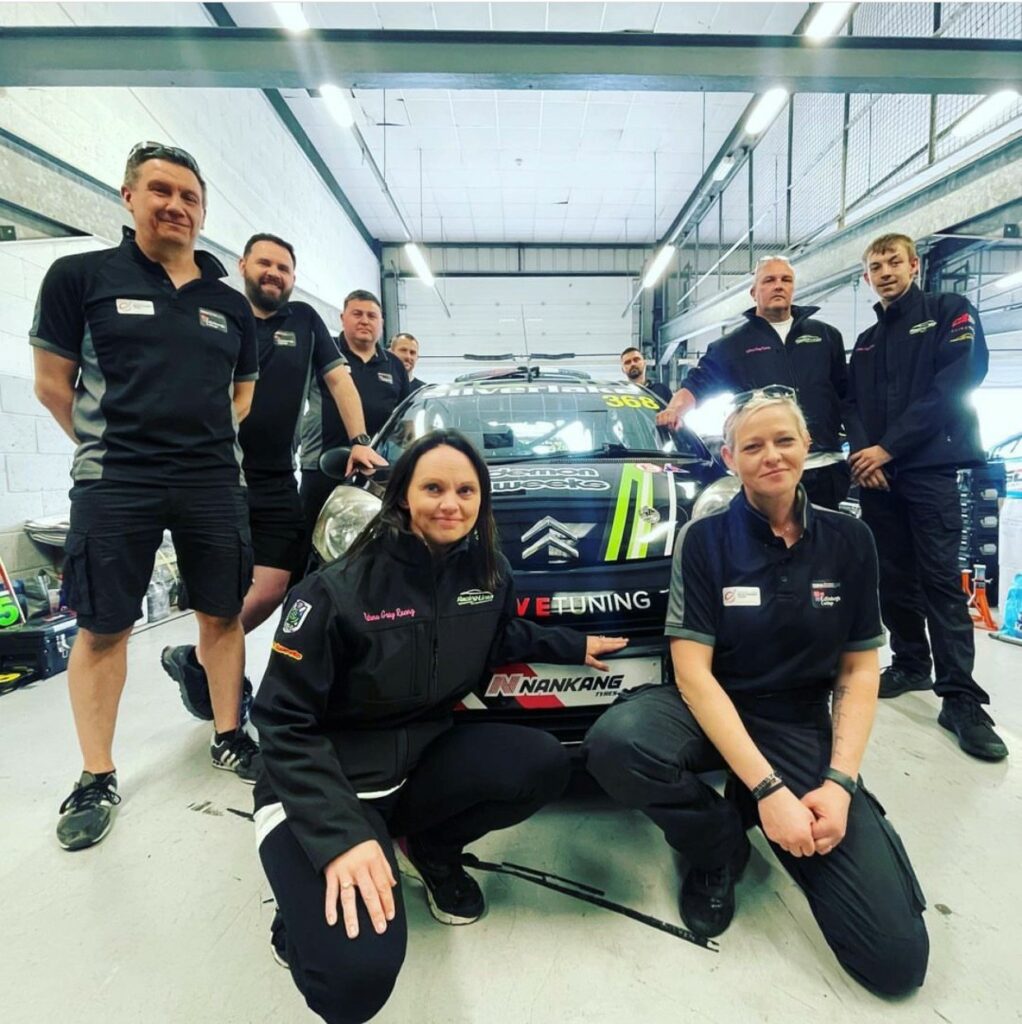 DT: "That's incredible! We'd love to know more about that and of course. the famous name… As you've mentioned, there is a lot of hard work that goes into running a team. How have Demon Tweeks helped over the last year?"
Katrina: "The scheme allows me to use a free phone number to which there's always a knowledgeable member of staff to help me with any parts or clothing questions. 
It's very easy to order and I love the next day delivery option, especially when I need last minute race parts.
I also won the July voucher with the sponsorship scheme, so I purchased some new race boots, let's hope they are my lucky shoes this year!
DT: "Congratulations! I'm sure they will be, not that you'll need it. Speaking of this year, what are your plans?"
Katrina: "I will be taking part in the SMRC C1 cup and the C1 endurance races when needed. 
I'm also hoping to get some coaching in a mini to then progress onto racing in the SMRC Mini Cooper cup."
DT: "Sounds very exciting! Let us know how you get on. Looking long-term, what lifetime goals would you love to achieve?"
Katrina: "My lifetime goal is to showcase women in motorsport. To get more women into racing not only as a driver but also mechanics and support team workers too! 
Also that you can be any age to go racing, it's not just for the younger generation."
DT: "Inspirational! We definitely need more Katrinas in the world of motorsport! Now then, one of the hardest questions we are going to ask… If money was no object, what car would you buy?"
Katrina: "Wow! Tough questions… If it was for racing then it would be a Mini JCW Gen 3 to race in the Mini Challenge.
If it was a personal car, then it would have to be the Nissan GT-R Nismo. I have driven the older GT-R on a circuit and it was the best car I've ever driven. I can imagine the Nismo to be even better!"
DT: "There's a few back in the office that would agree with you on the Nissan, for sure! To round things up, where can people follow your incredible story?"
Katrina: "I'm on all the socials and have a website. Head over to www.racing-lines.co.uk or you can find me on:
– Facebook: Katrina Gray Racing
– Instagram: Katrinaksmgray
– TikTok: @katrina_gray_racing
– LinkedIn: Katrina Gray
DT: "Thank you for your time Katrina! We look forward to seeing how you get on this season. All the best of luck!"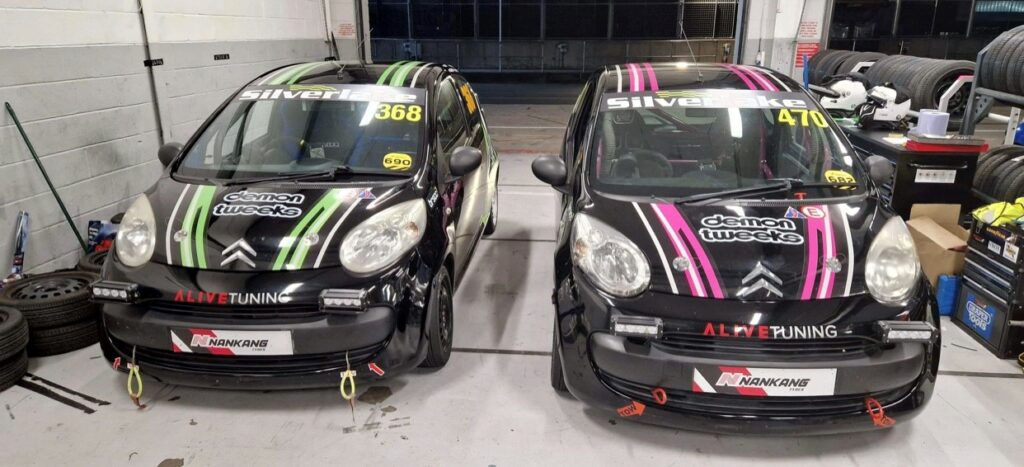 ---
Want to be next in our #TeamDT In The Spotlight series? Get in touch with us on email or social media via the links below:
Email | Facebook | Instagram | TikTok
Find out more about the Demon Tweeks Sponsorship Scheme and what we can do to help you succeed here.
Read more of our #TeamDT series: