2023 sees the return of Demon Tweeks' Sponsorship Scheme and it's back with a bang! We're celebrating motorsport at every level, putting #TeamDT members in the spotlight to share your achievements and stories with our brilliant community. This week, Michael steps into the spotlight to explain his scary 5 minutes of fame and an unlikely connection to rallying royalty.
DT: "Michael, welcome to #TeamDT, please introduce yourself! Tell us a bit about who you are and what form of motorsport you partake in."
Michael: "I'm Michael Jenkins, a tech geek and father of two from Oxfordshire whose day job is in telecoms. To make up for the not so exciting day job, I compete in both Stage Rallying and Targa Rallying. I also partake in marshalling to try and give a little back to the sport."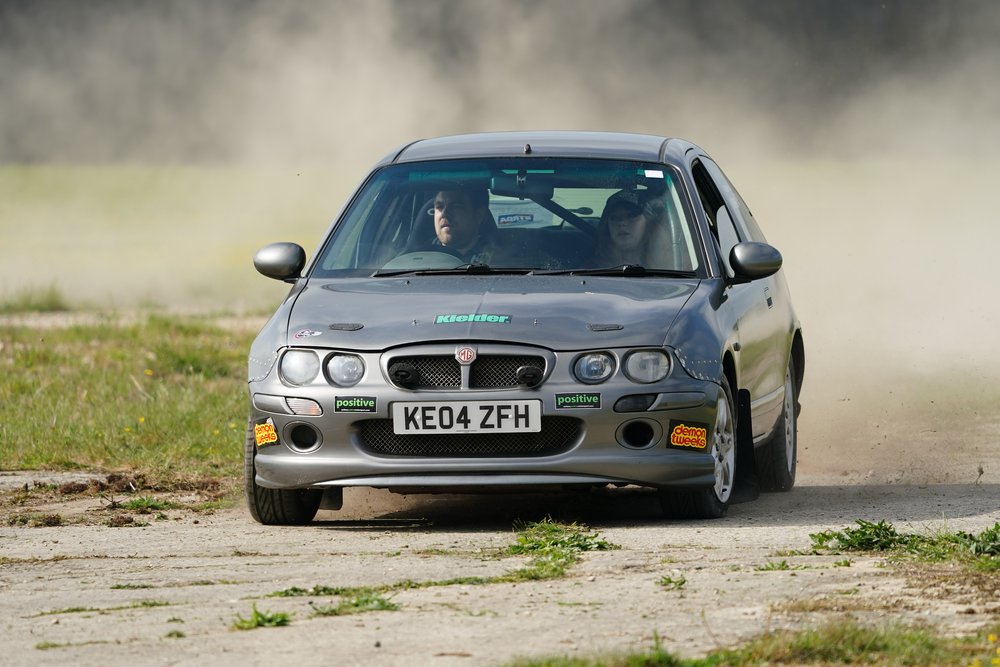 DT: "Life is all about balance! Away from the thrills and spills of the day job, do you have a fun fact about you? (Preferably motorsport related, but if you can burp the alphabet then we'll be equally as impressed)."
Michael: "My first ever self-built rally car which started out as a bog-standard Peugeot 205 road car gave me my 5 minutes of fame, but for all the wrong reasons!
I took the rally car to work one day, and parked up next to a highly secure nuclear research facility, complete with a half finished wiring loom in the boot. The car was spotted by a Civil Nuclear Constabulary officer and reported as a potential bomb which triggered an armed police response, including the MoD Bomb Squad! I'll leave the rest to your imagination….
Thankfully the car survived and after national news coverage in the papers, on live tv and the radio, me and the car completed our first rally – The Tempest Rally – later that year."
DT: "Jeez! We weren't expecting that… A lesson for everyone there! We now know about your first self-built rally car, but how did you get into motorsport in the first place?"
Michael: "My parents bought me a Tamiya remote controlled car for my 13th birthday, it had a Subaru Impreza WRC shell in the famous blue and yellow livery with gold wheels. From that moment I was hooked, an Impreza and rally fan boy for life!
Later that year we went to spectate at the Network Q Rally of Great Britain and 5 years later, I upgraded the remote control car for an immaculate limited edition Impreza P1. In 2012 I bought a road going Peugeot 205 XS and converted it for stage rallying with a friend. The rest, as they say, is history."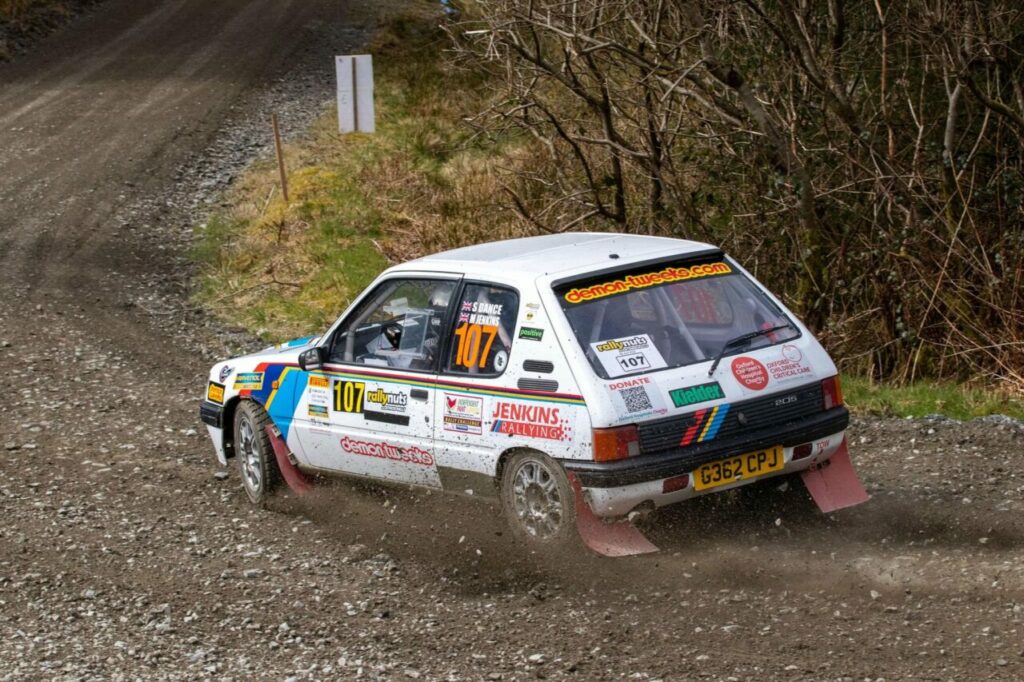 DT: "Who didn't love the WRC Scooby?! Rally obviously plays a big part in your life. Who are your idols and who inspires you?"
Michael: "On the same day that I unwrapped the remote controlled car, I spotted a real-life Impreza World Rally Car on the 6 o'clock news. It had an identical name printed on the rear side window, Richard Burns. The report showed Richard crossing the finish line of the Margam Park rally stage after winning the 2001 World Rally Championship. He was celebrating on the bonnet of the car with a Union Jack flag and a bottle of champagne. As a young 13 year old lad gazing up at the TV, I instantly thought, "I want to be like him, I want to be a rally driver!"
Richard became my idol and I was absolutely obsessed with him as a driver and a person. I hadn't realised at the time but he only lived just down the road from me which made the connection even stronger. I'll never forget the day my father shared the news with me that Richard had passed away. I was distraught but completely inspired by the way he'd fought through his rallying career and his ill heath.
I joined the charity that was setup in his name, the Richard Burns Foundation and became heavily involved in volunteering and raising awareness of both Richard and his illness.
Luckily enough I befriended Richard's father, Alex, through the charity involvement. Before my first rally he gave me a pair of Richard's old Alpinestars boots. They stay with me in the rally car on every event I compete in. Richard continues to be my inspiration and I'm eternally grateful to him for leading me to the sport that I love and the friends that I've made for a lifetime. One of those friends being Chris Ingram.
I've followed his career from when it started, not only am I lucky enough to call him a friend but he's also my hero. He's shown the most determination of any rally driver I've ever seen and to win a European Rally Championship title with pure talent and almost no money whilst battling with mental health issues was an inspiring moment that will stay with me forever."
DT: "Certainly an incredible man who achieved so much! Following in his footsteps, what is your biggest motorsport achievement to date?"
Michael: "This year, myself and my wife decided to give Targa Rallying a go. It's a slower paced discipline when compared with Stage Rallying but with no less skill or determination required! We finished the championship as 1st drive and navigator in our class and took a novice title too.
2022 was also my first full year in a stage rally championship. We finished 3rd in class on the Welsh Rally Championship after a tough start in the 205 with reliability issues, before upgrading to a Ford Fiesta R2 in the second half of the year. I'm incredibly proud of mine and my teams achievements. it's been our best year to date."
DT: "What a year is was for you both! How has the Demon Tweeks Sponsorship Scheme (#TeamDT) helped you over the last 12 months?"
Michael: "I'm not a mechanic and I don't come from a mechanical background.
On many occasions I've needed help with choosing the right product. The fact that I can just pick up the phone and get instant advice from an expert has proved to be invaluable to me this year!
It's also comforting to know that when my pre-event preparation doesn't quite go to plan, Demon Tweeks are on hand with a wide rage and variety of stock that's available to ship next day.
With a super tight budget this year it's been a great help getting discount on already competitively priced products too!"
DT: "We're glad we can be of service! What are the plans for next season?"
Michael: "I've retired the Targa rallying for 2023 to concentrate on a full stage rally campaign. I'm undecided on championships or rounds until we've put a together budget but plans are in full swing and hoping to have them set in stone soon!"
DT: "Be sure to keep us updated on your progress! Thinking longer term… What are your lifetime goals that you hope to achieve? "
Michael: "My lifetime goal is to prove to both of my children that your dreams can come true if you work hard enough!"
DT: "Christ, it's getting dusty in here isn't it… Ahem… Right, if money was no object, what car/vehicle would you buy tomorrow?"
Michael: "I'd swap my Fiesta R2 for a Fiesta R5 and enter some WRC Rounds! Can I have a helicopter too?"
DT: "I'm not sure we cover Helicopter racing! Finally, where can our readers follow your incredible story?"
Michael: "You can find us on:
Instagram: @RallyMike
Facebook: Jenkinsrallying
Or online at www.jenkinsrallying.co.uk"
We can't wait to see what 2023 brings for you! We'll be following your progress closely.
---
Want to be next in our #TeamDT In The Spotlight series? Get in touch with us on email or social media via the links below:
Email | Facebook | Instagram | TikTok
Find out more about the Demon Tweeks Sponsorship Scheme and what we can do to help you succeed here.
Read more of our #TeamDT series: