Ever since the 1970s, the Ford Fiesta has been a popular choice for motorists, thanks to the low cost, simplicity and accessibility. It was born out of the new 'supermini' era that came from a demand for smaller, more affordable cars. Since then it has gone on to be the most popular car of its kind here in the United Kingdom, with over 20 million units sold!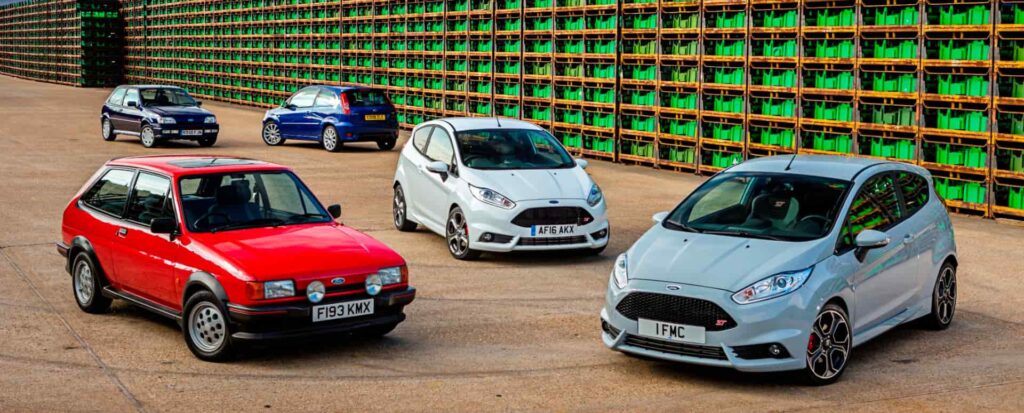 The Fiesta's history and success is unmatched and when the tuning scene really kicked off in the 1990s thanks to the likes of Max Power Magazine, the popular Ford was an obvious favourite with younger car enthusiasts thanks to the abundance in aftermarket parts and cheap upgrade options.
Fast forward to 2023, the year we wave goodbye to the Fiesta, this blueprint from Ford hasn't changed and the ST180 is the single most popular car on our website! That's why we've compiled a list of the coolest and most effective mods to help you transform your Fiesta into a high-performance machine. So buckle up, and let's dive into the top 5 mods that will take your ST180 to the next level!
1. Alloy Wheels
The first step to elevating your ride's style and performance is upgrading those factory wheels. Ford kindly made all Fiesta's with a 4×108 PCD which means there's an abundance of options you can choose from when it comes to freshening up your rims. We have over 250 wheels to choose from which come in a whole host of colours and styles.
Bola offers their stunning B1 Alloy in 10 different colours including Matt Bronze, White, Red and Gold. A popular choice amongst Ford owners for both the Fiesta and Focus. It's an iconic design that looks incredible on lowered cars. The deep dished, large spoked details allow for a huge brake clearance which will easily accommodate a big brake kit.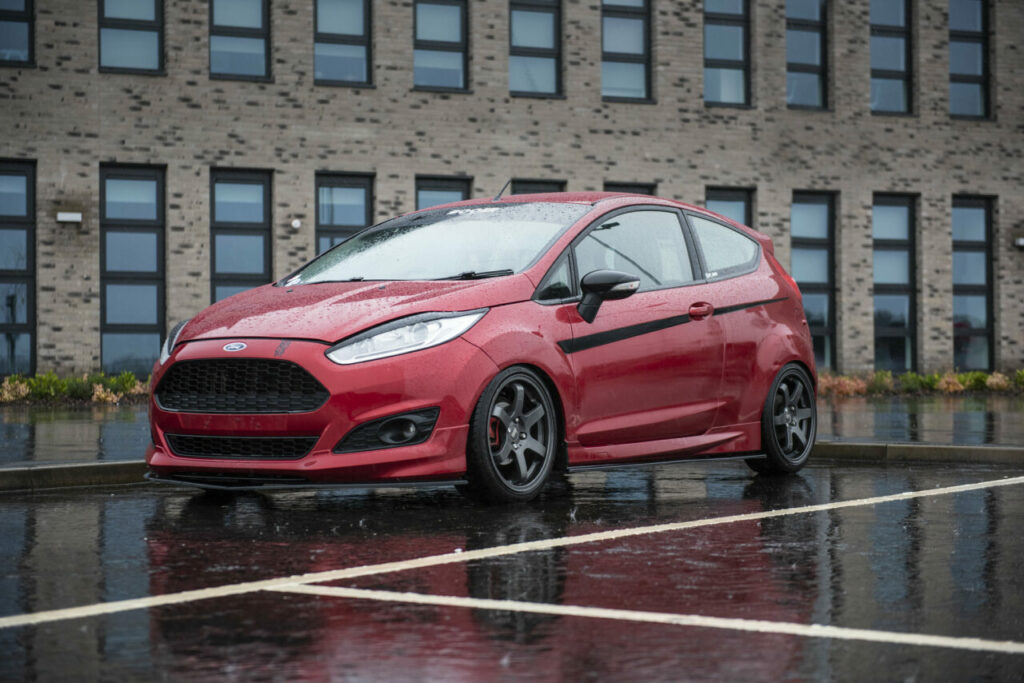 For something a little more suited to the track, then look no further than Team Dynamics' Pro Race LT. Born from touring car pedigree, these super lightweight, heat-treated wheels offer multi-spoke motorsport design which look good on anything! So whatever your desired look, we've got you covered.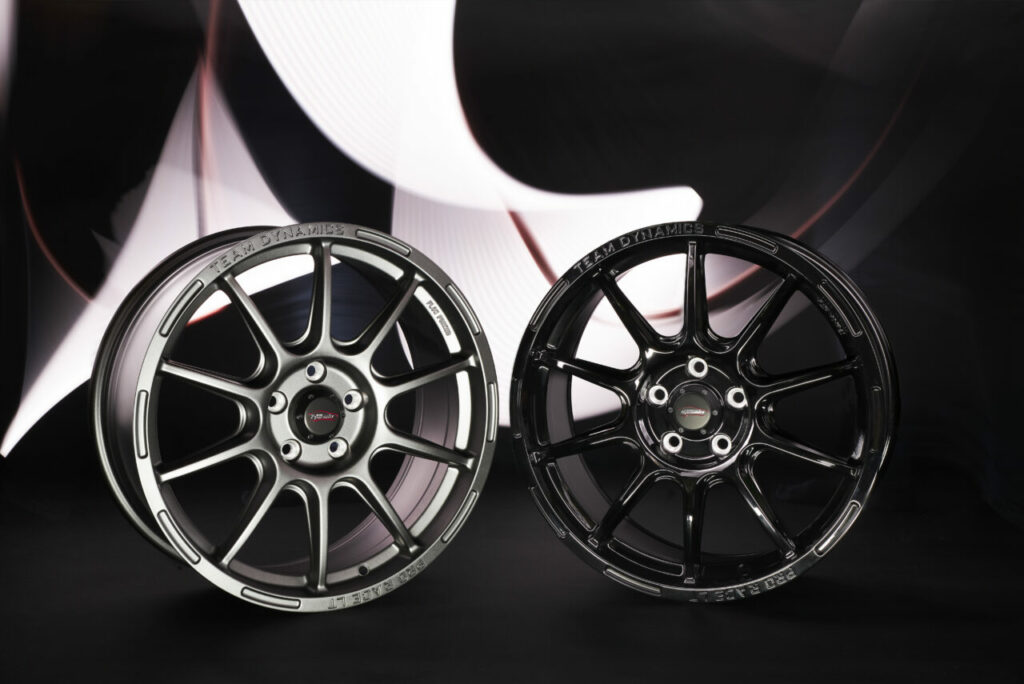 The key reasons for upgrading wheels (apart from making it look cool as) are to reduce weight and increase strength. Depending on the wheel, reducing the unsprung weight of your vehicle can help significantly with both acceleration and braking. This reduces the wear on both brake components and tyres too! Winner!
2. Suspension
Let's face it, a lowered stance not only looks awesome but it can also improve your car's handling and responsiveness. There's a few factors to take into account before buying new suspension which, lucky for you, we created a handy Suspension Buying Guide to help you navigate it all.
Although the STs setup from the factory is pretty sporty, it does tend to sit a little too high for a lot of people. There are plenty of ways to correct this for any budget.

First of all, you have Lowering Springs. These are a great option for those on a budget and can really transform the ride of the car. Easily fit, the springs simply replace your standard components and work with your stock shock absorbers to create a lowered ride height and sporty handling, whilst keeping much of the comfort you had from the factory.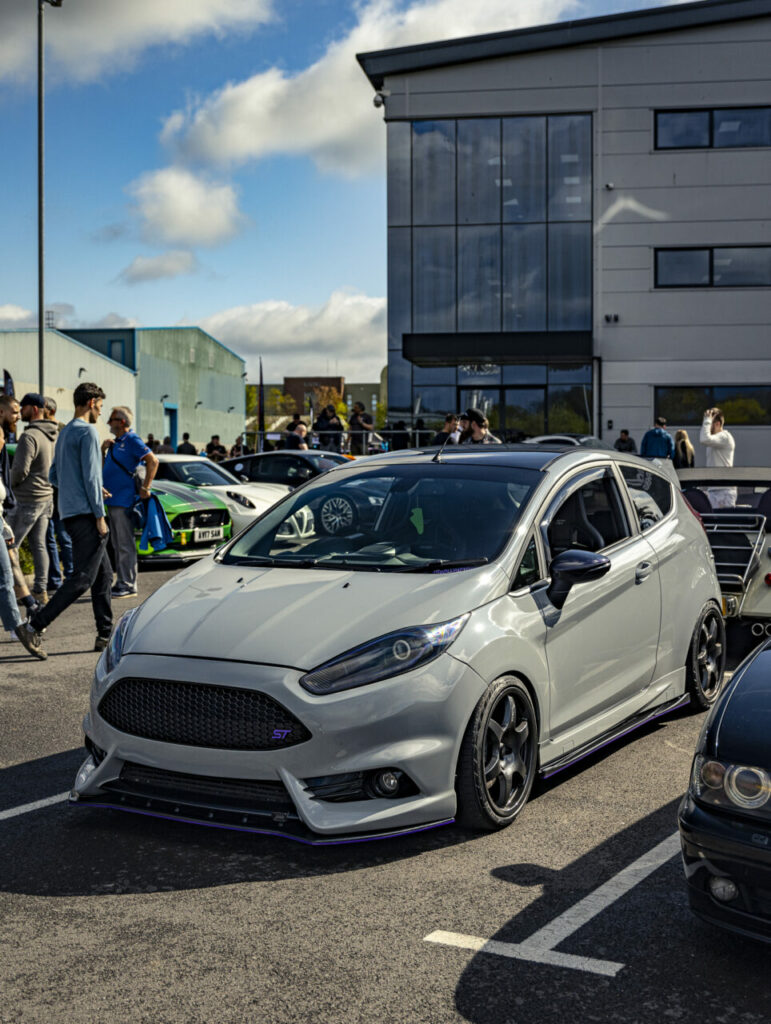 Eibach and Vogtland offer TUV certified spring kits that offer anywhere from 25mm to 60mm lowering depending on your vehicle. Though 25mm doesn't sound a lot, it can make a significant difference to the handling by sharpening it up as well as vastly improving the ghastly gap in the arches.
Coilovers on the other hand are where the real fun starts! If you're not clued up on the difference, then compared to a lowering spring, coilovers offer a completely customisable ride experience whilst improving all aspects of handling, looks, ride height and road feel.
They are made up of one unit, combining springs and shocks that are designed to be adjusted to suit your needs. The Bilstein B14 PSS Coilover Kit is a great all-rounder for street use and designed specifically for your individual car making it a match made in heaven!
If you're really looking to take it up a notch, then ST Suspension have the superb ST XTA Coilover Kit, which offers high-end KW damper technology, adjustable top mounts (so you don't have to worry about losing the correct camber) and wet build dampers for a much smoother ride compared to other coilovers.
For a more in-depth look at all the different suspension options and each of their benefits, take a look at our Suspension Guide to help you make the right choice for you!
3. Brakes
Arguably one of the most important parts of the car, the brakes stop you from hitting walls, barriers, and other road users. Now, it might seem obvious, but we'll say it and say it slowly…
The more power you put in your car, the better your brakes need to be!
We're not for one minute suggesting that you immediately need to whack an EBC Big Brake Kit on after a stage 1 remap, but simply changing discs and/or pads can make a really big difference to your stopping power.
We mentioned EBC, and boy do they know their stuff… Yellowstuff to be precise! These performance brake pads are designed to be used on both road and track with a compound that works perfectly from cold. Not only that, but they get even better when hot, so you can hammer them without getting much in the way of heat fade and have confidence in them no matter what the conditions.
Coupled with EBC OE replacement discs they are a match made in heaven. Don't let the 'OE replacement' bit fool you. These are built to exceed the standards of the originals and are extremely durable. You can of course go further and choose their Turbo Groove or Ultimax Slotted discs. These little details on the discs help break down surface gases and pull cooler air under the pad to reduce heat fade. A preferred option for those who are thinking of taking their car on track!
Overall, these high-performance components offer exceptional heat dissipation and improved bite, ensuring you can confidently bring your Fiesta to a halt when needed.
NOTE: Whilst you might not think about tyres as part of your braking system, they are the only contact you have with the road surface and their grip and performance really matter when it comes to stopping. Upgrading your brakes whilst using poor quality rubber can often make your car's braking performance worse. Tyres such as the Toyo TR1 or Uniroyal Rainsport 5 help grip the tarmac and allow the braking forces to be applied with optimum performance.
4. Intake Systems & Filters
Right, now we've got the stopping bit out the way, we can now get onto the exciting stuff! Let's round up some horses and get them under the bonnet shall we?
Ok, so the ST180 offers a healthy 174bhp and gets to 62mph in around 6.5 secs which is ok… but it could be better. Before getting to the remaps, turbos and other crazy mods, we can start off by getting your engine breathing freely to unleash hidden power. How? I hear you ask…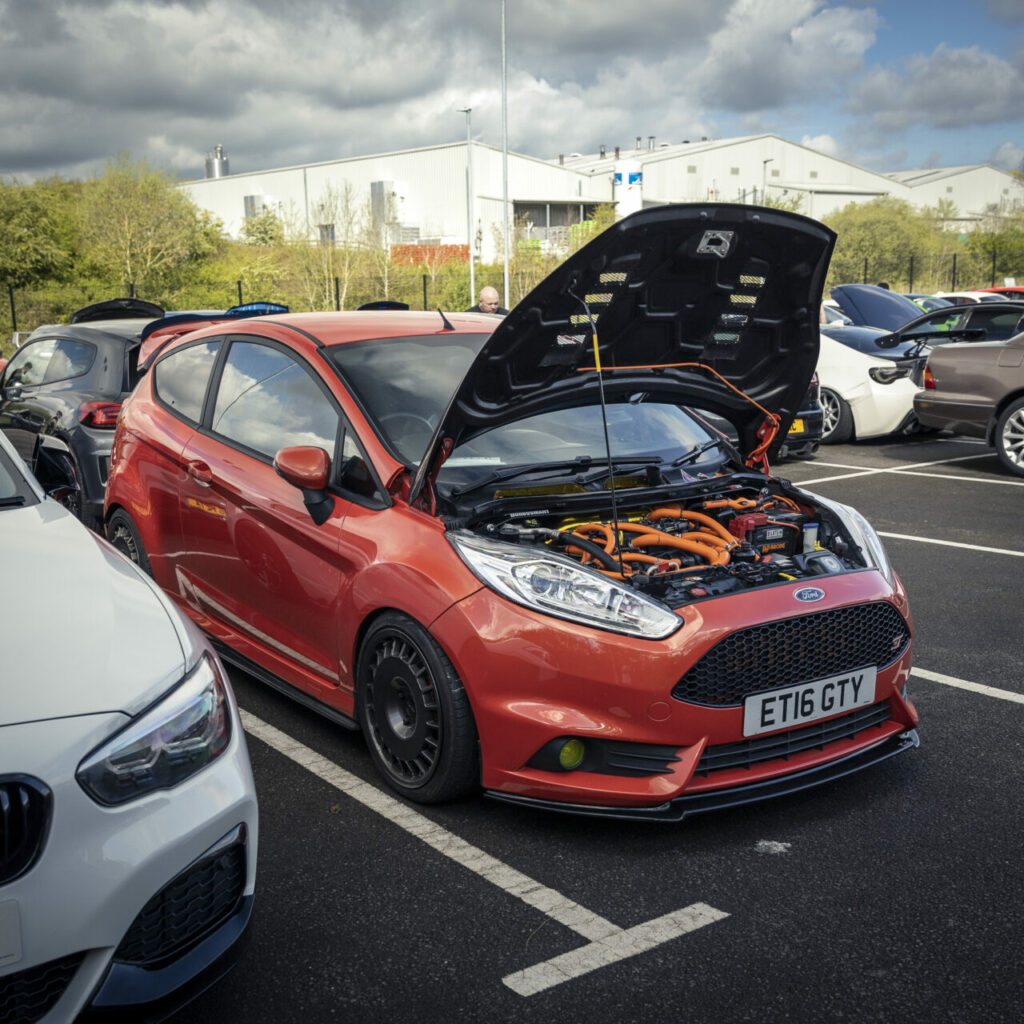 Getting a good quality air filter or intake system can not only feed more air into the engine, increasing performance but it makes it sound much better too!
K&N replacement panel filters are a great starting point which cost very little and are a doddle to fit yourself. Simply remove your bog standard, restrictive paper filter and slot the pleated cotton and mesh gauze filter in and see an improvement in throttle response and improved airflow.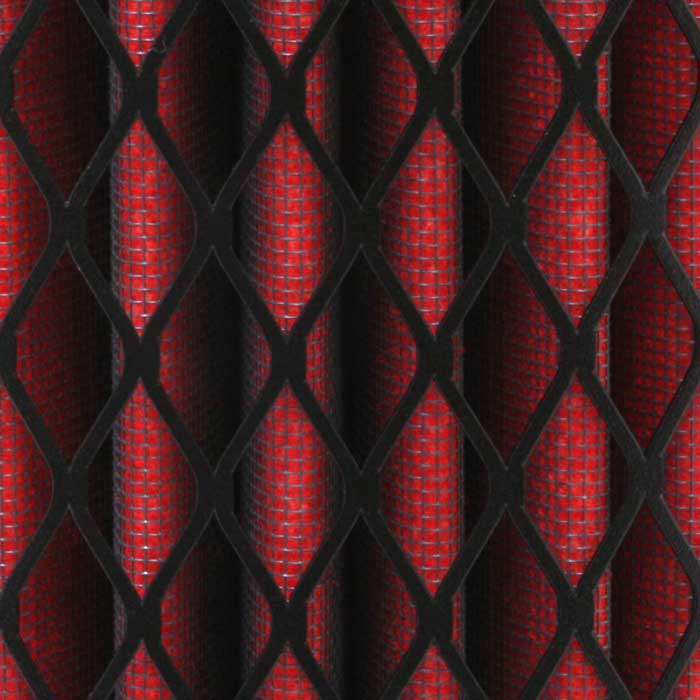 If you're after something that offers more, then look no further than an air intake system from REVO or Forge. Using large conical, high-flow air filters made from pleated nano-fibre or foam, these kits help suck cool air into the engine which, when combined with pipework to reduce turbulence and increase boost and torque.
Now, embrace the symphony of power as your Fiesta roars to life, making every drive an adrenaline-fueled adventure!
5. Exhausts
So, the front end is sorted, now we turn to the rear!
To truly make a statement on the road, a well-crafted exhaust system is a must-have. We're not just talking pops, bangs and crackles either… There is a method to having an upgraded exhaust system and they are the key to better performance
We've now got loads more air entering the engine, so we're going to have plenty of exhaust gases that need to escape. Having an exhaust system that can help shift those gases quickly and efficiently can seriously help boost horsepower as well as give us that lovely, LOVELY exhaust note we all desire to have.
With options ranging from cat-backs to full system setups, there are plenty of performance exhaust options for everyone.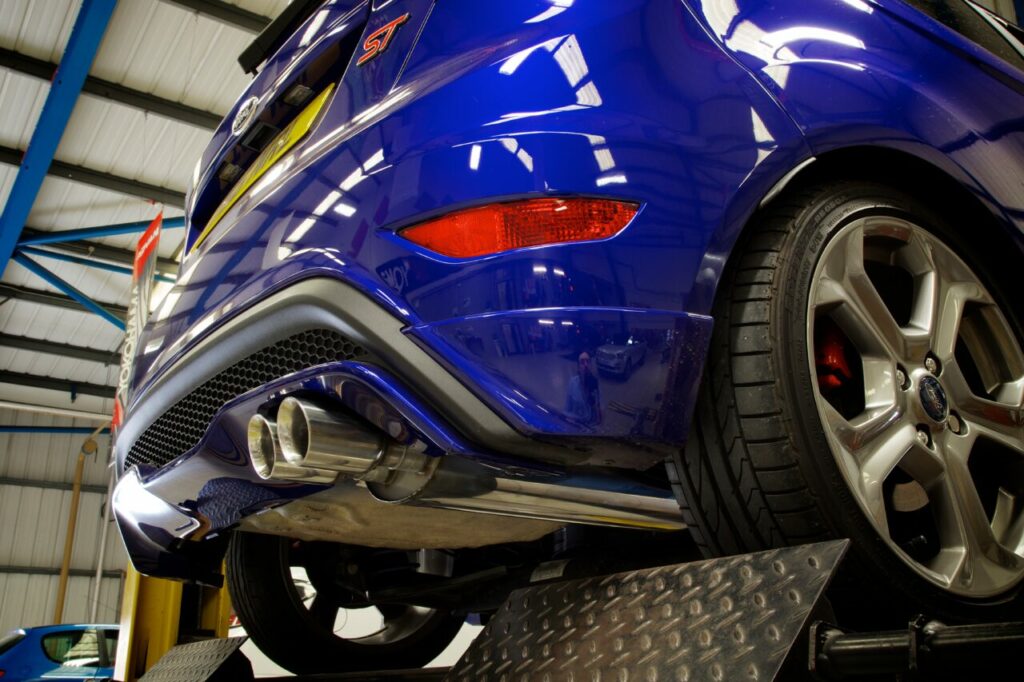 Without having to go through the pain of a full system swap, a cat-back exhaust system is an easy way of unleashing so much potential from your EcoBoost engine. The Cobra Sport 3" Venom or Milltek 2.75" Race are great options for less than £700! They will add outstanding looks, sporty but refined sound, high-quality stainless steel which won't rust (unlike many OEM options) plus with wider pipework, you can get rid of those gases much quicker.
Many exhausts come in resonated or non-resonated options too. So, depending if you want to be heard before you're seen you can really make a statement on the road!
---
Where To Next?
Come and visit us at our store, showroom and fitting centre in Wrexham.
Want to know more about our story? Learn about who we are and why we've been driven by passion for over 50 years.
Interested in everything we do? Catch up on all the latest Demon Tweeks news.