Motacorsa, a brand that has been making waves in the world of motorsport for the past decade, stands as a testament to the idea that quality and affordability can coexist. Established a decade ago and working alongside Demon Tweeks, Motacorsa set out on a mission to provide clubman competitors with high-quality steering wheels and accessories at ultra-competitive price points.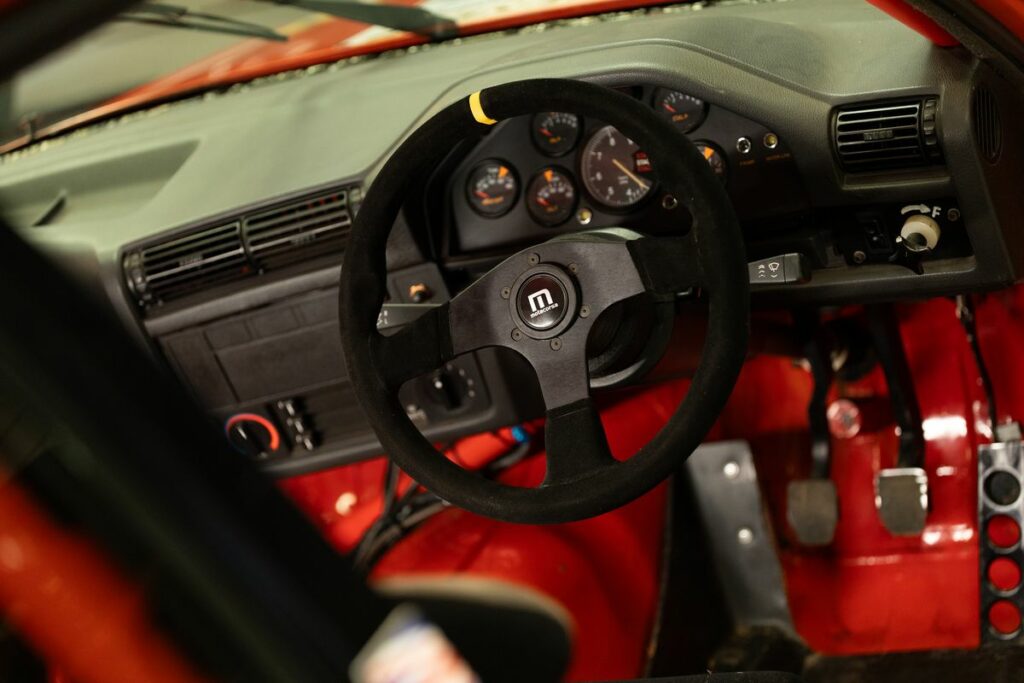 Based in the UK, Motacorsa manufactures its steering wheels and hub kits in Italy, ensuring a blend of British innovation and Italian craftsmanship. As well as these the brand also offers quick-release bosses, and button plates, all designed to enhance the driving experience. But what sets Motacorsa apart are its unique selling points: quality and affordability.
A Journey Through the Motacorsa Steering Wheel Collection
Motacorsa boasts an impressive range of steering wheels, each catering to different needs and preferences. Let's take a closer look at some of their standout products:
Rivazza
The Motacorsa Rivazza Steering Wheel combines ergonomic design and precision engineering to deliver a superior driving experience. Its sculpted grip and oval section provide remarkable comfort and control during intense races. The wheel's high-quality black suede trim not only enhances grip but comfort. Adding practicality, the flat bottom design ensures easy access, making it suitable for drivers with longer legs or in compact cockpits.
Two pre-wired momentary push button switches on the spokes allow for seamless operation without losing focus on the track. It has a 330mm diameter, 40mm semi-dish depth, anodised black spokes and compatibility with various boss adaptors. Italian craftsmanship and precision engineering at its finest, built to enhance your driving performance with every turn.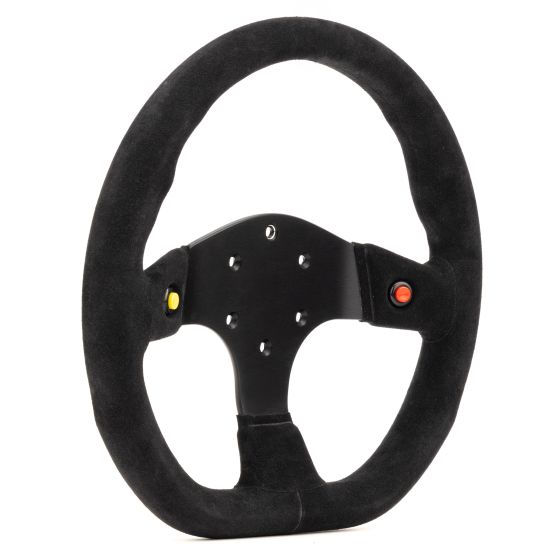 Formula
The Formula Steering Wheel is the epitome of precision engineering for racers seeking exceptional control and comfort. With a compact 270mm diameter and an ergonomic oval section featuring a sculpted grip, this wheel offers an unparalleled feel on the track. The wheel's trim ensures not only durability but also an exceptional grip, critical for maintaining control during intense races. Attention should be paid to its surround, crafted to eliminate pressure points on the hand, helping you go longer. This wheel is supplied with a solid centre which allows for a 3 bolt single seater type boss.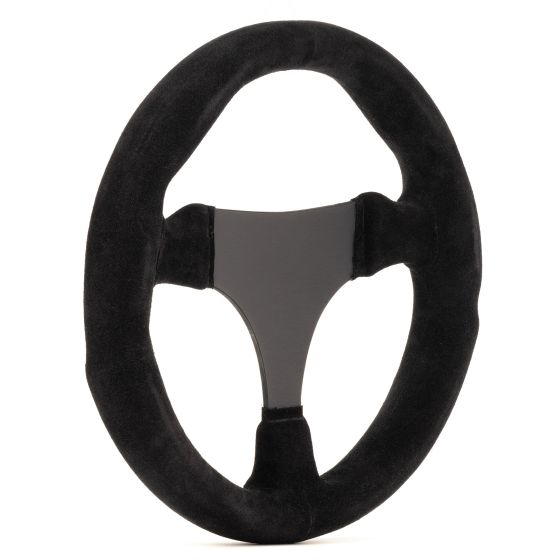 Pirro
The Pirro Wheel is a motorsport enthusiast's dream, offering a perfect blend of comfort and control. Its ergonomic oval section and sculpted grip provide a comfortable and precise feel, ensuring you maintain a strong grip during high-speed manoeuvres. The 300mm diameter wheel with 6 bolt holes and a PCD of 70 millimetres is trimmed in black suede. This not only delivers exceptional durability but also an unrivalled grip, crucial for maintaining control during intense races. The trim is a testament to Motacorsa's attention to detail, which eliminates uncomfortable areas on the wheel.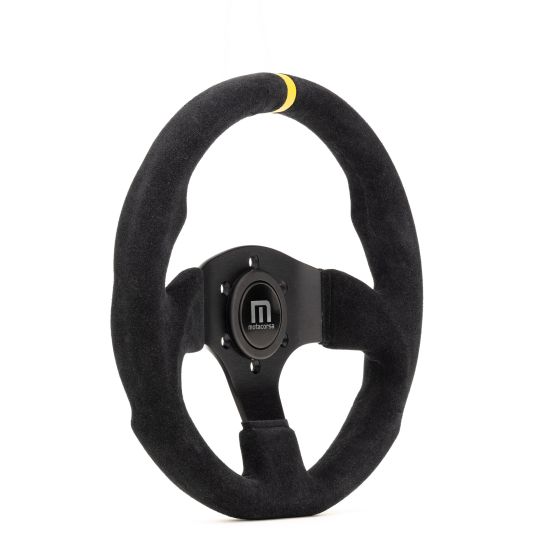 Monza
The Monza Steering Wheel is the epitome of ergonomic excellence, offering both comfort and control for motorsport enthusiasts. Its sculpted grip, paired with the oval section, delivers a comfortable feel that keeps you in command during every twist and turn on the track. Wrapped in high-quality black suede, this wheel not only ensures durability but also offers an exceptional grip that's essential for maintaining control during high-speed racing. The trim eliminates pressure points on the hand, reducing driver fatigue during long and demanding races.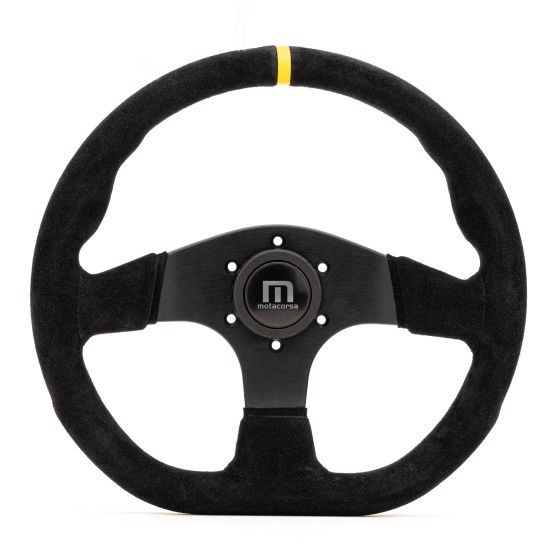 Misano
Immerse yourself in the world of precision driving with the Misano Wheel. Created for those who demand the best, it features an ergonomic round section grip that offers both comfort and unparalleled control. The generous 350mm diameter wheel is coated in black suede, ensuring both durability and an exceptional grip, critical for maintaining control during high-intensity motorsport endeavours. The Misano has bonded exterior surround, which, like other wheels, significantly reduces driver exhaustion even during the most gruelling events.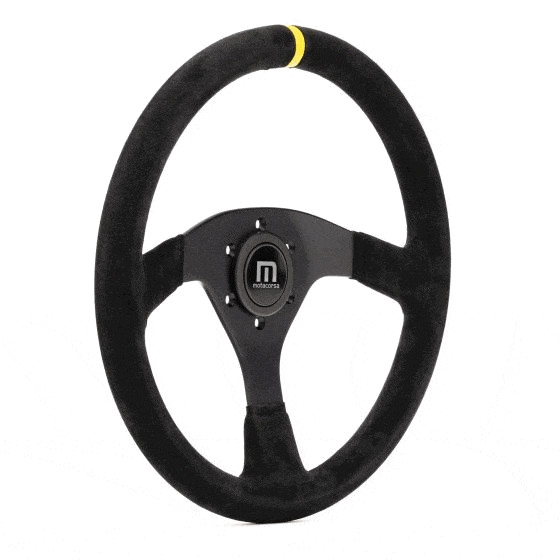 Ascari
Experience the pinnacle of steering control and comfort with the Motacorsa Ascari Steering Wheel. Created with an ergonomic grip, designed to enhance driver sensation. This gives more feel and reducing strain on the hands and arms. It offers the ideal balance between comfort and control, ensuring a comfortable feel in the heat of the moment on track. Wrapped in high-quality black suede, this wheel guarantees durability and provides an exceptional grip, we shouldn't need to tell you how important that is.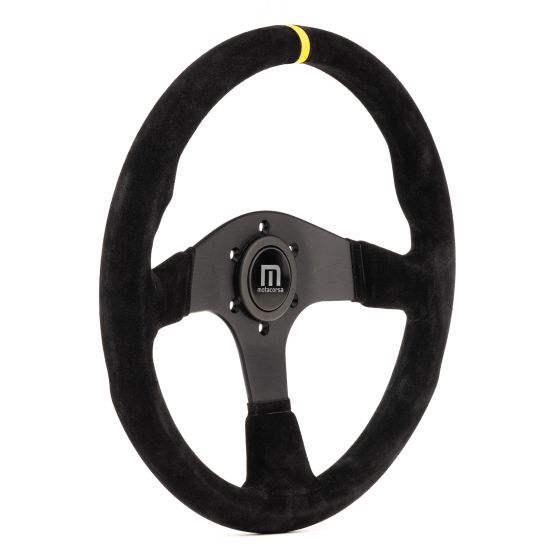 Zanardi
Indulge in the ultimate driving experience with the Motacorsa Zanardi Steering Wheel. Engineered with an ergonomic oval section and a sculpted grip, it offers the perfect blend of comfort and control. This ensures an enjoyable and precise feel during high-speed racing. The 320mm diameter wheel, adorned with high-quality black suede, not only guarantees lasting durability but also delivers an exceptional grip. This is essential for maintaining control during intense motorsport challenges. Like the other wheels it has a bonded trim on the exterior, a thoughtful detail that allows you to focus on the job at hand.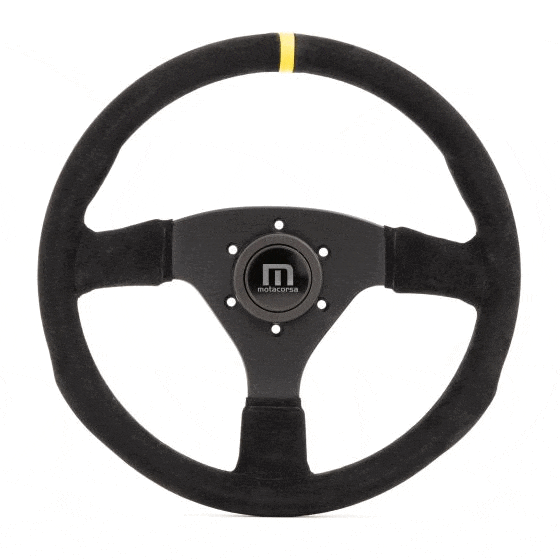 Not sure what to look for when choosing a steering wheel? There's more to it than you think when it comes to fitting and size, to adaptors and spacers, learn everything in our blog. Each Motacorsa wheel, with exception to 1 has a 70 millimetre PCD and is fitted via 6 bolt holes. This allows it to fit to most popular brands of boss adaptors including Momo, OMP, Sparco, Go-Race, Simoni Racing, Mountney and Motacorsa. The 1 exception is the Formula wheel, which is supplied with a solid centre which allows for a 3 bolt single seater type boss after being drilled.
In summary, Motacorsa has made a significant mark in the motorsport world over the past decade by providing high-quality steering wheels and accessories that don't break the bank. Whether you're a clubman competitor or a seasoned racer, Motacorsa's range of Italian crafted steering wheels offers something for everyone. With ergonomic designs, quality materials, and a commitment to affordability, Motacorsa is a brand that's here to stay. Its products have already been trusted in various motorsport disciplines from GT and Formula to drift. So, if you're looking to elevate your driving experience, Motacorsa is a name you should keep on your radar.
---
Enjoyed this? Read more of our latest news:
Where To Next?
Looking for the latest motorsport parts and accessories? Check out our wide range from top brands.
Come and visit us at our store, showroom and fitting centre in Wrexham.
Want to know more about our story? Learn about who we are and why we've been driven by passion for over 50 years.
Interested in everything we do? Catch up on all the latest Demon Tweeks news.